You can turn your next meal into a visit to a tropical paradise by serving Thai pineapple fried rice. This is one dish that's great for everyone. It's extremely flexible. For ovo-vegetarians just eliminate the chicken. Strict vegetarians remove both the meat and eggs and add a little tofu or even cashews for extra protein. For everyone else, the recipe is perfect for a taste treat your family will love. I've used pork and chicken but you can top it with almost any type of meat or seafood.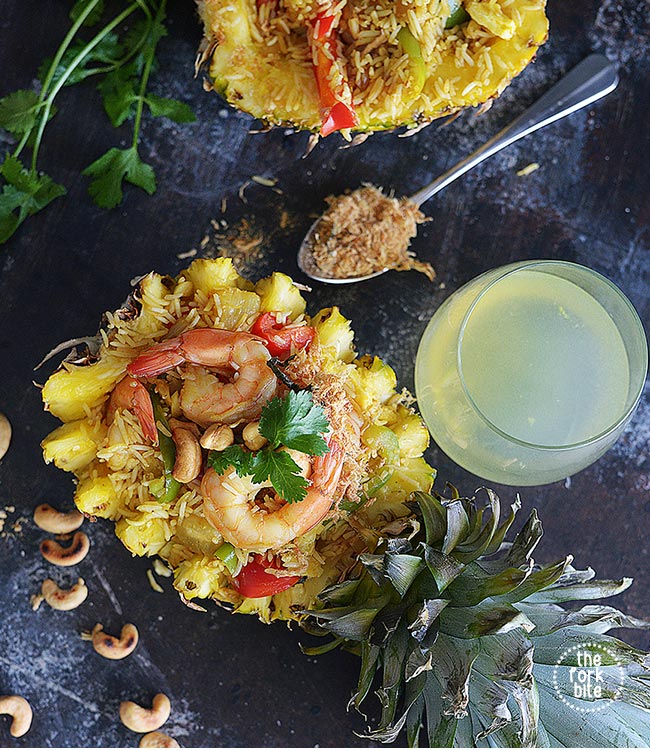 You may have most the ingredients already on hand, but there are some that aren't normally in everyone's cupboard. If you're using chicken in the rice, you'll need a cup of it that you are bite size cubes. You'll also need two eggs, ½ cup of each sliced sweet onion, sliced green bell pepper, sliced red bells pepper and sliced tomato. You'll use two types of soy sauce, thin soy sauce (two tablespoons) and dark soy sauce (two tablespoons). Healthy Boy and Golden Mountain are popular brands of both.

While you're at the grocery, don't forget to pick up tapioca flour, you'll just need a teaspoon, but it's important. This recipe takes 5 cloves of garlic, ¼ tsp Thai pepper powder, a whole pineapple but you'll only use one cup of fresh pineapple chunks and the pineapple shell and 1 tsp Thai curry powder, so add that to your grocery list too. You may have jasmine rice on hand. I make this recipe the day after I serve rice, making extra so I have four cups for the recipe. Besides all the ingredients mentioned, you'll also need one tsp of each, sugar and salt and 5 tablespoons of vegetable oil.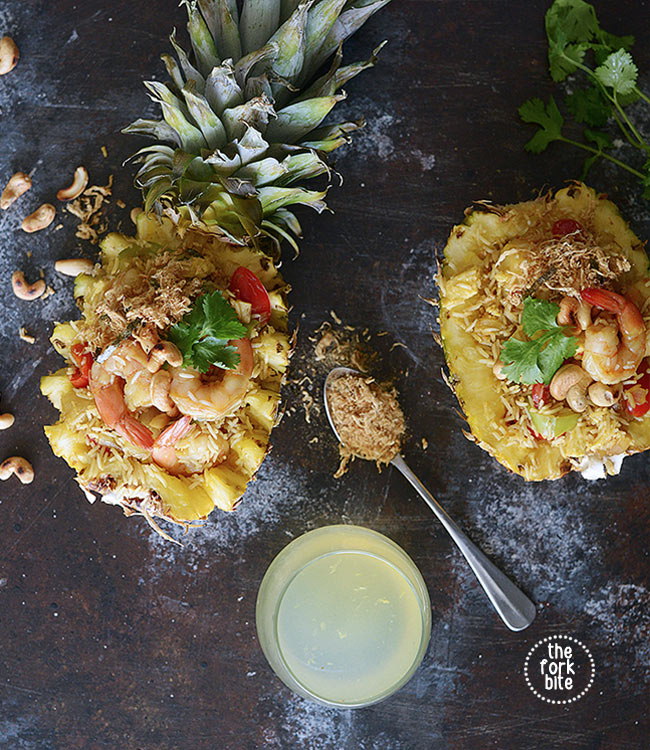 Mix the tapioca starch with one tablespoon of dark soy to marinade the chicken for about 15 minutes, scramble the eggs using two of the tablespoons of oil. Remove the eggs and add the next three tablespoons of oil, allowing it to heat before adding the garlic and chicken, add all other ingredients except the scrambled eggs, tomato, rice and a tablespoon of dark soy. Let this mixture cook for several minutes so all the ingredients blend. Mix the last tablespoon of dark soy with the rice and add it to the mixture. Cook for a few minutes and remove to serve. Right before serving add the tomato and scrambled eggs. You can serve it in the carved out pineapple shell for a festive look and garnish it with spring onions and cilantro.
Khao Pad Sopparot AKA Thai Pineapple Fried Rice
Author:
Jessie | The Fork Bite
Recipe type:
Lunch, dinner
Ingredients
1 cup chicken, boneless and skinless, cut into bite-sized cubes
1 cup shrimp (optional)
2 eggs
2 tablespoons Maggie seasoning
1 teaspoon tapioca flour
4 cups cooked jasmine rice (day old works best)
5 cloves garlic, chopped
½ cup sliced yellow onion
½ cup sliced green bell pepper
½ cup sliced red bell pepper
½ cup sliced tomato
1 cup fresh pineapple chunks
¼ cup cooked dried pork (omit or add more if desired)
1 teaspoon sugar
2 tablespoons thin soy sauce
¼ teaspoon white pepper powder
1 teaspoon salt
1 teaspoon Thai curry power
5 tablespoons vegetable oil
¼ cup chopped spring onion for garnish
2 sprigs fresh cilantro for garnish
Instructions
Marinade the chicken in a bowl with the tapioca starch and 1 tablespoon of Golden Mountain sauce. Set aside for just 10-15 minutes.
In a hot skillet or wok, scramble both eggs in two tablespoons of hot vegetable oil. Whip the eggs quick to cook, remove and set aside.
In the same wok, add three tablespoons vegetable oil. Heat, then add chopped garlic.
Add chicken and cook for a few minutes. Add yellow onions, red and green bell peppers, then the pineapple. Add 2 tablespoons thin soy sauce, sugar, Thai pepper powder, salt, and curry powder.
Let this cook over medium heat for a few minutes, so the pineapple releases juice and flavors all ingredients.
Watch for it to become juicy. Add 1 tablespoon of Golden Mountain sauce to the top of your bowl of jasmine rice, then add this to the wok.
Mix well. Remove from heat. Add tomato, scrambled eggs, mix gently and serve.
Optional: Place the finished fried rice inside the carved out half-shell of a pineapple, sprinkle it with some cooked dried pork, and cook in the oven at 325 degrees F for about 15 minutes before serving.