When I first heard the name Shibuya Honey Toast, I immediately thought of something that looked or tasted like French toast, but with maybe a cherry blossom, dragonfly or carp on them. However, what it is, is a far more delightful food that you eat like a dessert.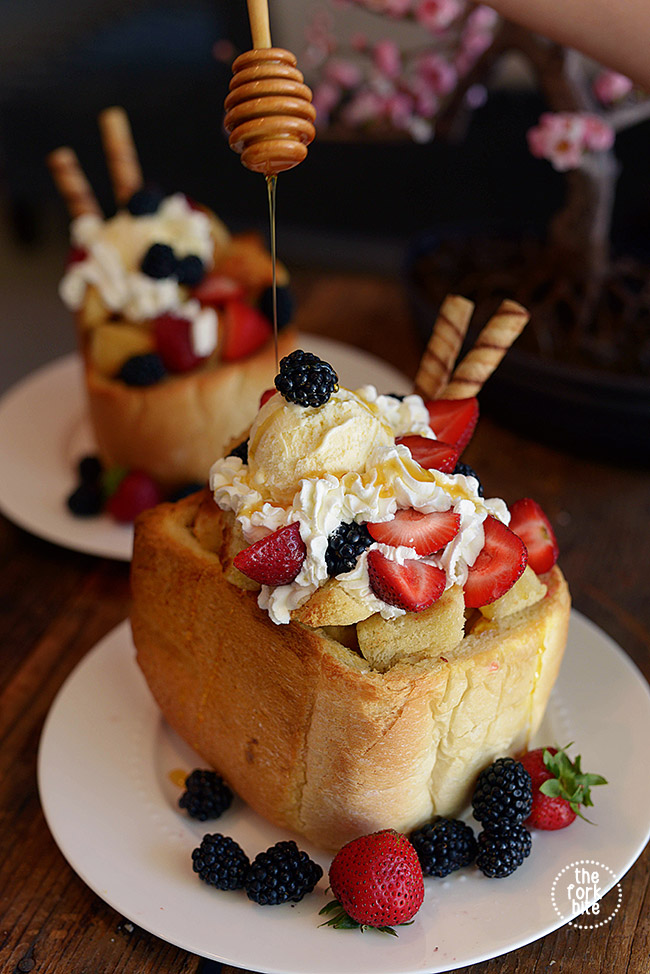 Of course, you could eat it for breakfast, but you can also eat cold pizza and candy for breakfast, even though that's not normally done. Japanese cuisine is known for the decorative presentation and Shibuya honey toast is no exception.
It's a delightful way to make a simple dessert far more elegant. It's also very yummy and that's extremely important too.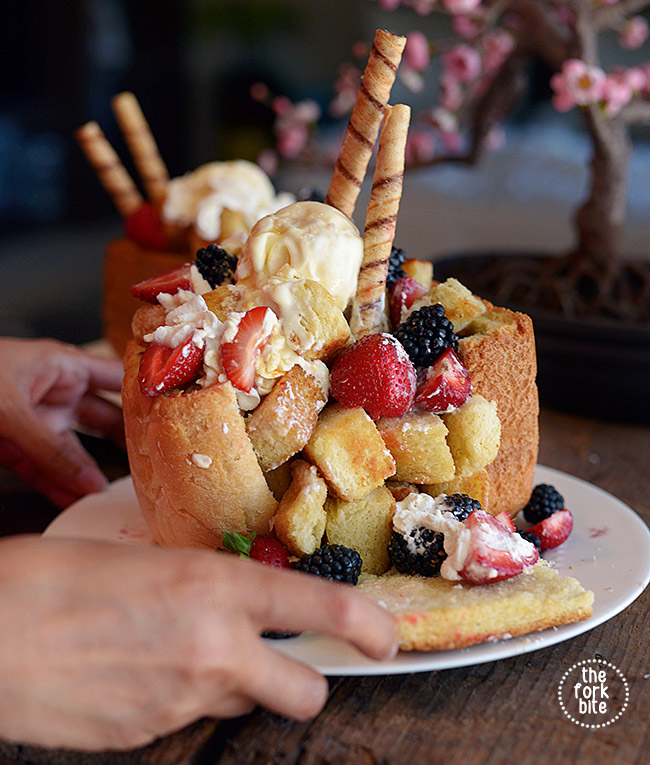 How to Make this Honey Toast
You need to start with a loaf of uncut bread to make this dish. The magic of the dish is the carving of the bread and the re-assembly. It's simple but still looks like a work of art.
You need a loaf of un-sliced bread that's at least five inches long. Cut that in half, then make incisions across each side one inch from the center.

In one side, preferably the one with the bottom crust, don't go all the way through, but stop about an inch from the bottom.
In order to get the inside out of the other loaf, start at an inch from the bottom, slicing the bread horizontally one inch from each side, leaving the bottom on but allowing you to pull the square of bread from the center, leaving a square "container."
Cut the squares you cut from the bread into even smaller squares. Whisk together butter, sugar, and vanilla until mixed well and spread on all sides of the bread squares and the inside and top of the bread frames you created. Bake in a preheated 360-degree oven until golden brown.
This is a delicious and attractive lighter dessert your friends and family will love.
Shibuya Honey Toast Recipe
Category: Dessert

Cuisine: Japanese

Shibuya Honey Toast - It's a delicious and attractive lighter dessert your friends and family will love.
1/2 loaf of 5-inch thick unsliced sandwich bread (10 cm thick)
1/3 cup unsalted butter, softened (76g)
¼ cup granulated sugar (50g; 4 tablespoons)
1 teaspoon pure vanilla extract
2-3 strawberries and blackberries (or you can use sliced bananas)
2 scoops vanilla ice cream
2 wafer sticks for decoration (optional)
Instructions
For the Bread Bricks:

Slice 5-inch thick unsliced sandwich bread in half. Then cut out a square: make 2 incisions vertically on top and another 2 incisions horizontally.
Make sure to leave about 1 inch from the edges and bottom of the bread.
It should look like a container. Now set aside the cut bread and cut the rest into small cubes.
For the other brick, just cut out a square leaving 1 inch from the edges. Now set aside the 2 bricks. And cut the rest into small cubes.
For the Butter:

In a mixing bowl of ⅓ cup of softened unsalted butter, add in ¼ cup of granulated sugar and 1 teaspoon of pure vanilla extract. And whisk until homogeneous.
Spread the butter mixture inside of the bricks and also spread on all the small cubes.
Now for the Baking Part:

Preheat oven to 360 degrees F. (180C.), and put the bread for about 8 minutes, or until golden brown.
Assemble and Garnish:

Fill the inside of the brick with bottom using bread cubes and banana slices (you can add any fruit of your choice).
Drizzle the honey on top. And place the hollow brick over the first brick, twisting slightly. And again fill it with bread cubes and fruit slices.
Place 2-3 scoops of ice cream on top. And drizzle honey all over. And don't forget to serve with a steak knife or a small bread knife.
Notes
(adsbygoogle = window.adsbygoogle || []).push({});
Nutrition Facts
Shibuya Honey Toast Recipe
Serves
Amount Per Serving
Calories
562.63 kcal
% Daily Value*
Total Fat 29.99 g
46.1%
Saturated Fat 18.04 g
90.2%
Trans Fat 0.85 g
Cholesterol 83.8 mg
27.9%
Sodium 381.64 mg
15.9%
Total Carbohydrate 64.6 g
21.5%
Dietary Fiber 3.25 g
13%
Sugars 35.3 g
Protein 9.49 g
| | |
| --- | --- |
| Vitamin A | Vitamin C |
| Calcium | Iron |
* Percent Daily Values are based on a 2,000 calorie diet. Your daily values may be higher or lower depending on your calorie needs.

https://www.theforkbite.com/shibuya-honey-toast-recipe/