Also known as "shaking beef", Bo Luc Lac is a Vietnamese steak salad served over a fresh bed of greens and tomatoes. Pickled onions rest on top of the steak and a lime dipping sauce is served on the side.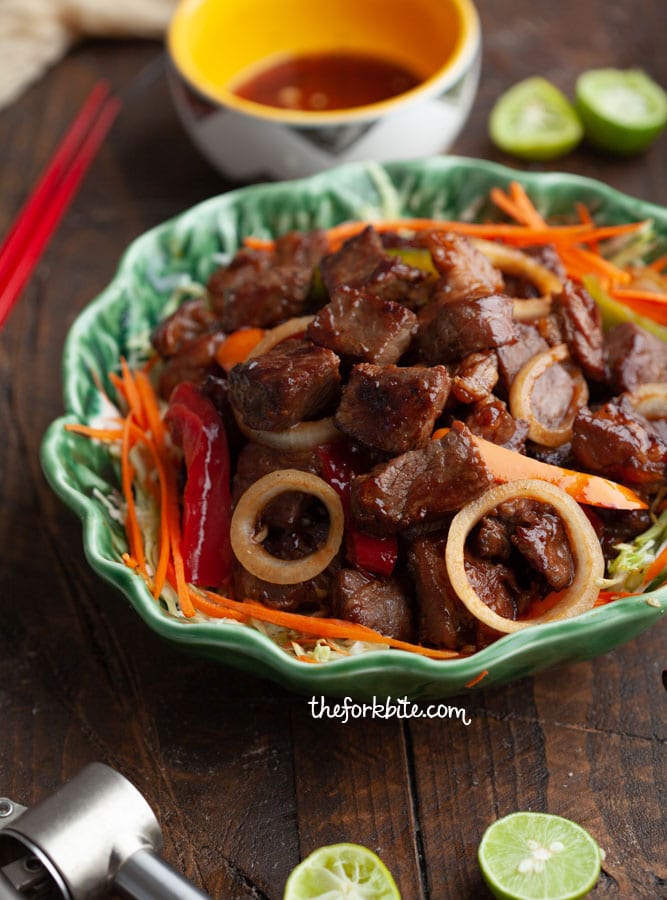 We visited Asia last month and found this low carb menu I could use personally. My dietitian recommended it to improve my health. Combining much-needed leisure time and clean eating was a start at getting ahead with my health.
As I walked the streets of Vietnam (known for its fresh vegetables and healthy dishes), I wandered into a small family-owned restaurant that seemed to have already made its mark in that part of the Hanoi.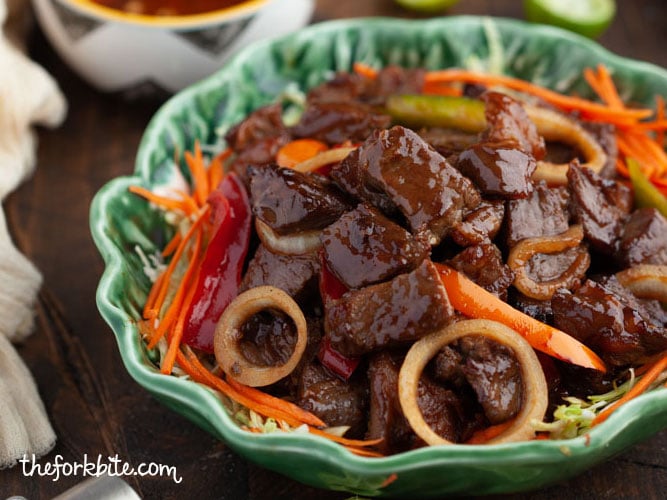 As I looked at the menu, a picture of a steak salad caught my attention. It looked healthy and well balanced. I told myself that the carbs in this salad would mostly come from the dressing or some rice. So, I ordered it. How can you go wrong with some meat and an entire plate of vegetables?
From what the restaurant owner told me; the dish is called "shaking beef" because the cook tosses the beef in the extremely hot wok as it sears. I love beef and if I were going to change my diet, this would be one of the dishes I would include in my daily menu.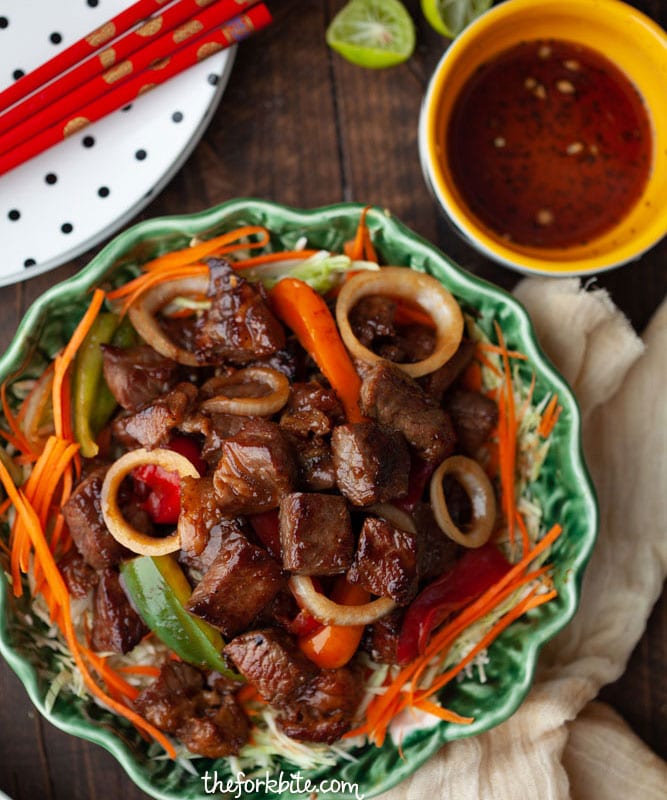 When the Bo Luc Lac arrived, its smell wafted around me. The dish made my mouth water even before I took my first bite. When I did, my taste buds danced.
Sour, sweet, salty, —all these tastes combined inside my mouth. They were all balanced. The greens were made up of watercress and thick soy sauce was used as dictated by tradition.
I planned to make a few substitutions to the Bo Luc Lac I ate back then. I changed it a bit to make sure I can get the ingredients when I get back.
My Version of Bo Luc Lac
When I returned home, I went straight to the Asian grocery store to gather my ingredients. I like the contrast, acidity, and color the bell peppers give the dish but do feel free to use tomatoes. I prefer my vegetables undercooked or raw for clean eating purposes. Yet, if you want them a bit softer, you can cook them separately first.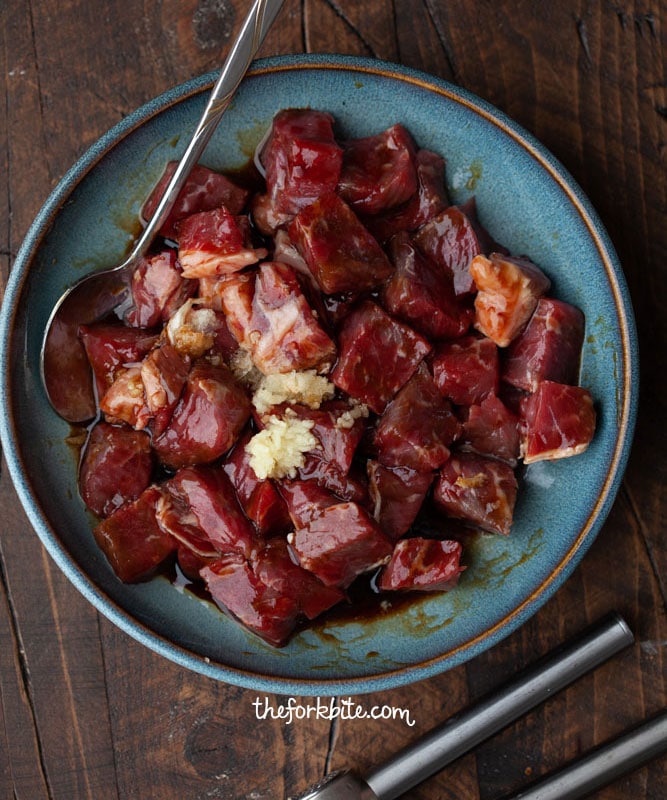 I always choose ribeye. You can use any cut of steak for this salad. Tenderloin is the most tender and most expensive, while striploin is a bit chewy and the least expensive cut. Make sure you slice the pieces against the grain to help ensure the meat's tenderness.
Once you have seared the beef slices, rescue them from the hot pan and set them aside to rest. The resting period also ensures the juiciness of each piece. You can slice the beef into big or small pieces, depending on your preference.
I want my Bo Luc Lac to have low sodium soy sauce. I also added in cucumbers, carrots, and cabbage. Instead of white rice, I have a small bowl of brown rice with my Bo Luc Lac. Try my version of this dish with the Bo Luc Lac dipping sauce and surely, you would be hooked without the nagging guilt.
This bed of lettuce and carrots is a great contrast to the beef. Drizzling the greens in a light vinaigrette and top it with beef, the veggies wilt slightly and the beef juices and vinaigrette blend together into a tangy sauce that's perfect over brown/white rice.
Shaking Beef (Bo Luc Lac)
This Vietnamese Shaking Beef or Bo Luc Lac is super easy to make with a tender, flavorful taste of beef seared in a hot wok. Drizzling the greens in a light vinaigrette and top it with beef, the veggies wilt slightly and the beef juices and vinaigrette blend together into a tangy sauce that's perfect over brown/white rice.
1 lb Beef Rib Eye (or Sirloin) cut into 3/4″ cubes
For Beef Marinade:

2 tbsp oyster sauce
2 tbsp minced garlic
1 tbsp sugar
1 tbsp sesame oil
1 tbsp fish sauce
1 tsp dark soy sauce
Vinaigrette or Dipping Sauce:

Juice of 1 lime
1 tsp sugar
1 tbsp rice vinegar
pinch of salt
1/2 tsp black pepper
Garnish:

2 cups shredded cabbage
1/4 cup julienned carrots
1 tomato thinly sliced (optional)
1 medium-sized bell peppers (sliced)
1 med-sized onion (thinly sliced)
2 tbsp oil
Instructions
Prepare the beef marinade. Marinate the beef for at least 30 minutes.
Prepare the Vinaigrette.
Slice the onions thinly and use half of it for pickled onions. Just add 3 tbsp of vinaigrette. Put in the fridge for 15 minutes.
Heat up 2 tbsp of oil in a wok and once the oil begins to smoke, add half of the beef and spread them out in one layer. Allow the beef to sear for at least 1 minute before "shaking" to sear the opposite side. Cook in batches, if necessary.
While searing the beef, check the side of the beef not to get burned (the marinade has sugar added, so make sure the beef won't easily get burned.) Continue to shake the beef for a minute or until the color turns a nice brown or medium rare. Set aside.
Clean the wok and add some oil until it gets smoky, add the remaining part of the beef. Do the same process until the beef turns brown.
Add the remaining half onions and the bell peppers and continue to shake until the vegetables (bell peppers + onions) are half cooked.
Transfer the beef into a bed of shredded cabbage or (whatever greens you like). Drizzle with 3 tbsp vinaigrette (this is optional). Top with pickled red onion (optional).
Or you can use the vinaigrette as a dipping sauce as I did. Serve immediately with white or brown rice or salad.
Nutrition Facts
Shaking Beef (Bo Luc Lac)
Serves
Amount Per Serving
Calories

386.61 kcal

% Daily Value*
Total Fat

26.29 g

40.4%
Saturated Fat

10.45 g

52.3%
Trans Fat

1.41 g

Cholesterol

77.11 mg

25.7%
Sodium

743.99 mg

31%
Total Carbohydrate

16.29 g

5.4%
Dietary Fiber

2.93 g

11.7%
Sugars

8.75 g

Protein

22.89 g
| | |
| --- | --- |
| Vitamin A | Vitamin C |
| Calcium | Iron |
* Percent Daily Values are based on a 2,000 calorie diet. Your daily values may be higher or lower depending on your calorie needs.
https://www.theforkbite.com/shaking-beef-bo-luc-lac/