Looking for a recipe to recreate the delicious taste of Bonchon's famous soy garlic chicken wings? Look no further! This Bonchon Chicken Soy Garlic Wings copycat recipe delivers authentic flavor and perfectly crispy skin and is easy to make. Plus, it's versatile and budget-friendly, making it a must-try for any chicken wing lover. Try it out for your next game day or party, and impress your guests with this crowd-pleasing dish.
Take Aways
Don't skip the double-fry: The key to perfectly crispy skin is to double-fry the chicken wings. This may seem like an extra step, but the delicious end result is well worth the effort.
Don't overcrowd the pan when deep-frying: Overcrowding the pan will lower the temperature of the oil and result in soggy wings. It's important to cook in batches and ensure enough room for the wings to fry evenly.
Drying the chicken wings after marinating is important: Drying the chicken wings with a paper towel after marinating helps remove excess moisture, which can prevent them from crisping up properly during cooking. It also helps the cornstarch mixture adhere better to the chicken.
Jump to: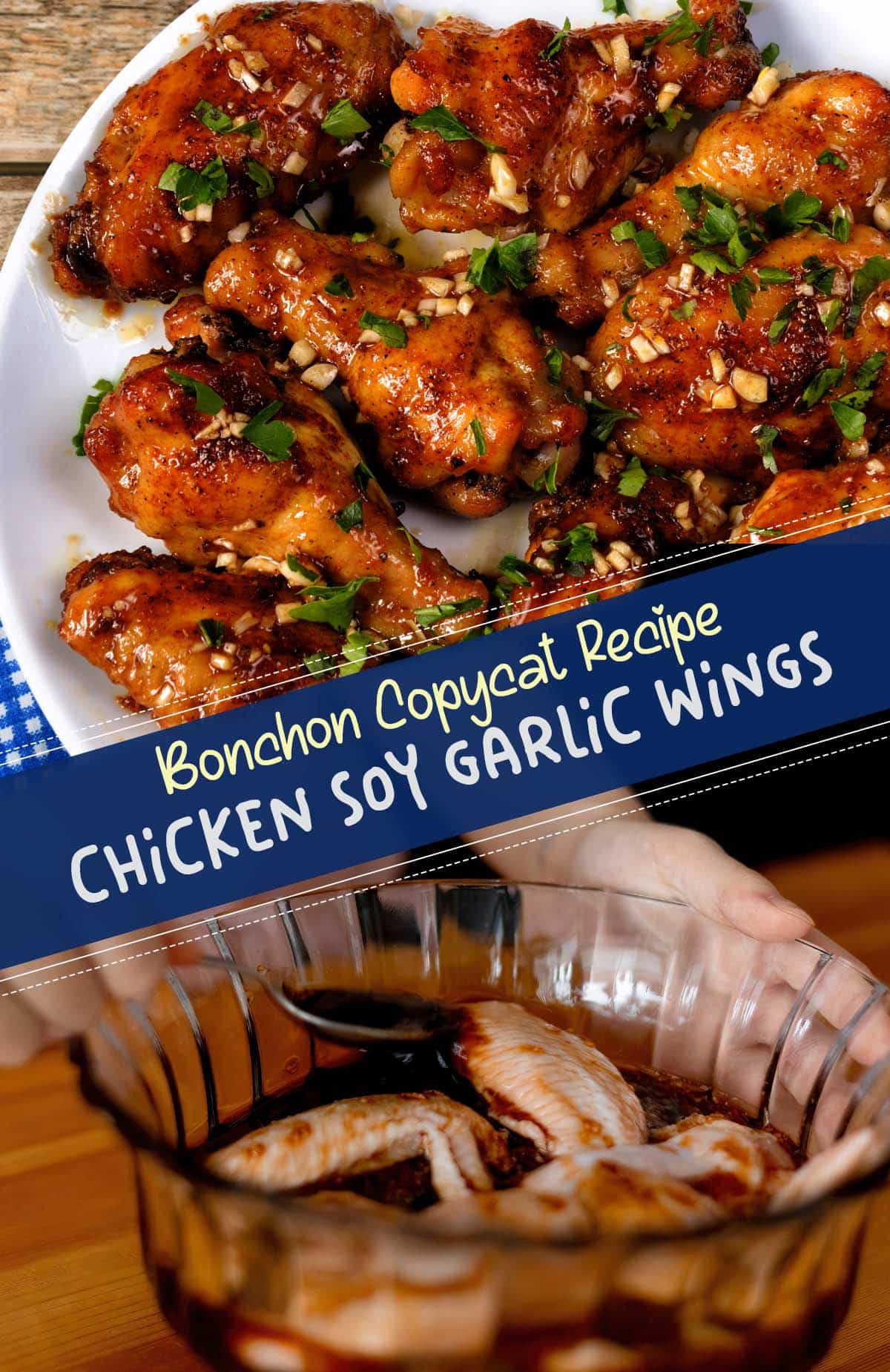 Why will you love this Bonchon Soy Garlic Wings copycat recipe?
You'll love this copycat recipe if you enjoy Bonchon's famous soy garlic chicken wings. Here's why:
Authentic flavor: Our recipe is designed to replicate the mouthwatering taste of Bonchon's soy garlic wings. Using the same ingredients and techniques, we've created a recipe that's as close to the real thing as possible.
Perfectly crispy skin: The key to great chicken wings is achieving that perfect crispy skin, and our recipe delivers. By double-frying the wings and using a cornstarch dredge, we've created wings that are crunchy on the outside and juicy on the inside.
Easy to make: While the recipe may seem complex, it's simple. With some prep work and careful frying, you can quickly have delicious soy garlic chicken wings.
Versatile: Whether serving them as an appetizer, main dish, or on a sandwich, these wings are versatile and always a hit. Plus, they're a great option for game day, parties, or any other occasion.
Budget-friendly: Making chicken wings at home is much more affordable than ordering them from a restaurant. With this recipe, you can enjoy the same great taste of Bonchon's wings without breaking the bank.
---
Ingredients you'll need:
2 lbs chicken wings split
Marinade:
3 garlic cloves grated
1 piece of ginger 1 inch (grated)
1 tablespoon vegetable oil
2 tablespoons soy sauce
2 tablespoons honey
Add some cayenne pepper to taste if you want the wings to be hot.
¼ teaspoon ground black pepper
Soy Garlic glaze/sauce:
¼ cup soy sauce
2 tablespoon brown sugar
2 tablespoon honey
2 tablespoon water
2 tablespoon rice wine (Mirin)
½ tablespoon minced ginger
½ tablespoon minced garlic
A few sprinkled ground black pepper
(optional) 3 dried chilies
(optional) 2 green onions, white part
Slurry ingredients:
¼ cup water
1 tablespoon cornstarch
Dredge or coating:
1.5 cups cornstarch (or potato starch)
1 tablespoon baking powder (not baking soda)
salt and pepper to taste
Cooking oil for deep frying (I used rice bran oil)
Garnish:
green onions, thinly sliced
---
Step-by-step instructions:
Step

1

Let's dive right into these wings
Grab some whole chicken wings and slice them into drumettes and wingettes to get started. Give those bad boys a pat-down with paper towels to remove excess moisture, then gather them into a large bowl. We're starting this epic journey of crispy, juicy soy garlic perfection.
---
Step

2

Get these wings nice and flavorful with a marinade.
Mix the grated garlic, ginger, oil, soy sauce, honey, and pepper in a small bowl until they combine perfectly. Pour that glorious marinade all over your wings, ensuring every inch is covered in that mouthwatering goodness. Cover the bowl with plastic foil and pop it in the fridge for at least 30 minutes, or if you've got the patience, let it marinate overnight for maximum flavor.
---
Step

3

Prep the soy garlic glaze.
While those wings are marinating, it's time to whip up the star of the show - the soy garlic glaze. Grab a separate pan and toss in all the sauce ingredients. Stir it up over medium-low heat until it comes to a boil. Keep an eye on it, often stirring it to ensure everything is fully incorporated.
Once it starts bubbling, take out the chilies and green onion pieces. Mix the slurry ingredients in a separate bowl, then pour it over the sauce. Keep stirring until the sauce thickens and turns into a luscious glaze - this should only take about 1-2 minutes. Once you've achieved that perfect consistency, take it off the heat and let it cool down for 5 minutes. This glaze is about to take those wings to the next level. Trust me.
---
Step

4

Prep the dredge.
Now, it's time to get our dredge ready for those perfectly marinated wings. Start by grabbing a large bowl and dumping in the cornstarch. Next, add a tablespoon of baking powder (not baking soda!). For that extra flavor, sprinkle in some of your favorite seasonings - we recommend a generous pinch of salt and pepper. Mix everything until it's evenly distributed throughout the cornstarch. This dredge is the key to achieving that perfectly crispy exterior, so don't skimp on the seasoning!
---
Step

5

Remove any moisture from the chicken wings.
Take the chicken wings out of the fridge about 30 minutes before cooking them and transfer them to a large bowl. It's almost time to get cooking, but we must ensure those wings are nice and dry before we do. Use a trusty paper towel to pat them down, removing extra moisture and ensuring your chicken skin gets perfectly crispy and crunchy when it hits the hot oil. Don't rush this step - getting those wings nice and dry is vital before we move on to the next step.
---
Step

7

Coating the chicken wings for a perfect crispy texture.
It's time to get that dredging going! Grab a resealable plastic bag and add in the seasoned chicken pieces. Pour in the cornstarch mixture, making sure to coat every wing evenly. Give that bag a good shake, shake, shake - this method is commonly known as "Shake and Bake" for a reason! While we won't use a pre-made coating mix for this recipe, the principle remains the same. Once you've shaken off any excess cornstarch, it's time to start deep-frying those wings to golden perfection. Get ready for some serious crispy goodness.
---
Here's how to make it happen:
Grab a large resealable plastic bag and add in the cornstarch, baking powder, and garlic powder. Give it a good shake until everything is well combined.
Add in 4-6 pieces of chicken to the bag, seal it up, and give it a good shake to coat each wing evenly.
Now that the chicken wings are thoroughly coated, remove them from the bag and gently tap off any excess cornstarch. At this point, you have the option to deep-fry, bake, or air-fry your wings until they're perfectly cooked and crispy. The cooking method is up to you, but these wings will surely be a crowd-pleaser regardless of your choice.
---
Step

7

Cook the chicken wings:
We've made it to the main event - cooking those wings to crispy perfection! There are a few ways to get the job done right:
If you've got an air fryer handy, you can give it a go with that.
For traditionalists, deep-frying in hot oil is always an option.
And last, you can bake them in the oven - essentially similar to air-frying.
If you're looking for the ultimate soy garlic wings experience (and who isn't?), it's time to break out of that deep fryer. Let's be real - deep-frying adds a unique flavor and texture to those wings that are tough to beat. It's the classic way to cook up a batch of wings, and in this case, it's the perfect way to get that crispy exterior and juicy, tender meat we all crave. Get ready to savor every last bite.
Method

1

Bake
Baking your wings is always an option for those who prefer to keep things a little healthier. Here's how to do it:
Preheat your oven to 400°F/ 200°C and line a baking sheet with parchment paper. If you've got a wire rack, use it to get that extra crispy exterior.
Arrange your wings on the prepared baking sheet and pop them in the oven. Bake for 20 minutes, flip them over with trusty tongs, and bake for another 10 minutes. Keep an eye on them and check after 8 minutes - if the glaze turns too dark, cover the tray loosely with aluminum foil.
Whether baking, deep-frying, or air-frying, these soy garlic wings will surely be a hit. If you're feeling fancy, sprinkle some roasted sesame seeds and finely chopped spring onions to make those wings pop. Once they're done, let them rest for about 5 minutes before serving.
---
Method

2

Deep Fry
Ah, deep-frying - the classic method for achieving perfectly crispy wings. Here's how to make it happen:
Grab a deep saucepan or fryer and add a generous amount of oil. Heat it until it reaches 175° C / 347° F - you want it nice and hot!
Carefully add the chicken wings, ensuring not to overcrowd the pan. Fry them until cooked through - this should take about 4-5 minutes, depending on the size of your wings.
Remove the cooked wings from the pan and let them rest on some kitchen paper to soak up any excess oil. Use a skimmer to scoop out any floating debris from the oil quickly.
Get ready for round two of frying! Once the oil temperature reaches 175°C / 347°F again, it's time to add those wings back in. Fry them until the batter is golden and crispy - this second fry will only take 2-3 minutes.
Once perfectly crispy and coated in that soy garlic glaze, remove them from the oil and place them onto a lined baking sheet.
Use a cooking brush to baste each wing with a more delicious sauce gently.
Once all your wings are coated and ready to go, it's time to add some finishing touches. For that extra flavor, sprinkle on toasted sesame seeds and finely chopped green onions. Serve 'em up and get ready for some delighted taste buds.
---
Method

3

Air fry
If you're an air-fryer fan, fear not - you can still enjoy these delicious soy garlic wings with a slightly healthier twist. Here's how to make it happen:
Start by brushing the air-fryer basket with some oil to prevent sticking. Preheat the air-fryer for 3 minutes at 400°F /200°C.
After dredging the wings in flour, generously brush both sides with oil. Pro tip: avoid using the conventional or chemical-based cooking spray as it may break down the coating.
Place the chicken wings in the air-fryer basket in a single layer, leaving some space between each one. If you need to cook in batches, go for it - make sure not to overcrowd the basket.
Air-fry for 8 minutes, then carefully flip the wings to the other side and air-fry for another 8 minutes. This should be enough time to get those wings nice and crispy without overcooking them.
Step

8

Toss in the sauce.
And now, for the best part - getting those wings coated in that mouthwatering soy garlic sauce. Here's how to make it happen:
Grab a big stainless steel bowl and add in all of your perfectly cooked wings. Ensure they're arranged in a single layer, so every wing gets its fair share of sauce.
Pour that delicious sauce all over the wings, making sure to get every last drop.
Give that bowl a good shake, evenly distributing the sauce on every wing. This method is way faster and more efficient than brushing every wing - and trust me, your taste buds won't be able to tell the difference. Once every wing is coated in that perfect soy garlic sauce, it's time to serve them up and enjoy.
Read:
---
Why use these ingredients?
Here's a rundown of each ingredient in the recipe and why it's essential for making delicious Bonchon chicken soy garlic wings:
Chicken Wings - This is the main ingredient in the recipe, and it's important to use good quality chicken wings that are fresh and not frozen for the best results. Chicken wings are full of flavor, and their crispy skin and juicy meat make them the perfect vehicle for the soy garlic glaze.
Garlic - Garlic is a key ingredient in the marinade and the soy garlic glaze. It adds a strong, pungent flavor to the dish that pairs well with the honey's sweetness and the soy sauce's saltiness.
Ginger - Ginger is another essential flavor in this recipe. It has a bright, slightly spicy taste that balances out the sweetness of the honey and adds depth to the dish.
Vegetable Oil - Vegetable oil is used in the marinade to help the other ingredients coat the chicken wings evenly. It's also used for deep-frying the wings to get that perfect crispy texture.
Soy Sauce - Soy sauce adds a salty, umami flavor to the marinade and the soy garlic glaze. It's a staple in Asian cuisine and is essential to giving this dish its authentic flavor.
Honey - Honey provides sweetness to the marinade and the soy garlic glaze. It also helps balance the soy sauce's saltiness and adds a nice caramelized flavor to the chicken wings.
Cayenne Pepper - This ingredient is optional but adds heat to the dish if desired. It can be adjusted to personal preference.
Ground Black Pepper - Black pepper is used in the marinade to add a little bit of spice and depth of flavor.
Brown Sugar - Brown sugar is used in the soy garlic glaze to add sweetness and to help thicken the sauce.
Water is used in the soy garlic glaze to help create the right consistency.
Rice Wine (Mirin) - Mirin is a sweet Japanese rice wine that adds sweetness and depth of flavor to the soy garlic glaze.
Cornstarch (or Potato Starch) - Cornstarch is used to coat the chicken wings and helps to give them their crispy texture. Use cornstarch or potato starch specifically because they are gluten-free and will create a lighter coating than regular flour.
Baking Powder - Baking powder is used in the dredge to help the coating become crispy and fluffy.
Salt and pepper - These are added to the dredge to season the chicken wings and enhance the flavors.
Cooking Oil - A neutral-tasting oil, such as rice bran oil, is used for deep-frying chicken wings.
Toasted Sesame Seeds - Sesame seeds are used as a garnish and add a nutty flavor and crunchy texture to the dish.
Green Onions - Green onions are also used as a garnish and add a fresh, oniony flavor.
---
How to split whole chicken wings.
Splitting whole chicken wings might seem daunting, but it's actually a pretty simple process. Here's how to do it:
Start by grabbing a sharp knife and a clean cutting board. Rinse your whole chicken wings under cold running water and pat them dry with paper towels.
Lay the chicken wing on the cutting board with the drumette facing up. Locate the joint where the drumette meets the wingette.
Using your knife, carefully cut through the joint to separate the two pieces. Be sure to apply enough pressure to cut through the bone, but not so much that you damage the meat.
Repeat this process with the remaining wings until they are split into drumettes and wingettes.
If desired, you can further trim each piece by removing the wingtips. To do this, locate the joint where the wingtip meets the wingette and cut through it with your knife.
And that's it! Now you're ready to get cooking with your perfectly split chicken wings.
Read:
---
Why do you need to double-fry the chicken wings?
For Bonchon chicken soy garlic wings, double-frying the chicken wings might seem like an extra step, but it's an essential part of this recipe. Here's why:
First and foremost, double-frying ensures that the chicken wings are perfectly crispy on the outside while remaining tender and juicy on the inside. By frying them twice, you can get that ideal golden brown exterior without overcooking the meat.
Double-frying also helps to remove any excess oil that might be left over from the first fry. After the first round of frying, the wings will be cooked but still relatively pale. Any extra oil will be absorbed by frying them again, giving you crisp but not greasy wings.
Finally, double-frying allows the wings to absorb the delicious soy garlic sauce fully. Coating the wings in the sauce after the second fry gives you a more even flavor distribution throughout each wing. Trust me - the extra effort is worth it for that perfect crispy, juicy, and flavorful wing.
---
Best tips for deep frying chicken wings?
Deep-frying chicken wings can be a bit intimidating, but with these tips, you'll be able to make perfect wings every time. Here's what you need to know:
Use a thermometer to monitor the oil temperature. This is essential for getting perfectly cooked wings. For this recipe, aim for an oil temperature of 175°C / 347°F. If the oil is too hot, the wings will cook too quickly and burn on the outside before they're cooked through on the inside. If the oil isn't hot enough, the wings absorb too much and become greasy. Always use fresh oil for each batch to avoid a burnt or rancid flavor.
Don't overcrowd the pan. It's tempting to try to cook all of your wings at once, but this will cause the temperature of the oil to drop and result in unevenly cooked wings. Instead, fry the wings in batches, leaving plenty of space between them.
Dry the wings well before frying. Any excess moisture on the wings will cause the oil to splatter and can also prevent them from getting crispy. Use paper towels to pat the wings dry before frying.
Use a splatter screen. A splatter screen will help to minimize oil splatter and keep your kitchen clean. This is especially helpful if you're deep-frying on the stovetop.
Double-fry the wings for extra crispiness. As mentioned earlier, this extra step is essential for getting that perfect crispy texture while keeping the meat tender and juicy.
Season the wings before and after frying. This will give your wings an extra boost of flavor. Season them well before dredging them in the cornstarch mixture and then again after they've been fried and coated in the soy garlic sauce.
Be patient, and don't disturb the wings too much while frying. Moving them around too much can cause the breading to fall off or the wings to cook unevenly.
Use a thermometer to check the internal temperature of the wings - they should reach at least 75°C / 165°F to ensure they're fully cooked.
Drain the chicken wings. Once they're done, remove the wings from the oil and let them drain on a wire rack or paper towels to remove any excess oil.
---
Best tips for air frying chicken wings?
Air-frying chicken wings are a healthier alternative to deep-frying, but getting them right still requires a bit of finesse. Here are some tips to help you make perfectly crispy air-fried wings:
Brush the air-fryer basket with oil to prevent the wings from sticking. Preheat the air-fryer for a couple of minutes at 400°F/200°C.
After dredging the wings in flour, brush both sides with oil. Avoid using the conventional cooking spray as it may break down the coating.
Cook the wings in a single layer; don't overcrowd the basket. This will allow the hot air to circulate evenly around each wing and give them a crispy texture.
Flip the wings halfway through cooking to ensure they cook evenly on both sides.
Don't be afraid to experiment with the cooking time and temperature. Air fryers can vary, so watch your wings as they cook and adjust the time and temperature as needed.
Season the wings well before cooking. This will give them plenty of flavors, even without the added richness of deep-frying.
Rest the wings for a couple of minutes after cooking. This will allow the coating to set and prevent them from becoming soggy.
---
Food Safety Tip: Why You Shouldn't Wash Chicken Before Cooking
It's important not to wash the chicken before cooking it. Contrary to popular belief, washing the chicken won't remove bacteria and may spread harmful bacteria around your kitchen sink and counter. Any bacteria on the chicken will be destroyed during cooking, so there's no need to wash it beforehand. To ensure your chicken is safe to eat, cook it thoroughly and follow good food safety practices, such as washing your hands and cutting boards with hot, soapy water after handling raw chicken.
According to the USDA - Food Safety and Inspection Service, washing raw poultry before cooking is not recommended. This is because the bacteria in the raw meat and poultry juices can easily spread to other surfaces, utensils, and foods, causing cross-contamination. Simply rinsing or soaking the chicken won't destroy any bacteria present on the surface of the meat - only cooking it to the proper temperature will ensure that any harmful bacteria are destroyed. So, handling raw chicken carefully and following good food safety practices is always best to avoid contamination.
---
Monitoring the Cooking Process
Keep an eye on your soy garlic chicken wings as they cook, and watch for any signs of over-browning. If you notice that the wings are turning too dark before the end of the cooking time, you can cover the baking sheet with a loose piece of aluminum foil to prevent further browning. This will help ensure your wings cook evenly and come out perfectly crispy and golden brown. Every oven is different, so it's always a good idea to check on your food periodically and adjust as needed to achieve the best possible results.
---
How to store and reheat?
Storing and reheating them properly is vital to keep your leftover soy garlic chicken wings tasting fresh and delicious. Here are some tips for storing and reheating your wings:
Storing:
Let the wings cool completely before storing them in an airtight or resealable plastic bag.
Store the wings in the refrigerator for up to four days or in the freezer for up to three months.
Label the container or bag with the date to track how long they've been stored.
Reheating:
To reheat the wings, preheat your oven to 350°F.
Place the wings on a baking sheet and bake for 10-15 minutes or until heated.
Alternatively, you can reheat the wings in the microwave on a microwave-safe plate. Heat them on high for 1-2 minutes or until heated through.
If you're reheating frozen wings, allow them to thaw in the refrigerator overnight before reheating.
---
How to serve this dish?
Soy garlic chicken wings are a delicious and versatile dish that can be served in many ways. Here are some ideas for serving your wings:
As an appetizer: Soy garlic chicken wings are great for parties, game days, or any other gathering. Serve them with a side of dipping sauce, such as ranch dressing or blue cheese dressing, and some celery sticks or carrot sticks for a crunchy contrast.
As a main dish: Soy garlic chicken wings can also be served as a main dish, accompanied by your favorite sides. Some great options include rice, salad, roasted vegetables, or mashed potatoes.
On a sandwich: For a tasty twist, try serving your soy garlic chicken wings on a sandwich. Toast a hoagie roll or a burger bun, add some lettuce and tomato, and place the wings on top for a delicious and satisfying meal.
With other sauces: If you want to mix things up, try serving your wings with different sauces for dipping. Some great options include hot sauce, honey mustard, teriyaki, or barbecue sauce.