If you've ever dined at the Cheesecake Factory, chances are you've experienced the delight of their butter spread. But what is it about Cheesecake Factory butter that makes it so irresistible? Is it the perfect combination of herbs and spices or the creamy texture that melts in your mouth? This butter served alongside freshly baked bread, is a flavor explosion that can leave you wanting more.
In this article, we'll take a deep dive into the world of Cheesecake Factory butter and explore why it has become such a beloved and sought-after spread. So get ready to indulge your taste buds and discover the secrets of this delectable butter spread!
Take Aways
Compound butter is a versatile ingredient that can add a burst of flavor to a wide range of dishes, from grilled meats and roasted vegetables to bread and pastries.
To make Cheesecake Factory Butter, start with a base of softened butter and mix in various herbs and spices, such as garlic, parsley, oregano, and lemon zest.
Once the butter is formed, mix in your desired herbs, spices, or other flavorings and shape it into a log or desired shape. Wrap it tightly and chill it in the refrigerator before serving or storing it.
Jump to: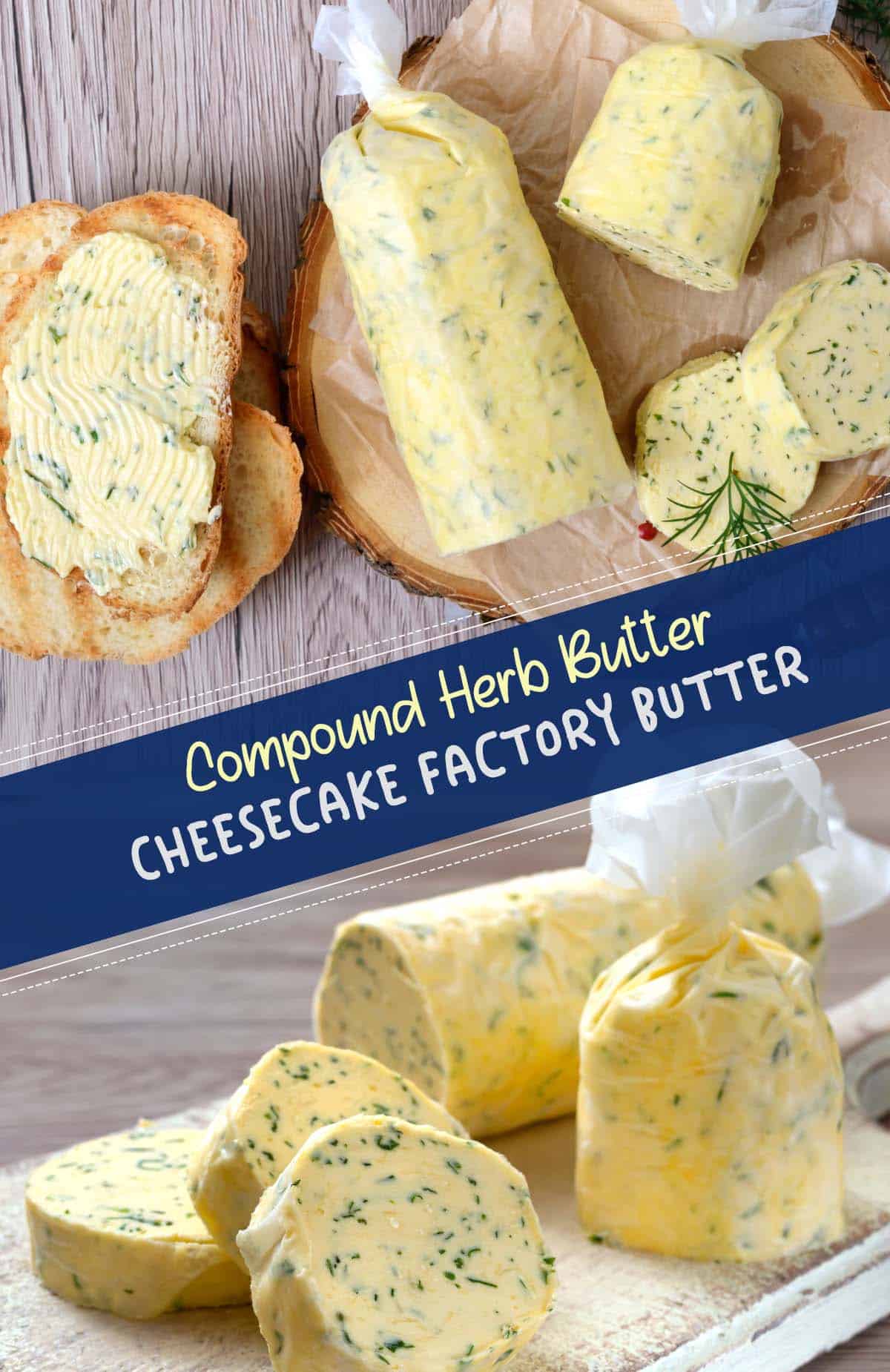 What's the flavor profile of the Cheesecake Factory butter
Cheesecake Factory butter has a rich and flavorful taste from combining butter, herbs, and spices. The exact ingredients and proportions used in the butter recipe are a closely guarded secret. Still, some of the most commonly cited herbs and spices include garlic, salt, pepper, rosemary, thyme, and basil. These ingredients are blended with softened butter to create a smooth, spreadable butter packed with flavor.
The flavor profile of Cheesecake Factory butter is often described as savory, herbaceous, and slightly tangy. The garlic and herbs provide a bold and aromatic flavor complemented by the spread's creamy, buttery texture—the salt and pepper help to balance out the flavors and enhance the overall taste of the butter.
---
What is flavored or compound butter?
I love using compound butter in my cooking! It's a fantastic twist on the classic emulsion of water-in-fat made from cream. Essentially, it's softened butter that's mixed with a range of sweet and savory ingredients, such as herbs, spices, sweeteners, and fruit zests, to create a flavored butter that can be used in many different ways.
I've used it as a spread, condiment, baking ingredient, and cooking fat, and it always adds incredible depth of flavor to my dishes. With just a few simple ingredients, you can create a versatile and delicious compound butter that is perfect for entertaining.
Read:
---
Flavored or Compound butter
There are several reasons why it is likely that Cheesecake Factory butter is made as a compound butter:
Complex Flavors: The flavor profile of Cheesecake Factory butter suggests herbs and spices are used in its preparation. Compound butter is an ideal way to add complex flavors to butter, allowing various ingredients to be easily incorporated.
Consistent Quality: Using compound butter ensures that the flavor of the butter remains consistent from batch to batch. This is important for a restaurant like Cheesecake Factory, which has many locations and strives to provide a consistent dining experience.
Versatility: You can use compound butter in many ways, from spreading it on bread to adding flavor to meats or vegetables. This versatility makes it a valuable ingredient in a restaurant kitchen.
Ease of Preparation: It is a relatively simple process that can be done quickly and easily. This makes it a practical option for restaurants that need to produce large quantities of butter in a short amount of time.
Customization: Another benefit of making compound butter is that it allows for customization. Chefs can experiment with different herbs and spices to create unique flavor profiles that suit their tastes and preferences. The restaurant may experiment with other herb and spice blends to create a unique flavor. This is likely the case with Cheesecake Factory butter, as the exact ingredients and proportions used in the recipe are closely guarded.
Cost-Effective: You can use inexpensive ingredients, such as butter and herbs, making it a cost-effective option for restaurants.
---
The advantages of making homemade butter
Creating compound butter starts with having a base of butter. The good news is that making butter from scratch is possible, which gives you complete control over the quality of the butter you use.
To explain further, butter is the foundation of compound butter, providing the richness and texture needed for the mixture. To create compound butter, you can start by making your butter from scratch. This is a fairly simple process that only requires heavy cream and a mixer or whisk.
By making your butter, you can ensure high quality and free from additives or preservatives. Additionally, it allows you to add your unique twist to the compound butter by incorporating herbs or spices you enjoy.
---
How to Use Compound Butter
From savory meats to sweet treats, compound butter can be used in various ways to enhance the flavors of your favorite foods. So, let's dive into the compound butter world and discover how to use this delectable ingredient in your culinary creations.
As a spread: Spread compound butter on bread, bagels, or crackers.
In cooking: Combine compound butter with other ingredients to add flavor. For example, garlic herb butter can be added to sautéed vegetables or pasta dishes.
On grilled meats: Steak, chicken, and fish can be prepared with compound butter as a finishing touch.
As a cooking fat: Compound butter can be used as a cooking fat for sautéing or frying. It adds flavor and richness to any dish.
In sauces: Melted compound butter can be used as a base for sauces or as a finishing touch on top of sauces.
As a garnish: Compound butter can be used as a garnish for soups or vegetables.
As a marinade: Melted compound butter can be used for meats or vegetables.
In popcorn: Melted garlic herb butter can be used as a delicious topping on popcorn.
In mashed potatoes: Add flavored compound butter to mashed potatoes for an extra burst of flavor.
On corn on the cob: Use herb butter to flavor grilled or boiled corn.
---
Making butter from scratch:
Making butter from scratch is easy and can be done with simple ingredients and tools. Here's a basic recipe for making butter at home:
Ingredients you'll need:
2 cups heavy whipping cream (at room temperature)
½ teaspoon salt (optional)
Ice water
Tools:
Electric mixer or whisk
Large mixing bowl
Cheesecloth or fine-mesh strainer
Step-by-step Instructions:
Step

1
To make your butter, pour cream into a mixing bowl, leaving about ¼ cup of room at the top for air. Using a low-speed hand mixer or Kitchen Aid, gradually increase the speed until the cream thickens and soft peaks form. As you continue to mix, you will see yellow clumps forming. These clumps are called sweet cream butterfat and will form the basis of my homemade butter, so keep mixing until the butterfat has fully separated from the liquid.
---
Step

2
Slowly add cold water to your cream mixture as you mix it with a hand mixer. The mixture will thicken and resemble mashed potatoes as you continue to mix. This stage is where you should taste the mixture, as it's already starting to take on a delicious flavor!
Continue adding water slowly until all traces of yellow have disappeared from the mixture. This ensures all the sugar has been removed from the butterfat, leaving you with clean and pure butter. Keep mixing until small bubbles appear when you stop - this indicates that you've achieved an emulsion and the butter is ready to be pressed into shape.
Note:
Adding water to the mixture helps to wash away any remaining sweet cream, which contains sugar and proteins that can lead to off flavors in the final product.
Step

3
After churning your cream mixture into butter, the next step is to drain off any excess liquid that rises to the top. Simply pour off the liquid slowly and set aside. This liquid is known as buttermilk and can be used in other recipes.
Next, transfer the lumpy butter mass onto a clean work surface, such as a wooden board or marble slab. Gently knead the butter by pressing down with both hands to remove excess liquid and lumps. You can squeeze the butter and draw even more liquid with a cheesecloth or towel.
Note:
If you prefer salted butter, add 1 teaspoon of salt per pint of cream to the mixture at this stage. This will add flavor and help to preserve the butter. Once you've finished kneading and salting (if desired), shape your butter into a log or roll it into balls for easy use.
---
Step

4
Once your butter is fully prepared, it's time to shape it into your desired form. You can either press the butter firmly into molds lined with cling wrap or shape it into a rectangle and wrap it with cling wrap. Whatever shape you choose, make sure it best suits your needs.
If you want to create a neat and uniform rectangular shape, consider using butter paddles. These handy tools help to shape the butter into a precise rectangle, making it perfect for slicing and spreading. Once your butter is shaped, wrap it tightly in cling wrap to keep it fresh.
To set your butter, chill it in the refrigerator for at least 4 hours before using or storing it. This will allow the butter to firm up and become easier to handle. Homemade butter can be stored in the refrigerator for up to two weeks to enjoy the delicious flavor and richness anytime.
---
How to make compound butter recipe
Whether you're a seasoned home cook or just starting in the kitchen, making your compound butter is a fun and easy way to elevate your meals. So grab some butter and prepare to take your cooking to the next level!
Ingredients you'll need:
2 sticks (1 cup) unsalted butter (softened at room temperature)
2 cloves garlic, minced
1 tablespoon fresh parsley, chopped
1 tablespoon fresh oregano, chopped
Zest of 1 lemon
Salt, to taste
Black pepper, to taste
---
Step-by-step Directions:
Mix the softened butter, minced garlic, chopped parsley, chopped oregano, lemon zest, salt, and black pepper in a medium bowl until well combined.
Transfer the butter mixture to a plastic wrap or parchment paper sheet, and shape it into a log.
Wrap the log tightly in plastic wrap or parchment paper, twisting the ends to seal.
Chill the compound butter in the refrigerator for at least 1 hour or until firm.
Once the compound butter is firm, slice it into rounds and serve.
---
Classic Garlic Butter Recipe:
This infused butter recipe is a personal favorite of mine - it's classic and simple to prepare! When making this recipe, I typically opt for fresh garlic, although I've discovered that organic garlic powder is just as good, if not better (with an even more intense flavor than fresh!). To give the butter an extra boost of flavor, I like to add a sprinkle of parsley or tarragon. Trust me, these little additions make a big difference in taste!
You can create a flavorful butter with simple ingredients like garlic and herbs. And the best part is that it's effortless to make - anyone can do it! Infused butter is a great way to flavor any dish; this recipe is a perfect example.
Note:
If you want to switch things up, try experimenting with different herbs or spices to create your unique infused butter recipe. The possibilities are endless, and it's a fun and creative way to add a personal touch to your cooking.
Ingredients you'll need:
2 Tbsp. garlic powder
1 stick organic butter (softened at room temperature)
1 tsp. sea salt
---
How to do it:
1 Start by placing softened butter in a bowl. Add your desired organic spices and sea salt, then use a fork to mash everything together until well combined.
Note:
If I use fresh garlic in my herb butter recipe, I chop or mince it before blending it with the butter. This step ensures that the garlic is evenly distributed throughout the mixture and that the butter is infused with its pungent flavor.
Fresh garlic adds a bold and aromatic taste to herb butter and is a great choice for those who love a strong garlic flavor. However, you can use garlic powder if you prefer a milder taste. Whatever your preference, adjust the amount of garlic used to suit your taste.
Tips for creating butter from scratch
Use high-quality cream: To make the best butter, high-quality cream is essential. Look for a cream with a high-fat content (at least 35%) and free from additives or preservatives.
Keep cream at room temperature: Before churning, allow the cream to reach room temperature. This will help it to churn more easily and quickly.
Chill your equipment: Before starting, chill your mixing bowl, whisk, or hand mixer beaters in the refrigerator for at least 30 minutes. This will help keep the cream cold and ensure it whips into butter quickly and easily.
Use a cold bowl and mixer: While you want your cream to be at room temperature, churn it in a cold bowl and mixer. This will help to keep the butter and buttermilk separate.
Don't overmix: Overmixing can cause your butter to become greasy and oily. Stop mixing as soon as you see the butter starting to form clumps.
Rinse your butter: Once your butter has formed, it's important to rinse it with cold water to remove any remaining buttermilk. This will help to keep your butter fresh and prevent it from spoiling too quickly.
Add flavorings: Once you've made your basic butter, add various herbs, spices, or other flavorings to create a compound butter. Be creative and experiment with different combinations to find your favorite.
Shape and store: Shape your butter into a log, ball, or rectangle, wrap it tightly in cling wrap or wax paper, and store it in the refrigerator for up to two weeks. Homemade butter can also be frozen for longer storage.
Add salt to taste: If you want to make salted butter, add salt after rinsing your butter. Mix it thoroughly to ensure the salt is evenly distributed throughout the butter.
Note:
The percentage of heavy whipping cream required to make butter may vary depending on the recipe or method used. To ensure high-quality results, it's generally recommended to use heavy cream with a fat content of at least 35% when making butter. This is because the higher the fat content, the easier it is to separate the butterfat from the liquid (buttermilk) during churning. Some recipes may call for heavy cream with a fat content of 40% or higher, but 35% is typically sufficient for making homemade butter.
10 compound butter varieties
Here are 10 compound butter varieties, along with their list of ingredients:
Garlic-Herb Butter - This classic compound butter combines softened butter with garlic, parsley, rosemary, and thyme for a savory spread perfect for bread or meats.
Lemon-Dill Butter - This butter has a tangy and fresh flavor thanks to adding lemon zest, juice, and dill.
Honey-Cinnamon Butter - This sweet compound butter is made with honey, cinnamon, and a touch of vanilla extract. It's perfect for spreading on toast or using in baking recipes.
Blue Cheese Butter - This savory butter combines blue cheese crumbles with softened butter, creating a rich and flavorful spread perfect for steak or roasted vegetables.
Bacon-Chive Butter - This delicious butter combines crumbled bacon, chives, and a touch of black pepper, creating a smoky and savory spread that goes great with baked potatoes and grilled meats.
Maple-Bourbon Butter - This sweet and boozy compound butter combines maple syrup and bourbon, creating a rich, decadent spread that would go well with pancakes and waffles.
Herb-Parmesan Butter - Contains grated parmesan cheese and fresh herbs, including parsley and thyme, creating a delicious and cheesy spread perfect for garlic bread or pasta dishes.
Sriracha-Lime Butter - This butter has a spicy and tangy flavor thanks to adding Sriracha sauce and lime juice.
Cilantro-Lime Butter - This fresh and zesty butter is made with cilantro, lime juice, and garlic, which makes it an ideal condiment for tacos or grilled seafood.
Truffle Butter - This luxurious butter is made by blending softened butter with truffle oil or paste, creating a rich, earthy spread perfect for pasta or risotto dishes.
Pro tips to make the perfect butter:
1

Start slow
When you're whipping up heavy cream or buttermilk to make butter, starting off slow is essential. Whipping too fast can cause the mixture to heat up, resulting in over-whipped clumps instead of a creamy emulsion.
Over-whipping can cause your butter to become greasy and less flavorful, so timing is crucial. To avoid this, start at a low speed and gradually increase as the mixture thickens. Be patient and take your time, as this will help you to achieve a smooth and creamy texture in your butter.
2

Use cold water
Cold water is essential to avoid unwanted protein hardening when kneading your butter. If the butter becomes too warm during the kneading process, the proteins can harden, resulting in an unappealing appearance once the butter is pressed into shape. Be sure to work quickly and efficiently to minimize any heat buildup in the butter. To avoid this, use cold water throughout the kneading process.
3

Be patient when kneading
When kneading your butter, take your time and be patient. While the process can be tedious, it's essential for achieving smooth and consistent results once the butter is chilled.
Press and knead the butter gently, using a light touch to avoid overworking the mixture. This will help create a uniform texture and prevent unwanted air pockets from forming. Don't rush the process, leading to uneven and lumpy butter.
4

Adding herbs and spices
If you want to elevate your homemade butter's flavor, consider adding herbs and spices toward the end of the churning process. Garlic, parsley flakes, and other seasonings can all be used to add complexity and depth to your butter.
When adding herbs and spices, wait until the end of the process before adding them. This will ensure the seasonings are evenly distributed throughout the butter and won't interfere with churning. You can experiment with different flavors to find the perfect blend.
Ensure your herbs and spices are high-quality and chopped finely to guarantee their even distribution throughout the butter. You can even try mixing different ingredients, such as roasted garlic or citrus zest, to create unique and flavorful combinations.
---
How to store homemade butter
To store your homemade butter, you should follow these steps to ensure that your homemade butter stays fresh and delicious for as long as possible.:
Wrap it tightly: After pressing your butter into shape, wrap it securely in either plastic wrap or parchment paper. This will help keep it fresh and prevent it from picking up unwanted flavors or odors.
Store in the refrigerator: Store your butter in the fridge to keep it fresh. It's best to use it within two weeks of making it.
Keep it away from strong-smelling foods: Butter can easily pick up flavors and odors from other foods, so storing it away from strong-smelling foods like onions or garlic can help prevent this.
Use an airtight container: If you prefer, store your butter in an airtight container. This helps keep it fresh for longer periods.
Freeze for longer storage: If you're not planning on using your butter within two weeks, you can freeze it for more extended storage. Wrap it tightly in plastic wrap or parchment paper, then place it in a freezer-safe container. It will keep for up to six months in the freezer.
---
FAQs related to making butter at home
What kind of cream should I use to make butter?
You should use heavy cream with at least 35% fat content. The higher the fat content, the better your butter will be.
---
How long does it take to make butter?
The time it takes to make butter can vary depending on the method you use and the temperature of the cream. Generally, it can take anywhere from 10-30 minutes.
---
How do I know when my butter is ready?
Your butter is ready when the fat separates from the liquid and clumps together. You should be able to see small, yellow lumps in the mixture, which are called sweet cream butterfat.
---
Can I add salt to my butter?
Yes, you can add salt to your butter. Add ¼ to ½ teaspoon of salt per stick of butter, depending on your preference. It's best to add it towards the end of the process once your butter has taken shape.
---
Can I flavor my butter with herbs and spices?
Yes, you can flavor your butter with herbs and spices. Add them towards the end of the process once your butter has taken shape. To guarantee even distribution of ingredients throughout the butter, make sure to chop them finely.
---
What can I use buttermilk for after making butter?
You can use buttermilk in various recipes, such as pancakes, biscuits, and cakes. It's also great for marinating chicken or making salad dressings.
---
Can I make cultured butter at home?
Yes, you can make cultured butter at home. You must start with cream inoculated with bacteria, such as sour cream or yogurt. The process is similar to regular butter, but the result will have a tangy flavor.