I fell in love with breakfast casseroles many years ago when I had a Saturday morning business appointment in the other party's home. Rather than just serving coffee, this person went out of their way to make me feel welcome by serving a cheesy bacon and egg casserole.
Not only was the gesture extremely nice, even though it wasn't necessary, but the casserole was also delicious and opened my mind to a wider variety of menus for breakfast, particularly when serving a group.
The French toast casserole is no different. It's easy and serves a group and a bit different than many of the other breakfast casseroles I often serve.

You won't need syrup for this French toast since you create a sauce for the bottom that will provide plenty of sweet goodness. There's also no dipping bread in egg mixture since you pour it over the bread.
It's simple and easy, but best of all, you make it the night before and have it ready to bake in the refrigerator the next morning, making it easy when you least want to rush.
For the syrupy bottom layer, combine a stick of melted butter with a cup of brown sugar, mixing it well. Pour it in the bottom of a 9X13 pan and then layer it with Texas toast, which you can find in your freezer section.
Put them close together so you don't have any gaps. You can leave the crusts on the toast or remove them for a more attractive appearance. I leave them on for the family, but remove them when guests are going to be partaking. Sprinkle with a cinnamon and sugar mixture.

Mix four beaten eggs, 1 ½ cups of milk, a tablespoon of powdered sugar and a teaspoon of vanilla until blended. Pour half of the mixture over the Texas toast. Top with another layer of Texas toast and top off with the remaining mixture and then sprinkle more cinnamon and sugar on top.
You can use brown or white sugar for this. Let it set in the refrigerator overnight. When you're ready for it in the morning, all you have to do is bake at 350 degrees for 45 minutes then sprinkle with powdered sugar for a finishing touch.
If you want to make it a holiday special, cut a stencil with a holiday pattern out and sprinkle the sugar over it to create a design on the top of the casserole.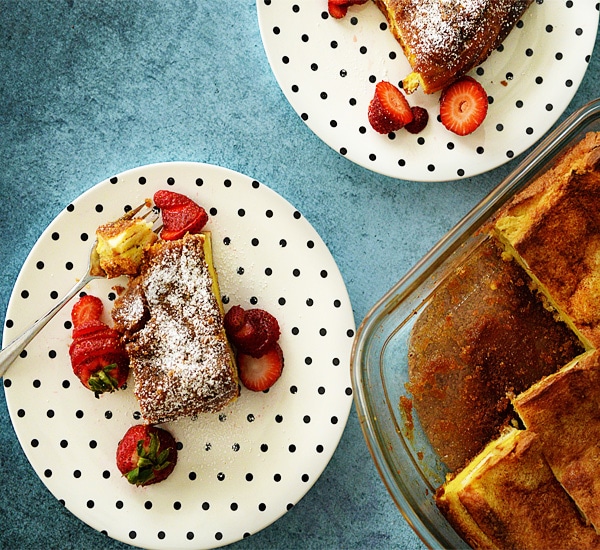 [amd-zlrecipe-recipe:5]