If you are reading this, you have likely stumbled across a container of Chick-fil-A sauce in your cupboard. You know it has been there a little longer than you originally intended.
In this guide, you will learn whether Chick Fil A sauce expires or how long the sauce lasts. As with any food product, you should avoid consumption past the expiration date listed on the container, as this could result in the onset of sickness.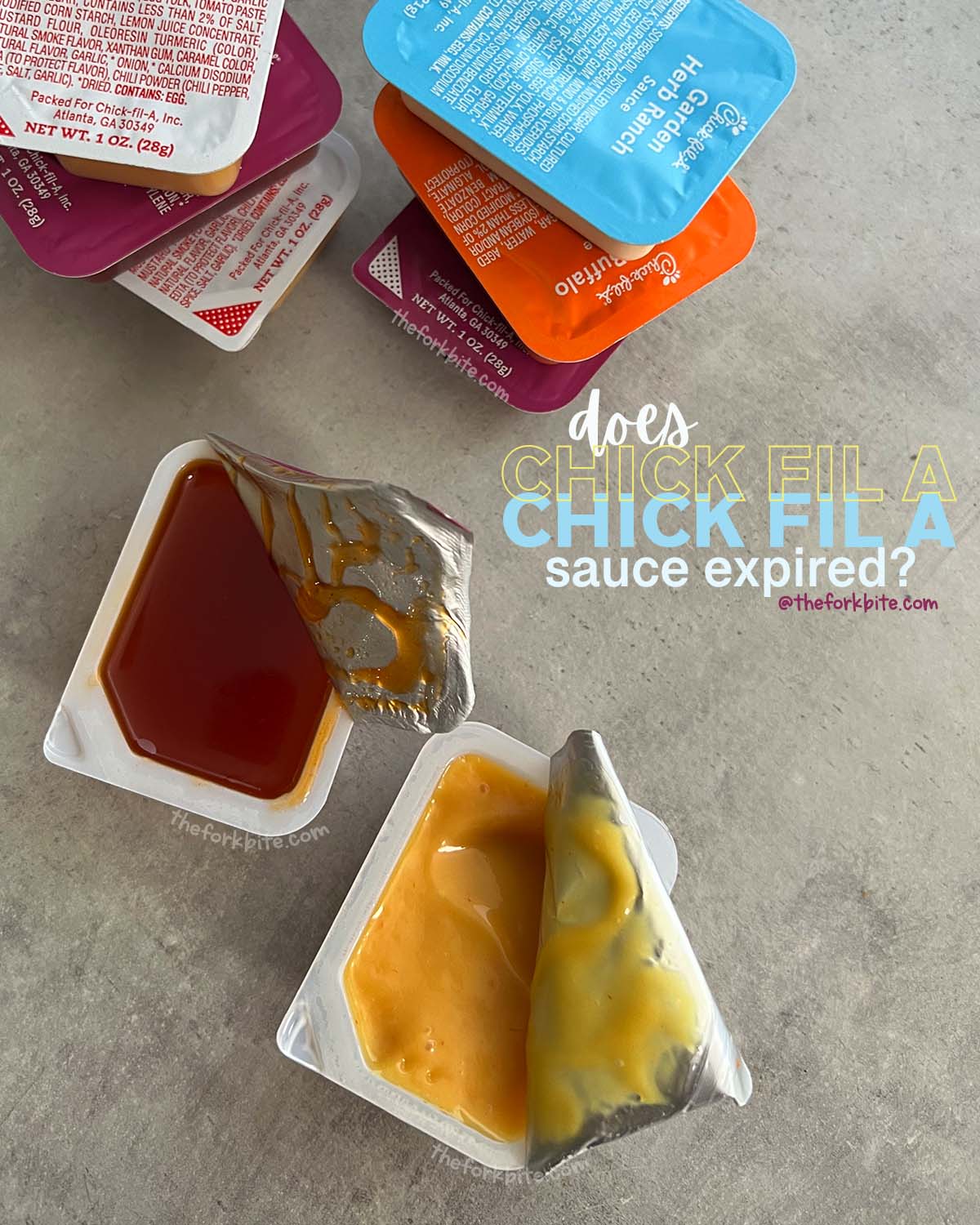 Jump to:
Does Chick Fil A sauce expire?
Yes, the sauce from Chick-fil-A does – indeed – expire. The time it lasts depends heavily upon how the sauce is packaged. The individual containers of the sauce will last approximately one week; however, it may last up to two.
Storage conditions have an impact on the overall preservation of the sauce. To determine how long the sauce will last, we must first specify whether we evaluate an individual container or the bottled version. The bottled version of the product includes a statement informing that it is "best-before-90-days". We will expound more on this later.
---
How long does Chick-fil-A sauce last?
In researching the answer to this question online, you will find that it varies immensely from one individual to another. In most instances, the bottled version of the sauce from Chick-fil-A will remain consumable for three months. This time frame is only effective if the product is stored the right way. To ensure the highest level of safety, always search for the expiration date. You can find this on the bottle.
Read:
1

For Bottled Sauce

The large bottled version of Chick-fil-A sauce aims to maintain a higher level of preservation for more extended periods. When inspecting the bottle, you will discover a "best-before 90 days" stamp.

In the immediate area of this stamp, you can also see a date tag. You can not find these specifications on individual sauce packets. The sauces are intended for immediate consumption – usually meaning within the restaurant.

As I looked through the posts on Reddit, one user mentioned that they kept a few containers from their dining experience to snack on later.

They saved the sauce to use as needed. Unfortunately, those sauce packets spoiled quickly. Individual containers of sauce are only edible for a short time, whereas bottled versions last longer.
---
2

For sauce packets

If you store individual containers of the Chick-fil-A sauce in the refrigerator, they may last a few months. I do not recommend using it once the sauce has reached the 60-day mark to be on the safe side.

It is unlikely that usage beyond this point will negatively impact your health; however, there will be a significant degradation in the overall flavor of the product.

If you keep the individual containers stored in a pantry, the drawer, or another kitchen area that is not refrigerated, it is not likely to last longer than a week or two.

The quality has likely diminished if you attempt to consume it, and the flavor is less-than-favorable. Based on my experience, it has become my habit to put the sauce packets in the fridge to extend the quality and freshness.
---
What are the factors that influence this?
Yes, it is true – we all want that tasty sauce from Chick-fil-A to last for an eternity; however, this is not the case. Like other bottled and packaged food products, the sauce varieties have a limited shelf life. To extend the lifespan of your sauce, you must learn what factors play a role in the length of time that it lasts.
First, if the sauce has already been open, there is a good chance it has a lesser degree of preservation than if it had been left untouched.
Second, let's say you leave it out in the open near a heat source (a microwave, oven, hot plate, or even near an area exposed to sunlight). In that case, it will develop a rancid flavoring more quickly.
Storage directly impacts the shelf life of the Chick-fil-A sauce mainly due to the various ingredients contained within the product. Examples include cholesterol, sodium, and an assortment of fats. Over time, these compounds will experience a breakdown if you don't adequately protect the sauce. Immediately following a specific time, the authentic taste of the product will succumb to those circumstances.
As a note, I feel it is crucial to outline that the development of staleness within the sauce does not mean it has expired. It does not mean that it is not safe for consumption. Expect the taste to be different from what you are used to if it has lost its original flavoring.
---
What does Chick-fil-A sauce have in it?
Chick-fil-A sauce contains unique blends and proportions of mustard, barbeque sauce, honey, and mayonnaise. While most of these ingredients will keep for an extended time, the mayonnaise tends to have a shorter shelf life.
If this particular ingredient starts to degrade, it will negatively impact the overall taste of the sauce. The oils within the mayonnaise and other aspects of the sauce do aid in slowing the molding process.
Unfortunately, those oils can't keep the product safe indefinitely.
The sauce contains a wide assortment of preservatives; naturally, these help in retaining freshness and stability. Again, these will – eventually – start to break down. As a result, the sauce's texture will thin out and ultimately change. Immediately following this event, the taste will change, too.
---
What makes Chick-fil-A sauce popular?
Chick-fil-A sauce is great-tasting. The truth is, the taste is almost addictive! Have you ever wondered why you can't get enough? What about the unique combination of flavors?
How can it taste like a rich barbeque sauce while also tasting like a high-quality mustard blend – all at once? Let's face it, Chick-fil-A is famous for its condiments. It is more popular than the items on their menu.
This namesake sauce blend emerged in the year of 2014. Consumers have embraced this product since its introduction. It ranks top of the class among all sauces offered by restaurants! The restaurant's blog even highlights it as the "sauce with the most class."
To my classy saucers, this is the secret to that great-tasting and addictive sauce
1

The magical mixture of ingredients

By conducting a little bit of research, I quickly identified the ingredients of the famous Chick-fil-A sauce. For the most part, it is a blend of mustard and barbeque sauce. What changes the flavoring, though, is egg yolk. A little sugar goes into it to give a kick of sweetness. Then, there's the kick: lemon juice and vinegar! When combined, these unique flavors come together to create that awesome sauce that you love!
---
2

Basic nutritional information

Now, time for the information you probably do not care to know. The sauce contains a whopping 13 grams of fat and a massive amount of sodium – 170mg, to be exact! It is a fact that all that is good does come at some cost.

While it is true that the restaurant is trying to keep its food as healthy as possible, there is still a fair amount of fatty goodness. No matter who you are or where you are, when you eat Chick-fil-A, the thought of fats and calories go out the door with all that tasty goodness! A little bit of that awesome tasting sauce adds another 140 calories to your meal.
---
Signs that Chick-fil-A sauce has gone bad
As mentioned previously, the sauce from Chick-fil-A does expire. How long it takes to expire is dependent on packaging and storage. Individual containers may last up to two weeks. Bottled versions will expire within three months.
Based on the guidelines, here are the following guidelines on what you can keep and what you should dispose of.
Erring on the side of caution is always best for food products. Suppose there is no date or "best-by" outlined on the condiment; open and evaluate the smell and appearance of the sauce. If the look and smell test does not pan out, it is best to throw the product away.
Basic guidelines:
1 Before consumption, inspect the packaging of the sauce. If you open the product and notice that the texture, color, and/or smell is off, do not consume. Any signs of puffiness or damage should be a red flag. Throw the packets away.
---
2 All condiments that contain any level of fats – such as butter or even mayo – have the potential to go rancid more quickly than those that do not.
---
3 If packets are made of paper, the content therein will spoil much more quickly than placing in other types of containers. It is important to note that salt and cane sugar do not experience spoilage. Pepper does lose its overall flavor within a few years due to the drying of the contained oil.
---
4 You may consume sauces with vinegar indefinitely; however, packaged varieties designed for salads will lose a degradation of flavoring in approximately one year.
---
5 Natural bee honey contains high levels of sugar and low levels of moisture. It will not spoil. However, those products created using corn syrup have the potential to deteriorate.
---
6 Store plastic creams and margarine cups in the refrigerator immediately or spoil the products. Jelly containers with a peel-back top have the potential to last up to three years.
---
7 Inspect packages and evaluate the product itself. If you notice anything that seems a bit off, it is advisable to discard the product immediately. When dealing with condiments, it is best to dispose of products beyond the point of retaining the original flavoring.
---
Does Chick Fil A sauce need to be refrigerated?
While it is not necessary to refrigerate the sauce obtained from Chick-fil-A, it is highly recommended. The sauce contains mayonnaise and eggs. When stored in this manner, the product will last significantly longer than if left out.
Individual containers are for immediate consumption but may be refrigerated for two weeks. Once you open a bottle variety, it should be refrigerated. Naturally, refrigeration is preferable. A safe alternative would be a cool cupboard.
---
Can you freeze Chick-fil-A sauce?
Freezing will drastically change the sauce's texture due to a separation of ingredients when exposed to extreme temperatures. Additionally, it will alter the taste. If placed in containers, the product will swell and could result in bursting.
This results in a tremendous mess. If you find yourself facing expiration, it is best to integrate the sauce into a new recipe than attempting to freeze it.
---
Bottomline
Grabbing your own Chick-fil-A sauce containers is easy and extremely rewarding! You can purchase them from a restaurant or another retailer – such as Amazon.
It is one of the best-tasting sauces currently available on the market!
Once you obtain the sauce for your personal use, remember to keep an eye on it! As a result, you can maximize the shelf life and enjoy that great taste for months!