Slow Cooker Meatballs
I absolutely love using appetizers for a meal. It delights me for a couple of reasons. I collect miniatures and often appetizers remind me of miniature meals. Their mini serving sizes allow you to sample several flavors without having to choose just one.
When people come to my home for a get-together, they know there will be no sit-down dinner, but a wide variety of appetizers used for the meal.
There also won't be a lack of variety. I seldom use a specific theme, so you may find Italian flavors right next to Jamaican ones. That's also another reason I love this recipe. These barbecue meatballs in slow cooker are so easy and no one would ever know how simple it is to make.
I've served this at parties as an appetizer and put a display of toothpicks out to "stab" the meatball and dip. When I serve it at home for a quick dinner, I don't vary the procedure much. I still sit out toothpicks, but keep them in the container and don't create an elaborate display.
To complete the display, I put out small disposable plastic cups to spoon in the dip so each person has their own dipping cup. Paper plates are used for home dinners, but often I bring out the glass dishes for a party.
For the meatballs, you don't need many ingredients. All you need is 3 ingredients. You simply throw the grape jelly and your favorite barbecue sauce in a crock-pot, then add the frozen meatballs (or you can make the meatballs from scratch).

These are yummy and really don't take long to prepare. I made up several batches and freeze them.  The cooked meatball lasts longer in the freezer and I then can just re-heat them.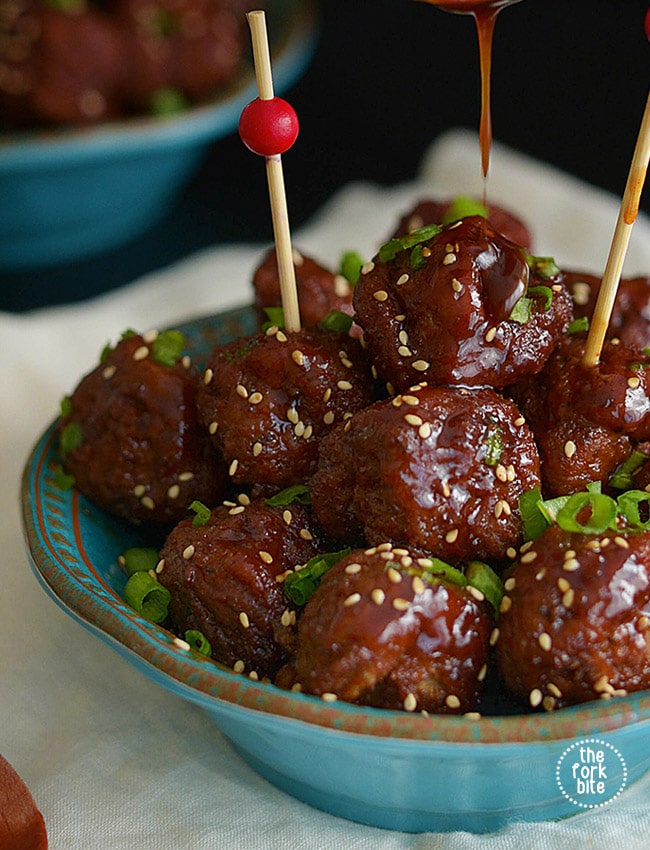 Slow Cooker Meatballs
Category: Appetizer

Cuisine: Italian

These barbecue meatballs in slow cooker are so easy and no one would ever know how simple it is to make.
1 32 oz bag frozen fully cooked meatballs (about 50)
1 18 oz jar grape jelly
1 18 oz BBQ sauce
For Homemade Meatballs:

2 pounds ground beef
2 eggs
1 cup milk
2 tablespoons grated parmesan cheese
½ cup plain breadcrumbs
1 teaspoon garlic powder
1 teaspoon onion powder
1 teaspoon kosher salt
½ teaspoon black pepper
Instructions
Ready in

3 hours, 28 minutes
Combine sauces in your crock-pot and stir until combined.
Add meatballs and stir until they are coated with the sauce.
Cook on high for 3 hours.
Serve as an appetizer or serve over rice for a main dish.
For Homemade Meatballs:

Preheat oven to 450 degrees F. Line 2 baking sheets with foil and set aside.
Place all ingredients into a large bowl and gently mix together with your hands, careful not to over-mix. Just squish it all together a few times to combine.
Using a cookie scoop or your hands, divide meat mixture into desired size meatballs. As long as they are uniform, they can be as large or small as you like.
Bake in the preheated oven for 10-14 minutes, depending on the size. Be sure to check for doneness. Serve hot with your favorite sauce.
TO FREEZE:

Allow meatballs to cool completely on the baking sheets. Once cool, scrape the fat away from the meatballs and seal tightly in a freezer safe bag or air tight container and place in the freezer.
https://www.theforkbite.com/easy-slow-cooker-meatballs/