Chili Cheese Fries Recipe
Bachi Burger may sound like just another burger joint, but it's a fusion of good ole American favorites with an Asian flair. I admit, I was reluctant to stop there when the couple we were with wanted to go, but I'm so glad I went.
The food is to die for. There's nothing ordinary about it and even though it's filling, you keep on eating more, way past the stuffed point.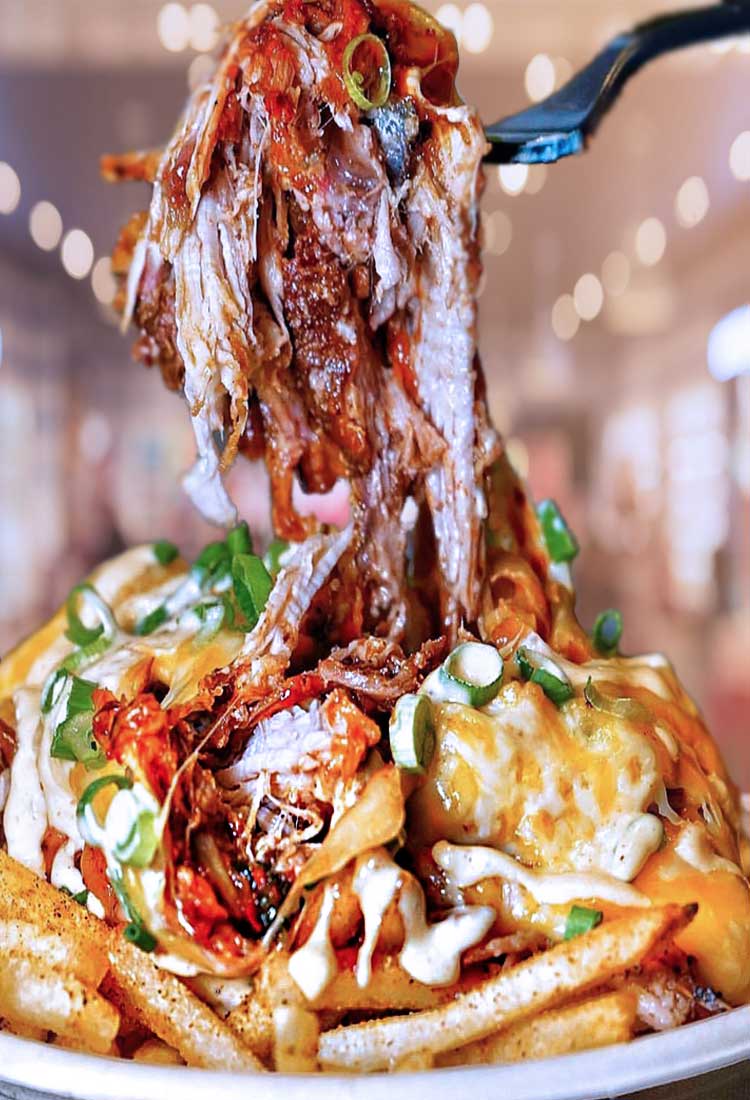 Don't make the mistake of sharing a plate of the oxtail chili cheese fries. We did and we ended up ordering more. If you can't eat it all, the great thing is that it's almost as good the next day.....thank heavens for refrigerators in the room.....except it's cold and the fries aren't crisp.
This chili cheese fries recipe has just enough sweetness and the oxtail meat is so tender and delicious you'll probably want to make this one yourself. With a little investigation, I found most of the ingredients and am still trying to work out all the proportions, but have it pretty close to what the sauce tasted like.
The oxtail is cooked for about five hours in salted water (but if you have instant pot, it would be less than an hour). It literally falls off the bone at that time. Save the liquid, to use later in the chili sauce.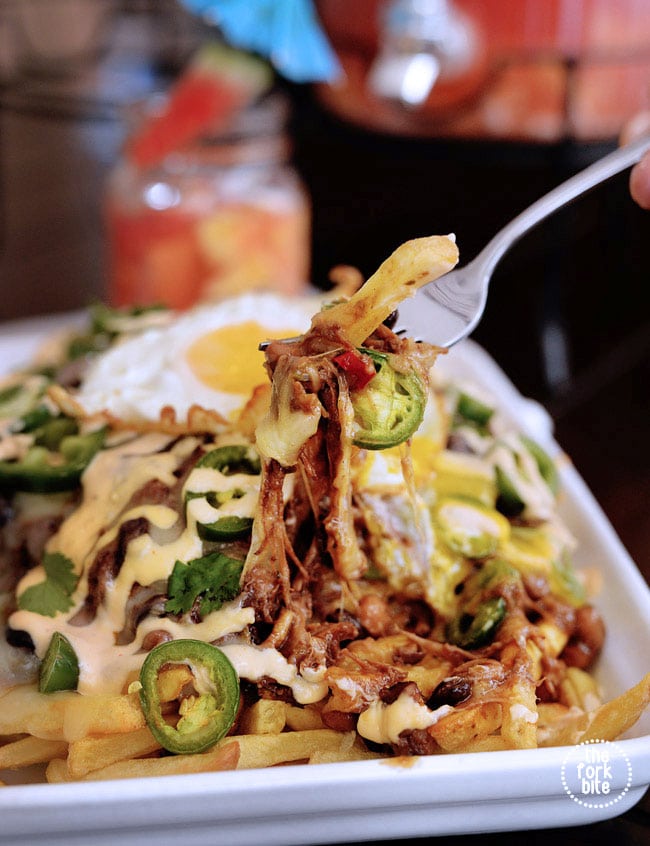 I cooked the oxtail the night before then flaked and stored it in containers in the fridge. The next day, I sauteed onions and jalapenos while I cooked the bacon I already chopped in bits and started adding ingredients I thought might be in it.
I knew there was brown sugar, garlic, butter and cilantro and guessed that chili powder, mustard and cumin might also be in there. To make it like chili, I added tomato paste and chili paste. It still needed something more. I added some beer, it was starting to taste more like the delectable flavor I had tasted.
Of course, I needed the oxtail and the white beans I saw in it, but that made it too thick so in went some chicken stock, red wine vinegar and one of the help told me it had dark chocolate chips, so in went a handful. I put some in a skillet, topped it with jalapenos and Monterrey jack heating it until the cheese melted.
Then I slid this delicious mixture out of the pan onto fries, topped it with a mixture of thousand island with a touch of garlic, sprinkled cilantro and topped it with an egg.
The result was awesome as the chili cheese fries taste exactly the same as in Bachi burger (oxtail chili fries).  It was so good I ate the whole plate myself, not waiting for my hubby to come and sample and add his input.
He seldom adds to the dishes I make, just eats them and I simply didn't want to share. You can try it yourself, but you really, really need to taste the original before you do. It's so yummy There are several Bachi Burgers in or near Vegas and two in Southern California.
[amd-zlrecipe-recipe:23]