Baked Zucchini Chips
Summer brings on fun, sun and in my area, plenty of zucchini. While I've given it to neighbors and friends, there's always plenty left over to freeze. Sometimes my frozen zucchini isn't used before the next crop starts. It's hard to find new ways to use this vegetable, after making tons of delectable zucchini bread, frying it with onions and hamburger and even creating zucchini lasagna, I didn't think there could be anything left. But oh how wrong I was.
I'm a snacker, not an eater. When I sit down to a meal, I eat small portions and fill quickly, but that doesn't mean I don't eat much. Throughout the day I'm constantly snacking on something, and most of the time, it's not always the healthiest of snacks. (Seriously, potato chips are vegetables and aren't cookies an important food group?)
It occurred to me one day that finding a healthy snack that used the excess zucchini I had each season. I'm a cheese connoisseur and use it as much as I can, so adding to a snack, seemed like a great idea. While munching on some chips, pondering the situation, it occurred to me zucchini might make a great chip with a little help. After searching the Internet, I managed to find a few recipes, but one stood out from the rest since it contained Parmesan cheese.
I adjusted the recipe a bit to suit my taste. While it called for deep frying the zucchini chips, I preferred baking them. I hate deep frying anything because of cleanup and it was a cooler evening, so baking warmed the house just enough to take off the chill.
I coated the chips with eggs and dredge in Panko and Parmesan cheese mixture and baked them to perfection. While I was making the second batch, my greedy-greedy family ate the first batch before I had a chance to even taste them. Luckily, the second batch was just as good as the first and while nobody got their fill……since they're so good it's absolutely impossible to do that….everyone was satisfied and hoping I'd make more.
We still give the neighbors some of the zucchini, but don't have nearly as much to give since I found this absolutely addictive snack. Sometimes I make sauces for dipping, such as honey mustard or my favorite ranch dip, other times I just serve it plain. When I'm here alone, I make a batch especially for myself enjoying each bite completely and knowing it's a far healthier alternative than other types of snacks.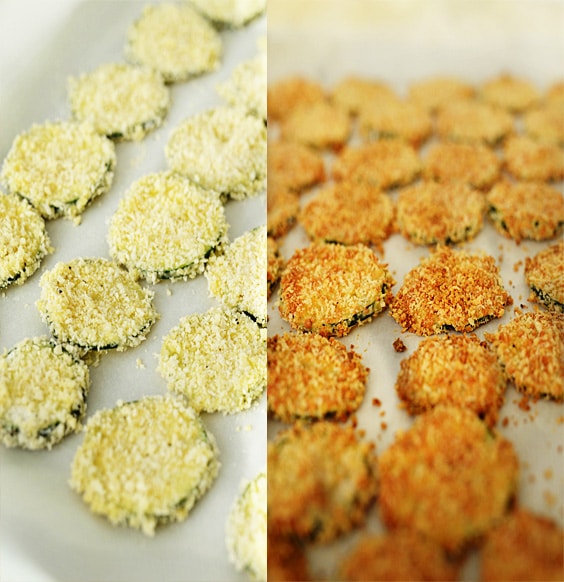 Baked Zucchini Parmesan Chips
Category: Appetizer

Cuisine: American

I found this absolutely addictive snack. it's a far healthier alternative to fries and potato chips.
1 (large) zucchini, cut into ⅛" - ¼" slices
⅓ cup whole grain breadcrumbs (I used Panko)
¼ cup finely grated parmesan cheese, reduced fat
¼ teaspoon black pepper Kosher or sea salt to taste
⅛ teaspoon garlic powder
⅛ teaspoon cayenne pepper
2 eggs
Instructions
Preheat oven to 425 degrees.
Combine in a small mixing bowl, breadcrumbs, parmesan cheese, black pepper, salt, garlic powder, and cayenne pepper.
Slice the zucchini and pat dry. Set aside. Dip zucchini slices into eggs and dredge into bread crumbs mixture to coat both sides.
Arrange zucchini on a non-stick cookie sheet and lightly mist with a non-stick cooking spray. Or, place zucchini on a wire rack sprayed with non-stick cooking spray.
If using a rack, place rack on a cookie sheet.
Bake 15 minutes, turn over and continue baking until golden, approximately 10-15 minutes.
Allow to cool to room temperature before storing in an airtight container.
Notes
For gluten free chips, use gluten-free bread crumbs.

(adsbygoogle = window.adsbygoogle || []).push({});

https://www.theforkbite.com/baked-zucchini-parmesan-chips/