How to reheat sushi. Using this trick, you can revive your leftover sushi of its softness and flavor when left in a fridge for too long. I absolutely love sushi. I often have it as a starter when I go to my local Japanese restaurant.
It is quite expensive, though, and paying $30 for a small plate of this gorgeous Japanese treat is quite the norm.
Of course, you can buy sushi from some local grocery stores. It's a heck of a lot cheaper - somewhere around $10 for the equivalent of a plate. But I have to admit the quality isn't as good as when I have it in the restaurant.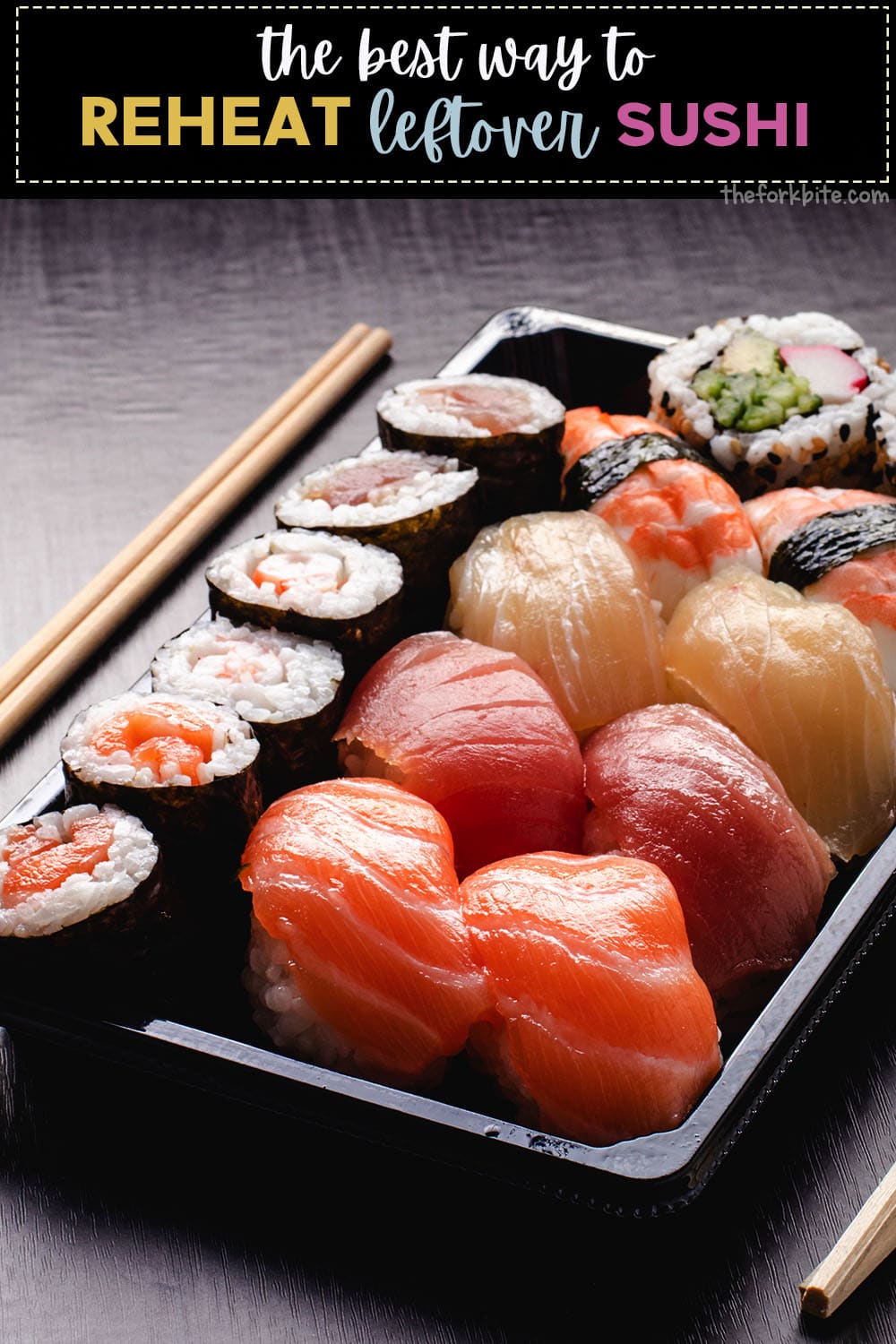 Jump to:
I did a little bit of research into sushi, and I picked up a convenient tip from the Taste of Home website, advising that if you give shop-bought sushi a quick 30-second zap in your microwave.
It enormously improves both the texture and flavor. Just be sure to take it out of the container before doing so. Try it - it really works!
The question is, can you heat sushi in the microwave?
Eager to try it, I popped down to my local supermarket and bought a sushi variety pack. I was delighted to find out that it works with all the different types.
Using this little trick, you can have restaurant-quality sushi using store-cash bought product for less than one-third of the price it would cost you if you were eating out.
---
How to reheat sushi
Why not put this little sushi trick to the test yourself? You know it's got to be worth it if you're going to get your supermarket sushi to taste as good as when they serve it in the restaurant - well, almost.
If you're lucky enough to buy ready-made sushi from the supermarket as soon as it's put out for sale, you're very fortunate - it should be in fine fettle.
But by the time it's been out on display for a few hours, the rice goes hard and starts separating, plus the toppings begin to degrade as well. It's nowhere near as good.
So go on - give it a whirl, here's how to do it:
Take your shop-bought sushi home, put it on to a microwave-safe dish
Heat for just 30 seconds (at 500-watt power) and you'll see what I mean, just like ready-made.
Check here how to set the desired power level of your microwave.
What's the result?
The short warming-through process doesn't affect the vinegar in the rice, and it leaves the rice soft and fluffy - the way it should be.
It won't do the neta toppings any harm either. They become juicier and softer too.
Take the tuna topping, for example. Before microwaving, the tuna is almost tasteless, and the texture isn't up to much either.
But after a quick blast in the microwave, it was slightly warm and oh, so juicy. Absolutely delicious.
All of the neta toppings were much improved, but the thing that really made the difference was the rice.
That 30-second warm-up took the edge off the rice's coldness, and in terms of texture and taste, it was as if a sushi chef had just formed it.
Even the squid topping was much improved. Squid can be quite bland and chilly if it's been left standing for a while, but having been microwaved gently for a few seconds, it becomes beautifully sweet and soft.
Okay, it's never going to taste quite as good as something you'd pay $30 or more for in a top-end Japanese restaurant, but it's not far off.
Just be sure when you try this trick not to leave it in the microwave for too long; otherwise, you'll cook the rice and ruin the sushi.
---
A marriage made in heaven
This little trick goes straight to the top of my quick-hack list, alongside the one I found on the Finest-Italian-Wine.com website for putting the fizz back into your bubbly when it's gone a little flat, by simply dropping a raisin into the bottle.
Now there's a marriage made in heaven - Sushi and bubbles!
---
Getting your microwave power setting right
Many of the microwaves sold here in the US allow you to adjust the power setting from 1 to 10. It turns out that these numbers are percentages.
Okay, so my microwave has a power rating of 1100 watts. I used the 30-second microwave trick I stumbled across in conjunction with a plate of sushi for two and a 500-watt microwave.
So, to recreate that, I needed to reduce the power level of my machine by 45%. That meant adjusting the pointer on the setting to between the digits four and five.
To err on the safe side, I pointed it closer to figure four as I thought it was better to undercook it rather than cook it too much.
I must admit that I had to fiddle around with the settings a little bit to get the power level just right.
However, at the end of the day, it was well worth it. I now know how to rejuvenate store-bought sushi to taste much closer to what they produce fresh in the restaurants.
---
What microwaving does to the ingredients of your sushi
Sushi is not just about rice and neta topping. Depending on the Sushi you like best, it can be a blend of many ingredients, including Nori - the delicious edible Japanese seaweed, raw fish or crab, cucumber, sesame seeds, and sushi vinegar.
Getting that blend right is important, as is getting the microwaving of it right, so all of the elements taste and feel as fresh as fresh can be.
Let's take a little time out to examine the various effects of reheating all Sushi ingredients.
---
1

How it affects raw fish

As you are already probably aware, there is a little bit of a risk involved with consuming raw fish sitting out for any length of time.

It is why I will only ever eat sushi at a top-class restaurant where the sushi chef performs his or her magic before my very eyes.

Whenever I get round to making my own sushi at home, I always make sure to purchase sushi-grade fish and to make sure I store it properly before use. I'll tell you a little about sushi=grade fish a little later.

I guess we've all done it - bought or made too much sushi and had some leftover because our eyes were bigger than our bellies.

If the sushi has a raw fish neta topping, I wouldn't recommend storing it for later consumption.

Bacteria might begin to proliferate and can make you violently ill. To be on the safe side, I would throw it away.

So, what about microwaving raw fish for a few seconds, you might ask yourself?

As long as you are using fresh or properly stored raw fish, it shouldn't be a problem. If you think about it, it's only like when the sushi chef creates those lovely little rice rolls with his or her hands.
It warms the raw fish up slightly and makes it perfect for eating.
So gently warming sushi for 30 seconds in a 500-watt microwave has a similar effect. It just makes the cold raw fish fractionally warmer and softer.
But don't warm it for too long. You could end up not only with sushi that could potentially make you ill, but that is a warm, soggy mess as well.
---
2

How microwaving affects sushi rice

When Japanese restaurants service sushi, it is at room temperature. That's the way you always service at home too if you make your own fresh.

You don't eat it at a refrigerated temperature. If you do serve it cold, as straight from the fridge, you'll find that the rice is relatively dry and bland tasting.

You can, of course, remove it from the fridge, and it sits on a plate, waiting for it to get to room temperature before you tuck in, but if you do, the rice will begin to sweat, and its texture will deteriorate. It will also lose a lot of its flavor.

Using the 30-second 500-watt microwave trick is a far better option. That way, the rice will regain its original fluffiness.

It won't regain its full flavor, but it will taste better than if served stone cold. 
---
3

How microwaving affects nori

Not a lot of fuss is made about Nori, probably because whatever stuffings a sushi roll has, it is always wrapped inside a layer of this Japanese edible seaweed.

Its function is obviously to keep the roll together, but more than that, it has a subtly unique taste and texture.

Even when sushi became westernized and, in the process, became inside-out Sushi (Uramaki), the Nori was not completely left out.

Yes, its dark greeny-black appearance is not the most aesthetically pleasing thing to look at, which is why it got tucked away inside the rice.

But it's still there wrapping the filling because its flavor contribution is important.

Nori is made from edible lava seaweed. It is made in a similar way to the way they make paper by shredding and rack drying. When you take it out of the packet, it is slightly crispy.

When using it to make sushi, the action of spreading the moist sushi rice across it dampens it, making it flexible so it can be rolled.

When I make sushi at home, I like to make one roll at a time, cut it into six pieces and eat them straight away.

Leave them too long, and the Nori gets overly soggy. That explains why shop-bought sushi is always the way it is.

When you warm soggy Nori, it doesn't make it crisp again. Once it's gone soggy, you can't undo it. Warming doesn't affect the flavor, though.

If you're not a fan is soggy Nori, you can always discard it and eat the Sushi inner.
---
4

How microwaving affects sushi veggies

When people think of sushi, they automatically think of raw fish. But a sushi "stuffing" often uses veggies too. They add flavor and texture and are aesthetically pleasing when a sushi roll is sliced into pieces.

The types of vegetables used include asparagus, avocado, bell peppers, carrots, cucumber, mushrooms, scallions, sweet potato, etc. people sometimes use other products such as fruits, Japanese pickles, and tofu.

If, after making it, you store your sushi in the fridge, you'll find that after a while, the flavor and texture deteriorates, which is why I always recommend eating it as soon as you've finished making it.

As with the Nori, reheating won't do anything much to rejuvenate the taste or texture of soggy vegetables.

But the big winner when you give your shop-bought Sushi a 30-second microwave blast is the effect it has on the sushi rice. It becomes lighter, fluffier, and to my mind, tastier.
---
How to avoid being stuck with sushi leftovers
They say that prevention is better than cure. In this case, the way to stop being left with a highly perishable product that won't taste too good after you've refrigerated it is not to buy too much in the first place.
Just buy enough to satisfy your sushi craving, and rather than going overboard and running the risk of leftovers, fill your tummy up with other goodies instead.
The same goes for homemade sushi. If you intend to use raw fish, don't buy too much. Sushi grade fish is not cheap and having to throw away leftovers is a complete waste of money.
If you try and keep it in your fridge for too long, you're running the risk of food poisoning. In other words, just buy what you need and no more.
What about if you're throwing a sushi party?
It's all too easy to make too much and end up having to bin any leftovers.
Instead, why not make it a do-it-yourself sushi party and invite your guests to roll their own?
It's not only fun, but it also means you are not having to prepare lots of fish and veggies in advance that run the risk of not being consumed. Everyone's a winner.
Note:
If you do have leftovers that you intend to eat within 24 hours, you can always wrap them in a damp cloth, put them into an air-tight bag or container and store them in your fridge.
The 30-second microwave trick will still work, but you should not exceed that 24-hour maximum refrigeration time, or you might run the risk of bacteria forming.
---
A trick I learned from my Japanese friend
One of my Japanese friends, Sakura, gave me some good advice regarding what to do with leftover sushi.
Here's what she suggested.
Unwrap the sushi pieces and bin the Nori. Separate the sushi rice from the fish and any veggies. These can then be chopped into small pieces and cooked with Japanese seasonings such as mirin (if you can't get any, here's how to make a substitute) or Shoyu or Tamari.
The leftover separated sushi rice can then be microwaved or panfried, helping it regain its former softness.
Then, for that final flourish, mix everything in a bowl, and add some sesame seeds. You just created a Chirashi Sushi - eat and enjoy.
---
Can I bake sushi in the oven?
Another alternative to microwaving sushi is to bake it in the oven for eight minutes at 325°F.
After the initial four minutes, turn the sushi over to expose the other side and cook for a further four minutes.
You'll get a different result from 30-second microwaving of sushi, of course.
By reheating it in the oven like this, the raw fish will get cooked, and if you made the sushi with tempura, it would refresh some of the crunchiness.
But hey, if you don't like it soggy in the first place, this option could work for you. You can check my Sushi bake recipe here.
---
How long is sushi good for?
Storing sushi in your refrigerator
As I mentioned earlier, storing sushi in your refrigerator can be a little tricky. It all depends on how long it has been sitting out for before you get it into the fridge.
Ideally, if you intend to refrigerate leftover sushi, you should do it immediately.
If you're still hungry after you finished what you started, you can always take some back out of the fridge.
How soon should you refrigerate fresh sushi?
Whether it's homemade or shop-bought sushi, you should refrigerate within half an hour of making or getting it home.
As for the length of time, you can leave it in your refrigerator, as I said earlier, no longer than 24 hours maximum.
TIP:
The best way to pack sushi for storing in your fridge, as I said earlier, is to cover it with a damp cloth and then to wrap everything up in plastic food wrap or film. It will prevent the rice from drying out, but it will also softer than the Nori.
---
What happens if you freeze sushi?
I tried freezing sushi once many years ago. Never again. I took the precaution of removing the raw fish topping as I thought it would be unwise to freeze it.
I didn't know whether the fish had been previously frozen, and I wasn't willing to run the risk of food poisoning.
Anyway, it was a disaster, as I suspected it might have been before I tired. But, I thought, you never know, and gave it a try.
I defrosted it two ways - in the microwave on defrost and in the fridge overnight. Both methods had the same result - soggy rice. Trust me; it doesn't work.
---
A word on sushi-grade fish
The term sushi-grade fish has no official meaning. The thing that misleads most people is the use of the word "grade."
It's a term that has been created and used by outlets that sell fresh fish to indicate that this type of fish is suitable and safe to eat raw. In most instances, it means that the fish has been flash-frozen to kill any harmful parasites.
---
The bottom line
It is down to the individual as to how long you can store sushi in your refrigerator.
Having researched this thoroughly, I have come across recommendations from 12 hours to 5-days when wrapped in plastic film and kept in a fridge in an air-tight container.
The bottom line is that nothing tastes as good as freshly made sushi, eaten just after being prepared. The flavors sing to your taste buds, and the texture is amazing.
Eating shop-bought sushi straight away when you get it back home is next best, and this is where the 30-second microwave trick comes into its own because it rejuvenates the rice.
Personally, as far as storing it goes, I wouldn't recommend refrigerating it for more than 24 hours, but when push comes to shove, you have to make your own choice.
---
Other interesting sushi recipes:
---
Print
How to Reheat Sushi (How to)
How to reheat sushi. Using this trick, you can revive your leftover sushi of its softness and flavor when left in a fridge for too long.
Instructions
Arrange your 2-person sushi tray on a microwave-proof plate. Never use the tray that came from the market.

Zap it for 30 seconds, then choose the power level of your microwave and set it to 500-watt (50% power). Press start.
Notes
What's the result?
All of the neta toppings were much improved, but the thing that really made the difference was the rice.
That 30-second warm-up took the edge off the rice's coldness, and in terms of texture and taste, it was as if a sushi chef had just formed it.
Even the squid topping was much improved. Squid can be quite bland and chilly if it's been left standing for a while, but having been microwaved gently for a few seconds, it becomes beautifully sweet and soft.