Want to punch-up your lunch? Perk-up your energy? Are sandwiches getting tiresome? Sounds like you're a good candidate for our happening recipe, Dynamite Shrimp Sushi Jars.
Viewing the finished product, through the glass, is like peering in a kaleidoscope. Its various sizes and shapes – slices, dices, matchsticks, and strips – are that visually appealing. Rich in protein, high in fiber and packed with vitamins from nutritious veggies, Deconstructed Shrimp Sushi Jars are more than just pretty; they offer a healthy, portion controlled lunch.
Unscrew the jar lid, inhale the first whiff of aromatic contents. Does it whet your appetite? Pour the contents into a bowl and mix with dressing, which is the bottom layer.
Please – no rushing. Savor its delectable flavors, one bite at a time. Now, is this your idea of a bon appétit lunch, or what?
Deconstructed shrimp sushi jar lunch will keep your stomach satisfied through the long afternoon and your bank account happy. And, you gotta admit, it's definitely different from a peanut butter sandwich.
Our recipe for Shrimp Sushi Jars is fantastically easy to put together and every bite as delicious, as the constructed sushi rolls from a fine dining, a Japanese restaurant.
The sushi aka sticky rice is the only element that must be cooked. Although the recipe calls for packaged seaweed salad, if you're feeling culinarily creative, make your own. Recipes are plentiful on the Internet or in Asian cookbooks.
You may have challenges in locating packaged seaweed salad. Explore local Asian markets, or there is a Costco near you, they carry it. (Shhh! Don't tell, but we overheard that even Japanese restaurants frequent Costco for seaweed!)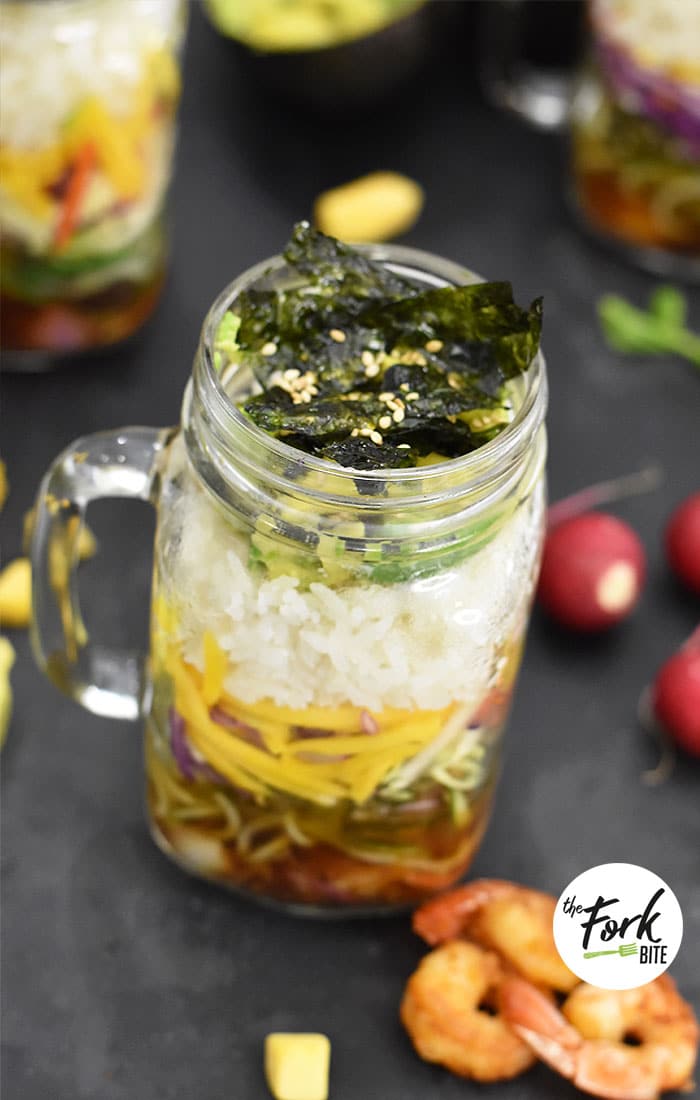 Don't give up if you absolutely can't locate seaweed salad, substitute wakame, meaning 'sesame seaweed'. If you're a newbie to Asian cooking, you may not be familiar with Nori, which is edible, dried sheets of seaweed.
Not only are jar meals simple to make, they can be customized to fit your personal taste. For example, Dynamite Shrimp Sushi Jars practically beg for avocado, which is one of my favorites.

Final Thoughts:
When all that's left of your lunch is a delicious memory, don't fret. There are a gazillion combinations of jar lunches, with your name on them.
Mason jar mania is spreading like gourmet mustard!
Shrimp Sushi In Jars
Category: Appetizer, Dinner

Cuisine: Japanese

Want to punch-up your lunch? Sushi in a Jar is easy to put together, store, and carry around. With a little bit of prep and layering, you can easily have your own sushi in a jar.
1 lb cooked shrimp (or drained crab meat, tuna)
1 cup cucumber (diced/spiraled)
1 cup sliced red cabbage
1 cup mango ( thinly strips)
1 cup carrot (matchsticks)
1 package seaweed salad (optional - get it from Asian store)
1 sheet Seaweeds/Nori (cut into thin strips)
For Sushi Rice:

2 cups cooked sushi rice (or sticky rice)
2 tbsp rice wine vinegar
2 tbsp sugar
Sushi Base Sauce:

1/8 cup rice vinegar
1/4 cup Ponzu soy sauce (Available at Asian store)
2 tbsp brown sugar (or honey)
1 tbsp onions (diced)
1 tbsp garlic (minced)
For Garnish:

sesame seeds
Instructions
Cook the sticky rice according to package directions. Once cooked, add the rice vinegar and sugar.
Once cooked, add sugar and rice vinegar. Mix well and set aside.
Arrange the ingredients and layer in this particular order: 2 tbsp of Sushi Base sauce, Shrimp (or drained crab meat), cucumber, seaweed salad, cabbage, carrots, mango sticky rice, nori (seaweed) strips and sesame seeds.
Store the jar in the fridge for up to 3 days. Just dump into a bowl when ready to eat.
https://www.theforkbite.com/sushi-salad-in-a-jar/