What does Thai food mean to you? For me, it is Pad Thai and I absolutely love making it at home now that I have managed to adopt some of the Pad Thai recipes I gathered and modify them according to my taste. I hate to say it but mine is now nearly as good as a local restaurant we enjoy.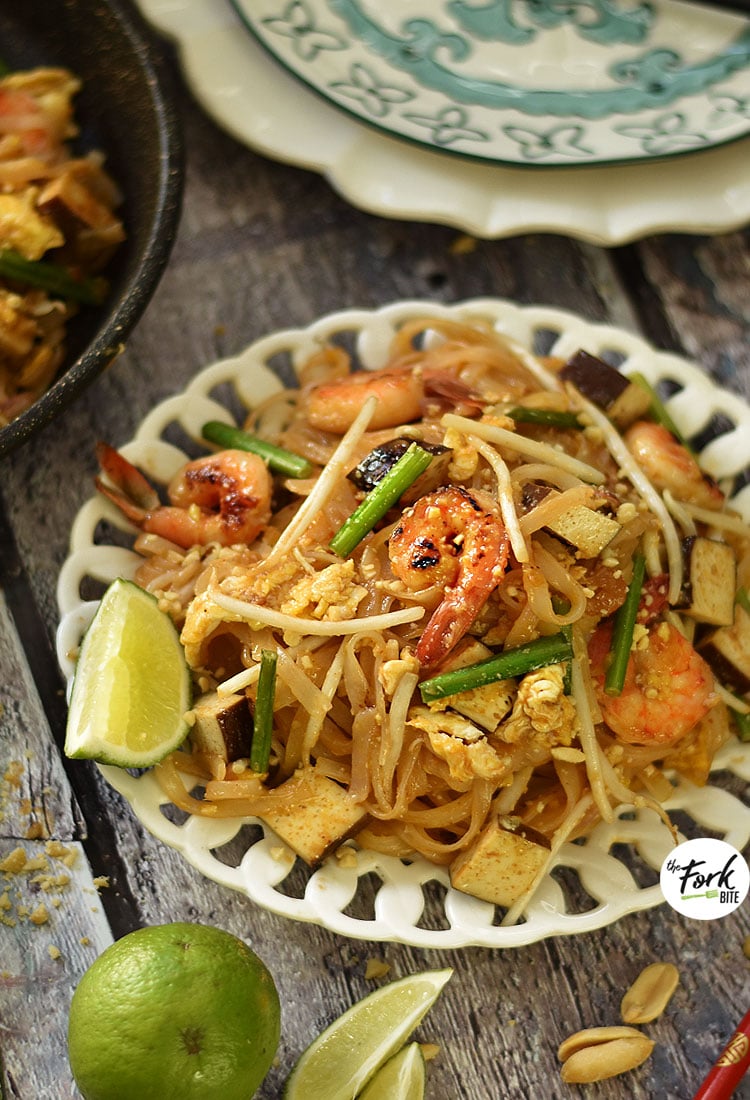 Why do I hate to say it? Partially because for so many years, I have had a complicated relationship with this particular dish. On the one hand, I thoroughly enjoy eating it, but not so much the prep.
The real problem is I have a strange predilection for attempting to make my favorite dishes in my own kitchen.
I searched through multiple recipes and most included ketchup. Unfortunately, this means almost all my Pad Thai attempts were little better than ketchup flavored noodles. I even resorted to purchasing boxed kit dinners and the results were not much better.
My personal goal is to create a Pad Thai dish that is as good if not better than the Thai restaurant in my neighborhood. At the end of the day, this is the only way I would feel satisfied with my efforts.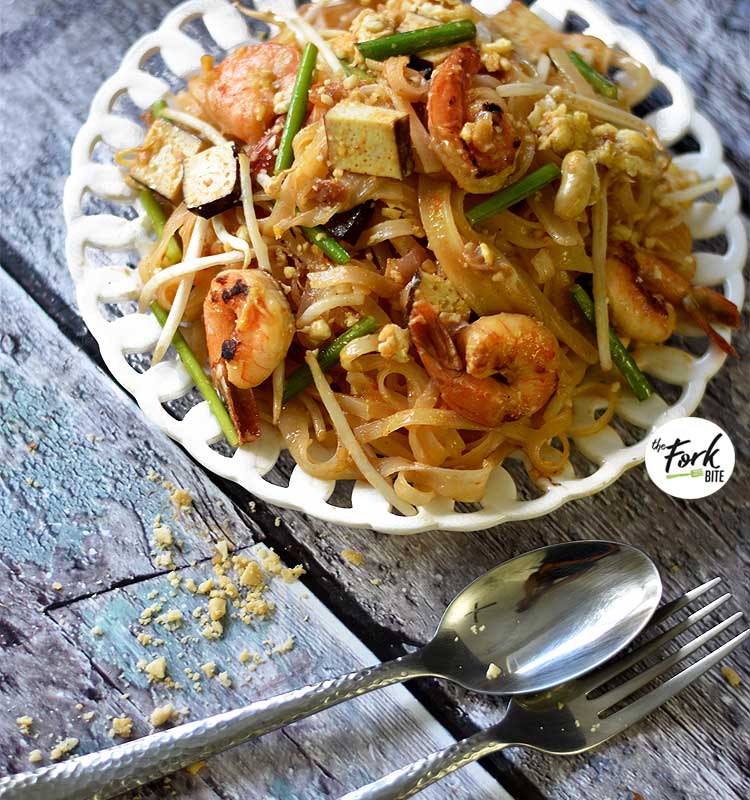 Today, I can happily say I have conquered the Pad Thai dish! And it is almost as succulent as my favorite restaurant and a much better than takeouts.
For me, this is the pinnacle of my culinary achievements, at least where Pad Thai is concerned!
Just think, there was a time when I believed ketchup was the essential ingredient. Little did I know palm sugar and tamarind concentrate was the key (plus adding some sriracha as my secret ingredient). Yes, try it and you'll see the difference.
These ingredients can be a little tricky to find (except for Sriracha of course), but if you have access to a Ranch 99 market, Asian grocer or the internet, you will be fine.
Read:
Making the Pad Thai Sauce in Advance
My secret to success with pad Thai is to make a batch of sauce and then use as needed. After all, you can refrigerate unused portions for up to 30 days. Don't worry if your sauce hardens. Click here for the Pad Thai Sauce Recipe.
Simply pop it in the microwave for a half a minute or less and you will be good to go.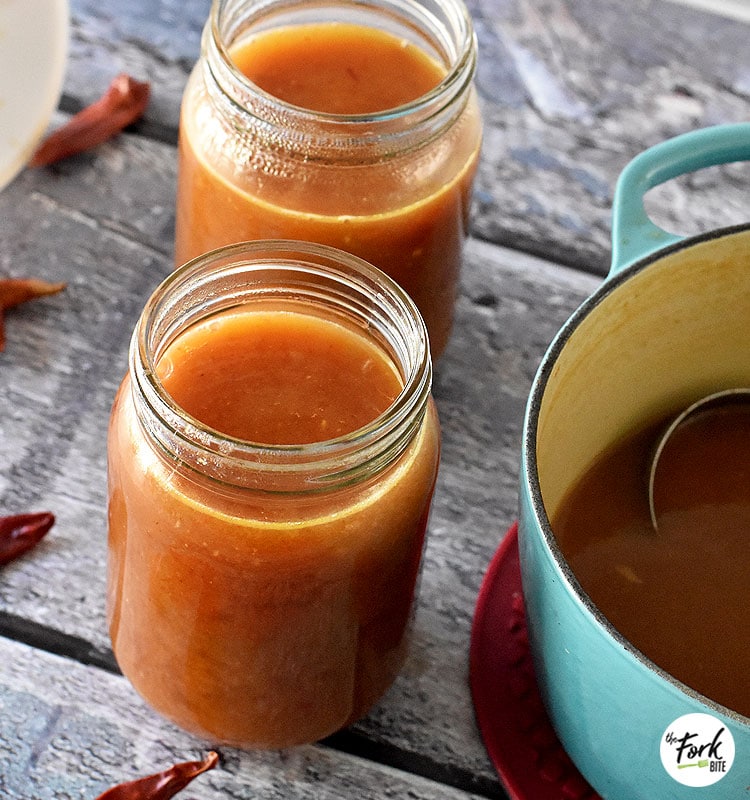 The recipe I was most successful with, garnered about 4 cups and a half of sauce, and you will only use about 1 cup per serving. Keep in mind when creating Pad Thai dishes, you should only cook 1 or 2 servings at once.
This will prevent overcrowding in your wok/pan. Overcrowded pans equal mushy noodles. Yuck!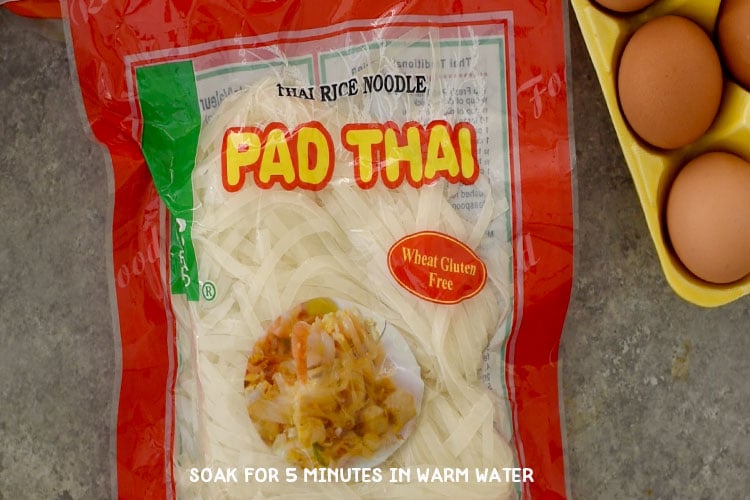 In the beginning, it may seem like you have added too much sauce. Fear not and keep frying! Toss your noodles as you fry and they will soak up some sauce and the rest will reduce in the process.
Feel free to leave comments or email me if you have any questions.
Watch How to Cook the Pad Thai Below 👇👇
Pad Thai Recipe
Category: Entree

Cuisine: Asian, Thai

I know there are many variations of Pad Thai out there and this Shrimp Pad Thai tastes close or much better version served at most Thai restaurants.
8 ounces fresh rice noodles
3 tablespoons chives
8 medium-sized shrimp
3 garlic cloves (minced)
1 tablespoon shallots
1 tablespoon sweet radish
1 tbsp dried shrimp (optional)
2 eggs
4 ounces extra firm tofu
4 ounces beansprouts
2 cups Pad Thai sauce (Recipe here)
1 tablespoon crushed roasted peanuts
2 tablespoons cooking oil
Instructions
If Using Pad Thai Noodles in a Box:

Bring a large pot of water to a rolling boil. Add the noodles and cook according to the package's direction. Drain the noodles and set aside.
For the Main Dish: (You can Watch the Video above)

In a large skillet, heat the oil over medium heat. Add the shallots and garlic and cook for 1 minute or until tender.
Add the sweet radish, dried shrimp (optional), and firm tofu. Cook a little bit and drop the cooked shrimp or any of your favorite protein. Stir and push them to one side of the wok/skillet.
Crack 2 eggs and cook until they solidify but are still moist, moving the eggs around the skillet slightly as they cook so that they lightly scramble. Move them aside.
Now, add the noodles and pour the Pad Thai Sauce. It may seem that you've added too much sauce, but don't worry just gently toss the noodles until they soaked up the sauce.
Add 1 tbsp Sriracha (this is my secret ingredient for color and a bit of kick). *Optional.
Add the chives and sprouts, give them a quick stir and you're almost done.
Sprinkle the crushed peanuts over the noodles. Toss lightly to combine. Serve hot.
Nutrition Facts
Pad Thai Recipe
Serves
Amount Per Serving
Calories
735.38 kcal
% Daily Value*
Total Fat 26.22 g
40.3%
Saturated Fat 3.63 g
18.2%
Trans Fat 0.08 g
Cholesterol 190.2 mg
63.4%
Sodium 414.96 mg
17.3%
Total Carbohydrate 97.25 g
32.4%
Dietary Fiber 3.93 g
15.7%
Sugars 1.1 g
Protein 26.12 g
| | |
| --- | --- |
| Vitamin A | Vitamin C |
| Calcium | Iron |
* Percent Daily Values are based on a 2,000 calorie diet. Your daily values may be higher or lower depending on your calorie needs.

https://www.theforkbite.com/pad-thai-recipe/