Pad See Ew is one of the popular takeout dishes on Thai restaurants menu, the spelling can vary a bit but no matter how you say it, it means as pan-fried rice noodles that typically use the wide flat rice noodles which is chewy and super easy to make.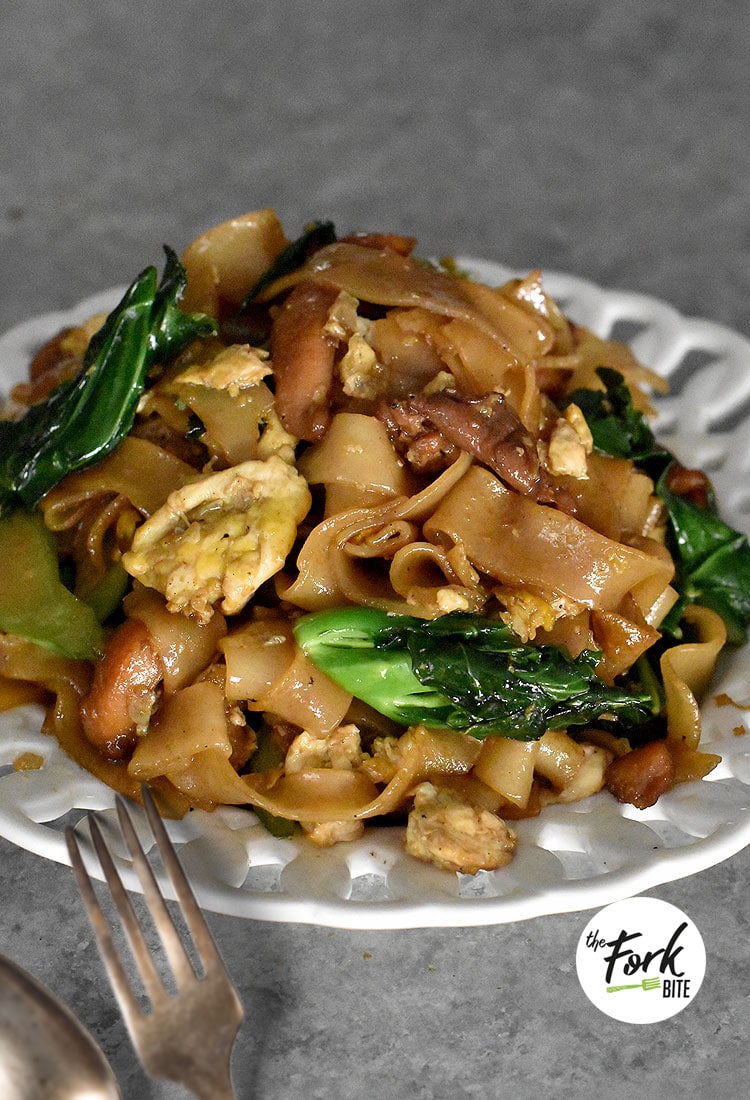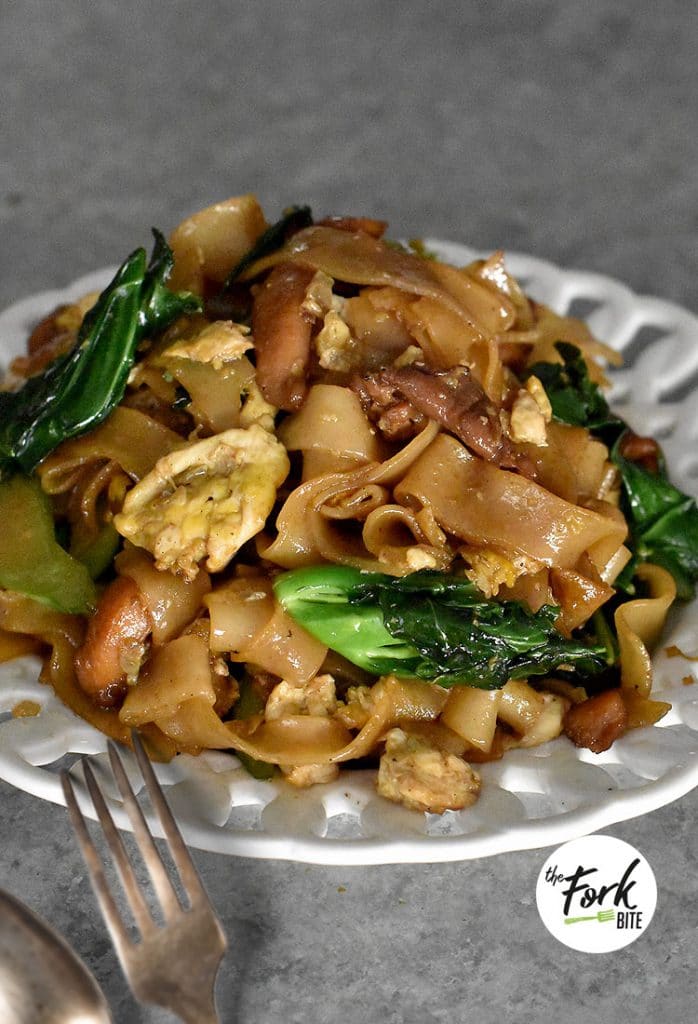 In Thailand, "Pad" means "stir fry" and "See Ew" means "soy sauce". This dish doesn't use your regular soy sauce like the Kikkoman or something you can find at your local sushi bar.
The soy sauce being used here is called as "See Ew Dum" in Thai which is a thick, slightly sweet soy sauce or also known as "Kicap Manis" in Indonesia or Malay cooking. You can get this soy sauce at your local Asian market or you can order it online.
The main factors of cooking here are no different from Pad Thai – like you need to have a well-seasoned wok, get all the ingredients handy and the most important factor is to cook it in portions one at a time.
Doing this, you'll get a good wok char on the ingredients, however, if the noodles are not being handled the right way, they will stick like hell and would easily turn into mush in a heartbeat.
Therefore, it's essential that your wok needs to be super hot so everything can be done quickly.
There are three basic ingredients in this recipe, you can use whatever protein you like – beef, chicken, tofu or shrimp, Chinese broccoli, wide flat noodles (or you can use the Pad Thai noodles) plus an egg.
Tips on How to Cook Pad See Ew
1.  Here's a little trick if you're using beef or chicken, add a bit of oil to your protein so when you cook them, they separate easily and don't stick together. Season them with dark soy sauce and fish sauce and set aside.
Remember this is fast food that's why when you cook Pad See Ew, make sure to prepare all the ingredients/sauce before you begin cooking. The sauce is for 2 servings and I recommend to cook the noodles one serving at a time.
2. For the greens, use the Chinese broccoli (you can find this at your local Asian market). I love to use the stems as well and I simply use a vegetable peeler to peel the tough skin from the stems and slice them thin diagonally.
3.  Separate the stem pieces from the leafy part when cooking because they don't cook at the same rate. Cut the leaves into big pieces because they will cook down quite a bit.
Tip on how to Make Pad See Ew Nicely Charred
You should cook the ingredients separately and combine all together at the end to finish.
Believe me, this is the best way to cook Pad See Ew at home using a stove. This will prevent the much-feared mushy noodle, besides, it doesn't take that much effort cooking this way.
Watch How to Cook Pad See Ew
Pad See Ew
Print
Pin
Rate
This Pad See Ew is ridiculously easy to make and the taste is like the popular street food in Thailand.
Ingredients:
For Marinating Meat:
1

lb

chicken thigh thinly sliced

or you can use any protein of choice

1

Tbsp

dark soy sauce

just skip if using tofu or shrimp

1

tsp

fish sauce

1

tsp

oil
Other Ingredients:
4

Tbsp

vegetable oil

4

cloves

garlic

chopped

2

eggs

8

stalks chinese broccoli

1

lb

450g fresh wide rice noodles (divided into half portion)
For the Sauce:
2

tbsp

Oyster Sauce

2

tbsp

dark soy sauce

2

tbsp

brown sugar

1

tsp

fish sauce

1

tbsp

thin soy sauce

2

tbsp

water
Instructions:
Marinate the Protein:
Stir the meat and dark soy sauce together well. Add about 1 tsp of fish sauce and oil and stir to coat the meat; this will help the meat separate when you go to cook it.

Let the meat sit while you prep other ingredients.
For the Sauce:
Combine all sauce ingredients together and stir to mix well.
For the Main Dish (Watch the Video Above):
Heat the wok and add a splash of oil. Follow with the marinated chicken (or the protein you use). Spread the pork pieces around the wok and let it char, undisturbed, for a few seconds, then flip to the other side. When the chicken is done, set aside.

Heat the wok and add a splash of oil. Throw in the broccoli stems and toss quickly in the hot pan for just a few seconds.

Then add the leafy part. Toss quickly again until the leafs are wilted. Transfer the broccoli to a plate and set aside.

Set the pan back on the fire to reheat. Add another splash of oil, follow with garlic, crack 2 eggs into the middle. Let the eggs set for a few seconds and then stir everything together quickly. Set aside.

Set the wok back on the fire and let it heat up until smoking. Add another splash of oil – this time a biggish splash. Coat the wok with hot oil by tilting the wok, then throw in the noodles (only half of it).

Shake the wok a few times and toss the noodles to coat them with oil or stir using a spatula. Add HALF portion of the seasoning sauce and toss again quickly to evenly distribute the sauce.

Now, you can throw the HALF portion of the vegetables, chicken, and eggs back into the pan and stir quickly and toss again to mix everything well. (The other half will be used for the 2nd portion. )

Taste it, you might need to add another splash of fish sauce or a bit more dark soy sauce to your taste and you're done.
For the 2nd Portion:
Wash the wok quickly with hot water, no soap needed, just to remove all the bits stuck to the bottom.

Quickly wipe it dry and set the wok back on the fire to work on your 2nd portion. Follow the same procedure.
Nutrition Facts
Pad See Ew
Amount Per Serving
Calories 129
Calories from Fat 99
% Daily Value*
Fat 11g17%
Cholesterol 55mg18%
Sodium 344mg15%
Potassium 28mg1%
Carbohydrates 5g2%
Protein 2g4%
Vitamin A 79IU2%
Vitamin C 1mg1%
Calcium 17mg2%
Iron 1mg6%
* Percent Daily Values are based on a 2000 calorie diet.
Pad See Ew - Quick Stir Fried Noodles
One of the epitome of Thai street foods, Pad See Ew is a Thai Stir Fry Noodle Dish made with extra thick rice noodles in a sweet and savory sauce and can be done in less than 30 minutes.