Jump To Recipe
The enticing aroma of
Thai Beef Salad
owes its appeal to a special dressing you make from fresh ingredients. Feel free to substitute flavors you like for ones that are too spicy or cause allergies.
That's the excitement of an Asian salad! There's so much the cook can do to personalize the ingredients without losing the zest of a fresh, tempting meal.
If you're like me, Thai Beef Salad is a common meal at the table no matter what the season. Of course, a cool salad is always a treat when the weather is hot.
Perhaps the delicious chili-enhanced dressing brings about its popularity during the winter. A delightful burst of just-right heat adds a special zing to each bite.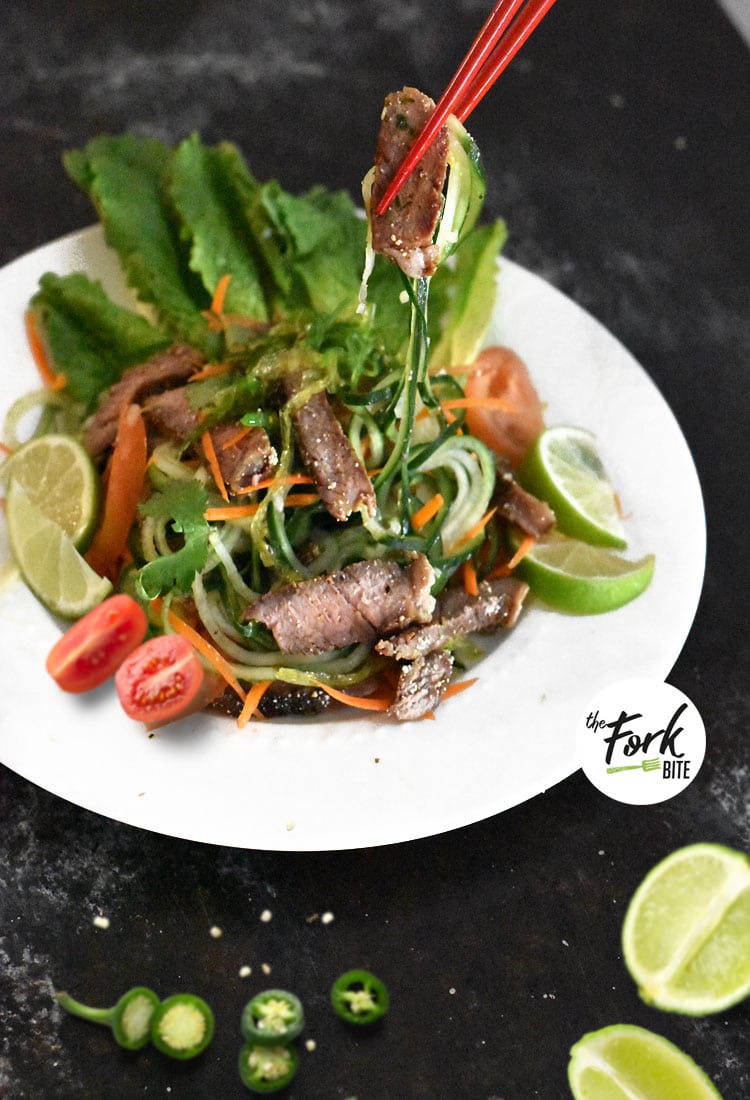 An additional bonus for this recipe is the opportunity to enjoy quality beef regardless of its price! Just a half-pound of steak satisfies the craving for beef of two people.
The most important part is cooking the meat to please each person. Some people like their meat medium rare and insist any other result ruins the taste.
The opposite end of the spectrum is the family member who only wants beef when it is well done and casts it aside if it's not. Beef is a special part of this salad so take the time to please everyone, especially since this is just a recipe for two.
Fresh coriander is available at quite a few grocery stores and specialty shops. It may even grow in your herb garden. Also referred to as cilantro, it's a welcome addition to Mexican foods.
Either name is correct for this leafy green herb. Do not exchange the fresh stems and leaves in this recipe with dried leaves or seeds that deliver a different texture and flavor.
Other Asian recipes:
Sushi Salad in a Jar
Vietnamese Noodle Salad
Thai Green Papaya Salad
Thai Cucumber Salad
Thai Green Curry Recipe
Chefs share preparation tips from time to time to encourage people to create special recipes. Hints about herb preparation, such as rinsing them before using, help create a delicious dish with very little effort on your part.
Extra Tip:
Another hint that results in mouth-watering dressing for Thai Beef Salad is grinding the cilantro/coriander stems first in a mortar and pestle before adding the remaining dressing ingredients.
The crushing encourages the oils and flavor to spill out and combine with the mixture.
If you have no access to a mortar and pestle, you'll achieve almost the same effect by chopping the stems very fine. Then add the pieces to the dressing and mix it well.
You may want to make extra dressing to use for another salad later this week!
Watch How to Make Thai Beef Salad 👇👇
Thai Beef Salad
Category: Appetizer

Cuisine: Thai

Grilled steak is served on a bed of spiral cucumber, romaine lettuce, carrots, cilantro with fresh mint and tossed in a flavorful lime juice dressing in this authentic Thai beef salad.
Dressing:

4 pcs Thai chili or spicy chili (adjust amount to taste)
2 garlic cloves (minced)
1 tbsp cilantro stems , finely chopped
Pinch of salt
2 tsp sugar
3 tbsp lime juice
2 tbsp fish sauce
1/2 tbsp olive oil (or vegetable oil)
Salad:

8 oz beef steak at room temperature
1/2 tbsp (toasted glutinous rice powder) - this is optional
Salt and pepper
2 cups romaine lettuce
1/4 cup tomatoes , halved
1/4 small red onion thinly sliced
1/2 cut cucumber (spiraled or sliced)
1/4 cup cilantro (grinded or cut into tiny pieces)
1/4 cup mint leaves
Garnish:

1 tbsp seaweed salad (optional)
Extra cilantro
Instructions
Prepare your greens (romaine, carrots, cucumber, tomatoes, mint leaves) and set aside.
Dressing:

Add all the ingredients and adjust the taste (Read Note 1). Set aside.
Cook the Steak:

Preheat a skillet over high heat until hot and smoking.
Cook the beef to your liking.
Remove the beef from the skillet and set aside for 10 minutes to rest.
Slice the beef thinly against the grain and sprinkle with grounded toasted glutinous rice (optional) and a pinch of salt and pepper.
Place in a bowl with the remaining salad ingredients and pour over the dressing and toss gently.
Top with seaweed salad (optional) or you can sprinkle with peanuts and garnish with extra cilantro and mint leaves.
Notes
1.) Try grinding the cilantro stems first in a mortar and pestle before adding the remaining dressing ingredients. The gentle crushing encourages the oils and flavor to spill out and combine with the mixture.
Nutrition Facts
Thai Beef Salad
Serves
Amount Per Serving
Calories
401.78 kcal
% Daily Value*
Total Fat 25.32 g
39%
Saturated Fat 8.63 g
43.2%
Trans Fat 1.03 g
Cholesterol 70.31 mg
23.4%
Sodium 1469.42 mg
61.2%
Total Carbohydrate 18.94 g
6.3%
Dietary Fiber 3.65 g
14.6%
Sugars 10.1 g
Protein 26.52 g
| | |
| --- | --- |
| Vitamin A | Vitamin C |
| Calcium | Iron |
* Percent Daily Values are based on a 2,000 calorie diet. Your daily values may be higher or lower depending on your calorie needs.

https://www.theforkbite.com/thai-beef-salad/