We'll see your three radishes and raise you five prawns (shrimp) if you don't believe the Vietnamese Noodle Salad will be Gold Standard worthy. In simple words, try it – you'll like it. It's so cool and crunchy, you'll want to crawl into the bowl.
Watch How to Make The Vietnamese Cold Noodle Salad:
Credit: theforkbite
Summer and salad go together like Yin and Yang. However, hubby and kids (if you have some) will soon tire of the same ole, same ole, lettuce, tomato, carrot, salad, with grilled chicken on top.
So, if you're a savvy mom, who is looking for different salads, look no further than Viet Nam. Because the weather is generally steamy there, Vietnamese cooks maintain a healthy repertoire of salad ideas.
We chose this lovely noodle salad recipe, which is one of Viet Nam's best heat-buster meals. Note that fish sauce is commonly used as a flavor enhancer in Asian recipes. It doesn't always please Western palates; try substituting Worcestershire sauce.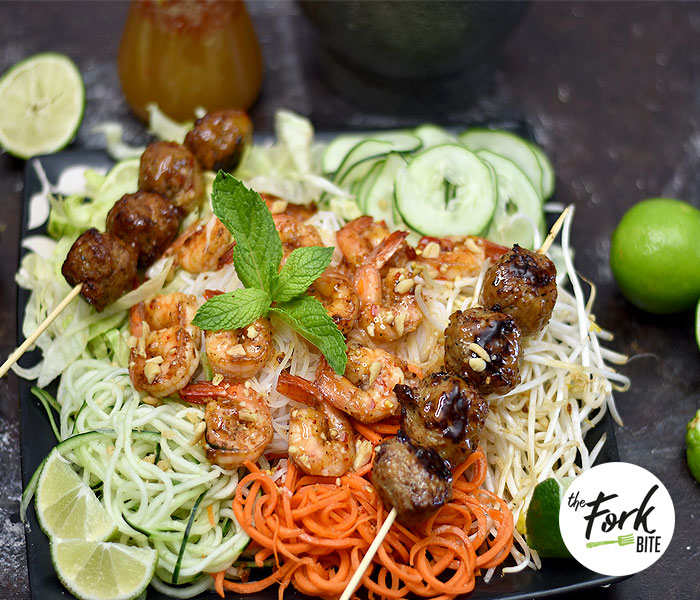 However, if you haven't tasted fish sauce, you may be surprised. In combination with other ingredients, you won't notice that 'fishy' taste.
Vietnamese Cold Noodle Salad calls for Vermicelli noodles made from rice flour. You may not be familiar with these thin noodles, which are an Asian staple. But, you'll crush on the ease of preparation. Just soak the noodles in hot water about five minutes and drain.
But since I bought pre-made Vietnamese cold noodles, the instruction is to put them in hot water for a minute and you're done.
If you're having guests, prepare extra noodles (helps fill up their bowls).
The recipe uses iceberg lettuce, which isn't the most nutritious green veggie on the planet. But, if your family is a fan of iceberg, add valuable nutrients by using ½ iceberg and ½ Romaine, red leaf or butterhead lettuce. Otherwise, omit iceberg and substitute your favorite.
Your finished Vietnamese Noodle Salad displays a bright color palette and contains a yum-yum flavor profile everyone will rave about. Set up a pretty buffet presentation and you'll have more freedom to enjoy your guests.
Think white. Plate the salad on a large, square white platter. Layer the plate with lettuce. Pile the noodles in middle and put shrimp on top. Nestle the veggies around the edges of platter. Put dressing on the side. Invite your guests to prepare their own salad, in individual bowls.
Such fun!
Vietnamese Cold Noodle Salad with Shrimp
Category: lunch, dinner

Cuisine: Vietnamese
Shrimp Seasoning

12 medium shrimp
1 tbsp olive oil
2 garlic cloves, minced
Pinch of salt and pepper
Cold Salad Dressing

¼ cup lime juice
¼ cup Asian fish sauce
2 tbsp rice vinegar
1 tbsp sugar
1 large garlic clove (chopped)
1 tbsp sweet chili sauce
1 tsp bird's eye red chili (finely chopped)
Noodle Bowl

2.5 oz rice vermicelli noodles
3 cups shredded iceberg lettuce
1 cup carrot, cut into fine matchsticks or spiraled
1½ cups cucumber, cut into matchsticks or spiraled
1½ cups beansprouts
¼ cup coriander leaves
¼ cup mint leaves
Instructions
Season the Shrimp

Combine the Shrimp seasoning in bowl and set aside.
Combine the Cold Salad Dressing ingredients in another bowl, mix and set aside for 10 minutes.
Heat a skillet over high heat. Add some butter, then put the shrimp. Cook for 2 minutes, or until browned and the shrimp is just cooked through.
Prepare the Noodle Bowl

Prepare the noodles according to the packet directions. I par boiled them in hot water for a minute, this ensures they don't overcook. Then drain the noodles.
Arrange the noodles and remaining Salad ingredients on a large plate or toss together in a bowl. Top with shrimp or your favorite beef bbq.
Drizzle over the Dressing, or you can serve the Dressing on the side.
Garnish with crushed peanuts (optional). Serve immediately.
Nutrition Facts
Vietnamese Cold Noodle Salad with Shrimp
Serves
Amount Per Serving
Calories
218.39 kcal
% Daily Value*
Total Fat 5.23 g
8%
Saturated Fat 0.79 g
4%
Trans Fat 0.0 g
Cholesterol 30.24 mg
10.1%
Sodium 2076.95 mg
86.5%
Total Carbohydrate 35.87 g
12%
Dietary Fiber 3.38 g
13.5%
Sugars 9.74 g
Protein 7.85 g
| | |
| --- | --- |
| Vitamin A | Vitamin C |
| Calcium | Iron |
* Percent Daily Values are based on a 2,000 calorie diet. Your daily values may be higher or lower depending on your calorie needs.

https://www.theforkbite.com/vietnamese-noodle-salad/