Bun Ga Nuong  aka Vietnamese Lemongrass Chicken or Vermicelli Noodle Bowl is just one of the mouth-watering Vietnamese recipes.
Topped with your favorite veggies, Vietnamese lemongrass chicken and laced with Nuoc Cham, the famous dipping sauce that's served with everything in Vietnam.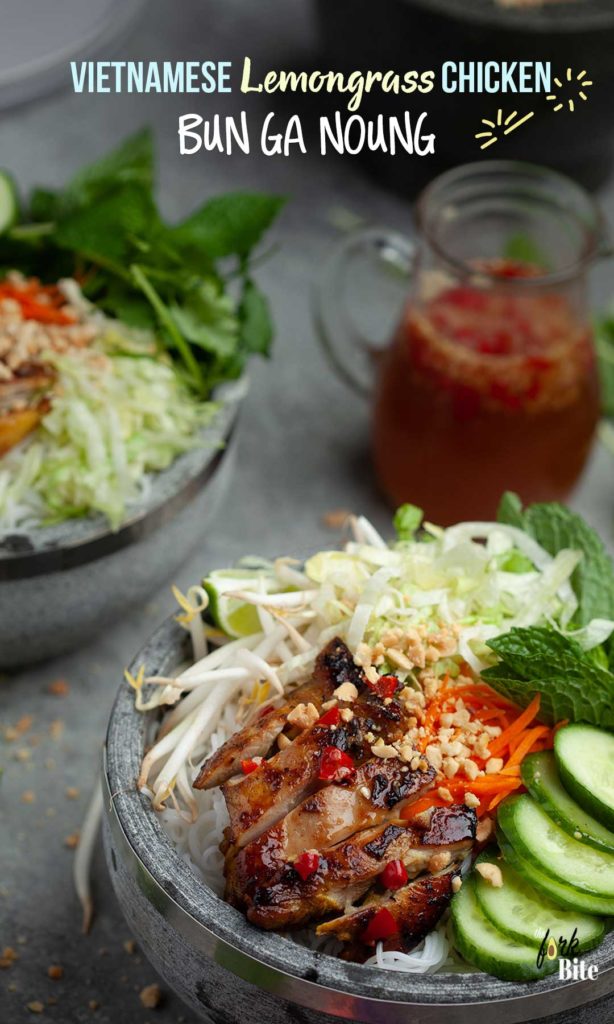 When I step out of our house and decide to have a healthy meal, my immediate choice is to go to the row of Asian restaurants in the neighborhood.
There, you would most likely get tons of fresh, pungent vegetables and herbs. Yes, there will be choices of meats, but they would surely be cooked with vegetables as well.
One of the healthiest cuisines you could ever experience is Vietnamese. Have you ever been to Vietnam? As you make your way through Vietnam's streets, your nasal passages are filled with the aromatic smells of fish sauce and fresh herbs.
Balance is the key to all Vietnamese recipes. Vietnam has a collection of different lands, yet its food has a stunning balance of saltiness, pungency, sweetness, heat, cold, and sourness. All these flavor components are present in this Bun Ga Nuong recipe.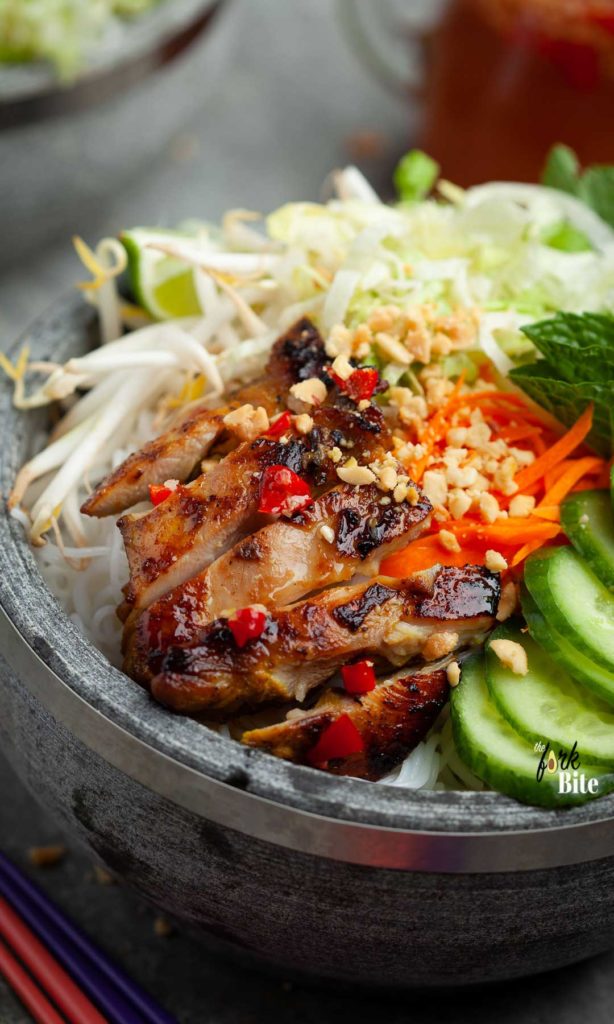 It is expected for the Vietnamese Noodle soup, pho, to take the stage. It's a delicious, hot dish, perfect for cold or rainy days. Yet, when the day is quite warm, the Vietnamese salad dish called bun ga nuong, is the optimal choice.
Vermicelli Bowl with Vietnamese Lemongrass Chicken
Vietnamese Noodle Bowl is light and full of fresh flavors. Its main characters are fresh Vietnamese herbs, lemongrass, fresh vegetables, rice noodles, chicken, and that mouth-watering dressing or dipping sauce (nuoc cham).
It may look complicated, but this dish is incredibly easy to prepare for either lunch or dinner. What's more, it's gluten-free.
Other Asian Salad Recipes: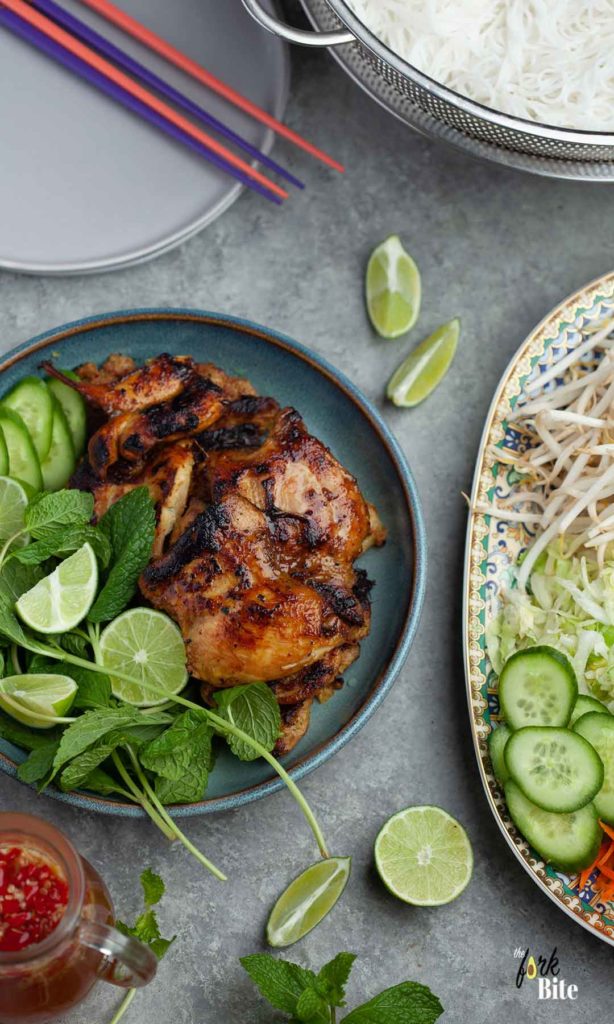 Many years have passed since we visited Vietnam. While I did some organizing, I found my folder of compiled recipes. In it, I found the crumpled and stained recipe pages from a cooking class we attended there.
It could probably be the most flavorful, most fun, and most memorable cooking classes we have had abroad. The Hoa Sua Vocational Training School ran the classes in Hanoi. The proceeds go to the training and education of the local disadvantaged kids.
The beautiful instructor was a stern, trans-gender chef. She taught us how to make lemongrass chicken, fresh spring rolls, and grilled turmeric fish. The seasoned chef also introduced is to the unconventional use of marjoram and dill in Vietnamese cuisine.
She introduced us to stinkweed or sawtooth coriander and stinkweed galangal juice as well. We all learned how tastier food becomes when it is grilled over charcoal than over a barbecue.
There are times when a really great recipe is not really about the recipe itself but the gathering and assembly of the right ingredients. When I made this dish in Vietnam, I didn't measure the ingredients at all. I just cooked according to my taste, which is exactly what I would like you to do as well.
Vietnamese Lemongrass Chicken
The variations in textures and temperatures of this recipe are unique. They appeal to me. The heat of the grilled Vietnamese Lemongrass Chicken combined with the crunchy and cool vegetables such as daikon, cucumber, bean sprouts, and carrots.
The piquant Vietnamese Nuoc Cham dressing, refreshing herbs, and vermicelli rice noodles just make this recipe a complete feast, stimulating all your senses.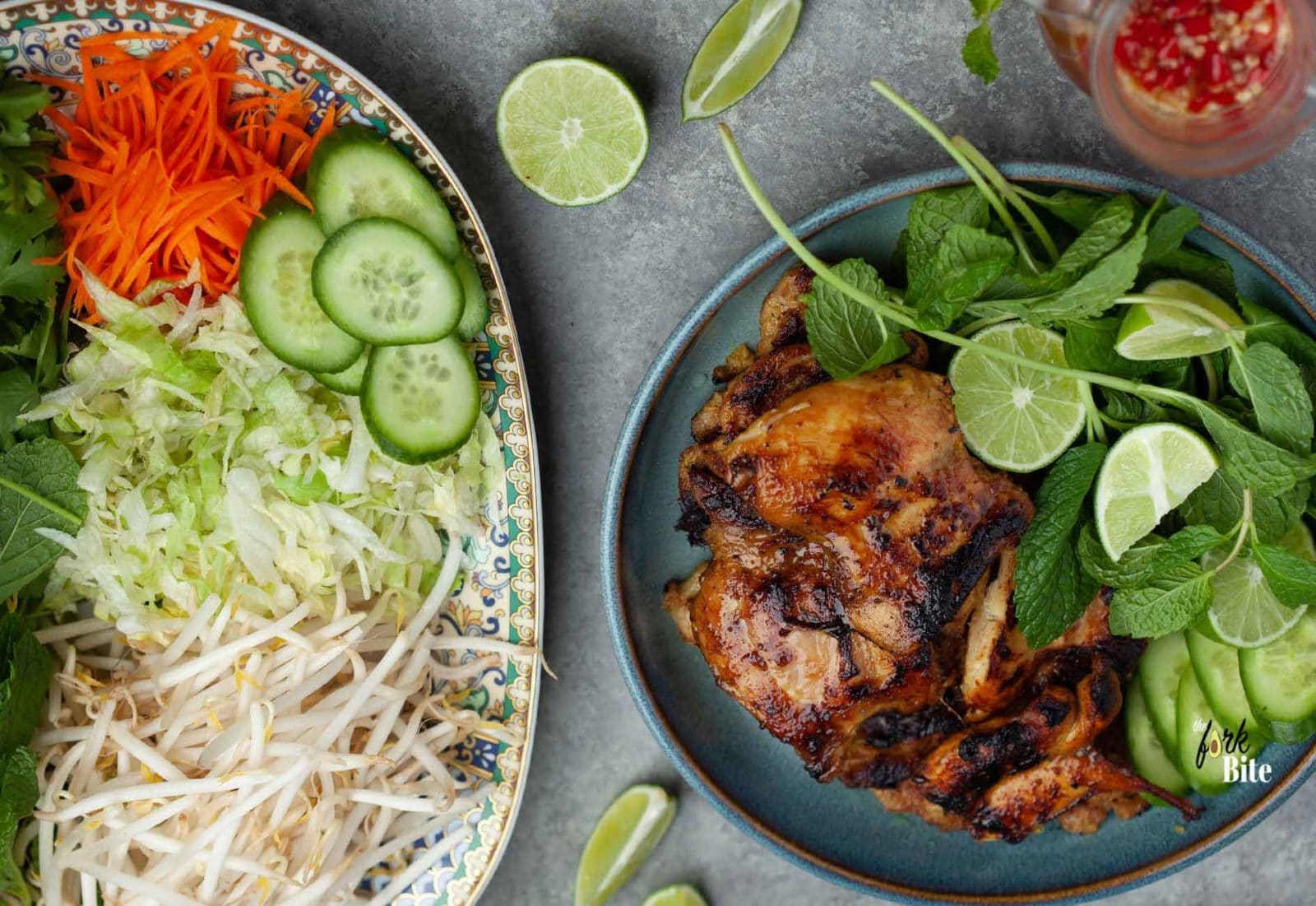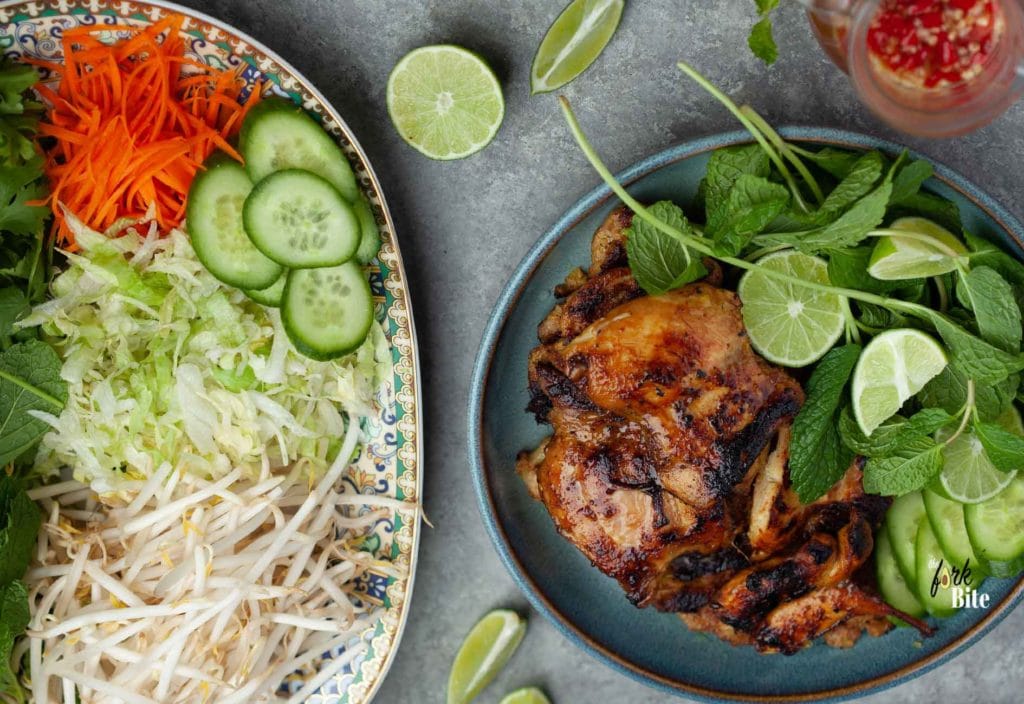 Bun Ga Nuong is often assembled in a bowl. You can make it with grilled prawns or chicken, which should be marinated in lemongrass first.
Though the recipe called for vermicelli (traditional), you can substitute it with shirataki or daikon noodles to make the dish low-carb.
The star of the recipe is the lemongrass. It's aromatic and zesty. You cannot use anything else to duplicate its flavor profile.
Tips on How to Store the Lemongrass
I grow lemongrass in our backyard garden. It loves water, but always monitor its growth because it can take over the entire yard easily. If you don't have lemongrass, or if it's struggling in dry soil like mine, you can acquire it from your nearest Asian market.
Each time I purchase a bunch of lemongrasses, I make sure to peel the outer layer of the stalks. I also separate the light green, green, and white portions.
The green parts are the ones I freeze and use in making rice, soups, or tea. I use the light green and white parts in making lemongrass paste.
1 For the paste, I slice the light green and white parts into fine pieces. I then grind them with just a pinch of coarse salt.
2 Use at least six lemongrass stems to make the paste work better. The time to make it depends on the lumpiness of the stalk. You can freeze the lemongrass pulp in your empty ice tray. 
3 Then, transfer the lemongrass cubes in a jar and freeze them. Just get one or two cubes for each use.
Lemongrass pulp is also available in your local supermarket but expect it to be filled with additives. Citric acid can affect the lemongrass taste significantly.
I wouldn't use dried lemongrass powder either, because it tastes similar to wood shavings and not like lemongrass.
If you're looking for a light, satisfying, healthy meal, packed with that distinct flavor explosion, you should try this recipe. There is no doubt that Vietnamese Lemongrass Chicken Noodle Bowl or Bun Ga Nuong will change your life with every bite. 
Vermicelli Noodle Bowl | Bun Ga Nuong Recipe
Print
Pin
Rate
Vermicelli noodles topped with your favorite veggies and Vietnamese lemongrass chicken. Laced with Nuoc Cham, the famous dipping sauce that's served with everything in Vietnam.
Prep Time
1
hour
10
minutes
Cook Time
1
hour
10
minutes
Ingredients:
1.5

lb

chicken thigh fillets
Chicken Marinade:
1

tbsp

garlic

chopped

1/2

sliced of medium-size onion/shallot

2

tbsp

brown sugar

1

stalk of lemongrass

trimmed and chopped

1/4

tsp

black pepper

1 1/2

tsp

dark soy sauce

1 1/2

tbsp

fish sauce

1

tbsp

vegetable oil
Nouc Cham (Vietnamese Sauce):
1/2

cup

fish sauce

1/4

cup

rice vinegar

5

tbsp

water

3

tbsp

brown sugar

1

small garlic clove

finely chopped

1

Thai red chili

finely chopped

1/4

cup

fresh lime juice
Vietnamese Noodle Bowl Toppings:
7

oz

dried vermicelli noodles

2

cucumber

julienned

2

carrots

julienned

5

cups

iceberg lettuce

finely sliced

3

cups

bean sprouts

A handful of mint leaves

A handful of cilantro/coriander
Garnish:
Sliced red chili

optional

2

Lime wedges
Instructions:
Prep the Marinade:
In a blender, combine sugar, garlic, shallots, and lemongrass and process to a fine mixture. Then, add the pepper, soy sauce, fish sauce, and oil. Blend to combine well to get that smooth texture.

Place the chicken in a ziplock bag, pour the marinade mixture. Toss and turn to coat the chicken well. Seal the ziplock bag and marinate for about an hour or refrigerate up to 24 hours (recommended).
Grill the Chicken:
Once ready to use, let the marinated chicken sit at room temperature or 30 minutes to remove some chill before grilling.

Preheat a grill to medium-high. Grill the chicken for 6-8 minutes turning them on both sides or until cooked.

Nick with a knife to test the doneness and transfer to a plate once ready.
Nuoc Cham Sauce:
In a bowl, combine all the ingredients and stir well to dissolve the sugar. You can adjust the spiciness, the sweetness and lime according to your taste. Set aside for 20 minutes to let the ingredients mend together.
Assemble:
Soak the vermicelli noodles in hot water (or check the package instructions). But I cooked the vermicelli for 7 minutes as per package instructions. Drain and rinse in cold water to stop the noodles from sticking together.

Arrange the noodles in a bowl, top with the toppings and the sliced chicken. Drizzle with the Nuoc Cham sauce (2-3 tbsp or more according to your taste) and serve with lime wedges.
Nutrition Facts
Vermicelli Noodle Bowl | Bun Ga Nuong Recipe
Amount Per Serving
Calories 756.71
Calories from Fat 302
% Daily Value*
Fat 33.61g52%
Sodium 3652.98mg159%
Carbohydrates 73.76g25%
Protein 42.52g85%
* Percent Daily Values are based on a 2000 calorie diet.