Mirin has a unique taste, and you didn't realize how much you enjoyed it. It has a subtle sweetness that provides a deep flavor and umami depth to otherwise bland dishes.
The question is, what is the expected shelf life after opening? Are there steps you need to take to preserve it afterward?
So, can Mirin go bad?
Brief answer. Consider Mirin is prone to degeneration, which occurs fast with improper handling. Both opened and unopened, Mirin stays fresh for a long time refrigerated, but the taste begins to fade two months after opening. Store the condiment in its original bottle with the cap tightly sealed for best results.
We will explore the Mirin varieties, their uses, shelf life, and precautions that need attention when storing and using them.
Before anything else... let's start with the basics.
Jump to: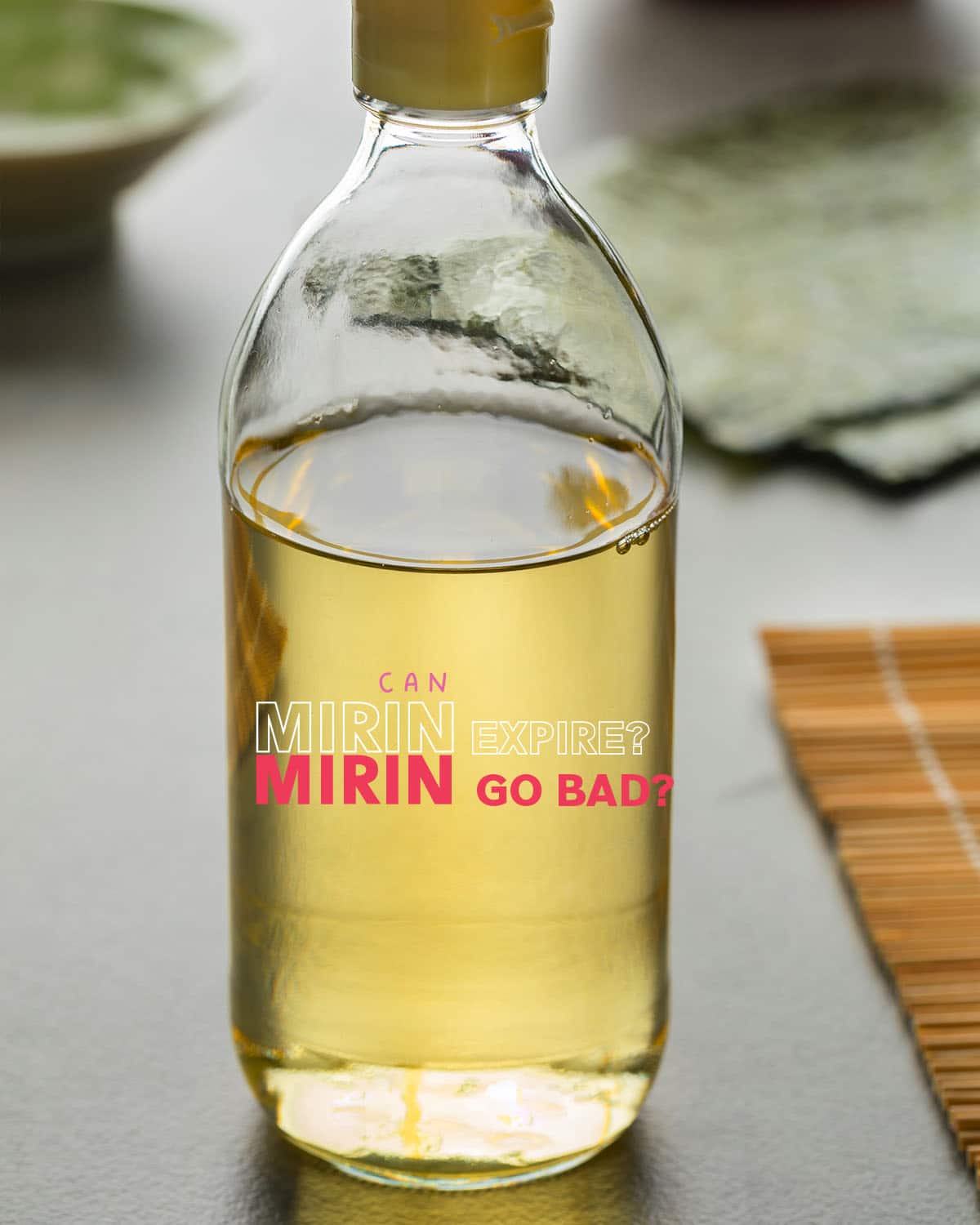 What is Mirin?
Sweet rice wine [Mirin] is commonly used to season and glaze food because of its sweetness and thin syrupy consistency. This condiment is essential to Japanese cooking in the same vein as soy sauce. A type of rice wine like Sake, Mirin also possesses the same characteristics, except that Mirin contains 14% alcohol rather than 20%.
Rice koji and glutinous rice are fermented in distilled spirits to produce the product. Then leave it mature for about six months, and then, after the duration of time has elapsed, strain the rice, letting the liquid drain off.
---
Mirin differs depending on its source.
Despite a glut of products marketed as "mirin," only a few can compete with Mitoku's Mikawa Mirin. Some are slightly better than others. For the production of real Mirin, producers ground the glutinous rice pulp into moromi (mash) and subjected it to a fermented and aged process for one year.
The maturing process occurs when starch gradually converts to sugar. Using traditional techniques and premium ingredients gives them their distinct flavor.
Products of this nature incorporate alcohol and flavors to expedite processing. In the case of "mirin-style" seasoning, fermenting is omitted in its production. Instead, they combine artificial flavorings, liquid amino acids, and other ingredients. Additionally, many brands cut corners and add fillers to mimic the traditional taste of Mikawa Mirin.
Recipes:
---
How to distinguish the different forms of Mirin? 
This seasoning comes in many different varieties, each with varying salt levels, alcohol concentrations, flavorings, and sugar content.
In addition, because Mirin is so popular today, counterfeit versions have skyrocketed in Japan and worldwide.
The two predominant types are:
Hon Mirin - this is among the most traditional, the purest type of Mirin.
Aji Mirin – the words mean "tastes like Mirin." In the US, it is more commonly available than Hon Mirin.
You may also come across Mirin-fu, an imitation version that lacks the flavor of Mirin). It contains less than 1% of alcohol.
It is common for some people to classify Aji Mirin as part of mirin-fu chomiryo (a seasoning similar to Mirin) or "shio mirin" (new Mirin). These types of Mirin consist primarily of flavored corn syrup made with almost zero alcohol.
Unfortunately, you probably don't have any Mirin on hand. Instead, you may have purchased mirin-fu chomiryo, perhaps Aji Mirin, or both. Check the label whenever you have Mirin around to see what it contains.
1

Hon-Mirin

This condiment is the real McCoy. It's the one the experts say is real, pure Mirin at its finest. It only has three ingredients:
Rice Koji – a type of malt
Shochu – distilled alcohol from Japan
The sweetness is a natural result of the fermentation process, which produces 14% alcohol by volume. It contains 0% salt. It falls into the liquor category.
The natural sweetness of real, pure Mirin comes from the process of saccharification that works on the enzymes of the rice koji. There is no added sugar.
---
So what's the deal?
During fermentation, koji's enzymes convert complex carbohydrates and proteins into amino acids, fatty acids, and simple sugars. Because of its crucial role in achieving superior-quality hon mirin, rice koji has emerged as one of the essential ingredients.
The correct aging time for hon Mirin is 3 months to 6 months (perhaps even longer). The older it gets, the darker its color will become, resulting in a more robust flavor. As a result of saccharification and the maturation process, the result will be a golden-colored brew that is syrupy in texture.
The alcohol content of Hon Mirin is higher; for this reason, you should keep it at room temperature for up to three months. At refrigeration temperatures, it can crystalize the sugar.
Despite the label saying Hon-Mirin, very few varieties are available in the United States.
1 Mitoku Mikawa Mirin, if you can find it, is one of the best. This company uses only organic and premium ingredients and allows it to age for 200 days.
---
2 Aji no Haha Mirin – This is the next best choice and is a decent alternative for Hon-mirin. Thus, the production process does not change, except adding salt to label it as cooking wine. 
---
Note:
Alternatively, if you cannot find Hon-Mirin or Aji No Haha, stay away from Aji-mirin, which has almost zero alcohol. You can formulate a similar recipe using a 3:1 ratio of Sake and sugar (if a recipe calls for 1 tablespoon Mirin, you can substitute it with 1 tablespoon Sake and 1 teaspoon sugar).
---
a.) Mirin
Essentially, the distinction between Hon-Mirin and Mirin is that Mirin uses Sake rather than Shochu, a Japanese distilled alcohol.
In this scenario, Takara Mirin is available, which contains Sake (made with water, rice, yeast, and koji mold), corn syrup, and glucose (without high fructose corn syrup).
Sadly, the condiments made in the United States are sweetened with high fructose corn syrup. According to some reports, mirin producers in the United States must add high fructose corn syrup (or HFCS) since they lack the appropriate alcohol licenses. Another advantage for manufacturers would be that it could accelerate the fermentation, shortening the maturing period.  
Eden Foods Mirin is your best option, but it has a high price tag. Water, rice, koji, and sea salt are the only ingredients listed on the label. Mirin without high fructose corn syrup or corn syrup is an option, and Eden Foods Mirin fits this bill.
---
2

Aji Mirin (Mirin-like seasonings)

Be aware that Aji Mirin is not the same thing as the original. The cheaper version mimics the flavor of Mirin. Essentially, it has become a very popular imitation of Mirin.

It is not authentic, Mirin. Bottles feature the Aji-mirin label, a Japanese word meaning "mirin-like flavor," with a low alcohol content of less than 1%. Because of this, there is no Sake mentioned on the bottle.

Aji Mirin is available in place of real Mirin, which has 2% salt and almost 0% alcohol content. Rice, corn syrup, alcohol, and salt are among its ingredients.

Brands like Kikkoman Aji Mirin are widely available in Asian markets and major supermarkets.
---
3

Mirin-like or Mirin-fu Chomiryo

They call this Mirin of lower quality as the Mirin-fu Chomiryo ("mirin-like") and Aji-mirin ("mirin taste"). This seasoning has no taste or smell of Mirin, just as its name implies, and the ingredients do not include Shochu. Alcohol is substituted for it instead. 

A product that promises a similar flavor as Hon Mirin and provides an enhancement to the taste and texture. To my taste, this seasoning is significantly blander than the real thing, and it would be wise to stay away from it.

Sweeteners frequently appear in food (such as sugar and high fructose corn syrup). This sugar is evident from the ingredients that appear on the label. The product is available at most supermarkets at a relatively low cost.
---
Does Mirin go bad?
This sweet and tangy condiment is susceptible to degradation over time. For this reason, it usually comes with a use-by or best-by date on the label. It is unlikely to cause you ill since it contains no toxic ingredients. It would be best if you were looking for a replacement. If changes occur in the sauces, in the ways, we will specify in the section below.
---
How long does Mirin last?
What is its shelf life? If a bottle is open, it usually has a shelf life of a few weeks to months, even with refrigeration, during which the taste and quality begin to deteriorate. When you store it properly, an unopened bottle will keep for months or even years – as long as you keep it cool and out of the direct sunlight.
Exactly how long the bottle will keep isn't known with any certainty. What's the reason behind this? Many factors influence its shelf life. Consider several points: the brand name, the recipe, opened bottle, and how you stored the bottle, for example.
There are claims to have been able to keep Mirin for many years. Of course, this depends on the individual's preferences and usage.
Many people notice that the flavor of the food has changed, making it less appealing.
---
How can you tell if Mirin is bad?
You can detect Mirin's bad characteristics by noticing its color, more substantial or distinctive smell, or taste.
The first thing you'll need to do is look very closely at the sauce and the bottle before trying it. It will likely take some time for indications of spoilage to become apparent if they emerge. Be sure to do that first.
The key is to test it out and see how it goes. If you're not sure, get a new bottle. Keep in mind that this is a comparison against the original condiment.
---
Does Mirin have to be refrigerated?
After opening the bottle, it is preferable to store the condiment in the refrigerator. Providing you keep it out of direct sunlight, you can also store it outside a refrigerator. The extra step ensures optimal flavor preservation and overall quality.
So, if the refrigerator has room to keep it, it is only sensible to keep it inside. It can help extend its shelf life.
---
Aji Mirin vs Hon Mirin: How do they compare?
Is it possible to distinguish hon mirin from aji mirin? Comparing the two kinds of Mirin will help us determine which we should use for cooking.
1

For Hon Mirin
Japanese translation for "real mirin."
There is no artificial sweetener or preservatives used, only natural saccharification and maturing process with only three ingredients: glutinous rice + rice malt (koji) + Shochu.
The alcohol content of hon mirin ranges between 10-14%) and does not contain salt.
As a condiment as well as a liquor, it's versatile.
The taste is rich, organic, and has a hint of sweetness with an umami undertone.
It is not true that all products sold as "hon mirin" are suitable for drinking, particularly outside Japan. There are only 3 main ingredients in drinkable hon mirin (glutinous rice + rice malt (koji) + Shochu), containing no salt.
---
2

For Aji Mirin
It literally translated as "taste like mirin."
A modified version of Mirin consists of corn syrup, alcohol, rice, and salt.
It contains less than 1% alcohol and less than 2% salt.
It is intended solely as a condiment.
Mirin from this bottle has a different aromatic scent and taste than Hon Mirin.
Aji Mirin was derived from Hon mirin. The goal is to provide a cheaper alternative and a quick-to-market product. This product does not constitute liquor and is more widely available outside Japan.
Unlike aji mirin, hon mirin has a burst of natural sweetness and umami as a result of saccharification. My preference is to prepare traditional Japanese dishes with Hon mirin.