Feta cheese is one of the foods that people love when they are in the mood for it. But if you've bought some and the feeling hasn't taken you as you'd hoped, how long can you keep it? If you'd like to know the answer to this and find out a little more about this Greek specialty cheese, continue reading.
In most cases, feta cheese is only available pre-crumbled or in big blocks. When you only use it every now again, it means that most of it often gets wasted. You can sometimes buy it in single portions, but it is quite expensive. So, knowing whether or not you can freeze feta becomes a bit of an issue.
Jump to:
What does Feta cheese taste like?
The unique things about feta are its great salty taste and its crumbly texture. It makes it one of the most popular cheeses around the world. Typically made from either goat's or sheep's milk, feta is in demand all across Europe, and it is what puts the "Greek" into a Greek salad.
If, like me, you've bought feta only to worry about trying to eat it all before it goes rotten, you might have asked yourself if you can freeze it.
Thankfully, the answer is yes. Not only that, but it is quite simple to do. I should know. I now do it regularly, and I am about to tell you how.
Feta cheese can be frozen, thereby extending its shelf life by anywhere up to three months. When you do freeze it, provide you follow the correct procedure, and unfreeze it properly, neither its taste of texture will suffer too much.
It does become a little "grainy" and tastes slightly less salty, but it is still delightful when added to most dishes.
To find out more, please read on.
---
Freezing feta cheese
Freezing is the go-to method for prolonging the shelf-life of lots of food products, including cheese. But some cheeses freeze better than others, and their qualities don't deteriorate too much when defrosted, whereas others don't fare so well.
Feta may not be the best cheese for freezing because it will change slightly in terms of its taste and texture. But it doesn't do too badly. There are many worse ones to freeze.
The key is in freezing and unfreezing properly. Do it right, and you will not have to waste any.
But before you go ahead and buy boatloads of the stuff, you ought to consider all the angles. I suggest you discover all about the changes it will undergo; then you can decide whether to proceed. Let me be your guiding light.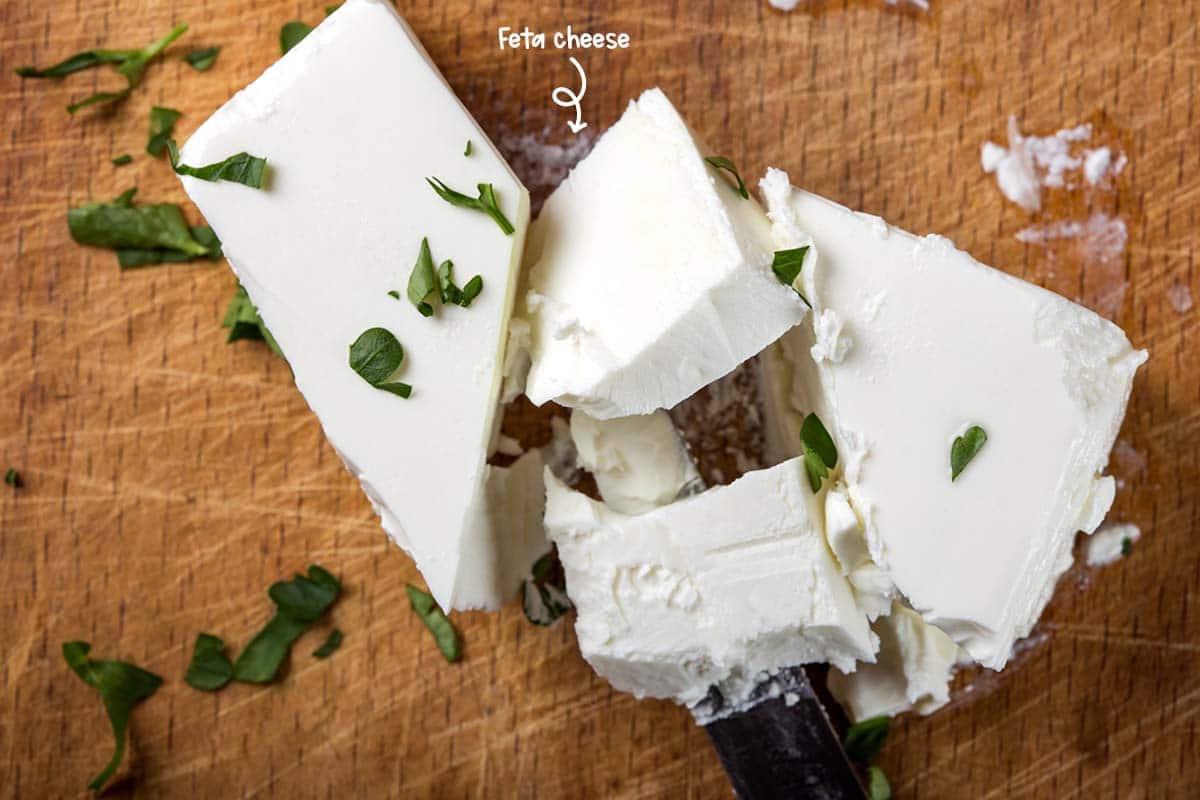 ---
How to freeze feta cheese
As already mentioned, feta cheese usually comes in two forms - in blocks, or pre-crumbled.
The freezing process varies a little depending on which variant it is you want to freeze. There follows, step-by-step guides for both types so that you will be covered either way.
---
Freezing feta in blocks
A lot of devotees of real Greek feta tend to but their cheese from actual Greek markets. These markets usually sell their feta in big blocks, soaked in one of the liquids mentioned earlier.
Here is how to store feta cheese in the freezer if you have it in blocks.
If the feta cheese you bought is packed in liquid, strain the liquid off. If it is sealed in a pack with brine or some other liquid, open the package and drain.
Dry the feta by patting it down with kitchen paper.
Cut the feta into portions. The pieces' size will depend on the types of dishes to which you will be adding the cheese, plus for how many guests you will be cooking. If in doubt, go smaller rather then larger.
Now - packaging. To ensure that your feta remains in the best condition when frozen, you must take care with how you pack it.
Wrap each piece in cling film. It will help to prevent air from getting to it and will ward off freeze- burn. Put the wrapped pieces into a resealable plastic freezer bag and squeeze out as much air as you can.
If you need to cut the feta into little cubes, you should put them straight into a resealable plastic freezer bag and extract as much air as possible.
When you find you only need to freeze feta for two or three days, you don't have to worry about how you pack it. Just place it into a plastic bag, freeze and take it when a need arises, but make sure that is soon, or the quality will be impaired.
It is always a good idea to label your freezer bags with a description of the contents and the date you first froze it. Don't forget to put it into an airtight container for extra protection.
---
Freezing Feta cheese crumbles
You can buy feta cheese pre-crumbled. It makes it very versatile to use, so many people prefer to buy it in this format. It's perfect for adding to salads and stuffing mixes.
This is how to prepare and package crumbled feta for freezing.
Divide the cheese into portions or freeze the whole bag. Whatever suits your future purpose better.
You can pack feta in the packaging you bought it in when storing it in your freezer. However, if you do so, you should wrap it in a few layers of cling film.
Don't forget to label and date it.
---
How does freezing affect feta cheese?
When you freeze feta, you will change its taste. The freezing and thawing process will also alter its consistency. But it's not the end of the world. It just means that you need to be a little more selective in which recipes you include it.
Here's how freezing affects feta cheese
Flavor
This Greek cheese is renowned for its lovely, tangy flavor. It is also loved for its slightly salty taste and its creamy texture.
When you thaw frozen feta, you will find that the flavor loses some of its richness and intensity. It will also lose a little of its saltiness.
In other words, if you are spending good money on authentic Greek feta, because you appreciate that rich flavor, it is best not to freeze it.
Having said that, it is still better to put it in the freezer to use later, rather than putting it into the rubbish bin.
---
Texture
In terms of texture, frozen, thawed feta is somewhat more crumbly than the fresh stuff. So if you need it in crumbled form, you won't have a problem.
When you buy feta cheese in block form, it is packaged in brine, milk, olive oil, or water. These liquids are there to maintain the cheese's softness and its creaminess.
When you freeze it, though, that liquid changes, causing the feta to dry a little. Also, there could be as much as 56% of the water in feta.
As feta freezes, the water turns into ice crystals separating it from the cheese itself. This is why it becomes more crumbly.
---
How long does feta cheese last in the freezer?
As with all dairy products, the shelf life of feta cheese is quite limited.
When you buy feta cheese, it will have a "best-used-by-date" printed on the packaging. If the cheese is packed in liquid and has not been opened, you can safely keep it a week past that date.
It the packaging has been opened and the liquid drained, it will shorten its life. It will start turning bad in around seven days.
If you open your feta pack and store it in brine in your fridge, it will keep its best qualities for up to a month.
Olive oil is a natural preservative and can also be used to store feta in. It will stay in good condition for the same duration as to when stored in brine.
If you store it in the freezer, it will prolong its shelf life even more.
Feta kept in the freezer will hold onto good quality for approximately one month. You can, however, keep it for up to two to three months.
Be mindful of how well the cheese fares in cold storage depend to a large extent on how well you prepare and pack it.
---
Signs that feta cheese has gone bad
Even though you might do everything right when preparing your feta for the freezer, it might still go bad for one reason. So, knowing what signs to look for that the cheese has turned, is useful.
If it develops a sour smell. When dairy goes off, it produces a sour smell. Check for this regardless of whether it is opened fresh from the fridge or store, or thawed from frozen. If it smells bad, do not eat it.
If it goes moldy, some cheeses (the hard ones), can develop mold, and you can simply cut out the moldy bits and eat the rest.
However, that is not the case with feta cheese. Feta is soft, and any mold penetrates quickly. So, if you spot mold, throw the whole piece of cheese away.
---
How to defrost feta cheese
Whatever you do, never defrost feta cheese by leaving it on your kitchen working surface at room temperature.
Instead, when you take it out of the freezer, put it into your fridge for a few hours before you will need it. It will take somewhere between three and twelve hours to defrost all the way through, depending on how big the chunk is.
I always plan to leave frozen feta in the fridge overnight, and the next day it is fine and ready to use.
If you didn't plan very well and need to defrost it quicker, here is what to do.
Take it out of the freezer and place it in a bowl of cold water. By doing this, it should thaw comfortably in one to two hours.
---
How to use defrosted feta cheese
Most people love a fresh Greek salad made with creamy cubes of feta. Using defrosted feta, however, may not be the best thing to do.
Why? Because it may be somewhat watery. If you don't mind that, it will still be edible.
The best thing to do is to strain the feta before putting it into the salad. Also, it's a good idea just to make a small portion first to try out.
I find that the best use for frozen, thawed feta, is to put it into cooked foods.
Here are a couple of ways you can use frozen and thawed feta:
Put it into baked dishes such as casseroles, frittatas, pizzas, and stews.
Melt it on pasta in a skillet. This was a new one on me, but one of my friends did it, and it was fine.
Mix it into sauces. Thawed feta works well with any thick sauce recipe that calls for using feta.
Salads - but be a little wary. As suggested earlier, strain thawed feta first then test it in a small salad batch before possibly ruining a big batch.
If you are using thawed feta, use it within three days of defrosting.
Don't be tempted to refreeze thawed feta. It is the same as refreezing any food. It could be dangerous and give you food poisoning. It's not worth the risk.
---
Freezing feta cheese tips
As you know by now, freezing and defrosting feta cheese changes both its taste and its texture. There are ways of minimizing these changes or reviving some of its lost flavors.
Here are a few tips you can try out to improve your feta experience.
Tip #1: Use a vacuum sealer
If you are going to freeze feta (blocks or cubes), it is best to extract any air from the plastic bag you will be freezing it in. It's not as simple as it sounds. You'll make your life a lot easier if you buy a vacuum sealer.
A vacuum sealer will do a far better job than you can do manually. Trust me.
---
Tip #2: Keep the cheese in brine
When you freeze and thaw feta, it loses some of its saltiness, which is why it doesn't taste as good as it did when it was fresh. Okay, if you are lowering your salt intake, it might work for you.
If, however, you want to revive its salty taste, try popping the feta into a dish of brine for one to two hours. It makes all the difference.
What is brine?
When you purchase Feta cheese, it's typically packaged in an airtight container floating in a brine liquid. This liquid is made of salt, and water combo that serves as a flavoring agent hence provides feta with its saltiness punch and cheese preservation.
How to make brine cheese
2 cups of water
2 teaspoon of Kosher salt
step by step instructions:
Pour the water in a container with an airtight lid.
Add the salt and whisk to dissolve completely.
Place the cheese in the container and add as much brine as needed to cover it completely.
Keep or store it in the fridge.
Just cut it with a knife every time you need a piece of cheese.
Rinse it with a little running water and serve.
---
Tip #3: Add olive oil for extra flavor
Another tip you can try to boost the feta's flavor is to pour a little olive oil over it.
It works a treat. Not salty, but yummy. The oil gives it a more pungent taste. I also like to add some dried herbs to take it to the next level.
---
Tips #4: Submerge in water to reduce saltiness
If, when you bought it, your feta was a little too salty for your liking, it could still be too salty even after freezing and thawing. One way around this is to place it into the water for one to two hours to desalt it a fraction.
Another trick is to submerge it in milk. As well as counteracting some of the salt, milk also makes the cheese somewhat creamier.
---
Related posts