If you're a fan of nachos, you've probably wondered if it's possible to freeze nacho cheese sauce. After all, most of us don't eat nachos every day, so it would be nice to be able to stock up on some pre-made cheese sauce for those times when the craving hits. The good news is that you can freeze nacho cheese sauce! And it's really easy to do.
Done it right; you can freeze this sauce for up to two months, and you'll have a tasty treat to enjoy any time you want! But! There's a catch. You need to know a few things to ensure that your cheese sauce stays nice and smooth after being frozen and thawed.
Jump to: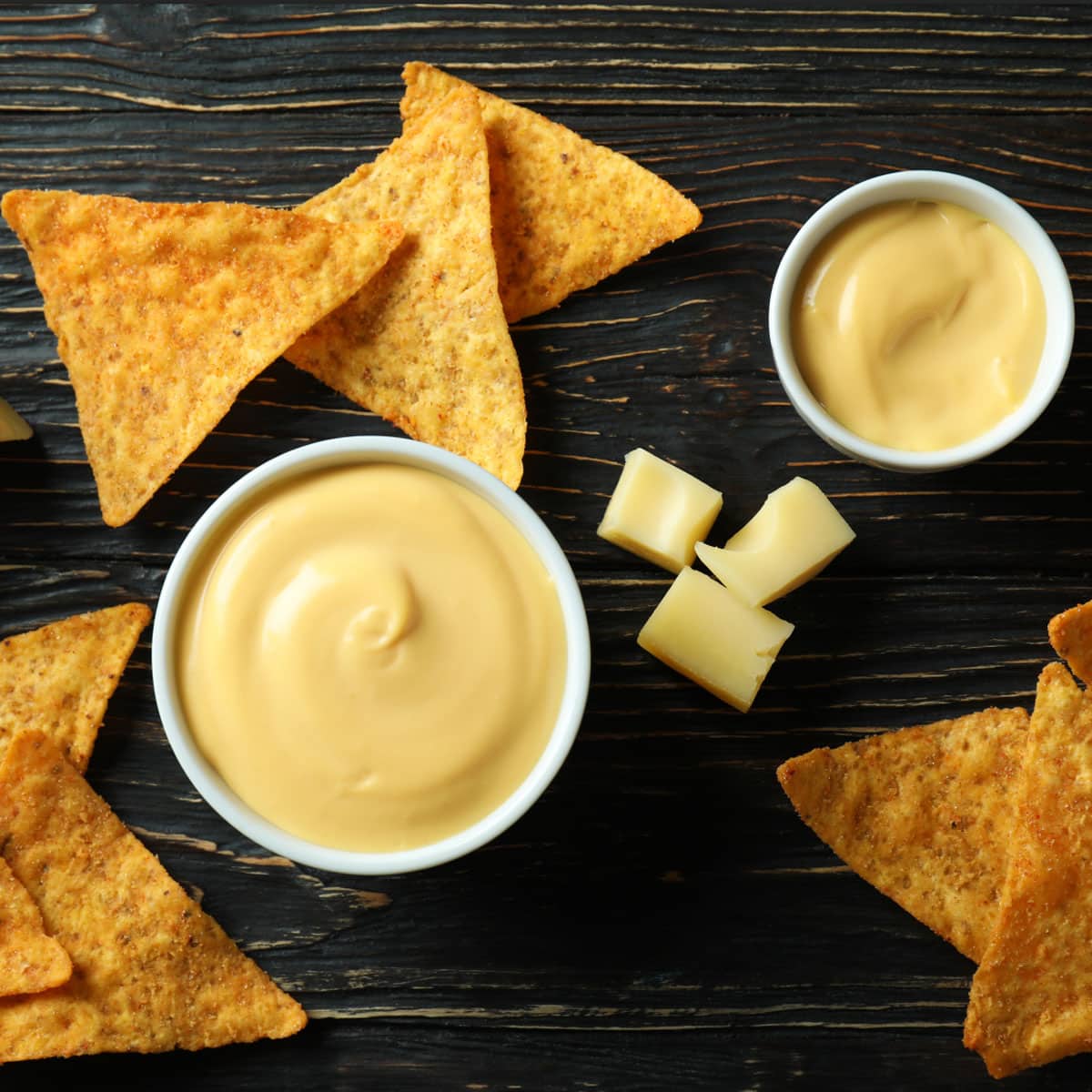 Here's what you need to know about freezing nacho cheese sauce:
We're talking about homemade nacho cheese sauce, not the processed cheese food product that comes in a jar. That stuff has stabilizers and other ingredients that help it withstand freezing (and thawing) without breaking down.
On the other hand, homemade nacho cheese sauce is made with just a few simple ingredients: evaporated milk, cheddar cheese, and maybe some spices. Because it doesn't have those stabilizers, it will not hold up well in the freezer.
That said, you can freeze nacho cheese sauce, which will still be edible; it just might not be as smooth and creamy as it was before freezing. To help minimize any texture changes, use sharp cheddar cheese and avoid overcooking the sauce.
If you're not worried about maintaining optimum texture, then go ahead and freeze that nacho cheese sauce! Just be sure to use it within two to three months for the best quality.
Read:
---
So, can you freeze nacho cheese?
The answer is yes, but there are a few things to keep in mind. First, nacho cheese sauce tends to separate when frozen and thawed, so it may not be as smooth as it was before freezing. Secondly, the flavor of nacho cheese may change slightly after being frozen and thawed. However, it will still be safe to eat and should still taste good.
If you plan on freezing nacho cheese sauce, it is best to do so in an airtight container. This will help keep the sauce from drying out or burning the freezer. When ready to use the sauce, simply thaw it in the refrigerator and then heat it until it is warm.
If you are planning on freezing nacho cheese, it is best to do so in small batches that you can use within a few weeks. Take the liquified leftover and place them in an airtight container or a freezer bag. This will help keep the sauce from drying out or getting the freezer burned.
When ready to use, thaw the sauce in the refrigerator overnight and then heat it on the stove over low fire until it's smooth and creamy as fresh nacho cheese.
---
Do not freeze Nacho cheese in its original container.
When freezing store-bought nacho cheese sauce, the first rule is: Keep it out of the original container!
In general, nacho cheese sauce comes in plastic tubs or jars, which are unsuitable for freezing. The plastic can leach chemicals into the cheese sauce as it freezes, making it unsafe to eat.
Instead, follow the step-by-step instructions below on how to freeze nacho cheese in an airtight container. Keeping the sauce fresh helps prevent off-flavors from forming.
---
Step-by-step on how to freeze commercial-bought nacho cheese
Step 1
Start with a clean, dry container. A plastic freezer bag will work, or you can use a clean glass jar with a tight-fitting lid.
---
Step 2
Scoop the nacho cheese sauce into the container, using a spoon or spatula to get all of it out of the tub. Glass jars or plastic containers with tight-fitting lids work well.
Step 3
Leave about ½ inch of headspace at the top of the container. This will allow the cheese sauce to expand as it freezes.
Step 4
Wipe any drips outside the container, then seal them tightly. Label the container with the date and contents.
Step 5
Once your nacho cheese sauce is in its new home, pop it into the freezer.
---
How long does nacho cheese last in the freezer?
It's best to use your nacho cheese sauce within six months, but it will be safe to eat for up to a year. When ready to use it, simply thaw the sauce in the fridge overnight and then heat it on the stove or microwave.
Read:
---
Step by step on how to freeze homemade nacho cheese
If you choose to freeze your nacho cheese sauce, it's essential to do so correctly to ensure that it retains its flavor and texture. Be sure to let the sauce cool completely before freezing.
Then, put it in a freezer-safe container or bag and squeeze out as much air as possible to prevent freezer burn. When ready to enjoy the sauce again, simply thaw it in the refrigerator and reheat it on the stove or microwave.
With proper storage, the frozen nacho cheese sauce can last up to six months. However, for best results, consume it within three months.
Step

1

Store at the proper temperature
When freezing any food item, it's crucial to ensure temperatures are within a specific range. The ideal temperature for a home freezer is 0°F (-18°C).
It is essential to set your freezer to this temperature. Otherwise, your nacho cheese sauce may not freeze solid and could thaw and refreeze, negatively impacting its flavor and texture.
---
Step

2

Choose the correct container.
Using the proper type of container is vital when freezing nacho cheese sauce. It will prevent freezer burn and maintain the sauce's quality. The best option is a freezer-safe, airtight container.
If you don't have a freezer-safe, airtight container, you can use a freezer-safe bag. Just be sure to squeeze out as much air as possible before sealing it.
---
Step

3

Freeze in small batches.
When freezing nacho cheese sauce, it's best to do so in small batches. This will make it easier to thaw and reheat the sauce later on.
For example, if you have a large batch of nacho cheese sauce, you could freeze it in individual serving-size containers. Or, if you plan on using the sauce for one large dish, like a casserole, you can freeze it in one larger container.
I like using Souper cubes from Amazon to freeze my nacho cheese sauce. They're the perfect size for individual servings, making it easy to portion out the sauce when I'm ready to use it.
---
To freeze nacho cheese sauce in Souper cubes:
1. Pour the sauce into the cubes, filling each to the top.
2. Place the cubes in the freezer and allow them to freeze for two hours.
3. Once the sauce is frozen, pop the cubes out of the tray and store them in a freezer-safe bag or container.
4. Double-bag and place in an airtight container if you are worried about freezer burn.
5. Label your containers with the date you're freezing the cheese sauce, and be sure to use it within three months for the best results.
---
Step

4

Thawing nacho cheese sauce
When ready to use the frozen nacho cheese sauce, take it out of the freezer and thaw it in the fridge. You may find that the texture of the nacho cheese sauce is a bit different after freezing and thawing, but it will still taste great! Before using, stir it well once it has melted.
The best way to thaw nacho cheese sauce is to place it in the fridge overnight. If you are in a hurry, you can unfreeze the nacho cheese sauce by placing it in a bowl of warm water.
Once thawed, you can keep the nacho cheese sauce in the fridge for up to 2 days.
---
Step

5

Reheating thawed Nacho cheese
If you're using a microwave:
Place the cheese sauce in a microwave-safe dish and reheat it on high power for a 30-second burst, stirring once or twice every after the interval.
If you're using a stovetop:
1. Place the thawed cheese sauce in a small saucepan over low heat.
2. Heat until the sauce is melted and heated. Frequent stirs are necessary to prevent the sauce from burning.
3. If the sauce is too thick after reheating, thin it out with a little evaporated milk.
4. Once the sauce is melted and heated, it's ready to use!
---
Extra tips when making Nacho cheese at home
1

Use high-quality cheese.
I recommend using sharp cheddar cheese. Why use cheddar cheese? The answer is simple. This recipe uses cheddar cheese as its base flavor, which has a firm texture that makes it easy to grate. With just enough of a sharp bite to it, cheddar cheese will give your nachos the perfect amount of flavor.
With just enough moisture and fat to help melt and bind the cheese, cheddar is the best cheese to use for nachos. Aside from cheddar, you could also use Monterey jack, pepper jack, or even queso Blanco.
It's important to use a high-quality cheese sauce for freezing. If you try to freeze a cheap, watery cheese sauce, the texture will likely be affected when you thaw it out. So, splurge on a good quality cheese sauce, or make your own using this recipe.
---
2

Grate the cheese.
The next step is to grate the cheese. You can use a box grater or a food processor fitted with the grating attachment. If you're using a box grater, grate the cheese into long, thin strips. This will help the cheese melt evenly. If you're using a food processor, simply pulse the cheese until it's finely grated.
Then toss the cheese with a tablespoon of cornstarch or arrowroot flour, which will help to absorb any excess moisture and prevent the cheese from clumping.
---
Why toss cornstarch after shredding the cheese?
If you've ever made a batch of homemade nachos, you know that one of the keys to cheesy perfection is ensuring the cheese is properly shredded. But have you ever wondered why you're supposed to toss the shredded cheese with cornstarch before melting?
The most challenging part is keeping the cheese from turning into a gloopy mess when it melts and becoming clumpy after it cools. Cornstarch can act as a stabilizer to maintain the smoothness and emulsion of your cheese sauce. If the shredded cheese is coated, the protein and fat molecules don't have a chance to come into contact with each other and form clumps.
In addition to preventing clumping, cornstarch will also help your nacho cheese sauce achieve that thick and creamy texture you crave. So next time you're making nachos at home, don't forget the cornstarch!
---
Note: Do not use store-bought pre-shredded cheese.
Again, the quality of the cheese is important. Pre-shredded cheese has stabilizers or anti-caking agents added to it. However, these agents also prevent the cheese from melting smoothly. So, shred your cheese from a block for the best results.
---
3

Use evaporated milk.
How evaporated milk enhances the creaminess of the sauce?
Using evaporated milk is the key to a truly smooth and creamy sauce. The milk products in evaporated milk help prevent clumps' formation while lending a nice creaminess and body to the sauce.
After testing, this method showed that evaporated milk had a smoother, creamier texture than whole milk. The difference was notable! However, there will be a slight difference in the sauce thickness when you use milk instead of evaporated milk.
Despite its name, evaporated milk contains two unknown ingredients:
Dipotassium phosphate
Carrageenan
What is Dipotassium Phosphate in evaporated milk?
Dipotassium phosphate is an additive often added to evaporated milk as a stabilizer. It is a white, water-soluble powder that has a bland taste. Dipotassium phosphate prevents the formation of calcium crystals in evaporated milk, which can cause the milk to curdle. It also helps to keep the milk's proteins from denaturing or breaking down.
What is Carrageenan?
Carrageenan is another common ingredient found in evaporated milk. It is a type of seaweed extract that acts as a thickener and emulsifier. It helps to keep the milk's proteins from separating and keeps the evaporated milk smooth and creamy.
---
4

Add the spices.
Now it's time to add some flavor to your sauce! Start by adding the chili powder, cumin, and garlic powder. These spices will give your sauce a little kick and bring out the flavors of the cheese.
---
5

Let it simmer. Don't overheat the sauce.
Once you've added all the ingredients, let the sauce simmer for about 10 minutes. This will allow the flavors to meld together and create a smooth, creamy sauce.
Don't overheat the sauce.
Melting the cheese slowly over low heat will produce a smooth, creamy sauce. If you try to hurry things along by heating the sauce too quickly, you'll end up with a grainy, oily mess.
---
6

Don't overdo it.
While you can use any cheese you like, including cheddar, mozzarella, and even American cheese, avoid using more than two or three different kinds of cheese. Too many different flavors can make your nachos taste muddy.
---
7

Get the temperature right.
What is the best temperature for serving nacho cheese? Cheese solidifies at around 90°F, so you'll want to keep your nacho cheese sauce above that temperature while still warm enough to flow easily. You'll find that between 110° above works best for most events. The cheese will be melted and smooth at this temperature, making it perfect for dipping tortilla chips into.
You'll get the best taste if you consume the cheese sauce within 35 to 45 minutes after preparation. The sauce will take about an hour to get closer to room temperature. If you leave it out too long, the cheese may begin to firm up and get a grainy texture.
As the sauce firms up, you'll notice it has a gel-like texture thanks to starch retrogradation, which occurs when the gelatinized starches realign. When you reach that point, give it a quick reheat if you have any dip left. Just be sure to stir it frequently, so the cheese doesn't burn.
---
8

Add some heat.
A little bit of spice can take your nachos to the next level. Add some diced jalapeños, or use a spicy salsa or cheese sauce. Just be careful not to add too much heat or overwhelm the other flavors.
---
9

Use Velveeta.
How Velveeta makes a difference? While you can use any cheese, Velveeta helps give the sauce a smooth, creamy texture. It also melts quickly and evenly, so you won't end up with any clumps of unmelted cheese in your sauce.
If you're looking for a cheesy flavor but don't want to use Velveeta, you can try using a mix of cheddar and Monterey Jack cheese. This will give you a more traditional nacho cheese flavor.
It's the perfect cheese for nachos because:
Fast and even melting
Due to its smooth texture, it won't clump or turn stringy
It has a neutral flavor that lets the taste of your other ingredients shine through
---
10

Serve them immediately.
Nachos are best when they're fresh out of the oven. If you let them sit for too long, the chips will get soggy, and the cheese will start to congeal or thicken. So as soon as your nachos are ready, pop them in the oven and serve them hot.
Most importantly, don't forget to enjoy your nachos! They're the perfect snack for parties, game days, or any time you need a little bit of cheesy goodness in your life.
---
How to store nacho cheese?
If you're planning on storing leftover nacho cheese sauce, there are a few things you can do to keep it from hardening.
To store nacho cheese sauce, place it in the refrigerator at a temperature between 35-40°F. Bacteria will start to grow and spoil the sauce at a higher temperature.
First, make sure to transfer the sauce to an airtight container. Then, when you're ready to reheat it, add a splash of milk or water to help thin it out and make it creamy again.
---
How do you prevent nacho cheese from hardening?
If you're worried about your nacho cheese sauce hardening or cooling off too quickly, you can do a few things to keep it nice and smooth.
First, use a double boiler or a heat-proof bowl set over a pot of simmering water. Doing so will delay the cooling process and prevent it from getting too hot, which can cause it to seize up.
Another option is adding a little cream or milk to the sauce, which will help to thin it out and prevent it from hardening.
Finally, keep the sauce covered as much as possible while working with it to prevent heat from escaping.
---
Checking nacho cheese for spoilage: what to look for.
With nacho cheese sauce properly stored, it should last about 2 weeks. However, you should always check for signs of spoilage before using it. The sauce may develop a sour smell or change in color, which are both signs that it has gone bad. If you see any of these signs, it is best to discard the sauce and not use it.
---
What are some other ways to use nacho cheese?
If you find yourself with a surplus of nacho cheese, there are plenty of other ways to use it. Try using it as a dip for vegetables or chips or a topping for burgers or tacos. You can also use it to make a cheesy quesadilla or grilled cheese sandwich.
Or, if you're feeling adventurous, you could even try using nacho cheese instead of Alfredo sauce in your favorite pasta dish. Just add a bit extra spice to offset the cheese's sweetness.
No matter how you use it, nacho cheese is a versatile ingredient that can add a delicious cheesy flavor to any dish.
---
What is store-bought canned nacho cheese sauce made of?
In most cases, the canned nacho cheese sauce contains a processed cheese product, which means it has removed some of the natural milk fats and moisture and added ingredients that improve flavor, texture, and shelf stability. Because of this processing, the canned nacho cheese sauce can be stored in the pantry until opened and then kept in the fridge for a few weeks.
The canned nacho cheese sauce combines water, milk, cheddar cheese, vegetable oil, cornstarch, and seasonings. The ingredients list on a can of nacho cheese sauce might include preservatives and added colorings.