Red Solo cups are one of the most iconic and popular products that the Solo Cup Company has ever produced. After first appearing on the market in the 1970s, Red Solo Cups have become associated with partying all over the US. They've even had a country song written about them.
They are widespread in the US, so don't be surprised to find them littered all over the place in college campuses and football stadiums all over North America.
Of course, when people are partying and enjoying themselves and Red Solo Cups come into the mix, unfortunately, you'll find them discarded and lying around all over the place. But hold on there, are they washable and reusable?
---
Jump to:
Can you put solo cups in dishwasher?
The quick answer is yes; however, there is a "but" involved. You can put plastic solo cups into your dishwasher and they are "top rack safe." If you try placing paper cups in, you're likely to end up with cardboard mush. 
But if they're made out of plastic like the solo cups, no problem, providing you position them in the top rack of your dishwasher and nowhere else.
I tried to dig up more about this topic, and I found this article about how safe it is to re-use plastic utensils and solo cups. Nonetheless, granted that solo cups and plastic utensils are re-usable, be cautious for the signs of cracks since those tiny clefts or slits can harbor bacteria.
Additionally, washing them in the dishwasher can diminish their lifespan, but they are better off washing them by hand.
The report was backed by Alexandra Davis, who worked as the plastic engineer for the world's largest private thermoplastic compounder company for a decade.
---
What exactly are solo cups?
Red Solo cups are the go-to cup wherever a beer party is in progress. They have an 18-ounce capacity and are thicker and more durable than your ordinary disposable cup. They also have the advantage that they won't shatter if you drop them.
Because of their thick mold polystyrene, they're capable of standing up if squeezed by the ham-sized fists of frat jocks or dropped by high-school cheerleaders who have one or two too many.
Solo cups are also famous to withstand the abuse in flip cup contests like the televised contest between Kate Upton and Jimmy Fallon. They actually managed to keep their shape and integrity as they stand head and shoulders above party cups made by competitors such as Dixie's.
Solo cups are not just available in red. You can also buy light blue, dark blue, and light green. But when people think "solo cup," the first image that springs to mind is the red one. In fact, 60% of Solo's cup sales are in red.
---
What are solo cups made of?
Solo makes their 18-ounce cups from a plastic known as polystyrene. You've probably heard of it before as it used to make various food, drink, and packaging products.
The word "Polystyrene" gets abbreviated to the letters "PS" and is quantified for recycling purposes by the number allocated to it, which is number 6.
Polystyrene is a thermoplastic which means it is moldable. Although it is recyclable, many recycling plants are not equipped to deal with it.
So, disposing of red Solo cups is not as easy as you might think, especially when you bear in mind that if you place them into an incinerator, the polystyrene gives off a gas that can be detrimental to human health. That's why, wherever possible, you should reuse them.
---
Plastic cups and BPA questions
The initials "BPA" stand for Bisphenol-A. It is a controversial topic extensively regarding plastics and food, as in terms of human health, BPA can be harmful, especially for young children.
Plastic cup manufacturers use various types of plastics in their production processes. So, be sure to read the labels of plastic products before you buy them to establish whether or not they contain BPA - one of the main ingredients of polycarbonate.
The Product Safety Director for Consumer Reports, Don Huber, remarked that the heat from dishwashers could discharge BPA and Phthalates from plastic products washed in them.
But as far as red Solo cups are concerned, you'll be pleased to hear they don't contain BPA. Meaning, solo cups are BPA-free.
If you have bought any plastic products which claim to be dishwasher safe, it is best to place them in the top rack of your dishwasher to keep them as far away as possible from the machine's heating element.
---
Plastic cups in general and dishwasher safety
One way of checking whether or not it is safe to put a plastic cup into your dishwasher is to check the bottom of the cup to see if you can spot a recycling code.
Plastic cups with bottom code PET, PETE, or No.1. Expect the structure of these kinds of cups to fail due to continuous hot water washing and the use of strong detergent. They are intended for a single wash in the dishwasher and only stack in the top tray.
Plastic cups that are coded 3, 5, or 7 contain BPA, which could leak from the cup when washed in a dishwasher.
Solo red cups can be safely washed in a dishwasher, providing you position them in the top rack.
---
How to tell if a cup is dishwasher safe
If you've got a lot of leftover plastic cups to wash, it can seem like an arduous chore. The problem is that not everything can go in a dishwasher unless there's an evident sign of "dishwasher safe."
Here's what to do:
See if you can spot either the words "dishwasher safe" or the dishwasher-safe symbol. If you're not sure what a dishwasher-safe sign looks like, and there are several of them, see the section below, marked "the various types of dishwasher-safe symbols."
Familiarize yourself with the What Is and Isn't dishwasher safe page on the Whirlpool.com website.
If unsure - hand wash in warm soapy water
The term "dishwater-safe" refers to the items you can put in a dishwasher and not the dishwasher itself.
---
What happens when you wash plastic in dishwasher
Depending on the type of plastic we are talking about, when you put plastic objects into your dishwasher, any of the following could happen:
Nothing untoward - the object is nicely cleaned
The object could shrink or become warped - usually the case with disposable products made from cheap plastics
The object gets cracked - often the case when the type of plastic is acrylic
Any printing fades and eventually disappears
As mentioned previously, plastics are better placed in the top rack of your dishwasher, which is furthest away from the machine's heating elements.
---
Materials that can go in dishwashers
There are plenty of materials you can wash in a dishwasher with complete safety. They include anything made from:
Stainless steel (excluding travel mugs)
Certain plastics
Ceramic kitchenware
Glass objects
There are several materials you should not put in your dishwasher, and these include:
Anything made from aluminum
Copper cookware
Objects made from crystal
Items made from wood
However, any item that bears the "dishwasher-safe" symbol should be okay. The best option is to go down the handwashing route using warm, soapy water if in doubt.
---
Drinkware safe to put in a dishwasher
On a hot summer day, and if you've been hosting a party, used drinking vessels can quickly pile up, and at the end of the day, the quickest way of cleaning them is to put them into your dishwasher. Drinkware made from the following materials can go in, no problem.
1

Tumblers

Tumblers made of hard plastic or stainless steel are ok to put inside a dishwasher. If made from plastic, remember they need to go on the top shelf of the dishwasher. The same applies to cup tops while you can clean plastic straws by hand.
---
2

Mug

Mugs made from ceramic are dishwasher safe. In contrast, porcelain dishware is not suitable for dishwasher use, you should wash it by hand. When positioning mugs in your dishwasher, always remember to turn the mug handle away from other items to avoid damage.
---
3

Cups

You can wash cups made from materials like glass and hard plastic in a dishwasher. Glass is always 100% safe and can go anywhere in the machine. Hard plastic cups are okay, too but bear in mind the advice already referred to about positioning plastics in the top tray of your dishwasher to minimize heat exposure.
---
4

Glassware

Drinkware, like a shot and wine glasses, are pretty much dishwasher safe. The only advice I would offer is not to position them too close together in your dishwasher, or you could run the risk of glass chipping.
---
5

Water bottles

Water bottles made from either stainless steel or plastic usually are relatively dishwasher safe. However, they can often get food particles from other cookware in the dishwasher stuck inside them; therefore, my recommendation from a hygienic point of view is to hand wash them rather than put them in the dishwasher.
---
What does a dishwasher safe symbol look like?
Unfortunately, there isn't one universal type of dishwasher-safe symbol. Different product manufacturers use distinct emblems.
The 2 most common types of dishwasher safe icons you're likely to come across are:
Top rack dishwasher safe
Dishwasher safe (which applies to the items shown in the section above headed "materials suitable for washing in dishwashers.")
Although it's pretty much common sense, when an item has a "top rack only" sign, it implies appropriate in your dishwasher's top rack. However, discoloration and deformity will become obvious once you place them in the bottom tray during the washing cycle.
As previously explained, dishwasher heater elements are generally located under the bottom of the machines, meaning that's where it gets hottest. In contrast, although exposed to heat, the top tier remains a little cooler.
Typically, a dishwasher-safe symbol is like a square box with glasses and plates shown inside it. This symbol indicates that you can use the items for the top rack only or any rack situation.
Some symbols on items depict either diagonal lines or droplets of water. The symbol shows the lines or droplets across the entire box. It's safe to assume you can wash the item in either rack - top or bottom.
The dishwasher-safe symbol relates to "top rack only," the droplets or lines stop at the top of the glasses or plates.
Sometimes a dishwasher-safe symbol will include a temperature to indicate the maximum safe temperature at which you can wash the item. Sometimes symbols include wording to clarify the message.
Describing things in words can sometimes be a little tricky, so there goes a saying that a picture is worth a thousand words. For further clarity and the avoidance of doubt, please check out this page on the washmode.com website.
---
What does dishwasher-safe mean?
Generally, a "dishwasher safe" sign indicates that dishware undergoes some treatment at some stage of the production to weather high temperatures and withstand detergents or sprays related to dishwashing.
This treatment won't result in any discoloration, damage, or corrosion during the washing process. The processes used vary from manufacturer to manufacturer and from material to material.
View this post on Instagram
---
What temperature solo cups begin to melt?
Like any other material, plastic has a melting point. Most plastics will begin to melt at a temperature of 170°C. The recyclable No.6 Polystyrene from which red Solo cups are made will start to melt between 100°C and 120°C. 
However, the shape could begin to warp at a lower temperature, and because of this, pouring hot beverages into them is not advisable.
The other thing you shouldn't do with red Solo cups is to heat them in the microwave. This, too, could cause the cup to deform or melt.
Read: Can You Microwave Plastic Wrap
---
Can you put hot coffee in a red solo cup?
Whether we're talking hot coffee, soup, tea, or whatever, you should not pour it into a red Solo cup. The heat from the liquid could cause the plastic to emit toxic chemicals, which could then leach into the cup's contents and be hazardous to health.
Besides, solo cups don't provide some sort of insulation so the heat from any hot contents may result in burning your fingers and hands.
---
Alternatives to solo cups
Red Solo cups have become so popular in the US because they are quite sturdy and reusable. You can collect them at the end of your event and hand wash them without any problem at all.
Once they've been washed clean, you can stack them dry, ready for the next occasion.
Another company goes by Red Cup Living, which makes reusable plastic cups that look like Solo cups. Their cups are made from a plastic material called ABS, which is BPA and Phthalate free. The use of ABS also means that their cups are dishwasher-safe.
The cups made by Red Cup Living are available in various colors and sizes. They also sell reusable lids and straws to match the cups. If you're not too stuck on red Solo cups, you could try using these compostable cups at future events instead.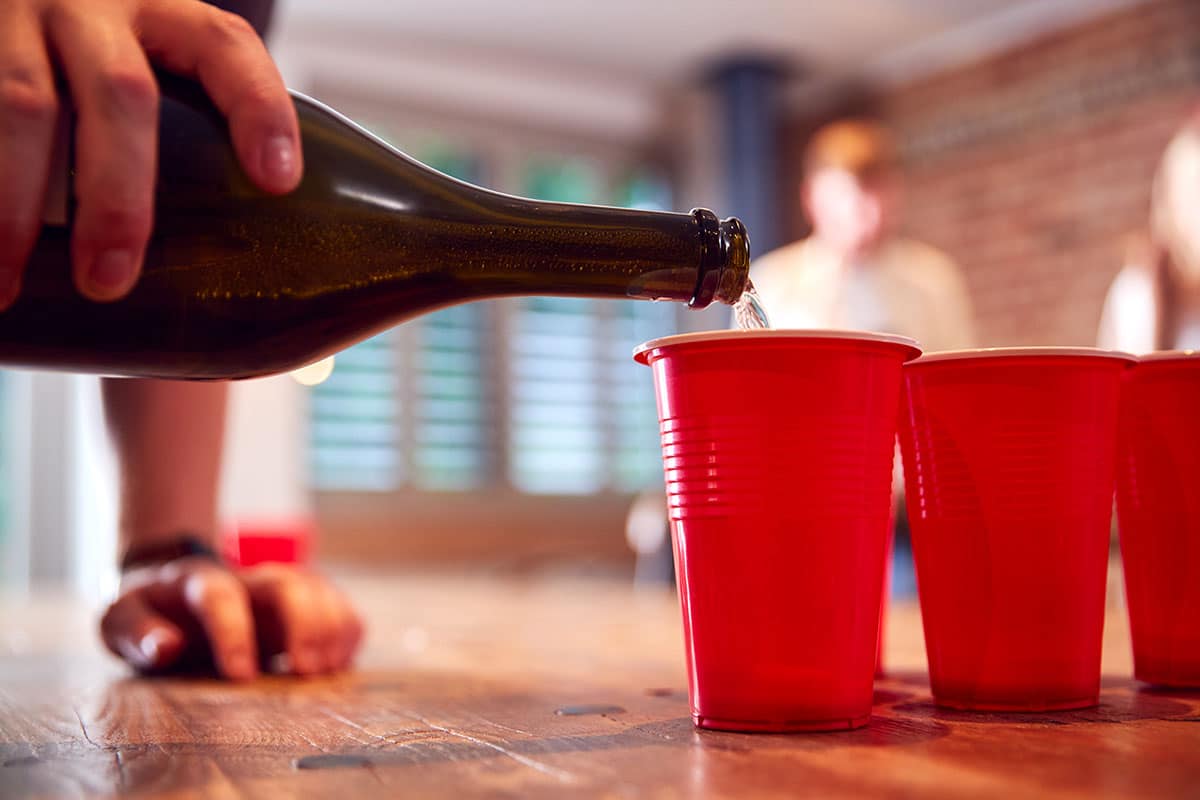 The compostable cup options open to you are numerous. Having said that, you need to take care of which products you purchase. Most compostable cups don't break down in home composters because they don't get hot enough.
It means that these cups have to go to a commercial composting facility. However, you have to choose the right facility because not all have the right equipment.
Read: Can You Microwave Cardboard?
The different materials from which compostable cups are made vary in their compostability. If you're unsure which commercial composting facility has the right equipment to deal with your compostable cups, calling them is the best way to find out.
The other thing to warn you about is that I wouldn't recommend disposing of your compostable cups in landfill sites. I always remember back in my college days a local environmental enthusiast bringing a newspaper into a class that had been sitting in a landfill site for years.
It was pretty damp and quite smelly, but it looked almost as good as new, so much so that you could still easily read the print on the front page.
Suppose you are concerned about your compostable cups breaking down. In that case, you need to put them into a separate receptacle and send them to a commercial composting facility that can deal with them.
You'll find many of these places will take your cups with no or little charge, so once you're ready to dispose of them, that's the way to do it. You can party, do your bit for the environment afterward, and feel good about it—way to go.