When you've had one of 'those days', you need an arsenal of quick and easy main dishes. This humble chicken pot pie soup takes about 35 minutes from preparation to table. They contain only four ingredients but are packed with nutrition and kid-friendly to boot.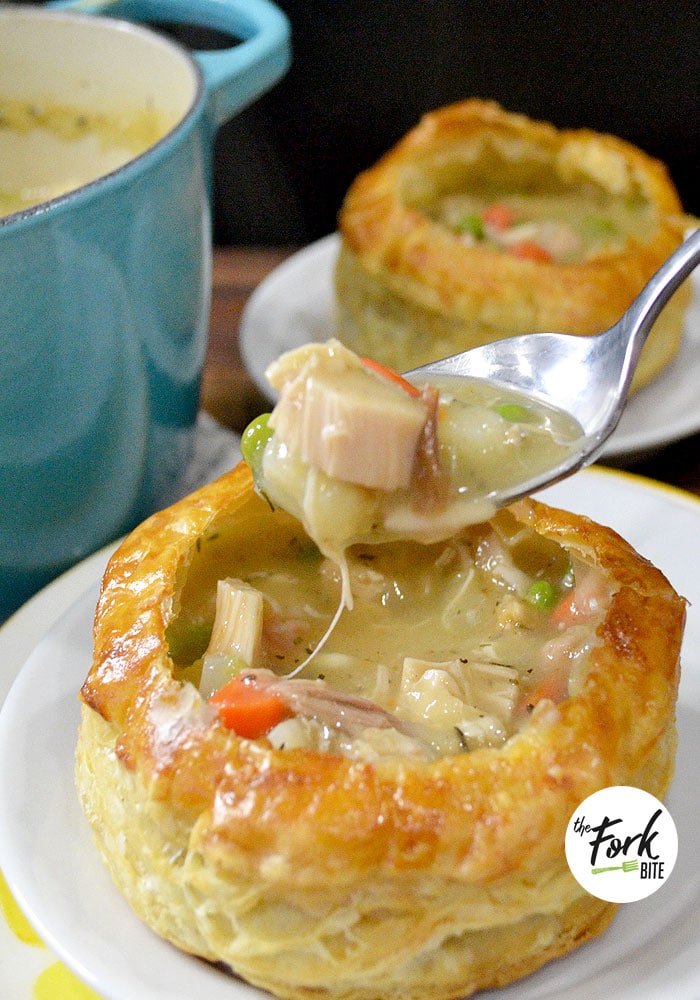 Serve Mini Chicken Pot Pies once and even the pickiest eaters will request them again and again.
You can divert from the original recipe and use any bits and pieces of leftover vegetables. Cutesy, individual servings cleverly 'hide' the veggies in a scrumptious, creamy sauce. No more nagging kids to 'eat your vegetables'.
Plus, veggies provide a pleasing pop of color to an otherwise monochrome dish. Since we eat with our eyes, as well as our mouth, pretty food is more palatable.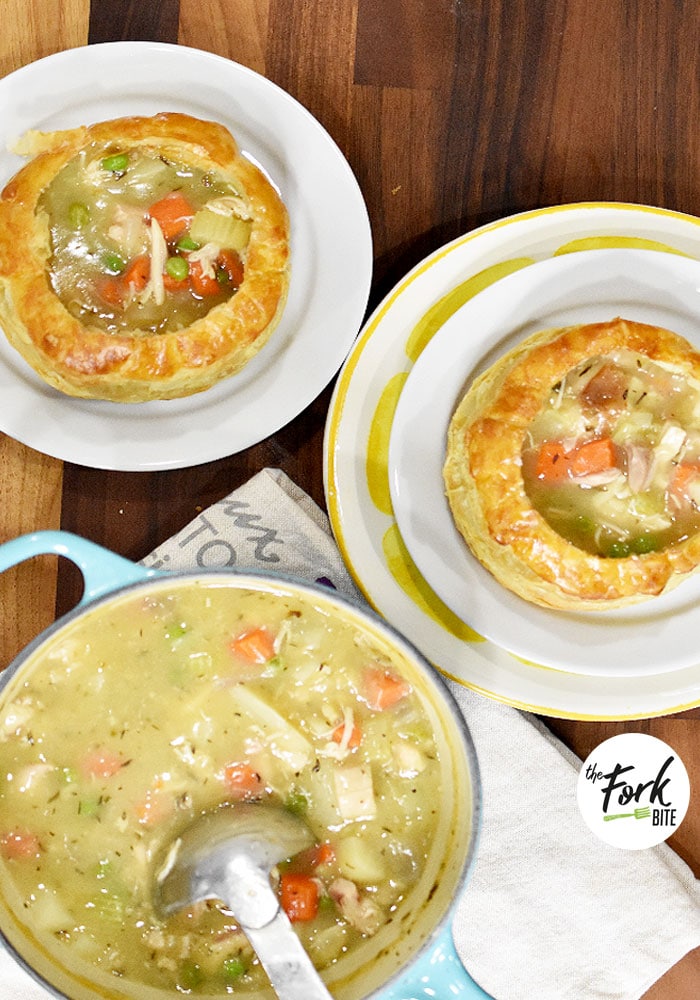 Tender chicken chunks contain healthy protein and are rich in B-vitamins. Also, mini pot pies are a frugal way to use any leftover turkey or chicken. The golden-brown crust is light and fluffy enough it could have been touched by an angel's hand. It tastes that heavenly.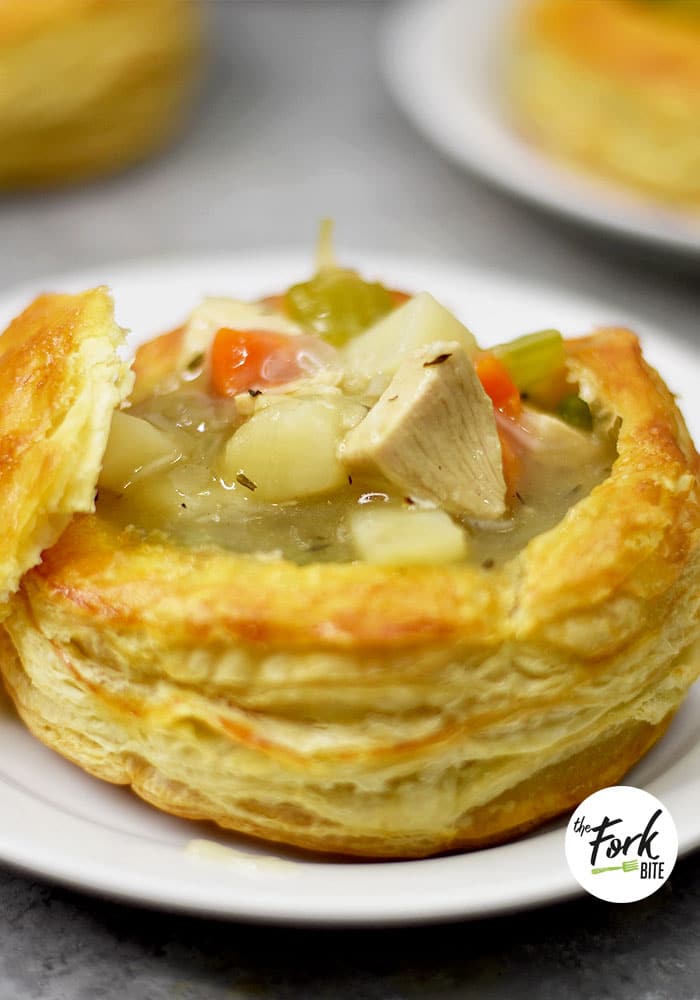 Did you know there are two types of chicken pie eaters?
One is a masher. She mashes up all the ingredients into a pulpy texture before taking a bite.
The other is a picker. He may pick out all the chicken first or deconstruct the pie from its crust and eat with his hands.
Note: pickers naturally eat one thing at a time. Don't try to change'em. It's like trying to make a lefty into a righty.
Both types will be pleased that Mini Chicken Pot Pies have a top and bottom crust. Unlike the frozen bargain brands, which only have a top crust.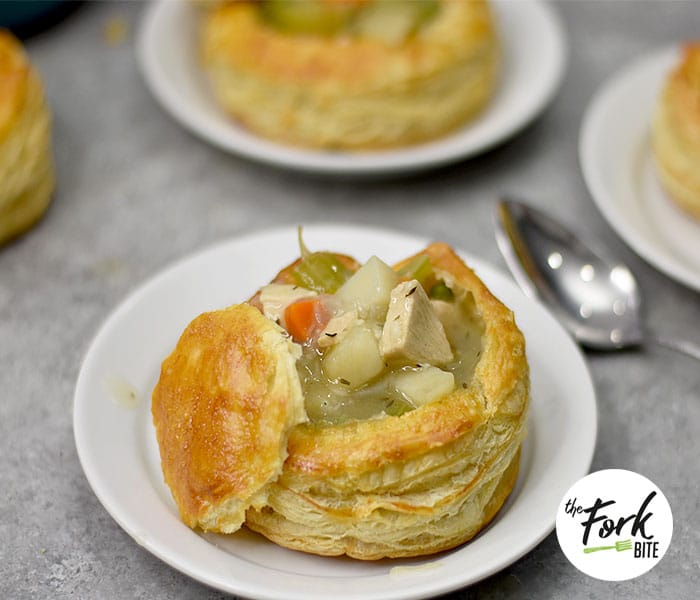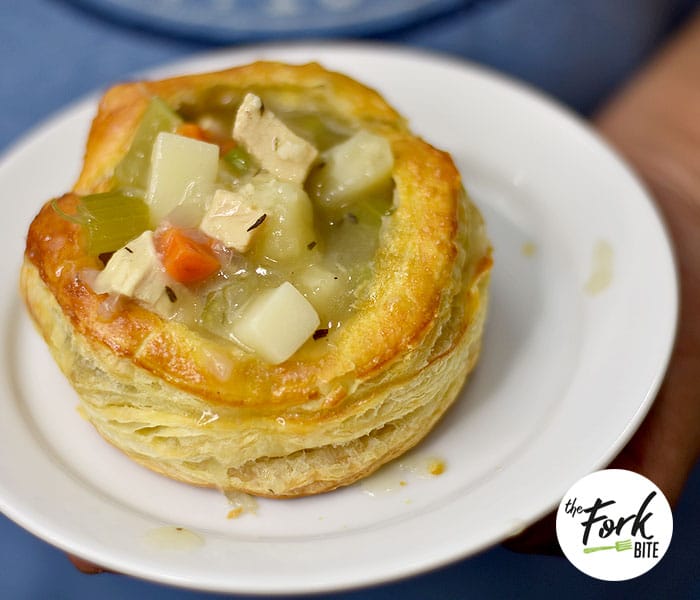 Read More: Ham Potato Corn Chowder
If in the unlikely event, there are leftovers, the pies freeze well. Leftover mini chicken pot pies are perfect for packing in lunches.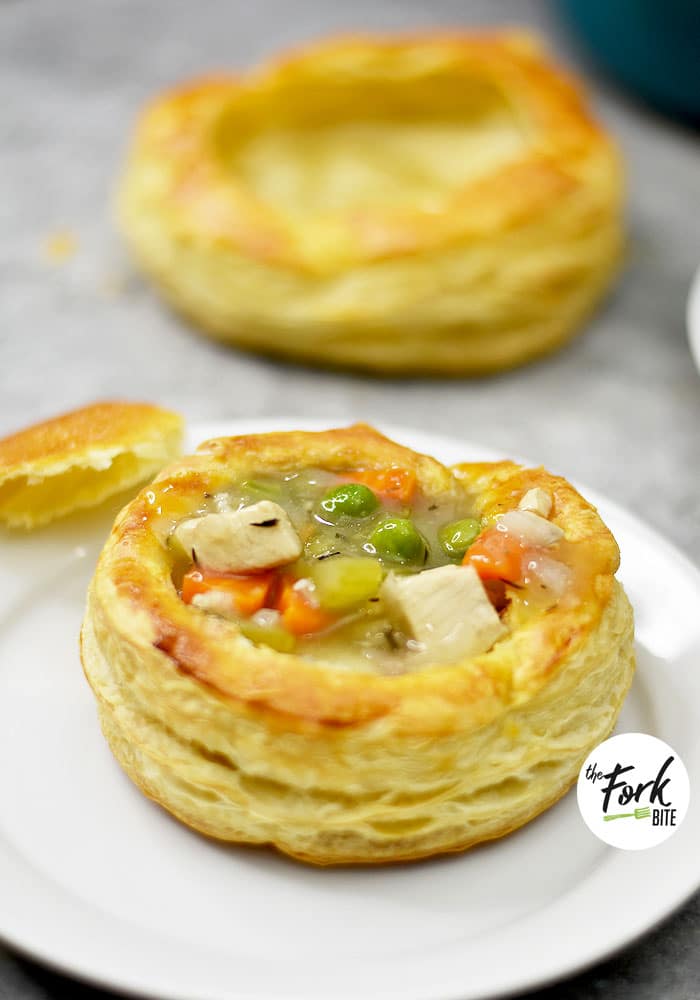 Chicken pot pies always hit on top-ten lists of comfort foods. Comfort foods are foods that suggest family dinners made with love when we were kids. When the weather outside is icky-cold, we gravitate to them.
Mini chicken pot pies may be little, but they are made with Big Love.
Watch How to Make The Chicken Pot Pie:
Credit: theforkbite
Mini Chicken Pot Pie Soup Recipe
Category: Dinner, Brunch, Appetizer

Cuisine: American

Serve these Chicken Pot Pies once and even the pickiest eaters will request them again and again.
1Tbsp. of butter
1 cup of carrots, chopped
1 cup of onions, chopped
1 cup of celery
1 tsp of salt
1 tsp of pepper
1 cup of potatoes, peeled and chopped
2 tsp of garlic powder
1/2 tsp of thyme
1/2 Tbsp. of dried parsley
4 cups of chicken stock
2 cups of cooked and cubed chicken breast
2-3Tbsp. of flour
1 cup of frozen peas
Puff pastry (buy it at the supermarket's freezer section)
Egg wash
Instructions
In a medium sized pot, melt butter over medium heat, add carrots, onions, celery, salt and pepper.
Cook until onions are translucent. Add potatoes, garlic powder, thyme, dried parsley and chicken stock.
Bring to a boil, add the cooked and cubed chicken breast and bring back to a boil. In a small mixing bowl, add the flour and a few ladles of the chicken stock.
Whisk until the flour is incorporated then add to the pot. Stir until the chicken pot pie filling has thickened. Add the frozen peas, set aside.
Prepare the Puff Pastry:

Take the puff pastry, cut out four circles. Take two of those circle (these will be your top layers) and cut out a smaller circle inside, keep everything intact.
Egg wash the bottom two circles, place a top circle on each bottom circle, egg wash the entire thing.
Bake at 400°F/205°C for 20-25 minutes or until puffy and golden brown.
Take the puff pastry shell, use a knife to remove the top, fill with the chicken pot pie filling, put the top back on.
Notes



(adsbygoogle = window.adsbygoogle || []).push({});

https://www.theforkbite.com/chicken-pot-pie-soup-recipe/