The verb to clarify means "to make clear," and clarified butter is butter that's been gently simmered and whose water and milk solids have been removed, giving it a clear appearance.
Some people refer to it as a "drawn butter," or in India, as Ghee. Because it has had its water content completely removed, clarified butter may be used as an ingredient without the danger of watering down any dishes. In essence, it is 99% to 100% untainted butterfat.
Before clarifying, butter contains 16% to 17% water and 1% to 2% milk proteins or milk solids.
Jump to:
What is left after clarifying is a clear yellow product that can be heated to substantially higher temperatures without it burning. Thanks to this higher "smoke point," clarified butter is perfect for frying and precision baking.
Whereas ordinary everyday butter requires refrigeration, clarified butter does not. It has an extended shelf life of up to six months.
---
What is clarified butter?
Ordinary dairy butter has three constituents-butterfat, milk solids, and water.
The milk solids cause the butter to burn at lower temperatures than other frying agents such as olive oil. The clarification process removes all of the milk solids and water, leaving pure butterfat.
If you are making your own clarified butter, I recommend using unsalted butter. That way, the end product won't taste salty.
You can make it with salted butter if you wish. I don't because it gives me complete control over the amount of salt I add to any dish.
You cannot make clarified butter directly from milk - only from butter.
---
How does clarified butter taste like
Clarified butter has a delicious, subtle flavor and is ideal for frying blintzes, bread coated eggplant, and pancakes. In kosher cuisine, it can be used in dairy and vegetarian dishes but may not be used with meat cookery.
Another feature of clarified butter is that it won't become grainy when it is refrigerated and re-melted.
Clarified butter is often used in baking; it's also great for making beautifully smooth hollandaise. Thanks to the milk solids that have been removed. Clarified butter is great for people who have an intolerance towards lactose.
However, remember that clarified butter is 99% to 100% milk products free, which means that the remaining 1% could prove problematic to anyone with milk allergies.
---
How clarified butter is used in cooking
Although they are similar products, clarified butter and Ghee are slightly different. Clarified butter is heated to the point where its water and milk solid contents evaporate and separate.
On the other hand, Ghee is cooked slightly beyond that point until the milk solids start to caramelize.
The two are used in similar ways.
They are both used as cooking oil for various vegetables and meats. However, because Ghee has a nutty characteristic to its taste, if nutty is not what you're looking for, you may opt for clarified butter instead.
Both can be used as an alternative to butter concerning people who are lactose intolerant.
To impart a glossy coating to rice and pasta.
As an ingredient in many French dishes, including hollandaise sauce.
Both can be used for making delicious buttery popcorn.
Clarified butter is a favorite with many as a seafood dip and is also the perfect product to sautee fish.
---
Clarified butter substitutes
1

Make your own clarified butter

In a pinch, you can use melted butter as an alternative to clarified butter in many circumstances. It will, however, retain most of its moisture as well as that all-important butterfat.

When the term "clarified butter" is used, we generally mean the butterfat or the yellow component of melted butter.

When melted, the butter separates into two main constituents - a milky liquid that remains at the bottom and a yellow oil that sits on top. The oil is the butterfat.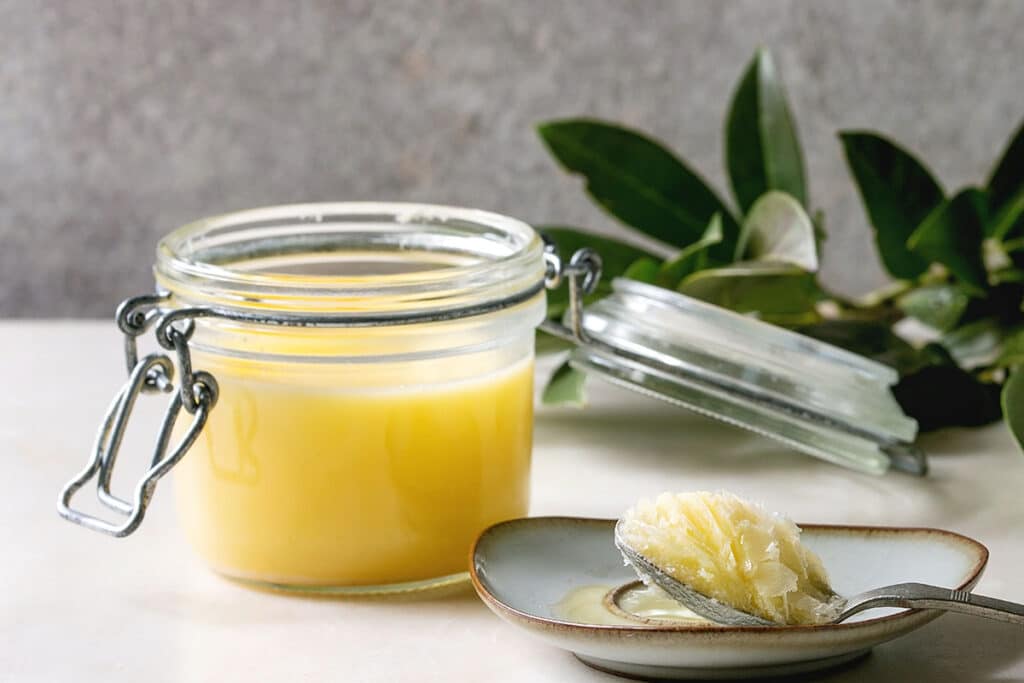 If you are going to make a large amount of clarified butter, once separation has taken place, you can pour the yellow butterfat oil off and store it for up to six months.
It is important, however, to ensure that none of the milky liquid remains.
Getting rid of it gives the butterfat its long shelf life and high smoke point as clarified butter.
Note:
Please note that separating these elements is much more difficult if you're only using a small amount of butter. The larger the batch, the easier separating it will be.
Butterfat can be used in any recipes calling up clarified butter.
---
Storage and use
You can keep clarified butter for up to 6 months using an airtight container at room temperature. However, it can be kept for more than a year if stored in the fridge.
When you fry with clarified butter, you can heat it to a temperature of 473°F.
---
2

Using Ghee as a substitute

As I mentioned earlier, Ghee is a specific type of clarified butter that originates from India.

It is heated slightly longer, and the milk solids are strained off.

Some people think that clarified butter and Ghee are the same. But due to the difference in the length of the heat process with Ghee, they are, in fact, two different products.

If you allow the butter to heat a little more (you must be careful not to let it burn) and not strain off the milk solids, you have brown butter or what the French call "beurre noisette."
---
Cooking with Ghee
Ghee can be used instead of ordinary butter or cooking oil in many recipes apart from baked items.
You can use it as:
A cooking fat when heating vegetables and meat at higher temperatures
A butter substitute for the lactose intolerant
The ingredient to use when you want a slightly nuttier flavor
As part of an ingredient in Indian cuisine like the Biryani.
---
How does Ghee taste like?
Ghee has a very distinctive nutty edge to its flavor and smell. You can buy it in large quantities if you spot a good price deal.
Thanks to the fact that you can store it for around three months at room temperature (much longer in the fridge).
You can use it as an alternative to butter in any recipes you cook at high temperatures. It is easily digested and relatively low in calories, so it is considered a healthy option to ordinary butter.
When using it as a butter substitute, you can swap it on a one-for-one basis.
But because Ghee contains more moisture than butter, you may want to alter the quantity you use in certain recipes.
---
Where to shop for Ghee
Some supermarkets now stock Ghee, but the best place to look for it is in Indian grocery stores. You can, of course, buy it online.
---
3

Using Olive Oil as a substitute for cooking

Olive oil is the go-to oil for Meditteranean cuisine. Still, it is also one of the substitutes for clarified butter, especially for dishes cooked on the stovetop and for sauteeing meat and veggies.

The majority of baked dishes need the fat that stays solid or returns to solid form when cool. There are some exceptions, like pancakes, for example.

Olive oil works with these quite well. However, because it is in liquid form, it is not suitable to use in baking.

One of the attractions of olive oil is its health benefits. The Mediterranean diet has long since been regarded as healthy, and a lot of that is due to olive oil as it contains mostly monounsaturated fat.

The health aspects of olive oil include its ability to lower levels of cholesterol and helping to reduce or manage blood sugar.

You can find out more about its health benefits in this article on the healthline.com website.

Use olive oil as a ghee substitute according to your own discernment, but remember two things.
Firstly, most cooking experts say you should only use three-quarters of olive oil as you would with clarified butter.
Secondly, don't forget that olive oil is high in calories, so it may not be suitable if you follow a calorie-controlled diet.
---
4

Best substitute for baking: coconut oil

Coconut oil is another product you can use as an alternative for clarified butter in baking.

The only thing you need to be aware of is its taste. It has a definite hint of coconut. If that is not what you want from your recipe, it won't be suitable.

However, not all coconut oil has this flavor hint. Some refined coconut oils hardly taste coconut at all, so you may need to search around.
Coconut oil is another type of oil with health benefits, including promoting fat burning and lessening the risk of heart disease.
Where you do use it as a substitute for clarified butter, proportion-wise, you can do so on a one-for-one basis.
other alternative
I talked about brown butter a little earlier, so you will know it is made similar to clarified butter.
But because it is heated longer, the milk solids are not removed. It gives it a strong caramel flavor which may not be appropriate for some of the dishes in which you use ordinary clarified butter or Ghee.
---
Why substitute clarified butter?
Now we've discussed the alternatives you might like to use instead of clarified butter, let's briefly revisit the reasons why you might wish to do so.
1

For people with milk allergies

Although you strain most milk solids away, there might be a small percentage of casein left. If you serve this to someone with a severe milk allergy, it can be dangerous.
---
2

For those who are lactose intolerant

The majority of lactose-intolerant people may be able to stand a small amount of lactose and clarified butter. However, if that intolerance is severe, it can compromise health.
---
3

Saturated fat

Both fresh butter and clarified butter contain saturated fat. According to the Healthline.com website, Ghee has 10g of saturated fat per tablespoon instead of natural butter, which only contains 7g.

The difference is relatively negligible, but if you are concerned about your saturated fat intake or that of others, you might want to take avoiding action.
---
How to make clarified butter at home
I am going to describe two slightly different ways of making clarified butter.
What you will need, however, is the same, which is:
Unsalted butter - one cup or two sticks
A small saucepan
A mesh strainer
Some cheesecloth
A heat resistant bowl
A mason jar or similar sealed container for storage
Option 1 (Stovetop method):
1 Transfer the unsalted butter into a small heavy-bottomed pan.
---
2 Place on the stovetop over low heat. Allow the butter to melt. It will only take a few minutes. Don't be tempted to increase the heat - nice and easy, does it. There's no need to stir the butter; just let it melt on its own, unassisted.
---
3 Once melted, a white foamy layer will form on the surface. Lightly skim this away using a spoon but being careful to leave the golden butterfat behind.
Don't worry if you leave a few specks of foam behind, as you will strain them is away later on. There is no need to waste the foam if you don't want to. You can use it for flavoring other things like warm pasta, popcorn, or rice.
4 Remove the pan from the heat and set it aside, and allow to rest for five minutes.
---
5 Position wire mesh strainer over a heat-resistant bowl and line with several layers of cheesecloth, or you can use a coffee filter. Using a coffee filter will take longer, but it will still do the job.
---
6 Carefully and gently pour the melted butter through the cheesecloth or filter. It will strain out any remnants of white foam.
---
7 As the butterfat pours away, you will notice more milk solids left on the bottom of the pan. You don't want them to mix these with the butterfat. You can bin them or use them to flavor other dishes, as previously mentioned.
---
Option 2 (Microwave method)
Rather than using a heavy-bottomed pan and your stove, this method uses a microwave.
1 Instead of transferring the butter into a pan, transfer it into a microwave-safe cup or dish.
---
2
Select the microwave's high setting and blast for one minute or until the butter has melted.
---
3
Skim off the foam as described in option 1.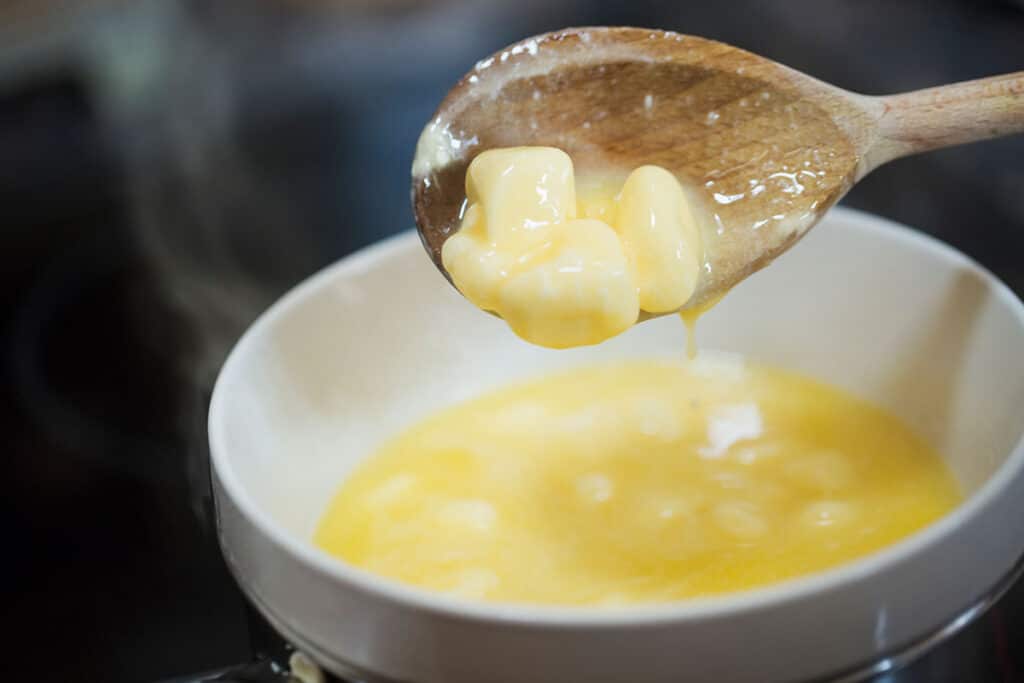 Top tip:
If you don't want to be bothered with all that skimming, you can refrigerate the heated butter. Once it becomes solid, you can separate the butterfat from the milky products with ease.
---
Similarities between Ghee and clarified butter
When comparing Ghee and clarified butter, you can generally swap the two products for each other. However, Ghee's nutty flavor will determine which recipes you prefer to use instead of clarified butter.
Both have a longer shelf life
Both have a higher smoke point
Both contain vitamins A, E, and K plus saturated and monounsaturated fat
Both are relatively digestible by people with lactose intolerance.
People generally accept both following a Paleo diet
Both contain conjugated linoleic acid (CLA), which can assist with fat loss. CLA has anti-inflammatory characteristics and may be beneficial for heart health.
---
Differences between Ghee and clarified butter
Now let's check out the differences between these two products.
---
Preparation
Although both Ghee and clarified butter are prepared similarly, Ghee is heated for longer, which results in the milk solids caramelizing.
---
Flavor
Due to the longer cooking time and the caramelization of the milk solids, Ghee has a more nutty flavor than clarified butter.
Origins
Ghee comes from India, whereas clarified butter is associated with France.
---
Availability
If you go out shopping for these two products, the likelihood is that you will probably come across Ghee but not clarified butter.
---
What is the difference between Ghee and regular butter?
Let's now look at the differences between Ghee and ordinary fresh butter bearing in mind that Ghee has had its milk solids and water content removed and is therefore 99% to 100% pure butterfat.
It results in the following differences:
Ghee has a much higher smoke point (473°F) and is much less likely to burn when cooking.
Whereas you must keep natural butter in a refrigerator, Ghee can be stored at room temperature in an airtight container for as long as three months.
Since Ghee has had its sugar lactose and casein content removed, it is safer for that lactose intolerant to consume.
Ghee is preferred by people wishing to avoid dairy products, although because it originates from cow's milk, it is not acceptable to people on a vegan diet.