Easy Oreo Cheesecake Cupcakes - It doesn't matter whether the weather is hot or cold, cheesecake is a dessert for all seasons and individual cheesecakes are the perfect food for a late night snack. You might think making serving size cheesecakes is a task beyond your capabilities, but you'll be amazed at just how easy making these are, besides being incredibly yummy. You can make this one ahead and freeze it for up to two months.
I love eating them on a hot summer day right out of the freezer. Since I hate to turn on the oven in the summer, I generally bake them in the spring or on cooler rainy days in the summer and freeze several batches for the family, hiding a few for my private stash.

The mini cheesecakes, which taste even better than the larger version of Cookies and Cream Cheesecake, use a whole Oreo for the bottom crust. I normally buy double the amount of Oreo than what is required for the recipe. That's because I eat them while I'm baking and if I don't bake the recipe immediately, my family snarfs quite a few down before I have a chance to create these sensations.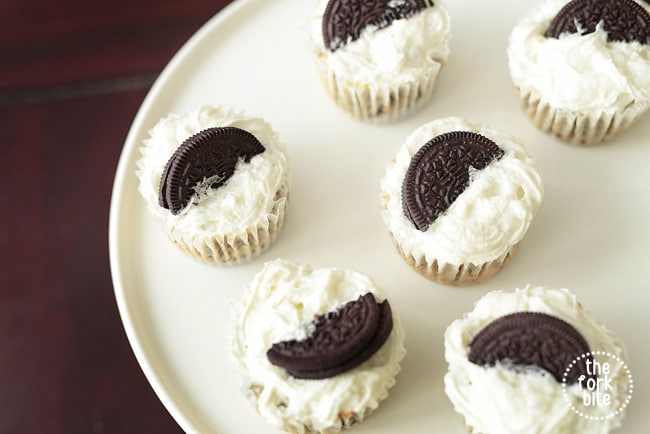 The whole Oreo is the bottom of the mini cheesecake. The goodness doesn't stop there. The creamy filling is oozing with crushed Oreos, so it has a double dose of goodness. Best of all, it's so darned easy to make. You don't have to have anything special like a springform. Instead, you simply use muffin tins and liners, the paper baking cups used for cupcakes.

I love freezing these ahead and taking them out when I need a special dessert or a quick treat. The Oreo as the bottom crust and the creamy filling reminds me a bit of the ice cream sandwiches I always loved.
I served these as a dessert for brunch and made them look more festive by using decorative liners. You can find them in all types of designs. I got mine online by Googling muffin pan liners and found them at a craft store site that has a local brick and mortar store near me.
There were so many wonderful designs from which to choose that I couldn't decide and bought several. These are inexpensive, so all those liners were less than $10. You can also get them in a variety of shapes, such as hearts, for special days. Guess what special treat my hubby is getting for Valentine's Day!
[amd-zlrecipe-recipe:95]