Move over fast food take-out. Today's crazy-busy moms rock it with foil packet meals! Foil packet food is versatile, nutritious and quick to prepare. Eat straight from the package and clean-up is practically nil.
Our Foil Packet Meals – Salsa Verde Chicken with rice, explodes with a spicy kick of South of the Border flavors. Everybody say Olé!
Watch How to Make The Foil Packet Meals:
Credit: theforkbite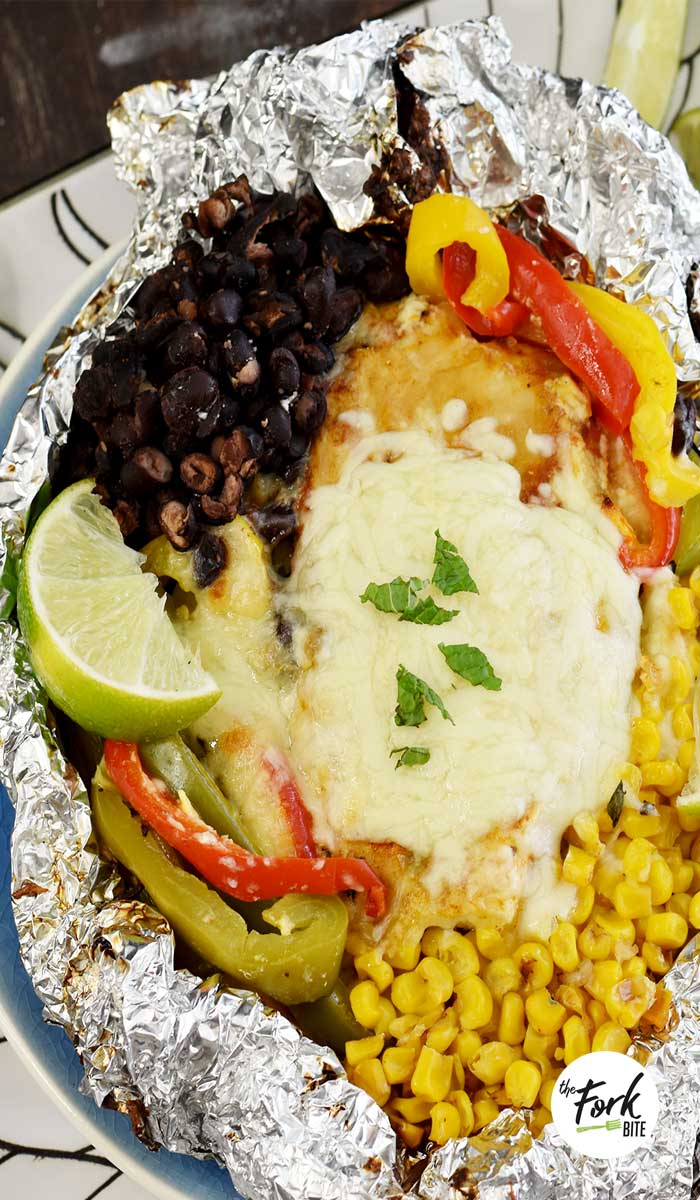 There are tons of benefits to cooking in foil packets. But, we think the Big Beauty is your ability to modify meals for picky eaters.
Somebody doesn't like it hot? No worries. Just omit fiery-flavoring, such as chili powder and use less salsa verde.
Plus, you can monitor portion sizes or leave out ingredients, if a family member has food allergies.
Before popping each pack into the oven, label it with the intended's name.
We'd suggest you perfect the pattern for creating foil packet meals, by preparing Salsa Verde Chicken a couple of times.
The Basic Pattern goes something like this:
Filler-Up
Place your Meat in the center of foil. It takes longer to cook. (Bite-sized pieces work well for the kiddos, who haven't mastered meat cutting.) Add seasonings. Layer Vegetables.
If using fresh veggies, cut into chunks. Excepting carrots or potatoes. Cut them into thin slices and arrange around meat. Same goes for rice. These need to cook about the same length of time as the meat.
Fold'em
Hold the two longest edges of foil upward over the contents, like a tent. Fold edges together and roll downwards. Leave an inch or so, to allow expansion room for steam.
Fold the shorter edges to complete your foil pack.
Bake & Serve
Cook to done. No need to hover, since stirring, etc. isn't involved. When food is ready, remove packets from the oven. Open with care, because steam will pour out.
The aroma will be divine and the taste, heavenly!
Tip: Don't skimp on foil. Use only the top-quality, heavy duty type. Coat the inside with non-stick baking spray.
Final Words:
After mastering your Basic Pattern, you won't need to rely on particular recipes. Simply pick your protein, veggies, and favorite whatever's. Possibilities are endless.
Get the family involved in packet meal planning and eliminate the age-old question, "What's for dinner?" Forever.
Foil Packet Meals – Foil Pack Dinner
Category: Dinner, Brunch, Appetizer

Cuisine: Mexican

Adapted from: Chelsea

!Today's crazy-busy moms rock it with foil packet meals! Foil packet food is versatile, nutritious and quick to prepare.
1 cup Instant Brown rice (or White rice)
1/2 tbsp Taco seasoning (for rice )
1 and 1/2 cups water
2 (7 oz each) chicken breasts
1 oz of cream cheese
6 tablespoons salsa verde
1/2 cup roasted corn
1/2 cup black beans
1/2 cup thin-sliced bell peppers
1/2 cup Mozarella cheese (or any melting cheese)
Optional toppings: roasted green chiles, lime, cilantro, sour cream
For Chicken Seasoning:

1/2 teaspoon each: cumin, garlic powder, salt and pepper, chili powder
1 teaspoon paprika powder
Instructions
Preparation:

Preheat the oven to 400 degrees F.
Prepare 2 large sheets of foil and grease with cooking spray. You don't want your rice to stick to the bottom.
Weigh and pound your chicken to get (2) 7 oz each piece with 1/2 inch thickness.
Toss together the instant rice and water, add 1/2 tbsp of taco seasoning. Mix all together and set aside.
In a bowl, toss together all of the seasonings: cumin, garlic powder, salt, pepper, chili powder and paprika powder.
Dredge each chicken breast evenly in the seasonings (both sides).
Divide the rice and water mixture evenly among the 2 foil packets.
Place the seasoned chicken on top.
Put corn and black beans next to each chicken breast. Add a few pieces of thinly sliced red pepper to each packet. Add other optional toppings as desired.
Slice the cream cheese into 4 equal pieces and place 2 pieces on top of each chicken breast.
Pour 3 tablespoons of salsa verde on top of each chicken breast.
Top some cheese on top of the chicken.
Seal the packet allowing for expansion and make sure it is 100% sealed.
Bake for 40 - 45 minutes or until the chicken is completely cooked through.
Notes
My best recommendation is to make sure that your chicken is pounded to 1/2 inch thick and exactly 7 ounces. In my oven with a 7 ounce chicken breast it was completely cooked through at 40 minutes.




(adsbygoogle = window.adsbygoogle || []).push({});

https://www.theforkbite.com/foil-packet-meals/