What's the secret to crispy hot pockets? Cooking the hot pockets in an air fryer makes their surface shells crunchy as they go from frozen to piping hot.
Regarding snacks, hot pizza pockets are one of my favorites. They are delicious, but you won't be able to enjoy them unless you know how to cook them from frozen, as I do.
Jump to:
Would you like to know a secret? You would. Here is what you need to know. There are many different types and sizes of air fryers available. All of them serve the same purpose. This stand-alone accessory circulates hot air for cooking various dishes.
---
You can use air fryers for cooking foods that you ordinarily cook in a deep fat fryer. Instead of immersing the food in sizzling hot oil, the cooking process uses hot air, and thanks to it circulating in the air fryer, it cooks all the food surfaces evenly.
Compared to deep frying, air frying gives that crispy, crunchy exterior with a lovely, chewy, moist inner. An air fryer will cook almost anything, rapidly and uniformly - including hot pockets.
There is only one slight drawback. They are quite small. An air fryer will not be much use if you're planning a big dinner party. But cooking for, say, couples, in batches, they're right on the money.
I am something of a pizza pocket monster. I have eaten loads of them. I always found them flavorsome, even before I got my air fryer. But now I have one, and I use it for cooking my hot pockets, my opinion of the flavor has gone from tasty to absolutely delicious.
Cooking Hot pockets in an air fryer produces a snack with a crispy crust outer and a cheesy filling that is warm, gooey, and gorgeous.
Before I learned how to cook them in my air fryer, frozen hot pockets were always my favorite snacks, but I often felt that was good as it could get.
Yes, the pizza crisper helps, but it doesn't cover the entire Pocket.
After I got my air fryer, I tried it out first on frozen onion rings, frozen burritos, and frozen pizza rolls. They turned out cooked to perfection, so I thought, why not try it for cooking frozen Hot Pockets too?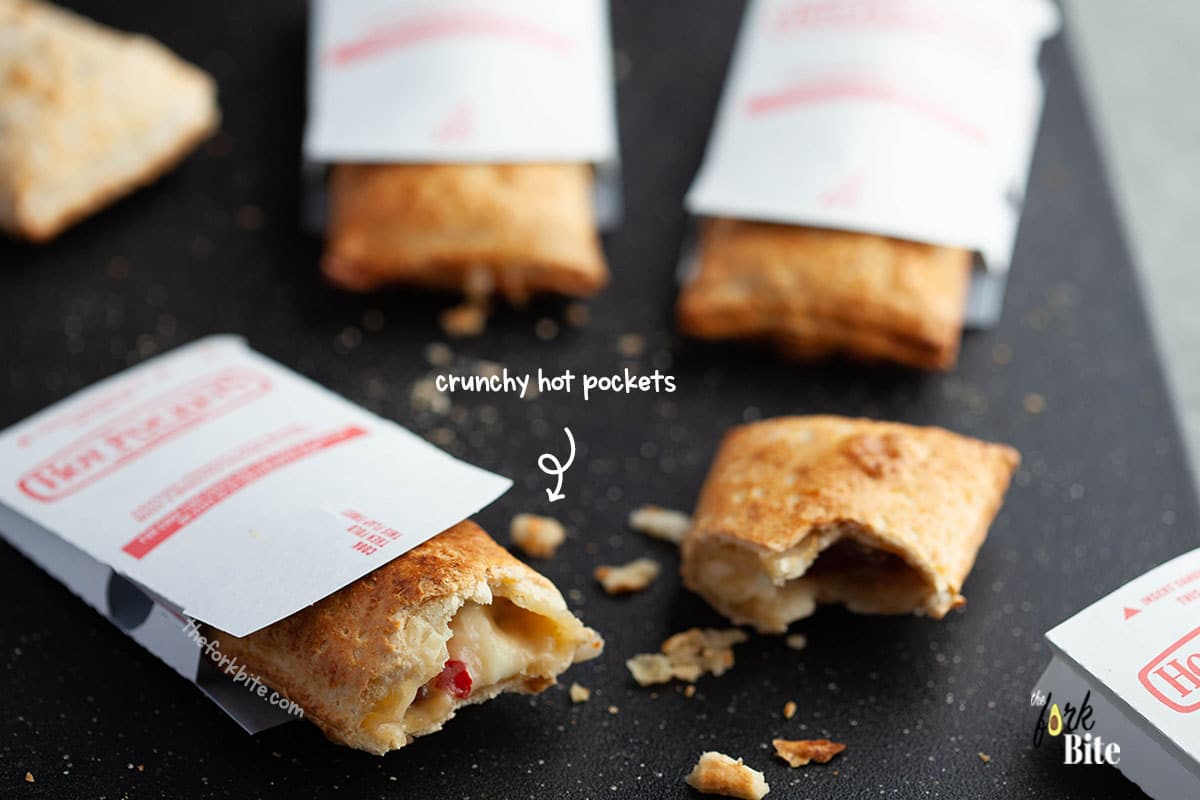 The experiments I did were so rewarding.
The Hot Pocket came out as crispy as freshly toasted bread, and from that moment on, all thoughts of heating them in my microwave, as I always used to, went out of the window.
As far as ease and convenience are concerned, I find it simple to use my air fryer for cooking Hot Pockets as it was to microwave them. If you follow the instructions, it will change how you cook frozen Hot Pockets forever. But first, for the uninitiated, let me explain what hot pockets are.
---
What are hot pockets?
In essence, Hot Pockets are turnovers. They contain cheese, meat, and vegetables inside. They are delicious whether you eat them for breakfast, lunch, or dinner.
If you search your local grocery store, you will find them in the frozen foods section. Made from wholesome ingredients like cheese, Hot Pockets don't have any trans fats in them.
You can cook them in a few minutes in either your microwave or your toaster, but if you take my tip - air frying produces the best results.
---
How to cook hot pockets in the air fryer
Step 1
Preheat the air fryer to 400°F. Preheating ensures that foods (especially frozen foods) will cook evenly.
---
Step 2
Place your Hot Pockets into your air fryer, leaving the crisper out. You don't need it, I assure you. Make sure you have the crisper sleeves nearby. It is helpful to use them when handling hot pizzas.
---
Step 3
Air fry the pockets for between 12 and 13 minutes. You can turn them halfway while cooking.
Once you take the Pockets out of the fryer, leave them to cool for a minimum of 5 minutes. The fillings get very hot as they do when you microwave them. Be careful not to burn your mouth.
---
Step 4
Put them into the crisper sleeves and eat.
---
How long do I cook a hot pocket in the air fryer?
Now and again, we fancy something to eat that is fast and simple to prepare. Frozen Hot Pockets are just the job.
It takes 13 minutes (or less if you take my shortcut instructions), and you've got the perfect snack.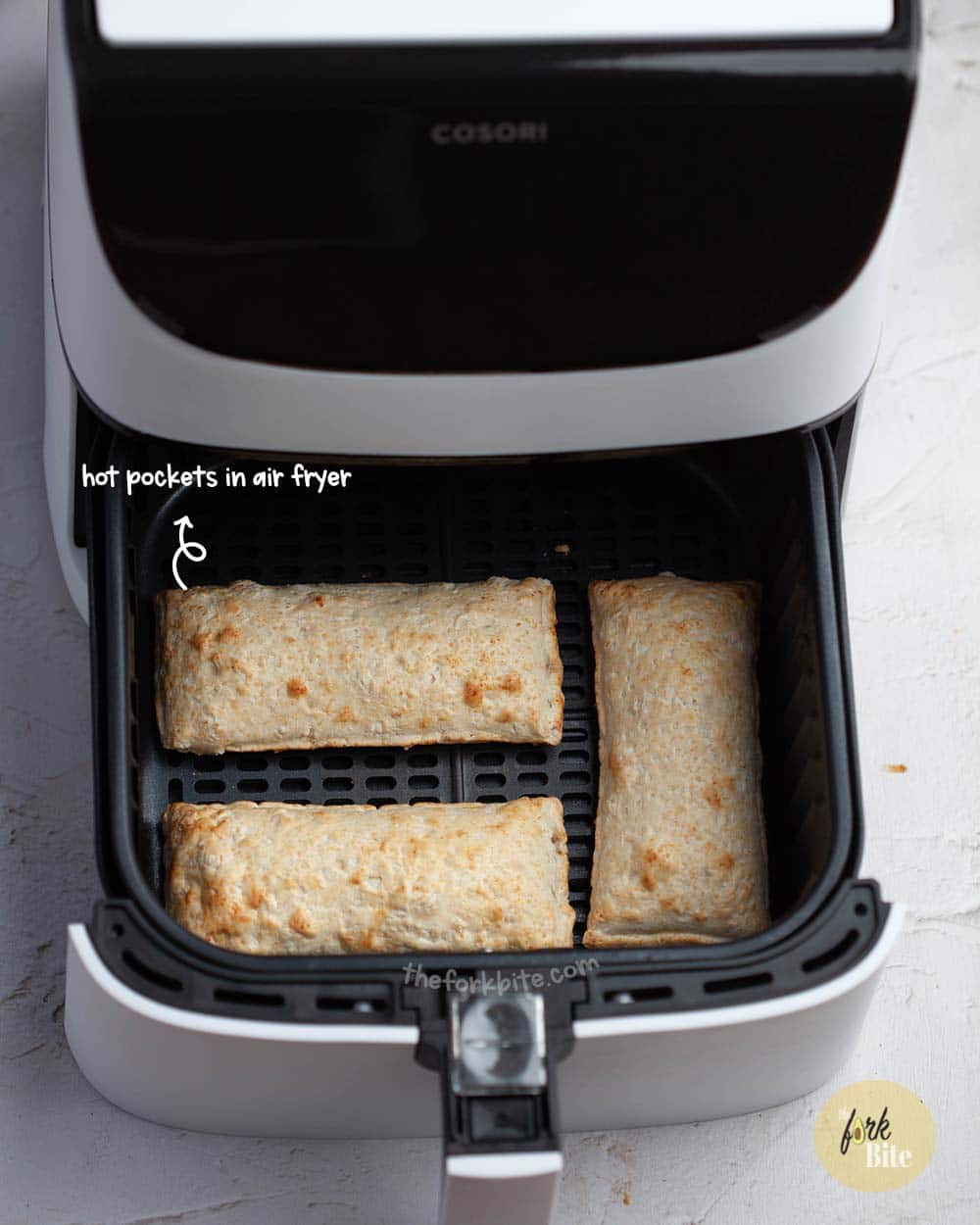 ---
Cooking hot pocket in a toaster oven
Step 1
Preheat the toaster over to a temperature of 350°F.
---
Step 2
Take the Hot Pocket out of its packaging and place it on a toaster oven baking sheet. When cooking a Pocket in a toaster oven, it is unnecessary to put it in the crisper sleeve. Microwaves require a sleeve to crisp Pockets.
---
Step 3
Cook the Hot Pocket in your toaster oven for 20 to 25 minutes or until the pockets get crispy and golden brown.
---
Step 4
After that, take it out from the toaster oven. The outer surface should be golden brown, and the filling beautiful and hot.
---
Step 5
Leave the Pocket for five minutes to let the red-hot filling cool a little. Put the Pocket into the crisping sleeve to prevent burning your fingers when you pick it up. Enjoy.
---
How to fry Hot Pockets in a skillet?
While it might be fashionable to fry various things from apples to zabaglione at state fairs, you can enjoy the same decadent crispiness at home and avoid paying entrance fees or dodge rodeo bulls. Just fry some Hot Pockets.
These sealed pizza-style sandwiches of crust pastry filled with cheese, meat, and veggies, which you can find in the frozen food aisles of most grocery stores and supermarkets, are frozen and fully cooked.
Defrosting these frozen food goodies first is the secret behind cooking them to piping hot, crispy perfection.
---
Here's how to do it:
Step 1
Put the frozen Hot Pockets into the refrigerator and thaw them until they are completely soft. It all depends on how cold you set your fridge, but it takes me about one to two hours in my refrigerator back home.
---
Step 2
Put enough oil into a skillet or deep-fryer to just cover the Pockets. About three inches should be fine. Any oil will do, but I find canola, peanut, and vegetable oil best. Warm the oil up to a temperature of 350°F. If you haven't done a lot of deep-frying, you might like to use a candy thermometer to gauge the temperature.
Step 3
Pat down the Hot Pockets with a paper towel to remove condensation on the crust.
---
Step 4
Carefully drop the Hot Pockets into the hot oil, ensuring not to splash the fat and burn yourself. Don't cook more than two or three at a time because if you do, the temperature of the oil will get too low, and you might also overcrowd the pan. They could stick to each other.
---
Step 5
Fry for between two and three minutes per side. If you are using a skillet, turn them once during cooking. Remember that the filling is already thawed out, so the frying is just to make the outer crust nice and crispy, and that doesn't take long.
---
Step 6
Carefully take the Hot Pockets out of the hot oil and put them on a plate lined with two thicknesses of paper towels. When cooking a large batch, keep fried ones warm in an ovenproof dish or tray and keep them warm at 200°F until the rest are ready.
Hot Tip:
For extra crunchiness, coat your defrosted Hot Pockets in beer batter before frying.
Warning:
Don't fry Hot Pockets while they are still frozen. Any ice crystals will make the hot oil spatter, and you could get scalded.
Not only that, but the outers of the Pockets will get burned before the filling is properly cooked.
---
Related questions
1

What flavor hot pockets do these directions work for?
The instructions given above will work regardless of the Pocket flavor. They work with bacon cheddar cheese, five cheese pizza; ham and cheese; pepperoni and sausage - whatever flavor combo, using the same instructions - even with the pretzel crust options.
---
2

How can I lower the cooking time for a pizza pocket?
Thirteen minutes can seem an age if you knock up a quick lunch. I have a shortcut version when speed is of the essence.
Although you won't get as crispy a finish as you do with just air frying, this shortcut method will still give you a crust that is crispier than if you traditionally were to microwave.
Heat the Pocket in the crisper inside your microwave for one minute only; in the meantime, preheat your air fryer to 400°F.
Remove the Pocket from the microwave and put it into your air fryer with care. Take it out of the crisper sleeve.
Cook for between 3 and 4 minutes.
Quick note:
As long as you have an air fryer and a microwave and follow these instructions, the result will be a great, crispy crust in no time.
Allow the Pocket to stand and cool for 5 minutes minimum. Put it back in the crisper sleeve and tuck in. Just be sure not to burn your mouth.
---
3

Do Hot Pockets expire?
Generally speaking, frozen foods ought to remain good for approximately three months. After that, they may show signs of what we refer to as "freezer burn."
The generalization mentioned above applies to bread, cooked meats, raw meats, pre-prepared foods, and anything else you want to freeze.
Having said that, if you take something out of the freezer after it's been there for three months and it still looks good, it will almost certainly be okay to eat.
You can check this handy chart from the FDA:
→ Refrigerator and Storage Chart Guidelines from the FDA
---
4

Can you microwave two hot pockets at once?
The problem with microwaving two Hot Pockets simultaneously is that it is problematic for the microwave to cook the inners properly. The two sides of the Pockets touch each other; that is the bit that stays colder, longer.
The solution:
Instead of leaving the pockets untouched for 3.5 minutes while cooking, cook them together for 2 minutes.
Turn them around so that the sides touching no longer are, and cook for another minute and 15 seconds.
It is not exactly hard work. You'll find that taking a few seconds to do the turning trick will result in the fillings of both Pockets being perfectly cooked all through.
---
5

Why do my Hot Pockets always explode?
Hot Pockets can split when microwaving due to a build-up of steam inside them. As the steam has nowhere to go, pressure continues to mount until the Pocket can no longer withstand the pressure and splits.
It could be that your microwave is more high-powered than some or runs unevenly.
Besides splitting, you may need to reduce the cooking time if the Pockets are very hot. Turn down the power and increase the cooking time if all this doesn't work.
You may need to reposition the Hot Pocket by hand halfway through the cooking cycle if you do not have a microwave that has a revolving turntable.
As a last resort, poke a small hole at one end of the Pocket to let the steam out.
---
6

Can Hot Pockets be refrozen?
Defrosting a raw meal from your freezer and assuming a constant temperature while frozen, cooking the meal first is the only way to refreeze it.
If you defrost a pre-cooked meal, you should eat it immediately, assuming it's safe. This is right from a food safety point of view, but it also helps to maintain texture.
---
7

Can you eat an uncooked hot pocket?
Hot Pockets are similar to frozen pop-tarts; instead of fruit, they contain savory meats and sauces.
The manufacturers recommend microwaving them for a given number of minutes, after which they claim they should be edible. Maybe they should be, but all too often, they aren't.
It's a problem that doesn't just relate to Hot Pockets. It's the same with many frozen products you can supposedly microwave.
You microwave them only to find that the outside is hot, but the inside is still frozen, or at best, cold. Or the other thing that often happens is that you get the interior to a reasonable temperature, but the outside is well overcooked. It's a lose-lose situation.
---
You might wonder why. What is the science behind it?
Let me explain. Microwaves use electromagnetic radiation. This radiation is similar to infrared or radio waves, but it is precisely the right wavelength to get absorbed by fats, sugars, and water.
It's the water that is the key. Molecules of water are very basic. Each one comprises one negative oxygen atom and two positive hydrogen atoms.
When these molecules are bombarded with microwaves, it causes the water molecules to spin.
A spinning motion is a form of energy, and it is this excess energy that heats the water. However, the molecules in a frozen Hot Pocket cannot move. On a molecular level, they are bound together by crystals.
This amounts to the fact that microwaves are not as good at heating ice as they are water, as explained by Michael Broide.
So what happens with frozen Hot Pockets when you microwave them is that some of the crystals in the outermost layer, which is exposed to air, begin to melt.
This outer watery area heats up rapidly, but the inner filling, still locked in by crystals, doesn't react to the microwaves as quickly.
A slow, knock-on effect happens whereby the outer layer gradually melts the inner layers bit by bit. In the meantime, the outer surface of the Pocket becomes very hot.
It explains why biting into a Hot Pocket that has been poorly microwaved can both burn and freeze your mouth more or less simultaneously. Not enjoyable.
---
Homemade hot pockets recipe
Get these ingredients
1 lb store-bought or homemade pizza dough dough
1 ½ cup diced ham or cooked turkey
1 ½ cup grated cheddar cheese ( your favorite cheese)
---
Step-by-step instructions
Preheat the air fryer to 370°F
Place the dough on the floured surface. Roll out the dough into a large square (½ inches thick) using a rolling pin. Cut the dough into twelve 2 ½" x 4" rectangles using a pizza cutter or dough scraper.
Place 2 tablespoon chopped ham or cooked turkey and 2 tablespoon grated cheese down the center of 6 of the dough rectangles. Place the other six rectangles on top. To sandwich the top and bottom pieces together, use the tines of the fork to press together the edges. Poke the surface of the top piece with the fork to create a vent to release steam while cooking.
Spray the surface of the hot pocket with cooking spray. Place 3 or 4 hot pockets into the air fryer basket and cook for 5 to 7 minutes or until golden brown. Remove from the air fryer and let the pockets rest for 2 minutes before serving.
---
Full Recipe
Homemade Hot Pockets Recipe
What's the secret for the crispy hot pocket finish? it's the hot pockets in the air fryer cooked from frozen to piping hot until the surface shell turns crunchy.
Ingredients:
1

lb

pizza dough

1½

cup

diced ham

(or cooked Turkey)

1½

cup

Cheddar cheese

(grated)
Instructions:
Preheat the air fryer to 370°F

Place the dough on the floured surface. Using a rolling pin, roll out the dough into a large square (½ inches thick). Using a pizza cutter or dough scraper, cut the dough into twelve 2 ½″ x 4″ rectangles.

Place 2 tablespoon chopped ham or cooked turkey and 2 tablespoon grated cheese down the center of 6 of the dough rectangles. Place the other six rectangles on top. To sandwich the top and bottom pieces together, use the tines of the fork to press together the edges. Poke the surface of the top piece with the fork to create a ven to release steam while cooking.

Spray the surface of the hot pocket with cooking spray. Place 3 or 4 hot pockets into the air fryer basket and cook for 5 to 7 minutes or until golden brown. Remove from the air fryer and let the pockets rest for 2 minutes before serving.
Notes:
You can create small hot pockets for young children or appetizers by cutting the dough into 2×3 inch rectangles.
If you prefer a vegetarian option, use broccoli instead of ham or turkey. Use blanched broccoli that has been patted dry and chopped.
Nutrition Information:
Calories:
330
kcal
|
Carbohydrates:
37
g
|
Protein:
18
g
|
Fat:
13
g
|
Saturated Fat:
7
g
|
Cholesterol:
45
mg
|
Sodium:
1094
mg
|
Potassium:
28
mg
|
Fiber:
1
g
|
Sugar:
5
g
|
Vitamin A:
283
IU
|
Calcium:
204
mg
|
Iron:
2
mg
Please note that all nutrition information are just estimates. Values will vary among brands, so we encourage you to calculate these on your own for most accurate results.
Did you make this?
I would love seeing what you've made! Tag me on Instagram @theforkbitedotcom or leave me a comment or rating below.