Rice has been hailed as one of the most popular, most consumed, and healthiest foods available today. It is low in fat and high in carbohydrates – all of which help the body function appropriately and maintain a high health level.
Traditionally, rice has been prepared using pots; however, this is quite a hassle. In 1955, the first-ever automatic rice cooker officially went on the market in Japan. It was an instant hit and remains immensely popular among consumers.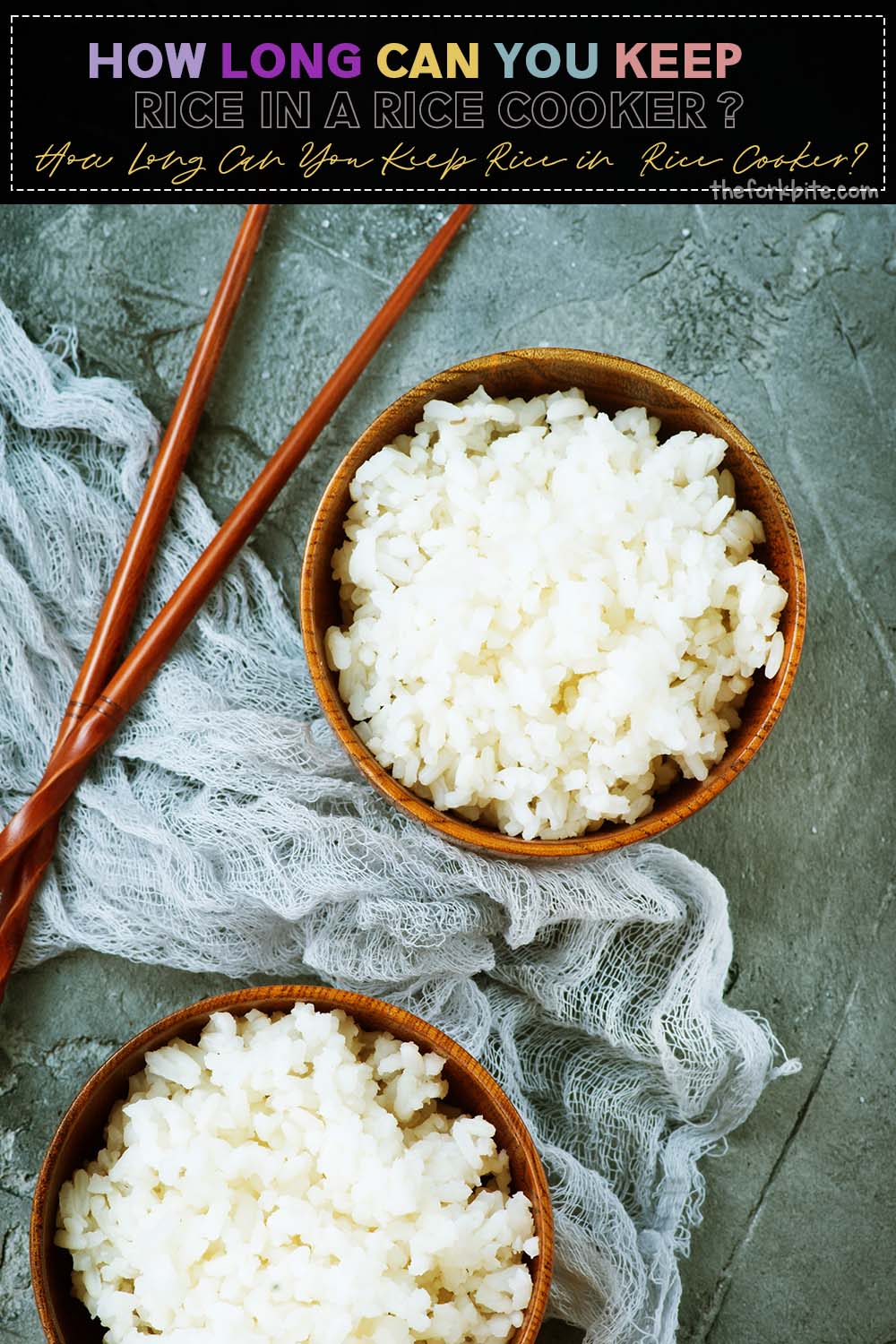 It is common to cook more rice than is necessary when preparing meals. Without having to throw it away and completely waste it, it is possible to save it, reheat, and enjoy it later.
Unfortunately, though, if you save rice for too long, it has the capability of developing bacteria. This often spreads rapidly and places you at risk of getting food poisoning if you eat it.
This comprehensive guide will answer how long can you keep rice in a rice cooker and other relevant information on rice.
The short answer, it may remain within a specially-designed cooker for up to 12 hours without spoiling; however, several factors and variables may impact this average.
Let's go ahead and delve a little further into this topic.
Jump to:
---
Can rice be left overnight?
I would never encourage anyone to leave any food out the entire night. I am sure that food specialists and medical professionals would agree that this is very risky.
Each year, there are many cases of food poisoning experienced by those who consumed leftover rice. We don't want you to be the next; however, there are cases where it is acceptable to consume rice after being left out for extended amounts of time.
Rice is well-known for its bacteria growth. It is possible to observe this by its attribute of yellow coloring.
Taking stored rice should be avoided if there is any question as to its freshness. If you are unsure as to whether or not it is good, take one small bite. If anything seems unusual or strange, do not continue eating it.
By cooking only the amount of rice you need, you will avoid unnecessary problems and all risks.
---
How can I safely preserve leftover rice?
First, you should remove all rice from the rice cooker once it is done. This will help prevent the growth of unhealthy bacteria that may make you ill.
Next, get an airtight container or a Ziploc bag. Put the remaining rice in your container of choice and immediately put it in your refrigerator to preserve it for later use.
It will be safer in the cold environment of the refrigerator rather than in a rice cooker. This storing method will aid in the rice lasting an additional 1 to 2 days.
Once it is time to reheat the rice for consumption, a steamer is an optimal choice. In all actuality, it is better than reheating in the rice cooker.
This will help the rice in retaining its moisture, its texture, and its taste. Reheating in this fashion helps ensure that the rice remains as fresh as possible.
---
How long will rice last if left in a rice cooker?
Suppose the rice cooker remains set to the warming feature. In that case, rice typically lasts anywhere from 11 to 12 hours within a rice cooker. Immediately following this time frame, it will start to lose its moisture content and flavor. Additionally, it may begin to develop bacteria.
Certain rice cookers are better options in preserving rice for more extended periods than others. Premium models -such as those from the Korean brands - are known for keeping rice fresh for longer times.
---
Can you leave rice in a rice cooker overnight?
Technically, yes, you may leave rice in the cooker overnight; however, this is not recommended. If it is left out overnight, the color will start to change, and it will lose its taste. Both are a sign that bacteria are forming.
The best way to determine if the rice is safe for consumption is to taste a small bit of it. If the taste seems off, do not risk it. Throw it away immediately.
---
How long can rice sit out?
At room temperature, you should not leave rice out for longer than two hours.
It should be served or refrigerated within the first few hours following being cooked. It is infrequent that rice causes illness; however, many outbreaks have been reported through the years linked directly to rice left out overnight at several restaurants. Only mild illness typically develops; therefore, most cases are left unreported.
Rice that has yet to be cooked is often contaminated with soil-based bacteria, called Bacillus cereus. The spores are capable of surviving during the cooking process. If the rice sits at room temperature for extended amounts of time, these spores will start the process of germination.
Once this happens, toxins are created that may result in illness in those that consume the rice. This illness causes many gastrointestinal symptoms, such as vomiting.
Once these potentially dangerous toxins are formed, they may not become inactivated during the reheating process when preparing leftover rice.
Several other types of drained grains – such as potatoes and pasta – are highly susceptible to the contamination of this same type of soil-based bacteria.
All starchy foods in nature will need to be cooked at a temperature of at least 140°F or higher and not allowed to sit at room temperature for long periods. Instead, they should be refrigerated as soon as possible.
Does this include food left in a rice cooker? Yes, it does. These appliances are most often switched "off" immediately after cooking. This may become risky. If you leave rice in the cooker, it should be switched to the warming feature after cooking.
---
Does reheating rice kill off any Bacteria?
Unfortunately, no. Reheating measures will not kill any of the spores or toxins grown in the rice; therefore, consumption may still result in sickness.
If the rice has not been stored at the proper temperature after cooking, it will become unsafe to eat. This temperature range goes from 5°C and 60°C.
If food poisoning occurs in adults, the symptoms usually subside within a day or 24 hours. Typically, no severe or permanent injury occurs.
Unfortunately, children and those with severely compromised immunities may not fair so well.
For more information on bacteria and its detrimental effects on humans, you may read the book from the Federal Drug Administration (FDA) called Bad Bug Book.
---
Tips to minimize the negative health consequences of cooked rice
After cooking the rice, cool leftovers and dishes that contain the product as quickly as possible and refrigerate immediately, it's best to engage in the storing process within 1-2 hours.
If storing a lot, move it to a clean container and spread it evenly and as thinly as possible over the bottom of the dish.
Rice is best if consumed within one day of storing it in a refrigerator ( at or below 40°C); however, it may keep longer if stored properly. I have safely kept mine for up to 5 days, and it was still safe for consumption. This time is recommended directly by the USA Rice Federation.
Never reheat leftover rice more than once.
---
Can you freeze cooked rice?
Yes, you may freeze rice. This includes white and brown varieties, as well as any other type of rice. When I have reheated after freezing, I've found the texture is still great. The moisture retention is relatively low, and it dries.
To avoid this from occurring, serve the reheated rice immediately. You start by preparing and cooking the rice as usual on your stove or in your pressure cooker.
Then, to properly freeze, perform the following steps:
Once you finished cooking, spread it out on a cookie sheet. Be sure to fluff as you spread and ensure to create an even layer.
Let the rice cool down for 20 minutes. Scoop it into plastic bags that are designed for freezer storage. Fill out the label, including the rice type, the date, and an approximate measurement of the rice inside the bag. When frozen, it is difficult to tell what kind of rice from another. Knowing what's in the bags, you will know which meals to use the frozen rice for in the future.
Place the rice in the freezer, ensuring you flatten out the bag and stack each on top of one another to save space. Each bag is safe for consumption for up to 2 months. Any attempt to use it after this time, and you will find that it lacks taste, texture, and moisture.
---
Reheating frozen rice using a microwave
When you are ready to utilize the frozen rice, perform the following steps:
Break the frozen block into chunks and place each in the same bowl.
Add a small amount of water and immediately cover with a damped paper towel. Heat in 1-minute increments. After each session, stir and break up clumps. This also helps in the even distribution of heat. I have found that my microwave only takes about 2 minutes for thorough heating.
Remove the bowl, but be very careful. Not only will it be hot, but the steam will be emerging from the bowl. It would be best if you fluffed it using a fork and immediately serve it.
---
How long does cooked rice last in the refrigerator?
Generally, rice that has been cooked will last between 4 days and 6 days within the refrigerator. To enhance the shelf life and prevent the development of bacteria, always place in an airtight container or a fridge-safe plastic bag.
Always place for storage within 2 hours of its cooking completion. Many rice types -such as short-grain, medium-grain, and long-grain - can be stored for up to 6 days.
---
How long can I store cooked rice?
This varies and is dependent upon how you cooled it and the method of storage. If you have had it for 3-4 days, evaluate and determine if it has spoiled. Rice does not always show the signs of spoilage, but the following will help you decide whether it is still safe for consumption:
1 Hard and Dry – As the cooked rice sits in the refrigerator, it will start to dry out and become hard. This is a major sign that it is time to dispose of it. If it is stored in an airtight container, you will not often observe this sign.
2 Left Out Too Long – When rice is cooked, you must not leave it out at room temperature for too long. If it is, bacteria will start to grow on it. Now, refrigeration will not stop this from happening, but it helps in slowing it down.
The bacteria may produce toxins that will cause food poisoning.
If left out too long, not appropriately stored
Not cooled fast enough
or not reheated the right way
If you left it out longer than 2 hours, it is time to throw it away – to be on the safe side.
3 Multiple Cooling and Reheating Sessions – As recommended, you reheat rice only once. Any more than this, and you risk creating an environment for the growth of potentially dangerous bacteria. Keep the cooling and reheating sessions to a minimum, unless necessary.
4 Unusual Odor – Rice has a slight smell when cooked, but not a distinctive odor. If an odor does develop, discard it immediately.
---
How long does cooked rice stay good in the freezer?
The good news is, it will last much longer in your freezer than in your fridge. If stored properly – in an airtight, freezer-appropriate container or bag – it has the potential to last up to six months. While it can last longer, you should not eat it past the 6-month mark. If stored at -17°C, it could – potentially -last indefinitely.
---
How to reduce my risk of getting sick from eating cooked rice?
The tips outlined below will reduce the chance of getting sick from rice:
When cooking in advance, never prepare more than is needed for the meal you are preparing for.
Keep the rice warm for as long as possible; otherwise, cool it quickly and store it in a refrigerator. The temperature should be 60°C or higher if keeping warmed before serving.
When preparing for storage, cool the rice more quickly by moving it to clean containers and spreading the rice out over the container's length.
If you need to cool it very fast, place it in a colander and run a fan until the rice cools down before storing it in a refrigerator or freezer.
---
Interesting recipes
---
Related questions
Can Leftover Rice be Eaten Safely?
As long as it is cooled immediately and stored correctly, it is safe to eat leftover rice. If it is left out for longer than 1-2 hours at room temperature, it is best to discard it. Otherwise, you may consume up refrigerated rice for six days after being stored correctly in the fridge.
How Can I Tell if the Rice I Have Stored is Spoiled?
Never cool and reheat over and over. This allows bacteria to grow. If it has an unpleasant odor, the grains have become dry and are turning hard, or the coloring has changed, it is best to avoid eating the rice you have stored. If you choose to eat it, you stand the risk of becoming seriously ill with food poisoning.