There's nothing worse than overcooked pasta. Has this ever happened to you? You're making some pasta for dinner, and you realize it's overcooked when it's done cooking. Now that perfect storm of a meal is over. It's ruined. Often, this is easier than it seems, as pasta can go from al dente to overcooked in just a few minutes.
We've all been there, but don't despair—you can turn that pot of soggy noodles into a delicious meal with a few simple tricks. So don't throw away that pot of overcooked noodles- follow these tips and tricks, and you'll have a bowl of delicious pasta in no time!
Jump to: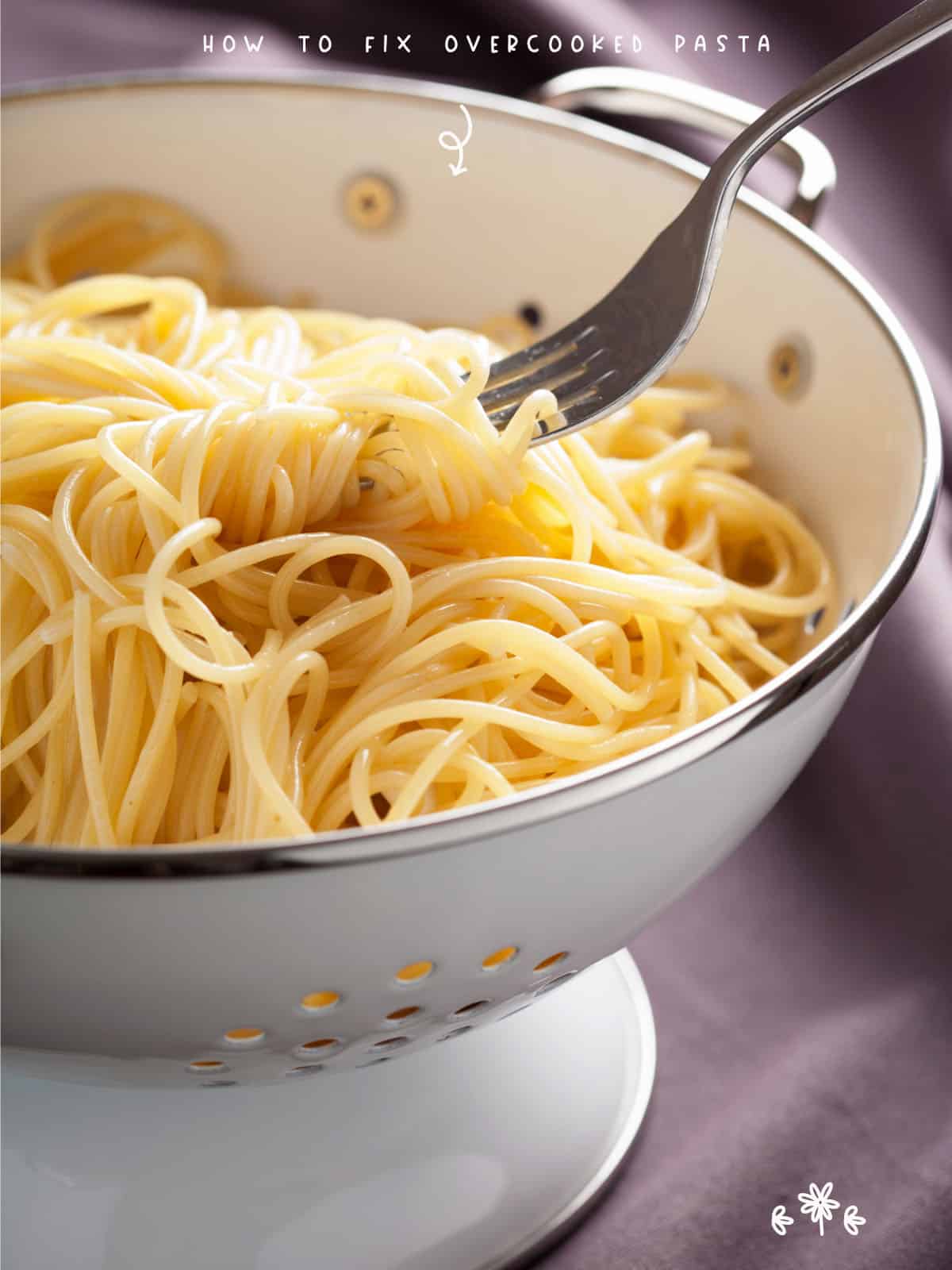 How to tell if pasta is overcooked?
The first step is to assess the situation. Evaluating the problem is the key to fixing overcooked pasta. Do you know why? Because it can often be difficult to tell if pasta is overcooked just by looking at it. There are a few telltale signs, though. Overcooked pasta will be mushy and will often stick together in a clump. The noodles will also be darker in color than they were when they started cooking.
Check your noodles for doneness. If they're completely mushy, you might be unable to save them. But if they're just a little overcooked, there's hope! Give it a taste if you're unsure whether your pasta is overcooked.
---
What does overcooked pasta taste like?
Overcooked pasta can taste mushy, waterlogged, and highly unpleasant. It can also be challenging to chew and digest. You won't get the same al dente texture that you would from perfectly cooked pasta. For instance, overcooked spaghetti will lose its firmness and become very limp, making it harder to twirl on your fork. If your pasta is overcooked, it's essential to take steps to fix the problem so that you can enjoy your meal.
Read:
---
How to prevent it from happening?
To avoid overcooking your pasta, start by following the directions on the package. Bring the pot of water to a boil before adding the pasta, and don't forget to stir it occasionally. Once the pasta is added, set a timer for two minutes less than the recommended cooking time.
After two minutes, begin testing the pasta for doneness by tasting it. It should be al dente or firm to the bite. Give it another minute or two in the water if it's not quite there. Once it's ready, drain the pasta in a colander and rinse it with cold water to stop the cooking process.
---
How to fix overcooked pasta?
If your pasta is only slightly overcooked, then you can probably save it. But if it's very overcooked, then it might be beyond salvage. Once you've determined that your pasta is worth saving, it's time to take action.
Note: If your pasta is significantly overcooked, there's not much you can do to salvage it. In this case, it's best to start over from scratch. Cook some new noodles, and keep a close eye on them, so they don't overcook!
Saute the pasta
Step

1

Drain the pasta
The first thing you'll want to do is drain the noodles. Because overcooked pasta can continue to cook in the water, making it even mushier, be sure to do this quickly, as you don't want them to sit in the water and continue cooking. For example, if you're using a colander, don't just leave the noodles in there. Dump them out into a bowl or onto a plate.
---
Step

2

Rinse with cold water
After you've drained the noodles, rinse them with cold water. This will stop the cooking process, retain their shape and help remove some excess starch. Besides, it will also help bring down the temperature of the pasta so that it's more palatable.
---
Step

3

Sautee over low heat
Once your noodles are rinsed and drained, it's time to add them back into the pan. But this time, sauté them with a bit of butter over low heat until they're dry. This will help to remove any remaining water and make them less mushy. You add some Parmesan or other cheese at this point if you want to disguise the overcooked flavor.
---
Step

4

Add sauce or vegetables
Finally, add your pasta to the sauce or vegetables used. This will help to mask the overcooked flavor and make the dish more palatable. If your sauce is very light, you might want to consider adding some extra seasonings at this point.
---
Step

5

Serve immediately
Once your pasta is sauteed and coated with sauce, it's ready to serve. Be sure to do this quickly, as overcooked pasta can continue to cook and become even mushier. Serve it with a side of bread so your diners can soak up any extra sauce. And enjoy!
---
What can I use overcooked pasta for?
Now that you have your overcooked pasta, it's time to put it to good use! While it may not be ideal for a classic Italian dish, there are plenty of other ways to use it.
Here are a few ideas:
Option

1

Use it as a base for Frittata
If your pasta dish is overcooked, don't despair. You can still salvage it by turning it into a delicious frittata. All you need to do is cook some eggs and vegetables, then mix them with the overcooked pasta. Add a little cheese on top, and you've got a tasty dish that no one will know was ever overcooked.
Yield: 4 to 6 servings
¼ pound spaghetti or other long pasta (or about ½ lb cooked pasta)
Salt and pepper to taste
4 tablespoon butter or extra virgin olive oil
¼ cup minced pancetta, bacon, or prosciutto, optional
6 eggs
1 cup fresh grated Parmesan cheese (+ ½ cup for topping)
---
Preparation:
Step

1
Heat oven to 350°F.
---
Step

2
Chop overcooked pasta into small pieces. If the pasta is in big chunks, you will have difficulty eating the Frittata.
---
Step

3
Beat the eggs in a bowl and add salt and pepper to taste. Less salt is needed if pancetta, bacon, or prosciutto is used because these meats are already salty. Set aside.
---
Step

4
Melt the butter or heat the olive oil in a large ovenproof skillet over medium heat. Add the pancetta, bacon, or prosciutto (if using), stir occasionally, and cook until crisp, about 2-3 minutes.
---
Step

5
Add the pasta to the egg mixture and grated cheese, and mix well. Pour the mixture into the heat-proof skillet, let it cook undisturbed until it starts to set, and then transfer to the oven.
---
Step

6
Bake for about 8 to 10 minutes or until the top is firm and golden brown. Sprinkle the Parmesan cheese on top and cook for 2-3 minutes to melt the cheese.
---
Option

2

Use it in a soup or stew:
Overcooked pasta is great for adding body to soups and stews. Because it's already cooked and has a lot of starch, which gives soups and stews a nice thick texture, just add it at the end and let it soak up all the delicious flavors. Here's a recipe you can check.
---
Option

3

Make a pasta salad:
Toss overcooked pasta with some veggies and a vinaigrette for a quick and easy salad. The pasta will soak up all the dressing, making the salad even more flavorful. For example, this pasta salad with roasted cherry tomatoes and bocconcini.
---
Option

4

Use it as filler in meatballs or burgers:
Overcooked pasta makes an excellent filler for meatballs or burgers. Just mix it in with the meat mixture and shape it into patties. Because it's already cooked, you don't have to worry about it being undercooked. It also has a lot of starch, which helps to bind the meat together. Check out the recipe here.
---
Option

5

Use it as a base for casseroles or gratins:
Casseroles and gratins are usually made with cooked pasta, so using overcooked pasta is no problem. Mix it with the rest of the ingredients, and bake as usual. The overcooked pasta will make the dish even more creamy and delicious.
---
Option

6

Make a pasta pesto:
Pesto is usually made with raw basil leaves, olive oil, Parmesan cheese, pine nuts, and garlic. But you can also make it with cooked pasta. Just blend all the pesto ingredients together in a food processor, and you've got a delicious pesto that's great on pasta, sandwiches, or even a dip. Check the recipe here.
---
Option

7

Make a pasta risotto:
Risotto is a creamy Italian dish made with rice. But you can also make it with pasta. Just cook the pasta in a broth until it's soft, and then add the other ingredients. The overcooked pasta will make the dish even more creamy and delicious. Check out this recipe for a delicious pasta risotto.
---
Option

8

Make a creamy pasta:
If your pasta is overcooked and dry, you can try to salvage it by making a creamy pasta dish. This is best done with a sauce or dish with a lot of liquid. Why creamy pasta? The sauce or liquid will help to rehydrate the pasta and make it more palatable. Season it well, and add some Parmesan cheese on top. More details are here.
---
How do you musk the mushiness of overcooked pasta?
You can fool your friends into thinking you didn't overcook the pasta without panfrying or sauteing it. Coat the pasta with a rich sauce, like a carbonara or Alfredo, to prevent them from sticking together. Doing this will make the noodles lose their slimy texture resulting in a more flavorful dish.
You can also try mixing other ingredients, like crunchy vegetables or protein, to give pasta extra texture and flavor. Finally, don't forget to season your dish with salt, pepper, and spices for an overall tastier meal.
You could also add a protein, like chicken or shrimp, to make a complete meal. Finally, if everything fails, try hiding the overcooked pasta in a casserole or soup. No one will be the wiser!
---
Can you get sick from eating overcooked pasta?
No, you won't get sick from overcooked pasta. Getting food poisoning from contaminated pasta is possible.
---
What are the consequences of eating overcooked pasta?
The consequences of eating overcooked pasta are difficulty digesting and may cause bloating. When pasta is overcooked, it loses its shape and becomes mushy. This can cause the digestive system difficulty breaking down the pasta and may cause gas and bloating. Overcooked pasta is also more likely to stick together, making it less enjoyable to eat.
---
Pasta cooking: how do you do it right?
Everyone has their own perfect way of cooking pasta. And while there are some general guidelines you can follow, the best way to find your perfect way is to experiment. Different shapes and sizes of pasta will cook differently, so it's important to taste as you go. Here are a few tips on how to get started:
1

Choose the right pot:
A big pot is essential for cooking pasta. It should be extra deep and wide enough to allow the pasta to move freely while cooking. This is because you need enough water to cook the pasta properly. If the pot is too small, the water will evaporate quickly, and the pasta will stick together and undercook. To prevent evaporation, cover your pot with a lid.
---
2

Know how much water to use:
The general rule is to use about 2 cups water for every 1 cup of dry pasta. But it's always best to start with more water and drain any excess after the pasta is cooked.
---
3

Bring the water to a rolling boil:
Before adding the pasta, ensure the water is at a rolling boil. This means it's boiling so vigorously that bubbles constantly break the surface. The pasta won't cook properly if the water isn't boiling enough.
---
Why is it necessary to boil the water before adding the pasta?
It seems like an extra step, but trust me, it's worth it. By boiling the water before adding the pasta, you ensure that the pasta will cook evenly. If you add the pasta to cold water, it will take longer to cook and likely become overcooked. When pasta is overcooked, it loses its firmness and becomes mushy. The starch molecules cause it in the pasta, which has absorbed too much water and has swollen to bursting.
Also, the starches in the pasta need time to break down and become fully cooked, so boiling the water first helps to start that process. If you were to add the pasta to cold water, it would take longer for the starches to break down, and the pasta would be more likely to become overcooked.
---
4

Don't forget to salt the water:
Adding salt to the pasta water is crucial. Once the water is boiling, add a generous amount of salt. Adding salt to the water before it boils actually lowers the boiling point and can make your pasta take longer to cook. It helps season the pasta as it cooks and prevents the noodles from sticking together.
---
How much salt should you add?
It depends on how salty you want your pasta to be, but a good rule of thumb is to add 1 tablespoon of salt for every 4 quarts (16 cups) of water. That's about the water you'll need to cook 1 pound of pasta.
---
5

Add the pasta:
Once the water is boiling, carefully add the pasta. Stir it to make sure all the noodles are submerged in the water. Be careful not to add too much pasta at once, or the water will stop boiling, and the pasta won't cook properly. If you're cooking a long or large noodle, like spaghetti or lasagna, you can gently bend it in half and add it to the pot a little at a time, so it doesn't clump together.
---
Stir occasionally:
After adding the pasta to the pot, it will cause a slight drop in temperature. Moreover, the surface starches from the noodles will start to release into the water. Stirring occasionally helps to prevent the pasta from sticking together and clumping.
---
6

Check the package instructions:
The package instructions are there for a reason. Make sure to check them before cooking the pasta. Cooking times vary depending on the type of pasta. For example, angel hair pasta only takes 3-5 minutes to cook, while lasagna noodles take 8 to 10 minutes.
---
7

Use a lid:
If you have one that fits, using a lid while cooking pasta can help to speed up the process. The lid will help to trap the heat and steam, which will cook the pasta faster.
---
8

Check the pasta for doneness:
A taste test is the best way to determine if pasta is cooked. Start tasting it a minute or two before the package's recommended time. Take a piece out of the pot and blow on it to cool it down. Once it's cool enough to eat, take a bite. The pasta is done when it is tender but still has a slight resistance or "bite" to it.
---
9

Drain and rinse the pasta with cold water:
When the pasta noodles are ready, you can turn off the heat and stir them. Drain the noodles in a colander and rinse them with cold water. This will stop the cooking process and prevent them from overcooking. Stirring also helps release the excess water from the noodles, so they are not soggy. Enjoy! Then, add your desired sauce or toppings and serve.
---
10

If you drain the water, save some for later.
Drain your pasta water after you have saved a cup or so. The starch released into the water makes any sauce you add creamier as you cook the noodles. This starchy water can help to make your sauce thicker and prevent it from becoming too dry. It also adds flavor to homemade sauces and is a little salty.
Place your pasta back into the pot, and add the saved water to the sauce. Bring the sauce and pasta to a gentle boil, tossing gently until the pasta is cooked to your liking.
If your sauce is too dry, add a little more of the pasta water or even some milk or cream. Stir until everything is evenly combined and heated through. Serve immediately. Enjoy!
---
What is al dente?
Al dente (/ælˈdɛnteɪ/; Italian: [-ˈdente]) means "to the tooth." It is a term used to describe the ideal consistency of cooked pasta. It should be firm but not hard and offer some resistance when you bite down. Cutting the noodles in half should reveal a slight whiteness in the center. That's an indication that the noodle is cooked through but still has a bit of a bite.
Overcooked pasta, on the other hand, is mushy and lacks that desired firmness. It can result from insufficient water, too much heat, or even overcooking the pasta.
The pasta package will generally include instructions on how long to cook the pasta. But keep in mind that those are guidelines only. The actual cooking time will depend on a number of factors, such as the type of pasta, the size of the noodles, and whether you're cooking it fresh or dry.
However, when it does not indicate the cooking time, aim for 10 minutes for long pasta, like spaghetti or fettuccine. Shorter pasta, such as penne or rigatoni, will only need about 7 minutes. And if you're cooking fresh pasta, it will only take 3 to 4 minutes. Remove the pot from the heat about two minutes before the suggested cooking time is up. Drain the pasta and then rinse it with cold water to stop cooking.