You know how frustrating that can be when cooking pasta and finding it still crunchy in the middle. But never fear - there are several ways to fix undercooked pasta and make it perfectly tender. The next time you cook pasta, and it doesn't look quite right, don't worry - just follow one of these simple methods, and you'll have perfect results! In this blog post, we'll outline a few for you.
If your pasta is undercooked, it's likely because you didn't cook it long enough. The best way to fix this is to continue cooking the pasta for a few more minutes.
If your pasta is overcooked and mushy, it's likely because you cooked it in too much water. The best way to fix this is to drain the pasta and add it back to the pot with a little fresh water. Cook the pasta over low heat until it is al dente.
Jump to: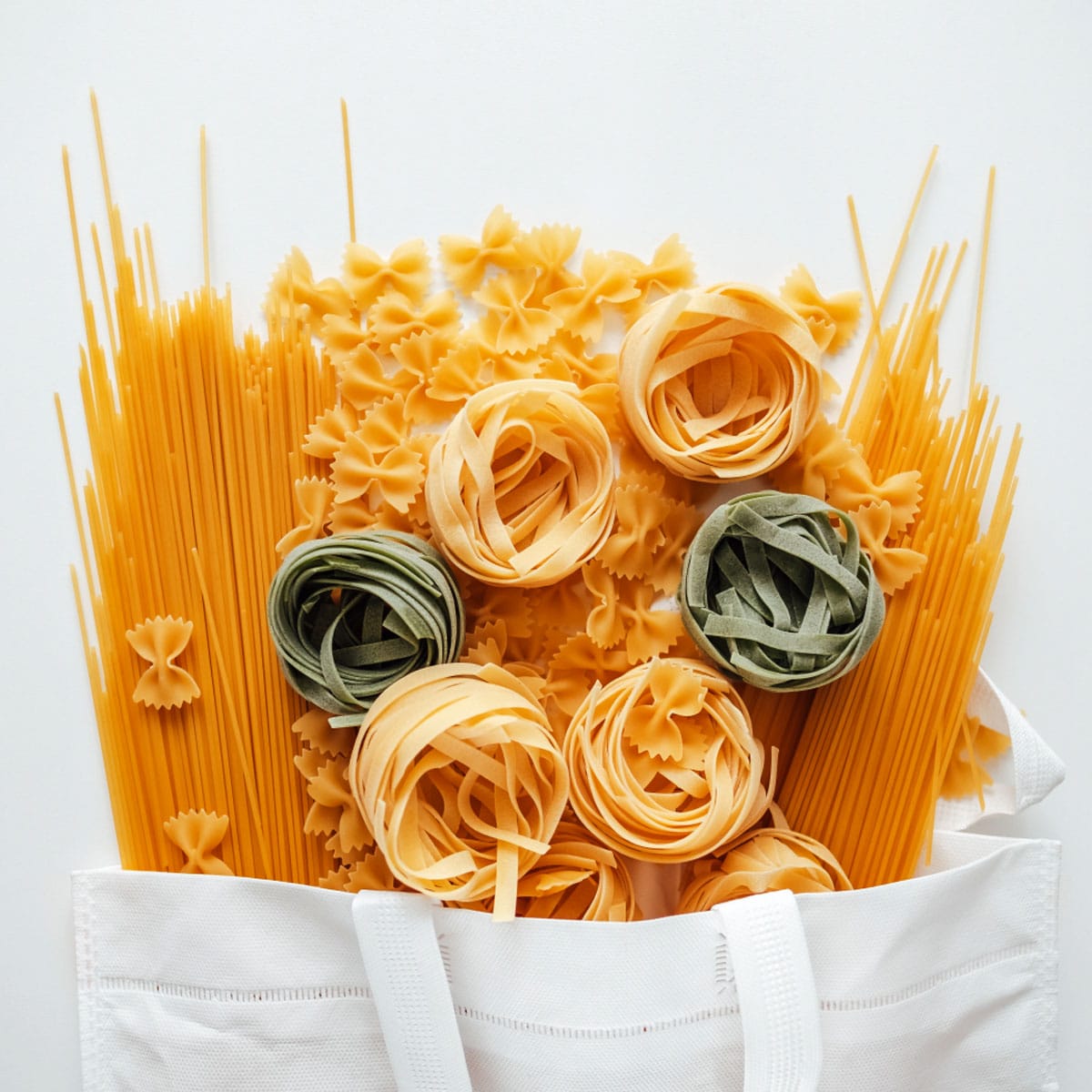 Undercooked pasta: how can you tell?
Before you try to fix undercooked pasta, it's essential first to identify whether or not the pasta is undercooked. Undercooked pasta usually has a hard center and is difficult to bite through. It will also be paler in color than fully cooked pasta.
Undercooked pasta hasn't had a chance to absorb all the water when you cooked it, so it will still have high water content. This means that the starches in the pasta haven't had a chance to cook and soften fully, which is why it's still hard in the center. On the other hand, pasta that is mushy or soft is an indication that it is overcooked.
---
What does undercooked pasta look like?
Undercooked pasta doesn't have the same firm texture and appearance as cooked pasta. Undercooked pasta looks pale and feels doughy when you bite into it. It can also be sticky to the touch.
When you cook pasta, the starches in the flour gelatinize. This process makes the pasta more cooked and gives it a firmer texture. When pasta is undercooked, the starches haven't had a chance to gelatinize. As a result, the pasta is doughy and has a softer texture.
---
What causes undercooked pasta?
There are several reasons why pasta might come out undercooked. You simply didn't cook the pasta long enough, which is the most common reason. If you're using fresh pasta, it will cook more quickly than dried pasta, so be sure to adjust the cooking time accordingly. Other causes of undercooked pasta include using too much water, water that's not hot enough, not enough salt in the water, or a pot that's too small for the amount of pasta.
---
So, how can you avoid undercooked pasta?
The best way is to follow the cooking instructions on the package. If the box says to cook the pasta for 10 minutes, then cook it for 10 minutes. Don't try to save time by boiling it for less time because that's when things can go wrong.
If you're not sure how long to cook the pasta, err on the side of caution and cook it for a minute or two longer than the package says. Better to have pasta that is a little overcooked than undercooked.
Step

1
First of all, make sure you are using enough water. The general rule is to use 2 quarts of water for every pound of pasta.
---
Step

2
Bring the water to a boil before adding the pasta, and then make sure you stir it occasionally so that the pasta doesn't stick together or to the bottom of the pot.
---
Step

3
Upon adding the pasta, wait for the water to come back up to a boil. Then, turn the heat down, so the water is at a gentle boil.
---
Step

4
Set a timer for the time the pasta package says it will take to cook the pasta. Stir the pasta occasionally while it's cooking.
---
Step

5
When the timer goes off, taste the pasta to see if it's cooked. If it's not, turn the heat back up and cook it for a few more minutes.
Al dente pasta
If the pasta is cooked but still has a bit of bite, that's called al dente. If you like pasta al dente, you're done cooking it.
What is al dente? It's a term that means "to the tooth." When you bite into al dente pasta, it should offer some resistance. If the center is still hard, it's not "al dente," so what is that, then? That would be "undercooked" pasta. To fix it, just put the pasta back in the pot with some water and cook it for a little longer.
If you want your pasta to be softer:
Cook it for a few more minutes.
Upon completion of cooking, drain it in a colander.
Add your sauce and serve.
Read:
---
How to fix undercooked pasta
If you have cooked pasta and it turns out to be undercooked, there is no need to worry. You can fix it and make a delicious dish out of it. If you have undercooked pasta, there are a few things you can do to try and salvage the dish.
Here are three tips on how to fix undercooked pasta:
1

Reboil undercooked pasta
Yes, you can reboil the undercooked pasta. Just put the pot back on the stove and cook it for a few more minutes. Ensure that you add enough boiling water to cover the pasta a good inch or two above it, so they don't crowd each other as they expand. Also, the water will help to even the cooking temperature and ensure all the pasta gets cooked evenly. The extra time in the pot will allow the pasta to absorb more water and soften up.
How to do it:
Step

1
Fill a pot of water and bring it to a rolling boil (Add enough water to cover the pasta with a good margin).
Note: Reusing the same water you used to boil the first time is okay, but make sure to bring it back to a boiling point before adding the pasta. Feel free to start again if you threw away the first batch.
---
Step

2
To get the most out of this, wait until the noodles have cooled down before putting them back in the pot unless you just remove them from the boiling water with a colander. As a result, they will be less likely to get starchy and clumpy.
---
Step

3
Pasta will absorb water and become blander as it does. If you are reboiling the pasta, ensure it is well salted (regardless it has been reboiled before or not). The extra salt helps to keep the pasta flavorful.
---
Step

4
Taste a piece of pasta to check if it is cooked to your preference. As a rule of thumb, if the pasta is not cooked enough, continue boiling the pasta for 1 or 2 minutes before tasting again. During this process, stay close to the stove, monitoring the pasta every 30-60 seconds to avoid overcooking.
---
2

Use a pan to cook undercook pasta in the sauce.
A sauce will usually accompany pasta most of the time. Whether you make your sauce from scratch or use a store-bought can, it doesn't matter. This sauce can transform your undercooked pasta into a delicious dish.
Step

1
Heat the sauce and bring it to a boil. Add the undercooked pasta to the sauce, and adjust the heat to a simmer. Gently stir everything together so that the pasta is well coated.
---
Step

2
Continue cooking the pasta for another 3 to 5 minutes. You may notice that the pasta has absorbed more moisture from the sauce, so don't be alarmed if the sauce seems a bit thicker than before. To thin it out, add more sauce or leftover pasta water so you don't end up with a dry dish.
---
Step

3
To ensure the pasta is evenly coated with sauce, gently stir the pasta occasionally. Stirring pasta helps to prevent it from sticking together and clumping. It also allows the sauce evenly coats each noodle for maximal flavor.
---
Step

4
Take the pasta off the heat immediately after it has been cooked. If you were to leave the pasta on the stovetop, it would continue to cook in the hot liquid and become overcooked. So, when pasta is ready, it is vital to remove it from the heat as soon as possible.
---
Extra tips when cooking undercooked pasta in a sauce.
First, the sauce should be boiling when you add the pasta. It's because the sauce will help cook the pasta as it simmers.
Make sure to add enough sauce. Add a little bit of extra hot water to the sauce if it seems too thick. This will also help cook the pasta and prevent it from sticking together.
Don't forget to stir gently! Stirring helps distribute the heat and prevents the pasta from sticking and clumping.
While the pasta is cooking, keep an eye on it. You don't want it to overcook and become mushy.
Taste the pasta before serving to make sure it's fully cooked. If it's not, cook it for a few more minutes.
---
Quick Note: The problem with undercooked pasta is that you will end up with less sauce since it will absorb a lot of it. By absorbing much of the sauce, the pasta will leave little behind. That's why the thick, hearty sauce is essential. It will help to prevent the pasta from absorbing too much of it
---
After following these tips, if your pasta remains undercooked, it's best to start over. Do not try to salvage the dish by cooking the pasta for longer; this will result in overcooked, mushy pasta.
When in doubt, it's always better to err on caution and cook the pasta for a shorter time. You can always cook it for longer but can't undo overcooked pasta.
---
3

Bake undercooked pasta
That's right! The oven is a great way to bake pasta!
In some households, pasta is baked by spreading noodles over water in an oven-proof dish and wrapping it with foil before baking it. Make it more like a pasta casserole, dressing it up with sauce and cheese, aka "pasta bake." Add more sauce if necessary so that the pasta will absorb the sauce.
---
4

Can I microwave undercooked pasta?
Yes, you can definitely zap undercooked pasta in the microwave. Do you know why? Well, microwaves essentially work by heating the water molecules in food. That means microwaves will cook the pasta by heating the water if you have a pasta dish with a lot of water (like a soup or stew).
Here's how to do it:
Place the undercooked pasta in a microwave-safe bowl.
Add a little bit of boiling water, just enough to cover the pasta. Add a few drops of oil to the water to help keep the pasta from sticking together.
Cover with cling wrap and poke some holes, or you can leave one corner open. Steam will escape through this hole, keeping the pasta from becoming too soft.
Microwave on high for 30-second increments. Stir the pasta and check to see if it's cooked. If not, microwave for another 30-second or so until the pasta is cooked. Add more hot water if needed.
You are now ready to enjoy your meal! Drain the water and have fun! When draining the water, be cautious, as it can be scalding. Check out the 45 best pasta recipes here.
---
Note:The microwave method is our least favorite for fixing undercooked pasta because it can lead to mushy pasta if you're not careful. Microwaves heat food unevenly. As a result, the outer pasta might be cooked while the middle pasta may still be hard. If you're not careful, you can end up with a big ol' mess of mushy pasta. But if you're in a bind and need to fix your pasta quickly, it can work in a pinch!
---
What happens when you eat undercooked pasta?
Everybody has experienced this - we cook pasta according to the instructions on the package, but it turns out either overcooked or undercooked. In the former case, the pasta is too soft, while the latter is crunchy.
Undercooked pasta is not only an unfinished dish but can also pose a health hazard. Why is that? The thing is that when pasta is undercooked, it doesn't have enough time to absorb water and fully soften. This means that the starch granules in the pasta are still hard and can cause digestive problems if consumed.
If you have ever eaten undercooked pasta, you know that it is not a pleasant experience. The pasta is crunchy, hard to chew, and doesn't taste good. Not only that, but undercooked pasta can also cause digestive problems. The starch granules in the pasta are still hard, and they can scratch the lining of your stomach and intestines, causing irritation and pain.
---
Is undercooked pasta bad for you?
It is generally safe to eat undercooked pasta, but there are a few things to keep in mind. First of all, undercooked pasta may not be as palatable as cooked pasta. It can also be challenging to digest.
What makes undercooked pasta difficult to digest? When pasta is cooked, the starch molecules swell and break down, making them easier to digest. However, when pasta is undercooked, the starch molecules are not fully broken down and can be difficult for the body to digest.
So, if you choose to eat undercooked pasta, drink plenty of water and add some extra fiber to your diet to help things move along. You may also want to avoid eating large amounts of pasta at once.
---
Can undercooked pasta give you food poisoning?
You will unlikely get food poisoning from undercooked pasta since you typically cook it in boiling water. However, if the pasta has been sitting out for a long time, it may be contaminated with bacteria that can cause food poisoning. If you are concerned about food poisoning, cook the pasta until it is al dente or firm to the bite.