One of the easiest ways on how to get rid of the bitter lime taste is by adding a little salt or umami and 3 other quick fixes.
Bitterness is a planned component of any dish's signature taste, it can be enjoyable, but it can ruin the taste profile if it happens without intention. Too much bitterness can be quite unpleasant.
Very often, bitterness results from adding lemon or lime, fruit or juice to a recipe. If you overdo it, you will want to know what remedies you can take, which I am going to discuss with you here in this article.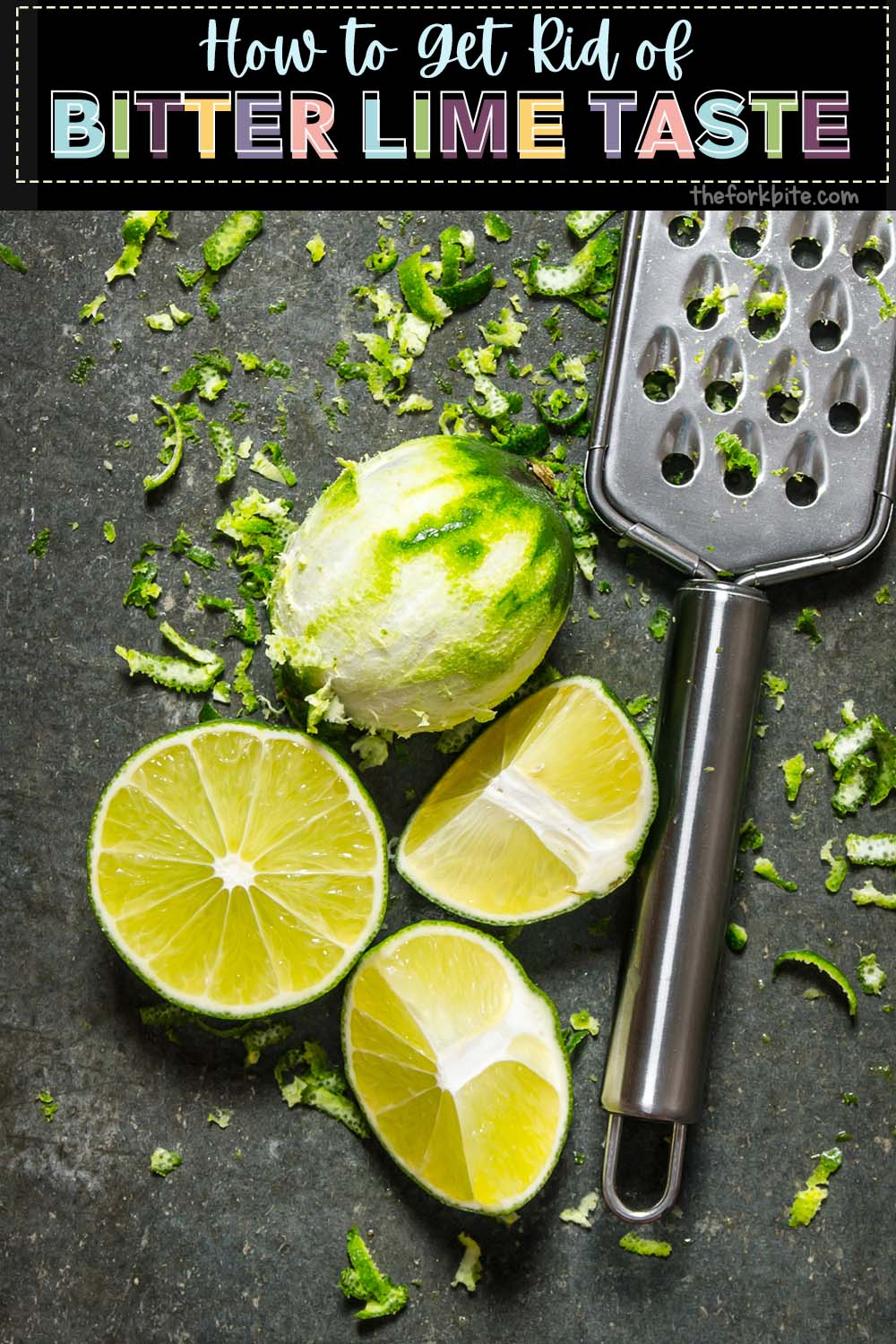 Jump to:
The best way to correct this type of bitterness is to neutralize it. At the same time, the cooking is ongoing, or try and balance it when you finish cooking the dish by adding additional, complementary ingredients.
Whichever route you decide to go down, I've learned several tricks and strategies up my sleeve, and I am more than happy to share them with you, so please read on.
Just about to serve?
Here are some remedy shortcuts
One of the easiest ways on how to get rid of the bitter lime taste is by adding a little salt or umami. If you are new to cooking, the expression "umami" refers to savory flavors such as bacon, mushrooms, and soy sauce.
Other quick fixes include:
Add a pinch (or more) of salt.
some sweetener
or fat or starchy ingredients.
---
How to get rid of bitter lime taste
As with other acidic ingredients like lemon juice or vinegar, adding lime juice to any dish (or even some drinks) brightens the taste considerably, especially in cakes, cookies, risottos, salads, and soups.
Like other acidic components such as vinegar or lemon juice, lime juice brings sparkle to foods such as cakes and cookies, pasta dishes, risottos, salads, and soups.
But you have to take care. Add a little too much, and the dish's flavor will become overly bitter or sour.
However, you'll be pleased to know that there are many ingredients and tricks you can use to cut back the taste of lime, using it more conservatively in a refreshing way.
1

Go with a spoonful of sugar.

No, I'm not about to burst into a song from Mary Poppins about helping the medicine go down.

I'm advocating using either some sugar, honey, yogurt to savory dishes containing too much lime juice, or caramel sauce, maple syrup, or white chocolate, adding it to sweet dishes that have too much lime in them.

Note: Sugar doesn't remove the taste of the lime juice, but it does act to distract your taste buds by adding another complimentary taste dimension.

But always remember to add a little at a time. You can always add more if necessary, but if you add too much, you could ruin the dish's flavor profile.
---
2

Sprinkle with salt

Salt is another way that you can counteract the bitterness of lime. It works the same way when you press salt around the rim of a glass containing a margarita cocktail.

Rather than being out and out salty, it emphasizes the flavor of the margarita by altering your perception of the sour and bitter notes.

As you probably already appreciate, adding salt to anything livens up its taste.

Give it a try and see. It works.

Some vegetables are naturally a little bitter - veggies like broccoli and Brussels sprouts. Try drizzling some olive oil over the veggies and adding a sprinkling of salt before cooking to bring some new flavors to the party.

Salt is also a great way of tweaking a dressing or a marinade that has too strong a lime influence. Adding salt can change all that but be sure to add a little at a time, mixing well and taste before adding more.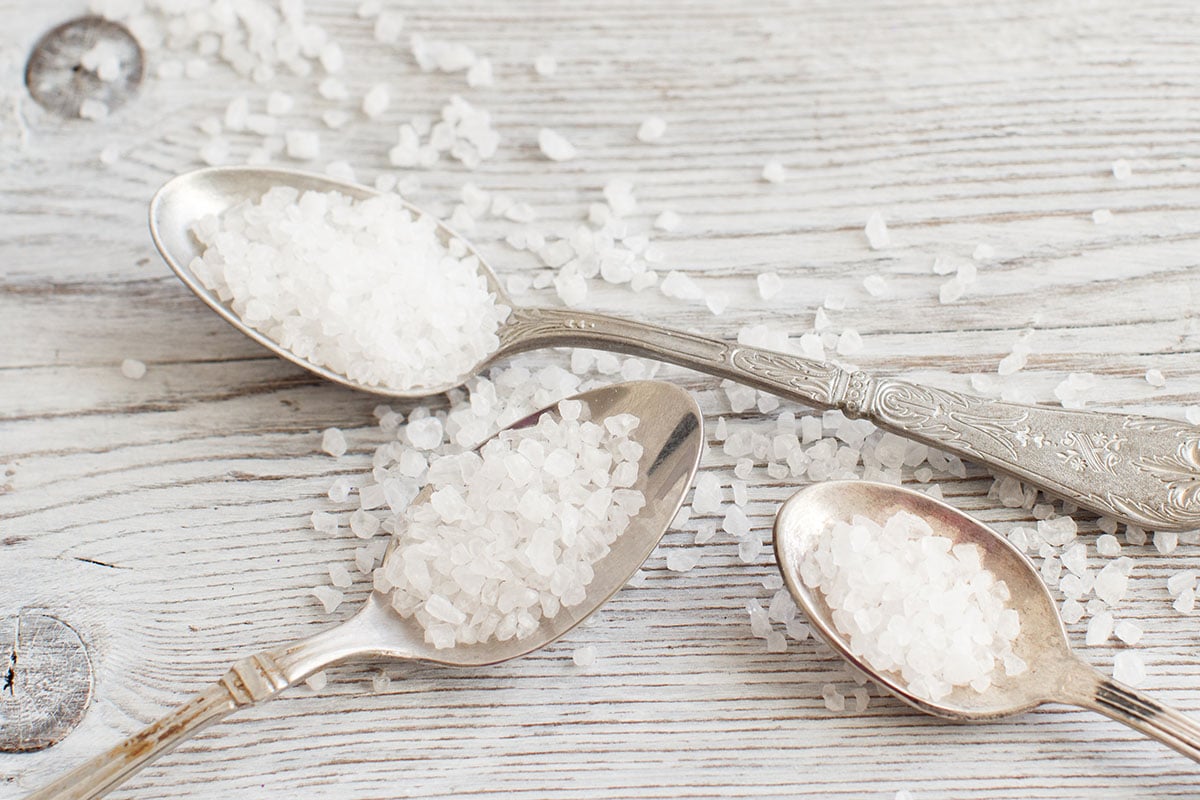 ---
3

Add a little fat

You may have noticed that rich fatty foods have the ability to tone down overly acidic, bitter dishes, so adding a pat of butter, a dollop of cream or sour cream, or pouring some olive oil into the dish can help to counterbalance the flavors.
Similarly, sharp ingredients like lemon and lime juice or vinegar are often added to rich dishes to cut through any fat or greasiness. It's the same thing in reverse.
Get it right, and you'll end up with a nicely balanced tasting dish or sauce.
Extra tip:
Avoid adding any lime pith to a recipe. As with orange pith, lime pith (the white spongy stuff that separates the fruit from the skin) is very bitter. So, be careful not to add any by mistake.
The other thing to avoid is adding a whole lime, skin and all, and allowing it to cook. If you do, the bitterness from the pith will leach out into the dish giving it an overly sour taste.
---
How to zest a lime leaving the pith behind
The best way to zest a lime without taking any of the pith is to use a Microplane, which is a purpose-built zester. They are inexpensive and provide you don't zest too vigorously and plane down into the zest; they just take the top layer of the outer skin, zest free.
The skin contains scented oil with that lovely zing of lime.
Some dishes, like orange or lime marmalade, use thickly cut strips of peel complete with zest. But because you use tons of sugar, the bitterness becomes a flavorsome hint of background sharpness.
---
How to fix too much lime juice in guacamole?
I don't know about you, but I adore guacamole. It is a Tex-Mex must-have, but I use it as a spread or for other things, too, like spreading on a toast or making a smoothie.
Take a look at this recipe. It conjures up mean guacamole and gives a few other serving suggestions too.
But if you make the mistake of adding too much lime juice plus salt, you'll find that it will pull the moisture out of the avocado, turning what should have been gorgeous guacamole into a watery apology. But all is not lost.
Read:
There are some quick fixes you can try.
The first one is to add more avocado - start with a half, and add more if necessary.
Make sure to add it slowly, constantly stirring, and adding more until you get to the consistency you're looking for
If it's still too sharp and you don't want to add any more avocado for fear of upsetting the consistency, try adding a pinch of sugar. Mix it in thoroughly, and taste. It should counteract the sharpness. Add more if necessary but don't overdo it. You don't want to end up with the guacamole tasting too sweet.
You can also use certain dairy fats like sour cream and yogurt to dampen down an intense lime flavor.
---
Why does lime juice get bitter once squeezed and refrigerated?
Have you ever kept squeezed lime juice in the fridge, and when you came to use it, you thought that it tasted more bitter?
Well, you're right, and here's why.
When you squeeze a lime, you squeeze certain biochemicals like Limonoate A and Limonin Glucose, and Nomilin that are contained in the flesh of the fruit.
After a few hours, an enzymatic bittering process turns these chemicals into bitter-tasting limonin. So, the sooner you use the juice after squeezing, the less bitter it will taste.
The other thing you should know is that when you refrigerate whole limes, the gap between the flesh and the layer of pith under the skin reduces, which means the pith's bitterness can leach into the flesh.
---
Stop squeezing the last drop of juice from a lime.
When it comes to squeezing the juice from limes, many people go over the top by extracting the last possible drop.
The problem is that when you over-squeeze a lime, you run the risk of squeezing some of the pith out as well, and it's this that adds the bitterness.
This is why commercial lime squeezers in bars and restaurants only part squeeze limes.
So, whether you are extracting lime juice to add to a recipe you are preparing or a cocktail, it is best not to go overboard. It is one of those situations where less is more.
---
Best tricks for juicing citrus fruit
Over the years, I have experimented with different ways of juicing various citrus fruits, including limes.
Here are some of the tricks I've learned when preparing cocktails or meals.
1

Rolling limes before slicing

When you roll a lime on your kitchen worktop, it breaks up capsules that hold all that lovely juice. Just place the lime (or lemon) on your worktop and push down firmly with the palm of your hand and roll the lime around.

You only need to do it for five or six seconds or so. Don't press down too hard, or you might squeeze some of the pith into the flesh, which will make the juice bitter.

Chefs usually cut the lime in half, hold it over their upturned palms, and squeeze, releasing the juice and letting it overflow into a bowl while catching the pips in between their fingers. It's swift and doesn't involve any tools.
---
2

The microwave trick

Place lime in the microwave and nuke for about 10 seconds. The microwaves travel all the way through the fruit and warm the juice-holding membranes, which makes it easier to extract the juice.

The heating process makes the fruit softer and therefore easier to squeeze, encouraging it to release the juice.

Here's a thread that explains why these work.
---
3

Freezing then microwaving

The idea behind freezing the lime prior to squeezing is that the juice inside freezes and turns into ice.

It will expand and, in doing so, will break the membranes or make them more fragile and therefore more willing to give up their juice when you microwave it.

While many people believe that this does work, it does take much more time because instead of just microwaving a fresh lime for a few seconds, because the lime is frozen, you need more like somewhere between 30 and 60 seconds to heat it all the way through.

Whichever of these methods you care to try, they're not exactly time-consuming.

Even if you have to wait for 60 seconds to defrost a line thoroughly, you can be pouring the drinks or preparing the dish long while that's happening. Crikey, it's not that long now, is it?
---
4

The right equipment for the job

Whether you are a DIY freak or a home chef, it always pays to have the right tools to do the job, and a good old-fashioned hand-held juicer is where it's at.

They only cost around $25 (you can buy cheaper models), and if you are going to be doing a lot of juicing, it will be a sound investment.

When all is said and done, a fruit holds a certain amount of juice, and all the tricks in the world won't increase the quantity though they might make it easier to access.

However, always keep in the back of your mind that if you go for extracting the maximum amount of juice possible or store the juice in your fridge for 4 hours or more, you could increase the level of bitterness.
---
More about reducing the level of bitterness in your lime juice
We use our tongues to detect and discern 5 specific tastes. These are bitter, salty, sour, sweet, and umami.
It was originally thought that the tongue was split into sections, each of which discerned a particular taste.
Until recently, it was thought that you could only experience sour and salty on the edge of your tongue and sweet, at the tip.
However, more recent research confirms that while it is a fact that the edge of the tongue contains more taste buds than the base, the tongue is not divided into tastes by section.
So, though it is true for 4 of the tastes, it is different for one. That one is bitterness, and the area for detecting that is mostly towards the rear of the tongue.
Many people squirm when they think of a bitter taste. Still, a hint of bitterness can take the dish's taste from something pleasant into something absolutely delicious in the culinary world.
As a cook, understanding how to balance bitter flavors with the flavors of other ingredients is a fine skill and one that can reap many resounding plaudits from satisfied diners.
---
Balancing the bitterness toolbox
Let's take a look at the balancing ingredients in the toolbox. They include:
Butter
Coconut cream
Cream
Fruit Juices
Honey
Maple Syrup
Oil
Sugar
Any of the above, or a combination, can be used to counter the bitterness
Salt is another good balancer for any savory dish, and for more information on using salt, check out this article.
---
Choosing the best balancing agent according to the taste of the dish
It's essential to choose the right balancing agent depending on the dish's overall flavor. As you can see, there are several things you can use, but if you are not careful, you can end up changing the tastes of the dish completely.
The first thing to do is to taste where the dish is at. Which flavors can you not taste?
Whatever they are, choose one of the ingredients listed earlier and add a little at a time. You often find that a pinch of salt is the best starting point.
If the dish is sufficiently salty, avoid adding any more, and instead, choose one of the sweet additives. If adding a sweet ingredient doesn't work, try adding one of the fatty ones.
---
Damping down the bitterness of greens
Some vegetables like arugula, broccoli, brussels sprouts, chard, kale, and radishes have a natural bitterness about their flavor. It's one of the reasons that kids often do not like eating veggies.
Of course, they're all an important part of a healthy diet, so you need to damp down any bitterness and make them more palatable for your kids.
Although it might sound a bit counterintuitive, adding some fresh lemon juice or a small quantity of vinegar to bitter dishes can actually neutralize some of that bitterness.
Similarly, if you're serving up a salad that contains some bitter leaves like endive or radicchio, things like anchovies, cheese, and nuts can do the business.
Check out these Radicchio recipes and see what I mean:
As you can see, they use the saltiness of anchovy, or the fatty content of nuts, or the cream content of cheese.
---
Sugar is good but don't overdo it.
Many people like bittersweet chocolate desserts. It can be a heavenly tasting mixture of the two taste extremes.
It can be delicious, even for kids, when adequately matched as in bittersweet chocolate cheesecake or triple chocolate mousse torte.
Just go a little careful with sugar. If you can prevent your kids from having too sweet a tooth, it will serve them well in later life.
The American Heart Association recommends no more than 25m to 36g per day.