This Easy Crab Ceviche recipe is a bright, refreshing dish with a robust flavor that will leave you craving more.
It is created with the unique combo of imitation crab meat, avocado, cilantro, and fresh peppers – resulting in an utterly perfect appetizer for the spring and summer months!
Serve this up with a side of crispy corn tortilla chips and a citrusy, vibrant margarita for the perfect snack for any occasion!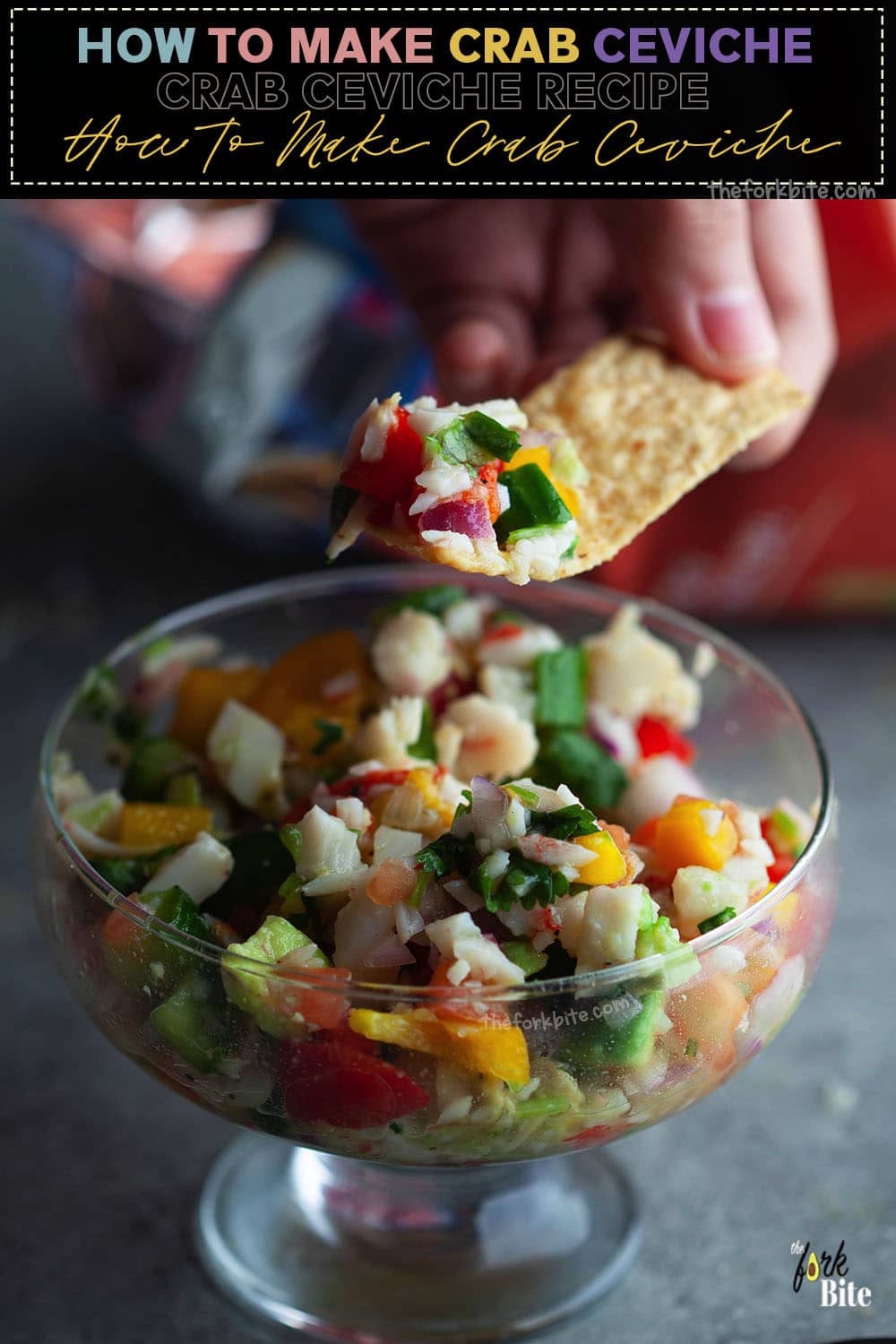 Jump to:
What is a Ceviche dish?
Ceviche – [pronounce as "she-VEE-chay"] is a popular dish in Central America and various coastal areas. It is a fresh dish with a high level of zest.
In recent years, it made its way into the United States. Now, you can find it listed on menus and offered at various venues throughout North America.
It utilizes lemon juice or lime juice to cure a raw fish variety – such as halibut or sea bass. It incorporates flavorful raw onion slices and hot peppers that are thoughtfully diced.
It may also include tomatoes that have diced and a touch of cucumber to create a well-rounded flavor in many instances.
---
What variations in Ceviche are there?
One of the finer points about a savory crab ceviche recipe is that it may be completely customized to compliment your taste buds.
You may combine a wide assortment of seafood types, earthy vegetables, and flavorful fruits to create various exquisite and palate-pleasing tastes.
Instead of adding crab, you can enhance the ceviche dish's flavor by substituting squid, shrimp, scallops, and imitation crab meat.
Seafood
If you are an avid seafood fan, you may incorporate white fish, slices of octopus, shrimp, crab or imitation crab meat, and scallops fresh from the bay into this delicious recipe.
Vegetables
You may add many delectable vegetables to this recipe to create a splendid burst of flavor. Common choices include green onions and the red-colored bell pepper variety.
Fruit
As you learn how to make crab ceviche, you will quickly discover that it is possible to create a sweet, tropical blend by incorporating pineapple and mango pieces. If you elect to do this, it is best to eliminate any tomato from the recipe.
Ceviche has been hailed as one of the most popular and craved dishes when the outdoor temperatures start increasing during the spring and summer months. Not only is it effortless, but also super quick to prepare.
The best part?
The stove is not even required! This brings us to a significant point – you must ensure that you utilize the freshest of the fresh – in terms of fish or shellfish – because heating is not required.
When purchasing your main seafood ingredient, you should ensure that you always deal with only the most reputable sellers.
You may serve Ceviche as either an appetizer or as the main course.
There are numerous sides available that will complement the exquisite flavor and texture of Ceviche.
These include plantain chips, crispy corn tortilla chips, or savory Saltines. You may wrap the Ceviche in a lettuce leaf, with a side of tender rice and mouth-watering jicama slaw – the choice is yours!
---
Is it healthy?
In Latin America, Ceviche is a prevalent seafood-based appetizer dish.
The base element of the recipe is raw fish; however, substitutions may be made. It is known for having a low glycemic load, which means that it is appropriate for people with diabetes.
It has a high amount of protein, and it is considered an optimal source of polyunsaturated fatty acids – such as Omega-3 and Omega-6.
In short, this is not a dish that tastes delicious; it is also visually appealing and is optimal for your health.
Regardless of whether you are attempting a new diet or want to incorporate healthy dishes into your life to provide an overall boost to your health, Ceviche is an excellent dish – all the way around.
It requires no processed foods, only those necessary to the body's optimal functioning and those that – when combined – result in an enriching experience for your taste buds.
Experts in health and nutrition highly support the luscious citrus-based spiciness of this exquisite dish. This dish aid in weight control; it also possesses properties that help combat the development of heart disease.
This is made possible by including the antioxidants, collagen, various vitamins, Omega-3s, and the Omega-6s in the meal.
If you are searching for adding new foods into your diet to increase your health, Ceviche is an excellent choice.
Lime
When learning how to make crab ceviche, you will find that lime is the main ingredient. This provides a slightly tangy taste to the dish. It is exceptionally high in vitamin C.
Not only is this an antioxidant, but it aids in the production of collagen. This – in turn – provides a boost to the skin's health and aids in healing tissues within the body.
---
Onions, Garlic, and Pepper
Not only is this unique combination a key component in the splendid taste of Ceviche, but all of the ingredients also come together to act as a natural antibiotic and antiseptic.
These foods help to filter and protect the airways of the body thoroughly. Additionally, these are highly beneficial in alleviating the symptoms associated with allergies and the common cold.
---
Sweet Potatoes
If you want to add a boost of nutrition to your Ceviche, serve it up with a dash of sweet potatoes. These provide massive amounts of fiber to the body, potassium, manganese, and increase your levels of both vitamin A and C.
Additionally; they contain a large amount of beta-carotene, which is essential for optimal vision.
---
Ginger and Corn
Want to spruce up your Ceviche? If you answered, "yes," include a tad of ginger and a side of delicious, tender corn.
You will have a unique combination that will help control the weight and boost the digestive system's functionality.
As a side note:
When learning how to make crab ceviche, you must understand that raw fish can contain certain bacteria types.
If you or someone you are serving has an allergy to fish, shellfish, is pregnant, or has a compromised immune system, Ceviche should not be consumed.
---
Is Ceviche a cooked dish?
When learning how to make crab ceviche, you will realize that the lemon juice or the lime juice in the recipe aids in the "cooking" of the seafood: however, this is nothing more than a process referred to as "denaturation."
It simply changes the seafood's proteins to look opaque or to make it firmer, and just appears that it is actually cooked.
Although no actual cooking occurs, the dish's meat will be safe to consume due to this process.
---
All seafood must be blanched?
If you elect to create Ceviche with substitute seafood, you should make it a point to either parboil or poach it first. It would be best if you only utilized fresh seafood from a reputable source.
If using parboil for either shrimp or fish, 16 minutes should be ample for the seafood to cook within the citrusy marinade.
If you elect to utilize completely raw fish, this should be extended to two hours.
The heat will help ensure all bacteria that can cause food poisoning are properly eliminated. Merely allowing the seafood to sit in a juice does not kill off potentially dangerous bacteria.
---
Does Lime juice help in killing bacteria?
Most indeed agree that the acid within lime juice can destroy various types of bacteria.
However, you must pay special attention to your preparation efforts to make sure the Ceviche comes out in such a way that it is considered safe for consumption.
---
How long does Ceviche last?
Immediately after preparing this dish, it should be refrigerated. It is not considered appropriate to freeze the meal.
Keep in mind that you should consume it as quickly as possible because the lime juice will not help preserve the dish.
It will actually break it down. The maximum time that your Ceviche should stay in the refrigerator is only 48 hours.
If you attempt to eat it after this period, you increase the likelihood of becoming ill. Following this time, you should discard the Ceviche as the seafood will be contaminated.
---
Make-ahead ceviche
Generally speaking, this is not a dish that should be prepared ahead of time. If you prefer to have a flakier version of the dish, you may marinate for longer periods and prepare early.
When it comes to the fish, though, you should slice and ensure that it returns to the ice as quickly as possible.
---
How long does Ceviche with imitation crab meat last?
If you vacuum-seal your food products that have been pasteurized, they can last up to two months within a refrigerator.
If opened, it should be consumed within 48 hours. If you purchase imitation crab meat in its loose form and within fish cases, it will last up to five days within a refrigerator. If it is frozen, it will keep for up to six months.
Signs that your imitation crab is now spoiled include a foul smell, a surface that appears to be slimy, and a typical sour flavor.
It is common for sugar to be added to these products during the manufacturing process. Ensure that you carefully read all labeling before purchase.
---
Storage
When storing Ceviche, you should completely drain all associated marinade.
You may then seal it tightly. It is acceptable to use either a container or heavy-duty plastic wrapping.
You may then place the storage unit on the bottom shelf inside your refrigerator.
Once you have decided to use the Ceviche, you should remove it and add lime juice or lemon juice. This will enhance its overall flavoring.
If you find that the Ceviche does not smell or look right, discard it immediately.
---
How to tell if Ceviche has gone bad?
It is relatively easy to determine when Ceviche has gone bad. As long as you know the signs of spoiled fish, it is a breeze to know the spoiled Ceviche signs.
First, smell the Ceviche. If it has spoiled, it will emit a very sour smell.
Look at the edges of the seafood contained in the dish. Do they appear to be deformed or hard? If so, it is time to throw out the remaining Ceviche.
Next, observe the seafood and even touch it. Does there appear to be a sticky film on it or slime? If so, it should not be consumed as this is a good indication it has gone bad.
If you find that the Ceviche has just one of the above-listed signs, it is time that you immediately discard it. To avoid wasting this dish in the future, store it appropriately, and ensure that it is consumed relatively quickly.
In doing so, you will reap numerous health benefits as it is a fantastic source of vitamins A, B, C, E, K, potassium, biotin, manganese, and folate.
---
How to make crab ceviche
If you have a solid appreciation for the texture and taste of crab, you are sure to enjoy indulging in the delight that crab ceviche has to offer.
You will find that it is easy to create, exhibits a high level of robust flavoring that is delicious, and is a high-class dish that is sure to impress all who lay eyes upon it and indulge in its magnificence.
By learning how to make imitation crab ceviche, you are capable of creating a culinary masterpiece consisting of massive pieces of luxurious crab meat, a citrusy and robust dressing, fresh, earthy peppers, cilantro, and zesty onions.
It is a colorful blend of rich, exotic flavors that your palate will thank you for!
When it comes to making this masterpiece, the real secret lies in the chopping process!
---
Ingredients
In most instances, it only takes a few ingredients to create this recipe. These include real crab (or imitation crab) or a seafood substitution, citrus, peppers, and the freshest cilantro you can find.
However, it is possible to incorporate other ingredients. This is a highly versatile dish based on your taste preferences.
Additional ingredients that may be added:
Dungeness Crab
Bell Peppers
Jalapeno Peppers
Lime Juice
Lemon Juice
Avocado
Fresh Cilantro
Red Onion
Mango
Hot Sauce
Sriracha
Corn
Tomato
---
step by step instructions
1 Shred the crab meat or imitation crab using a mini food processor making sure the meat is in small lumps. Set aside.
2 Chop or dice vegetables you want to use, you can use a vegetable chopper or dicer for a nice uniform cut (optional). Add salt and pepper to taste.
You can add sugar as well to counter the acidity (this is optional but it tastes good).
3 Mix all of the pico the Gallo ingredients plus the crab meat in the bowl. Gently toss them together.
Cover the bowl with cling wrap and place it in the refrigerator for a minimum of two hours.
4 Remove the mixture from the refrigerator, gently add in a bit of avocado and a touch of cilantro.
5 Once the dish is fully prepared, serve it with a side of chips or with a side of slightly-seasoned tortillas.
Note:
Always make it a point to use only the absolute freshest ingredients. It would be best if you never utilized lime or lemon juice from a bottle or cilantro that has been dried—additionally, the more zest, the better.
Consider integrating a little something spicy, such as jalapenos.
---
How long to marinate?
If using fish:
The fish should be opaque in color and engaging in the "cooking through" process. Do not allow it to get to the point where flaking occurs, or the fish's meat is falling apart.
It would be best if you marinate quarter-inch slices of fish for anywhere from 20 to 30 minutes at a time.
Allow it to marinate within the refrigerator and serve once completely done.
If you desire to have a flaky fish, marinate for up to an hour.
If you want the fish to be slightly on the firm side but sushi-styled in the middle, only marinate for 30 minutes or less.
If using crab or imitation crab meat:
Allow the meat to chill for at least two hours. It would be best if you tossed it regularly during this time.
For all of the distinct flavors to meld, you should marinate for two hours.
Only use the highest-quality crab meat for this dish.
---
Difference between real crab and imitation crab meat
Real crab meat comes from genuine crab and carries a distinct flavor and texture. Imitation crab meat is created from white fish; however, it resembles the meat's texture and flavor retrieved from the real crab.
The main difference rests in the pricing. A container of real meat may run for nearly $20.00; whereas, imitation meat of the same amount may run approximately $5.00.
Imitation crab meat ceviche is called "Jaiva" among the Latin Americas. It merely is an American/Mexican, based take on the traditional fish.
If you elect to utilize the imitation assortment, you will need the same amount as if you used meat from real crabs.
Simply chop the meat sticks to look more like the lumps that real crab meat produces when making Ceviche.
---
Essential tips
When learning how to make crab ceviche, remember that you must chop all of your ingredients in a conscious, precise manner.
Otherwise, it is effortless to create this dish.
If you have strong skills with the knife, you will create a strong ceviche that produces memorable taste experiences for all who indulge.
Mince the vegetables that you use, ensuring that they are all the same size.
Marinate for two hours to ensure that the robust flavors properly meld.
Select the highest-quality crab meat for your dish.
Don't be afraid to add a little spice – like that produced by jalapeno peppers.
Always use 100% FRESH ingredients and never use those that come in a bottle or are dried.
---
Options for serving
In many instances, crab ceviche is considered a dip; this is because it is often served with a side dish – such as corn chips – that may be dipped into the product.
While you can eat this dish with a fork, you should consider utilizing tortilla scoops or similar products to scoop up all of that lusciousness!
---
Interesting recipes
---
What food goes well with Ceviche?
Something with veggies.
corn on the cob
Jicama Slaw
Avocado
lettuce leaves
toasted corn kernels
sweet potato
---
Something starchy.
flatbread
Plantain chips or tostones
black bean crackers or chips
Brazilian cheese puffs (Pão de Queijo) rice
popcorn
grilled corn tortillas
corn-filled tamales
bean salad
quinoa
rice & bean salad
---
Something More.
lobster
baked snapper
guacamole
Tostadas
steak
---
Full Recipe
How to Make Crab Ceviche Recipe
This Easy Crab Ceviche recipe is a bright, refreshing dish with a robust flavor that will leave you craving more.
Ingredients:
1

lb

imitation crab meat

(or real crab meat)
For Pico de Gallo:
1

cup

mango

(cut in cubes)(optional)

2

avocado

( diced )

1

Jalapeno

(diced)(optional)

5

pcs

lime

(freshly squeezed the juice)

1

cup

cilantro

(chopped)

1

pc

lemon

(juice)

½

cup

bell peppers

(diced) optional

1

tablespoon

sugar

(optional)

¾

cup

red onion

(diced)

salt to taste
Instructions:
Shred the crab meat, make sure your crab is in small lumps.

Chop or dice vegetables you want to use, you can use a vegetable chopper or dicer for a nice uniform cut (optional).

Add all ingredients to a medium bowl and toss gently until nicely coated. Salt to taste.

Chill the mixture in the fridge. Marinate for two hours to ensure that the robust flavors properly meld.

Serve cold with corn tortilla chips or grilled pita triangles.
Notes:
Select the highest-quality crab meat for your dish.
Don't be afraid to add a little spice – like that produced by jalapeno peppers.
Always use 100% FRESH ingredients and never use those that come in a bottle or are dried.
Nutrition Information:
Calories:
110
kcal
|
Carbohydrates:
14
g
|
Protein:
3
g
|
Fat:
5
g
|
Saturated Fat:
1
g
|
Cholesterol:
4
mg
|
Sodium:
216
mg
|
Potassium:
220
mg
|
Fiber:
3
g
|
Sugar:
5
g
|
Vitamin A:
495
IU
|
Vitamin C:
19
mg
|
Calcium:
9
mg
|
Iron:
1
mg
Please note that all nutrition information are just estimates. Values will vary among brands, so we encourage you to calculate these on your own for most accurate results.
Did you make this?
I would love seeing what you've made! Tag me on Instagram @theforkbitedotcom or leave me a comment or rating below.