How to reheat empanadas? You might want to warm them from frozen, or straight out of the refrigerator. Or after they've been standing around for a little while at room temperature. Empanadas are one of the tastiest snack or party foods on the planet. Knowing how to reheat them from cold is an essential skill if you are an empanada devotee. If you would like to find out how to do so while maintaining the empanada's original taste and texture, all you have to do is read on.
An empanada is a Spanish or Latin American pastry turnover that is either baked or fried and filled with savory ingredients. The word "empanada" comes from the Spanish verb "empanar," the literal translation of which is "enbreaded." If you are familiar with Indian cuisine, it is the samosa from which the empanada gained its inspiration. You can check my beef empanada recipe here.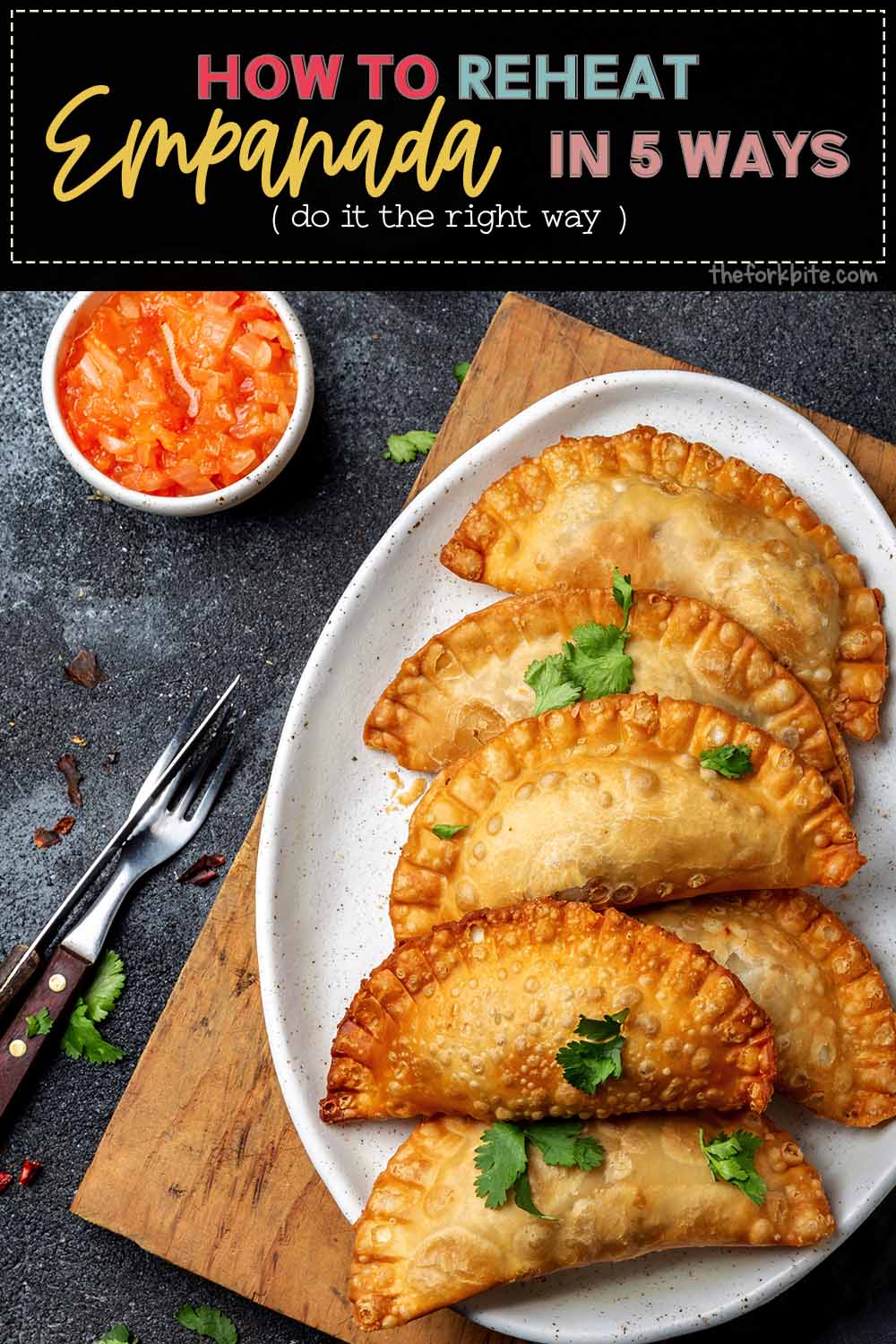 Jump to:
Empanadas can be successfully reheated from various conditions. You might want to warm them from frozen, or straight out of the refrigerator. Or after they've been standing around for a little while at room temperature.
Depending on the various conditions you will be reheating your empanadas, you will need to adopt a slightly different approach. The important thing, whichever method you take, is to ensure that the reheated empanada's taste and texture are as good as they were original.
Here's how...
---
Five ways to reheat empanadas
When reheating empanadas from cold, there are five methods you can adopt to get the best results depending on the starting point and the equipment you will be using.
Option 1

- Convection oven

Using this method, you need to preheat your oven to 300°F and place the empanadas inside to warm through for 10 minutes.
Option 2

- Toaster oven

As above, preheat your toaster oven to 300°F and place the empanadas inside to warm through for 10 minutes.
Option 3

- Microwave with assistance from a toaster or convection oven

Microwave the empanada for between 30 and 60 seconds depending on size.
Next, heat the empanada in a toaster or conventional oven for between three and four minutes at 300°F.

The reason for doing this is that microwaving an empanada will result in the filling being heated while the dough becomes soggy. Finishing the reheating process in an oven will help to create a crispy exterior.
Option 4

- Using a skillet or deep fryer set at 320°F

Whether you are using a skillet or a deep fryer, you need to preheat enough oil to completely cover the empanadas and fry them until they become a lovely golden color.
Option 5

- Reheating empanadas in an air-fryer

To ensure the correct results when using an air-fryer, set it to 350°F and cook the empanadas for between three and four minutes. The result should be nice hot empanadas that are just as crispy and tasty as they were the night before.

All five methods described above are meant for use with empanadas that have already been cooked. However, they can also work well with uncooked empanadas.

Having given you a quick overview of the five different ways of reheating empanadas, let's now look at each one in slightly more detail.
---

Using the oven
Reheating empanadas in a conventional oven is the number one recommendation. However, it is closely rivaled by using a toaster oven. By baking your empanadas rather than just warming them up in a microwave, you are making sure that you are retaining all of the taste.
Step 1: Begin by lining up your empanadas side-by-side in an oven-safe dish or on a grill rack.
Step 2: Preheat the oven to 300°F.
Step 3: Put the empanadas into the preheated oven and heat for approximately 10 minutes.
Step 4: For the last two minutes of the cooking time, cover the empanadas with aluminum foil.
Step 5: When 10 minutes is up, check if you are satisfied with the empanadas' crispiness.
---
Using a toaster oven
When reheating empanadas, you can use a toaster oven as an excellent alternative to a conventional oven. As other options go, using a toaster oven is superior to using a microwave.
The only slight downside is the size of toaster ovens, which means you won't be able to reheat as many empanadas as you would if you were using a conventional oven.
Step 1: Line the empanadas up side-by-side on your toaster oven rack. Don't attempt to layer them.
Step 2: Preheat the toaster oven to a temperature of 300°F.
Step 3: Put the empanadas into the toaster oven and heat for approximately 10 minutes.
Depending on the size of the empanadas, you may need to reheat them for longer. Warm them through for eight minutes, and cover them with aluminum foil for the last two. When the time is up, test your pastries to see if they are warmed through.
If not, return them to the toaster oven for another couple of minutes, but keep your eye on them to ensure they don't burn. They should not do so as long as you don't forget to cover them again with the foil.
---
Using a skillet or deep fryer
Using either a skillet or deep fryer is the most popular way of making empanadas from scratch. However, you can also reheat them using the same methods.
However, you do need to be a little bit careful to ensure that you don't burn them. This method is best suited to reheating empanadas from frozen.
Step 1: Reheat the empanadas straight from frozen. Do not defrost them.
Step 2: Preheat sufficient oil to completely cover the empanadas.
Step 3: Fry the empanadas at a temperature of 325°F.
Step 4: Don't over-fry them - as soon as they become a nice golden color, remove them.
Step 5: Sit the empanadas on kitchen paper for 1 or 2 minutes to allow the excess oil to drain off.
---
Can you cook frozen empanadas in an air-fryer?
Yes, you can.
Step 1: Preheat the air-fryer following the manufacturer's instructions.
Step 2: Take a can of cooking spray, spray the basket, and add the empanadas.
Step 3: Cook the empanadas at a temperature of 340°F for between 8 and 10 minutes.
Check to see if they are browned and cooked through. If not, cook for a little longer.
---
Can you cook empanadas in a microwave?
Again, the answer is yes, although this method is not ideal. When you microwave empanadas, they tend to become somewhat soggy and lose a little of their flavor - even more so if you attempt microwaving them from frozen. However, if you don't have any other alternatives, you can get a reasonable result using your microwave, just as long as you follow these steps.
Step 1: Find a microwave-safe dish or plate on which to place your empanadas.
Step 2: Arrange the empanadas side-by-side with no overlap.
Step 3: Put the microwave on a low to medium setting and microwave for 30 seconds.
Step 4: Check to ensure that the empanadas are not becoming too soggy.
Step 5: Continue to microwave them at 30-second intervals until they are warmed through.
---
How do you store empanadas?
If you are making your own empanadas, you can put them on baking sheets and store them in your fridge. You should, however, cover them with plastic wrap. They will be okay for up to 3 days.
Ready baked empanadas can also be refrigerated in this way for up to 3 days. With un-cooked empanadas, the baking time and cooking temperature will be the same as when you take them out of the fridge as it would be if you were baking them from fresh.
---
Can you freeze empanadas
Many foods freeze rather well, and the empanada is one of them. Originating from Galicia in Spain and becoming the epitome of Latin American comfort food, empanadas are Iberia's passport to the world's great food kitchen - the perfect hand-held pie.
Other imitations on the empanada include the Flaky Brick from North Africa and Samosas from the Indian continent. However, the empanada remains king. Stuffed to bursting point with meat, veggies, and sometimes even sweet fillings, empanadas are just as irresistible being reheated from frozen as they were when they were fresh - providing you follow the steps I give you.
When my itinerary gets rather busy, I usually plan to make large batches of empanadas and freeze them, so they are ready to eat at short notice.
Here is how to do it.
Lay your unbaked empanadas beside each other on a parchment-lined baking sheet and ensure that they don't touch. If they do, they will stick together during freezing.
Freeze for approximately two hours until solid. Then put them in a freezer bag. They can remain frozen for as long as three months, during which time you can take out and bake them straight from frozen. You will, however, need to adjust the cooking time by a few minutes.
Baked empanadas can be frozen too; however, they tend to lose a little of their tender, flaky texture.
Wrap the empanadas individually in plastic film to avoid freezer burn.
When you want to reheat your empanadas, unwrap the quantity you require and heat in a conventional oven or toaster oven.
You can also reheat them by popping them into a microwave for a few minutes.
---
How to freeze unbaked empanadas
Step 1: Assemble a batch of empanadas as per your favorite recipe. Take care when sealing the empanadas. If you don't do it properly, they will burst open during baking or frying.
Step 2: Once satisfactory sealed, transfer your empanadas onto a tray lined with parchment paper.
Step 3: Space the pastries out evenly ensuring that they don't touch each other, for if they do, they will stick together as they freeze, and you will damage the crusts when you later come to separate them before cooking.
Step 4: Loosely cover the empanadas with plastic film and transfer the tray to your freezer. They will take between 2 to 3 hours to freeze depending on your freezer's temperature setting and its efficiency.
Step 5: Once frozen, wrap each empanada separately in plastic film and put them into a heavy-duty freezer bag. Label the bag, date it, and cook them within three months to maintain top quality and flavor.
---
How to freeze fully cooked empanadas
Step 1: Assemble the empanadas as per the recipe, then bake or fry until the crusts are lightly golden colored and flaky.
Step 2: Position the assembled empanadas on a cooling rack and cool it in a well-vented area. They will call quickly. To adhere to the best food safety practice, you should refrigerate or freeze the empanadas within two hours.
Step 3: Wrap the now cool empanadas singularly in plastic film, and pop into a heavy-duty freezer bag. Label and date the bag.
Step 4: Position the wrapped pastries in your freezer in a single layer to freeze quickly. Once fully frozen (after two or three hours), you can put them into one large freezer bag. To enjoy their best quality, you should reheat and eat the empanadas within three months of freezing.
Extra tips
To prevent your empanadas from being damaged while being stored in your freezer, it's good to put the individually wrapped pastries into a rigid container.
It's all too easy to accidentally damage empanadas' delicate crusts when moving other frozen foods around in the freezer. Putting your pastries into a rigid container will give them the extra protection they need.
When reheating frozen empanadas, do so as soon as you remove them from the freezer. Don't wait for them to thaw. Bake or fry them following your recipe instructions, adding a few minutes to the cooking time to reheat through properly.
When reheating cooked empanadas, it's important to heat them to a 165°F temperature to ensure that they are safe to eat. You can warm them in a conventional or toaster oven, thaw and reheat them in a microwave, or partly cook them in the microwave and finish off in your oven to get a light, flaky crust.
---
How to reheat frozen homemade empanadas
Question: I have got a batch of cooked, homemade empanadas in the freezer. What is the best way of reheating them to keep the crust nice and flaky, and the filling evenly warmed through? What suggestions do you have?
Answer:
When reheating frozen burritos or pizza or something similar, using fingers dipped in water, I dampen the surface of the dough or pastry to prevent it from drying out or hardening.
When reheating frozen empanadas, I take them out of the freezer, wrap them in aluminum foil and cook them for 30 minutes before removing the foil, and cooking them for a further 15 to 30 minutes depending on the size of the pastries.
Alternatively, you can reduce the cooking time by microwaving the empanadas for between one and two minutes - cook for a further 1 to 2 minutes and then bake for 10 to 12 minutes in an oven at 350°F.
Remember that the cooking time will vary dependent on the size of the empanadas. Cut one in half to test.
---
Why do the instructions on some frozen foods say not to thaw them?
There are many reasons why some frozen foods should not be thawed. They include:
The water released during the thawing process can interfere with the flavor and the texture of some frozen foods. Breaded items, for example, can become soggy when cooked.
Frozen foods should not be refrozen. Store-bought frozen foods have been flash frozen so that the ice that forms in the cells of meat or plant-based materials doesn't damage the cells' walls and ruin the food's texture. Domestic freezers only freeze things slowly and, in the process, produce ice crystals that are large enough to damage these types of cells. In effect, it means that once these foods are thawed, they become useless.
Slow and uneven defrosting can cause damage to texture. Also, there is a health risk if the food outer becomes warm while its center is still defrosting. It creates a perfect environment for bacterial growth. It is the reason that it is suggested that the best way to defrost a whole chicken or turkey is by immersing it in cold water.
When foods are cooked from frozen following the manufacturer's instructions, manufacturers can be sure that they are safe to eat. However, when someone defrosts the food before cooking, a manufacturer will not know how long the food has been defrosted, or what method was used to thaw it. It is imponderable, which means that a manufacturer cannot guarantee the safety of their product.
I know of someone who complained of being sick because of a shrimp melt sandwich. But when the health authorities investigated the complaint, they discovered she had left the sandwich in her automobile for four hours in the summer heat.
Unsurprisingly, the authority advised her that the blame was solely hers. Remember the USDA "Danger Zone?"
The reasons that some frozen foods shouldn't be refrozen are not just about food safety. The are other explanations too.
The reheating times and procedures that manufacturers recommend have been arrived at to produce a specific result. The starting point is usually reheating from frozen.
When you reheat frozen foods, especially a variety of frozen foods, the various parts of those dishes may defrost at a different rate.
Many vegetables will become wet and soggy, while others, such as starchy items like rice or potatoes, will not. Gradual defrosting means that water seeps out slowly, makes food soggy, or sometimes results in the food drying but sitting there in a pool of liquid.
Microwaves operate by heating water molecules. They can flash-thaw, turn into steam, or get mixed up with starches that will trap moisture in the food as those starches get hotter.
Modern microwaves do not instantaneously heat an entire dish. They only heat certain sections at any one time, which is why many foods will instruct you to stop and stir the product during the heating process. It helps to make sure the heat is distributed evenly so that the entire dish is properly cooked throughout.
Frequently asked questions
How long are empanadas good for in the freezer?
Although it is recommended to eat empanadas within three months of being frozen to enjoy top quality flavor and texture, as long as they remain frozen at 0°F, you can keep them pretty much indefinitely.

Remember, however, that to make sure they are not damaged during freezer storage, it's best to keep them in a rigid container.
How long can cooked empanadas sit out?
The USDA refers to what they call a "Danger Zone," when it comes to cooked food being left out at room temperature – between 40°F and 140°F. Bacteria can proliferate, making the food unsafe to eat, so it is important to ensure no food is left continuously exposed at room temperature for more than two hours maximum.

At what temperature do you reheat empanadas?
I recommend reheating leftover empanadas in a conventional or toaster oven for approximately 10 minutes at 300°F. I would avoid microwaving wherever possible, as I believe it impairs both flavor and texture.


What do you eat with empanadas?
Empanadas are delicious little snacks in their own right served with one or two dipping sauces. If the empanada is stuffed with meat, you can always add a green salad side. However, if you have a craving for something more substantial, you could serve them with some beans, a summer bean salad, refried beans, or perhaps some Spanish rice.
How do you keep empanadas from getting soggy?
The best way of keeping your empanadas from becoming soggy is to ensure that the filling is not too wet. If it is, it will make the dough soggy.

A good way to take some moisture out of empanada's filling is to put it into a fine-mesh strainer and leave it to drip for an hour or so.

Letting the filling cool or even refrigerate it for a short while before wrapping it in the pastry is also a good idea.
How do you defrost Goya discos quickly?
For convenience, I often use Goya discos. They come frozen, and to get them ready for use, simply cut open one side of the package and defrost it in your microwave for 10 seconds.

If they are still stuck together, continue to defrost in 10-second bursts until it's easy to separate the circles. When they reach that point, allow them to sit at room temperature for approximately 10 minutes.
What are Goya discos?
GOYA® Discos (Tapas Hojaldradas) are ready-made discs of dough designed to take all the hassle out of making your own turnover pastry. Once unfrozen, they are ready for immediate use and can be filled with whatever takes your fancy, be it a sweet or savory filling.
Can you eat empanadas cold?
Yes, you can, but please note. Fried empanadas are best eaten immediately after cooking while they are still hot. Baked empanadas, or "empanadas al horno," are usually cooked in advance and then reheated. They can also be eaten cold.