For those of you who don't know what empanadas are, they're like the original hot pockets or pizza rolls and look like a distant cousin to the Eastern European pierogi, but fried or baked and not boiled.
Watch How to Make These Empanadas Recipe:
Credit:
theforkbite
Of course, empanadas have a beefy filling, too. These delectable little pockets of yummy-ness can start a family tradition that your kids will remember forever.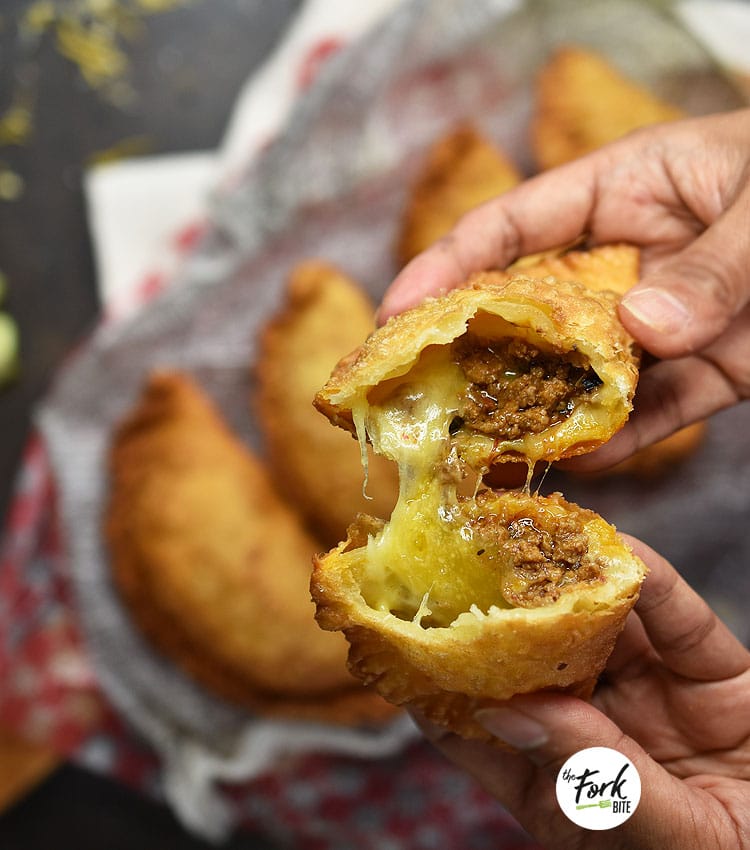 I found several tips that make adding empanadas to the menu even easier. The first is simple. Make a huge batch and freeze them.
While Martha Stewart says to individually wrap them in plastic, put them in a freezer bag and freeze them for up to three months.
I actually freeze them on a cookie sheet until frozen, toss them in a freezer bag and as for the three months…
I don't even date them because they normally barely last a month at my house.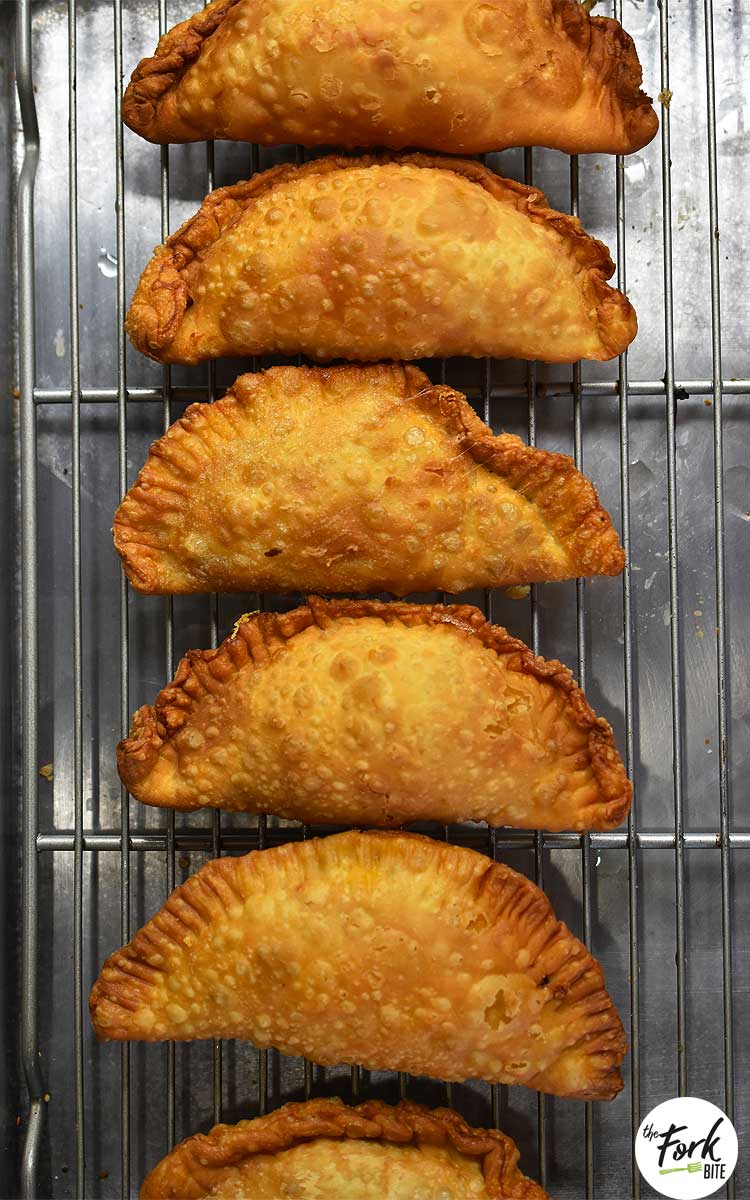 This recipe allows you to make baked or fried empanadas. If it's summer and turning on the oven is out of the question, you can fry them.
It also provides a guilty delight for me, since I don't have fried foods very often.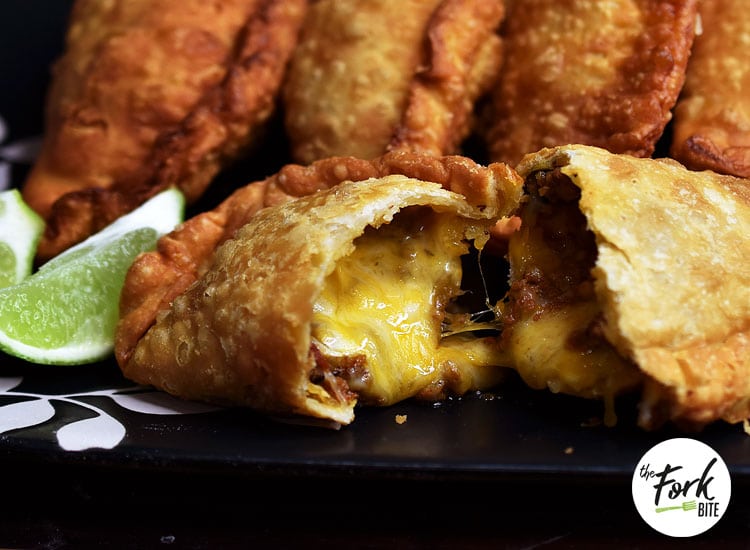 For a more grown-up—healthier version—or during the winter, you can bake the same empanadas in the oven.
The baked version is also great if you're taking these to a family celebration and have the oven space. Clean up is far easier.
Empanada Dough
One last tip that is so important and one that many people may already know if they've worked with dough, refrigerate the dough for about an hour or longer before you start rolling it and cutting it in circles for the empanadas.
It's less sticky and cooperates far better.
After you cut enough rounds to work with easily, put the scraps back in the bowl and put it back in the refrigerator to firm.
You'll need less flour so your dough will be flakier and less tough.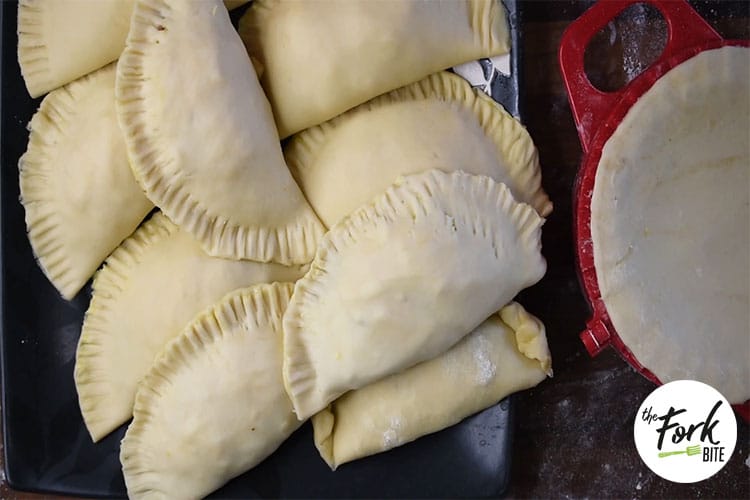 I don't care how old you are or how mature, these are so tasty that you'll love picking them up with your fingers and eating them.
They make a great meal by just adding a salad or you can use them as a late night snack.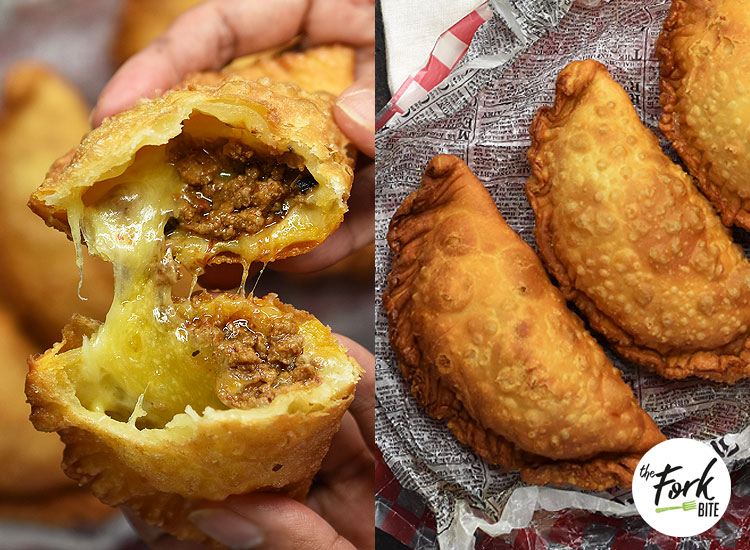 I'm personally trying them with different dipping sauces, just to see how the flavors blend, but it's only to experiment.
I love them plain and so will your family. You can check my Shrimp Shumai recipe as well.
Empanada Beef and Cheese Recipe
Category: Appetizer

Cuisine: Latin America

Empanadas Recipe - These delectable little pockets of yummy-ness can start a family tradition that your kids will remember forever.
For Empanada Dough:

2 ounces (1/4 cup) lard or vegetable shortening, melted
3 cups flour, plus more as needed for kneading and rolling out the dough
1 cup hot water
For Fillings:

3 tablespoons neutral oil, plus extra for baking and/or frying
1½ pounds ground beef
1 red onion, finely diced
2 cloves garlic, minced
¼ cup minced Spanish olives
2 red holland chili peppers, minced (optional)
2 sun-dried tomatoes, minced
2 teaspoons cumin
½ teaspoon paprika
¼ teaspoon cayenne pepper
¼ teaspoon annato powder (optional)
¼ teaspoon chili de árbol (optional)
1 pack raisin (optional)
1 teaspoon sugar
½ teaspoon salt
¾ cup water
3 tablespoons tomato paste
8 ounces melting cheese of your choice
Instructions
For Empanada Dough:

In a mixing bowl, sift the dry ingredients and add the melted lard or shortening, flour, and hot water. Mix it until it comes together into a smooth ball of dough, adding a little more flour if necessary. Refrigerate the dough for one hour.
For the Fillings:

Heat the oil in a frying pan over medium high heat. Brown the ground beef. Add the onion and garlic and cook until translucent. Next, add the olives, the chili peppers, the sun-dried tomato, the spices, sugar, and salt. Stir to combine, and let cook for an additional few minutes.
Add the water and bring to a boil. Add the tomato paste, stirring thoroughly to dissolve it, and let cook until the water has cooked off and the filling has thickened. Sprinkle some raisins (optional). Remove from the heat and cool completely.
Prepare the Dough:

Roll the dough into a ⅛-inch layer. Using a round cookie cutter in the size of your choice cut out as many rounds as you can. I'm using here my Empanada mold.
For each empanada, spoon filling into the middle of the dough and top with a generous amount of cheese, ensuring you have enough margin around the edge of the dough to fold it over. Brush the edges using egg wash to seal the empanada.
Fold in half and crimp the edges, either with a fork. Repeat these steps with all of the dough rounds.
Bake or Fry Them:

Heat the oven to 400 degrees, if you are baking the empanadas. Brush the empanadas with oil / egg wash prior to baking, and bake for 10-15 minutes. If you are frying the empanadas, heat a small, deep pot with enough oil to submerge a couple empanadas.
Heat the oil to 350 degrees, and fry the empanadas until golden brown. Transfer to a wire rack lined with a paper towel to drain.
Eat these empanadas on their own or with a nice salad!
Notes
1.) You can store uncooked empanadas in the freezer using airtight bag. Bake them in a 350° oven without thawing.

2.) If you want to bake the empanadas: Preheat the oven to 350°. Beat 1 egg with 1 tablespoon of milk. Evenly space the uncooked empanadas on 2 baking sheets and brush with the egg wash.
3.) Bake in the upper and lower thirds of the oven for about 25 minutes, until golden brown.

(adsbygoogle = window.adsbygoogle || []).push({});

https://www.theforkbite.com/empanadas-recipe/