Here's one trick on how to reheat potstickers and make them extra crispy. Nothing beats that satisfying feeling when those browned coatings shattered with a poke of a chopstick. If you love Chinese, dim sum-style dumplings (as much as I do), knowing how to reheat them will be high on your priority list, especially when the cravings take you.
As it's a subject close to my heart, I have done considerable research and experimented with my findings. The result is that I now know how to reheat potstickers to perfection, and if you would care to read on, I am happy to share my findings with you.
Jump to:

Whenever I get a craving for potstickers (something that happens quite a lot I have to admit), I make a bee-line for my freezer and seek out the zip-top freezer bag I keep the little darlings in. With my newly learned knowledge on the best way to reheat frozen dumplings, within 20 minutes (sometimes less), I am enjoying one of my all-time favorite snacks.
Although I have learned how to make my potstickers, I usually have a bag of shop-bought ones in the freezer for unforeseen emergencies, like when I have run out of my homemade ones and haven't yet had the time to make another batch. Either way, homemade or shop-bought, they freeze equally well.
---
What are potstickers?
You may have come across potstickers or Jiaozi (Chinese: 餃子) on your local Chinese restaurant's menu and wondered what they are. If you haven't yet discovered the delights of potstickers, they are steamed Chinese dumplings. They are made from round wrappers stuffed with a variety of fillings, the most common of which is pork and cabbage.
They are small to medium in size and can be eaten in two or three bites. You usually eat them after dunking, then in a soy or rice vinegar dipping sauce. The wrappers (typically homemade) are a little on the thick side, and they contain a soft, delicious filling.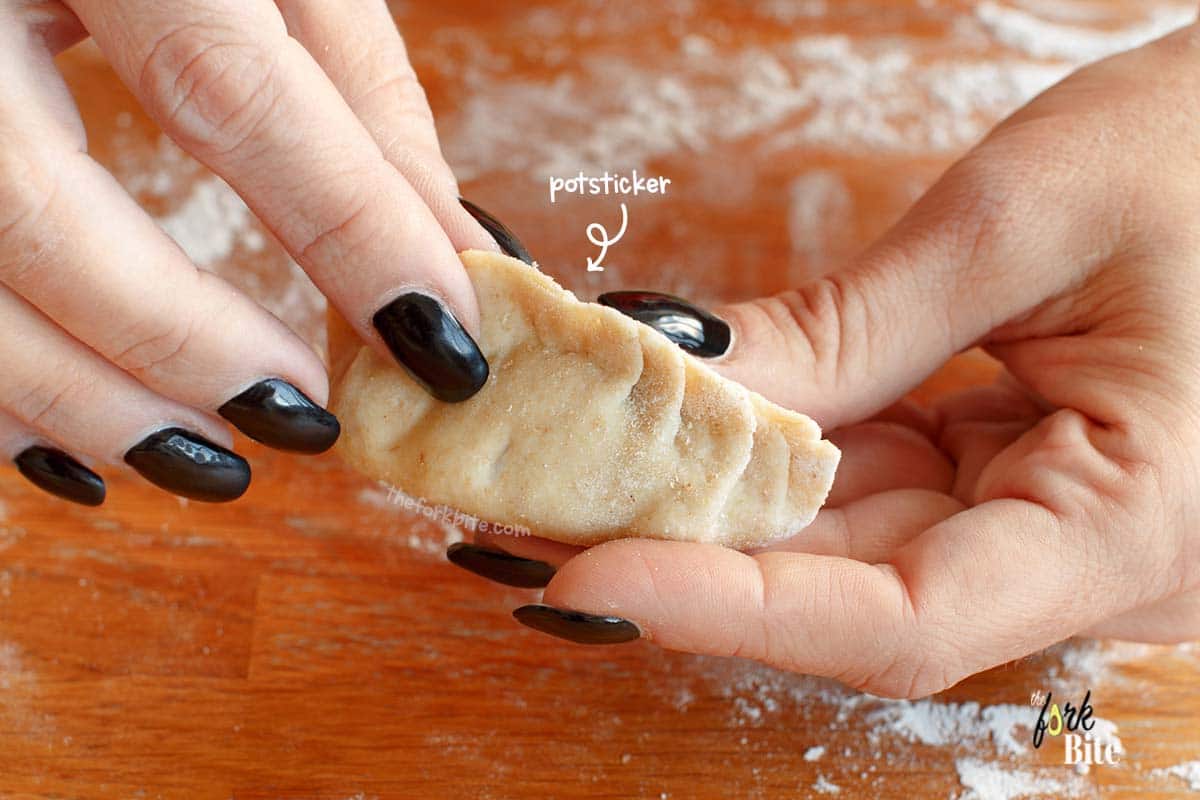 Chinese restaurants usually pleat potsticker wrappers to seal the filling in. You don't have to do this if you are making them yourself, just as long as seal them in one way or another. Simply folding and pinching the edges will do the job.
Potstickers differ from other Asian dumplings in as much as they are first lightly browned in oil. Then they are suspended over a pan of boiling water and steamed until the filling is cooked through. The pot is then uncovered, and the dumplings left to pan-fry so that their bases get crispy.
This cookery method is known as steam frying, and it is what gives potstickers their characteristic juicy texture. The name is something of a misnomer, as sticking to the pot is the last thing you want them to do.
---
Ingredients of potstickers
Potstickers are small, soft, doughy dumplings that have a variety of fillings. Typically, the stuffing is made from minced meat and vegetables - cabbage, garlic, ginger, mushrooms, and onions.
Traditionally, the meat is ground pork but you can substitute with any protein you prefer. Potstickers are sometimes steamed above chicken broth for extra flavor and get served with a choice of dipping sauces made from chili, rice wine, rice wine vinegar, sesame oil, and soy.
---
Store-bought vs homemade
As I said, both the DIY or store-bought dumplings, or siu mai, or bao (just showing off my Chinese language skills), freeze equally well, but you have to treat them slightly differently.
The ones you buy are usually found in the frozen food section of the supermarket or Asian store.
Note: Give the bag a quick shake when you pick it up to make sure the dumplings aren't stuck together. You need to get them home before they defrost, so pack them in a cooler bag or a bag with other cold items around them, and hurry back home as quickly as you can.
If they do thaw in transit, you are in trouble. Not only will they clump together, but you shouldn't refreeze frozen food once it has thawed. Assuming you get them back still frozen, put them straight in the freezer.
When you make your own gyoza (I know some Japanese too), you need to pre-freeze them separately to avoid them sticking together. Lay the dumplings out onto some parchment-lined baking sheets and freeze them until they're hard. Then you can put them all together into one zip-lock plastic bag and place them in the freezer.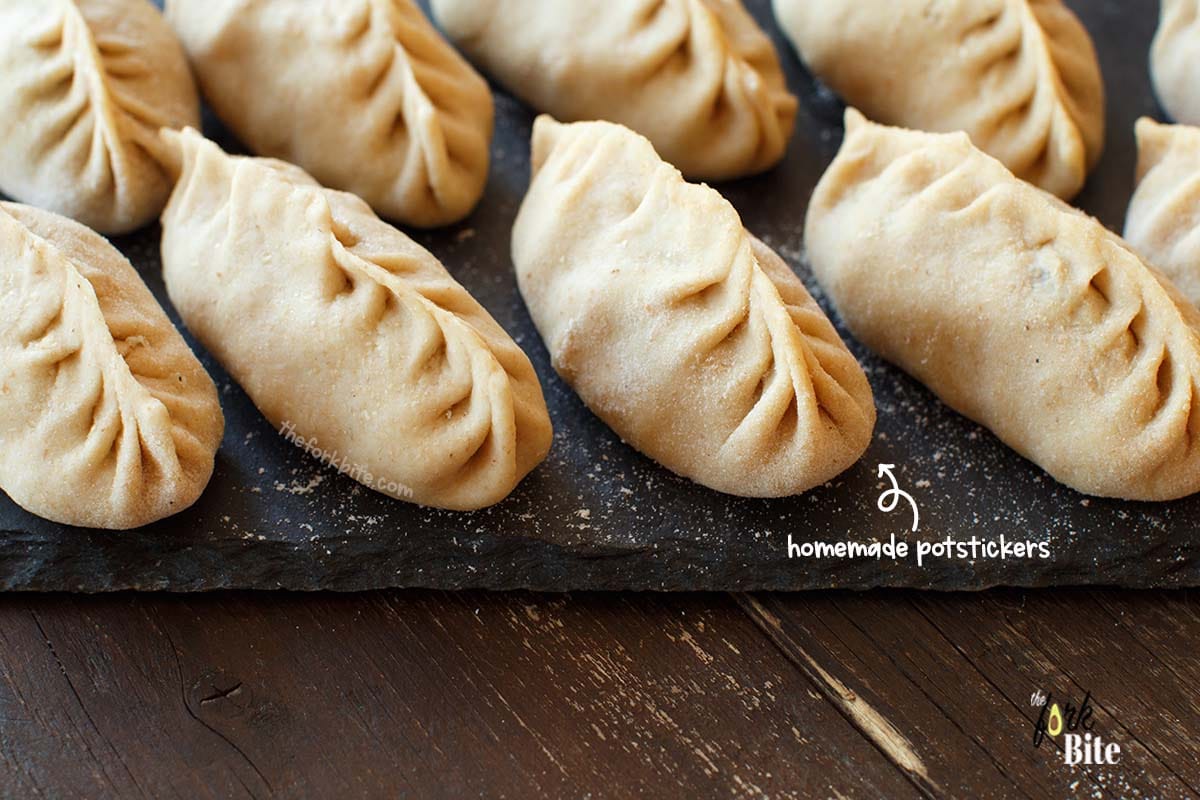 Use a similar technique if freezing Chinese spring rolls, eggrolls, and Filipino Lumpia. They will all keep nicely for up a month or so.
The skins of Siu Mai and har gow dumplings (also known as xia jiao in Cantonese) are quite delicate, so handle them with a little more care. When I feeze my homemade ones, I put them into a freezer container for a little extra protection.
---
Are dumplings best reheated from frozen or after defrosting?
Reheating potstickers immediately after taking them out of the freezer is not the best thing to do - even though you might be planning to poach them and drizzle with chili oil and soy sauce.
Unless you keep a careful eye on them, they might clump together and stick to the pot you're boiling them in.
When you take the dumpling out of the freezer, it's best to let them sit for 10 or 15 minutes to part thaw. In the meantime, you can prepare the dipping sauce or set the steamer up. Partial thawing will help to make sure they cook evenly.
If any little ice crystals cling to the wrappers, wipe them off when you take the dumplings out of the bag.
It's best to lay them out on parchment paper with dumplings like potstickers and gyoza and dust them with flour. It will help to prevent them from sticking together in the pan. If they do stick, it's a bit of a nightmare.
I recommend lifting them every 5 minutes or making sure they don't get stuck to the parchment.
If you spot any splits in the wrappers, let them thaw a little until the wrappers get soft and potentially mushy. Then you can carefully and gently smooth the crack closed with your finger. If you can't reseal the dumpling, discard it and get a replacement.
Spring rolls, eggrolls, and lumpia are inherently moist and can be partially defrosted prior to frying.
But with siu mai and har gow that you intend to steam, you should place them on lightly oiled parchment paper in your steamer tray. The less you have to handle these delicate little dumplings, the better.
Bao type dumplings are a little easier to handle and can go straight from thawing into the steamer or microwave.
It's incredible how diverse Asian potstickers or dumpling characteristics can be - especially the composition of the skins, and it's this that determines how they will fare after freezing. Each type of dumpling has it's own peculiarities, and the sooner you take this on board, the better.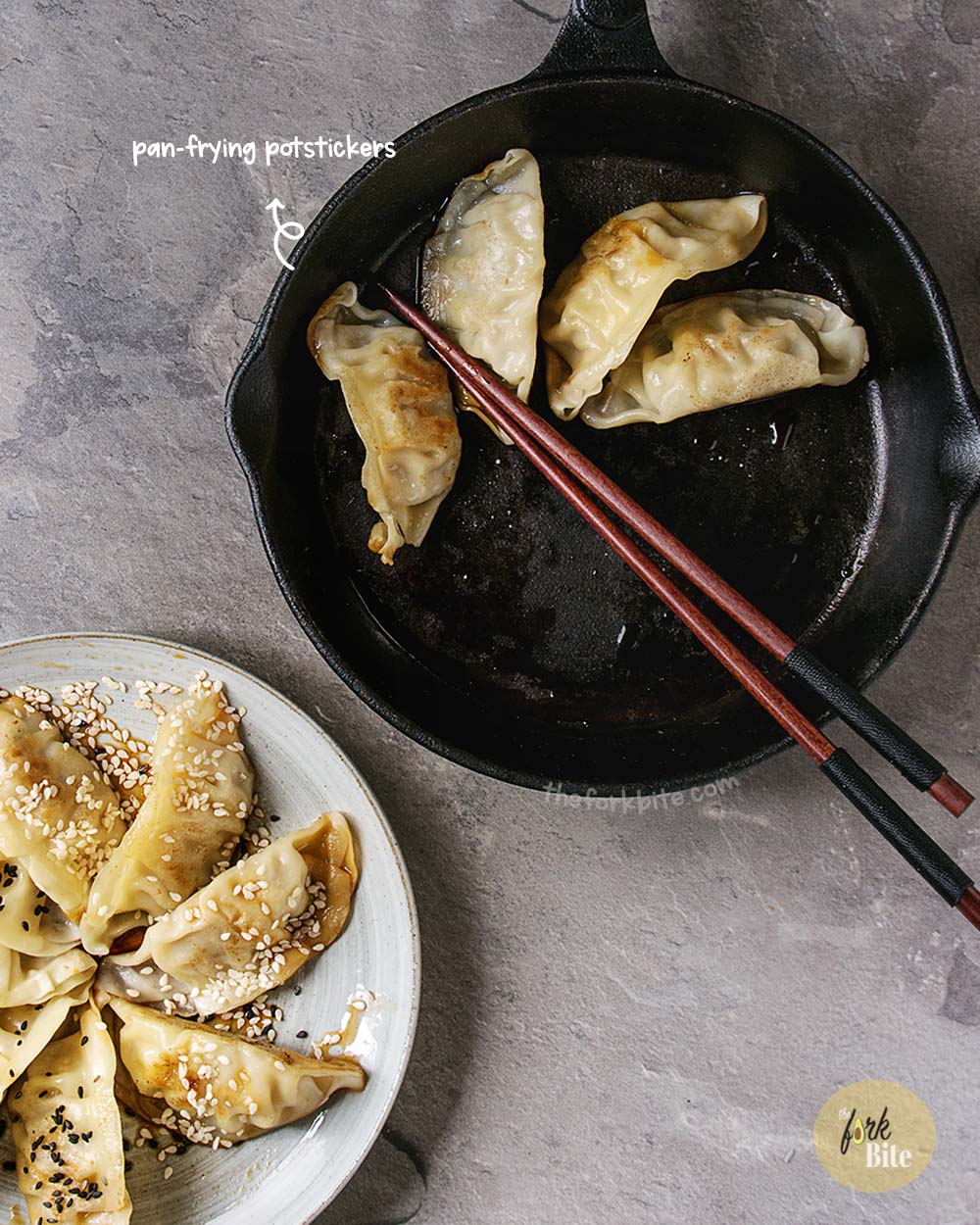 ---
Freezing freshly made dumplings
To freeze fresh dumplings, you first have to make them, unless you can buy uncooked potstickers from a local restaurant or store. The key is freezing them individually and packaging them in a way that keeps freezer burn at bay.
Place your fresh dumplings on a baking sheet with a rim, and that line with parchment paper, or alternatively put them on a large plate that has been pre-dusted with some cornstarch or flour.
Position the tray of dumplings, uncovered, in the freezer, and give them about half an hour or so to completely freeze.
Once frozen, put them into a zip-lock freezer bag and squeeze out as much air as you can before zipping closed. They can be stored in your freezer this way for as long two months.
Freezer burn is what happens when ice crystals turn directly from ice into water vapor. In other words, the liquid water phase is missed altogether.
The technical term for this process is sublimation. This process can be managed by limiting the airflow around the dumplings. Zip-lock bags allow air to pass through the plastic slowly. However, they are not suitable for long-term freeze storage.
---
Quick note:
Make sure that the zip-lock freezer bags you use are the heavy-duty variety - designed to ward off freezer burn. You can get away with a standard thickness freezer bag, but only if you wrap it tightly in two layers of aluminum foil. This is an effective way of blocking any airflow.
---
How to reheat potstickers
1.) The easiest method: Boiling dumplings
How do I cook frozen dumplings? Though not the fastest because you first have to wait for the water to boil, is boiling dumplings.
When boiling dumplings, you must first fill a large pot two thirds full of water. Put the lid on and heat on a high heat setting until the water boils.
Carefully put in as many frozen dumplings as will form a single layer. Bring back to the boil and let them cook until they rise to the surface. The dumplings will be ready and cooked once they start floating.
Cook them further for 30 seconds or one minute if you like (* but this optional). Gently fish them out using a strainer. Drain them and serve.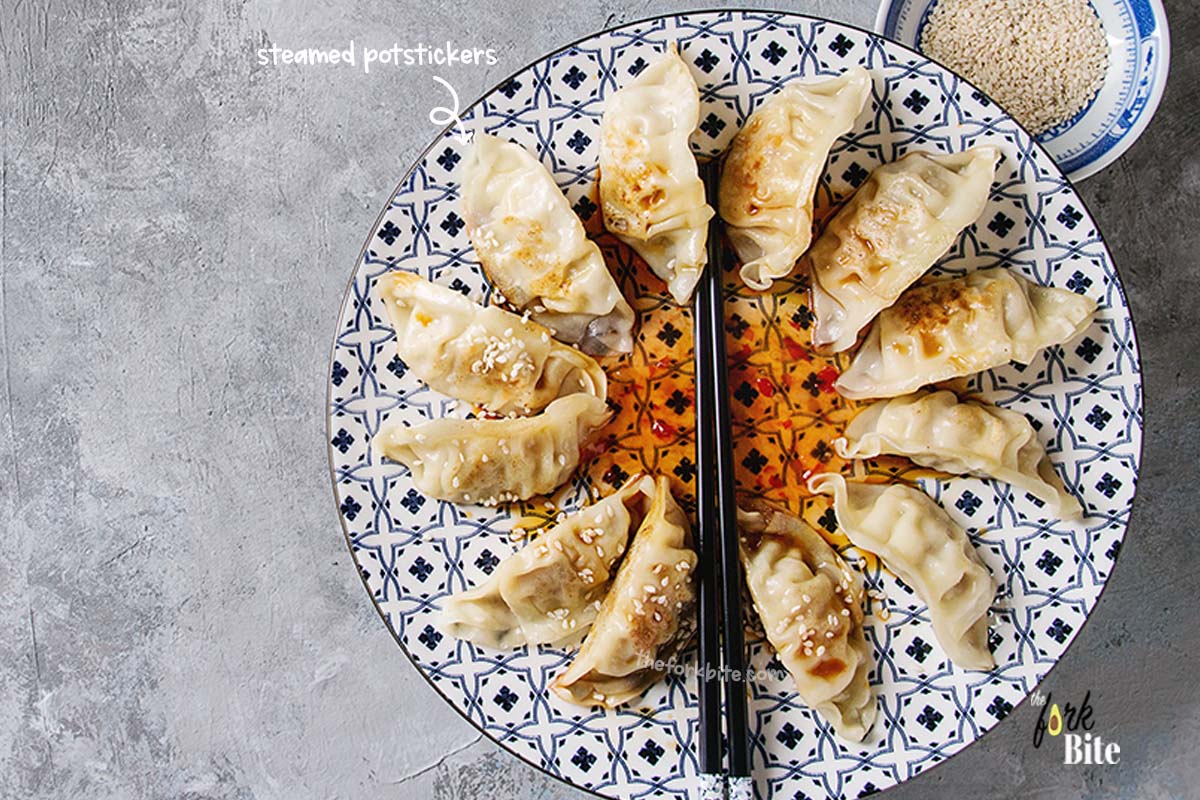 ---
#2.) The fastest method is to steam dumplings.
How to steam potstickers. It's quicker because instead of boiling a pan two thirds full of water, you only need to boil a few cups worth. From a texture point of view, steaming makes the skins more firm and elastic.
For me, this firmer texture is better than the softer texture that boiling imparts. The only issue is that you need a bamboo steamer to fit into your wok or pan.
If you love potstickers as much as I do, it's a worthwhile investment. When not using them for steaming, you can put them to use stack-storing potatoes and alliums.
---
A word of warning.
Frozen dumplings have a habit of sticking to the inside of a bamboo steamer. You need to line it first. One of the best ways I found of lining my steamer is to use Napa cabbage. It works a treat and, of course, when you're done steaming, it's edible.
As an alternative, you can use parchment paper to make a breathable, non-stick surface. Once you've done it a few times, you'll find it quick and easy to do, although when finished, the parchment doesn't make good eating.
---
Here's how to create a bamboo steamer insert:
1

Fold in half

Take a sheet of parchment paper and fold in half, ensuring that the folded section covers the full length and width of the steamer.
2

Fold in half again

Fold in half the other way, making a rectangular shape.
3

Fold into a triangle

Fold the rectangular-shaped parchment into a triangle. The tip of the triangle will be what was the center of the flat sheet before you began folding.
4

Continue Folding in Half

Fold the triangle in half twice more so that you now have a long, thin triangle. What you have done is to create a folded funnel.
5

Trim the Back End

Hold the skinny triangle over the steamer bowl so that the pointed end is above the center of the bowl. Cut the back end of the triangle above the rim of the bowl so that it will neatly fill the inside of the steamer when it is unfolded.
6

Trim the Center

Cut off the end tip of the triangle so that when unfolded, you will have a hole in the center of the parchment lining.
7

Cut vents

Cut out a line of tiny triangles along the long edges of the triangle. You are making small vent holes so that when unfolded, your parchment funnel or lining will have a pattern of holes allowing steam to rise through it and envelope the dumplings.
8

Unfold and insert

Now, the magic moment. Unfold the shaped and cut parchment lining, and place it into the bamboo steamer base. If you've done it right, you will now have a perfectly lined steamer bottom.
It might sound a little complicated, but when you've done it a few times., it will be second nature.
9

Add dumplings and steam

Put the dumplings into the lined steamer base and locate it to sit on top of a wok or pan with about one inch of water. Put the lid on the steamer and turn the heat up under the pan to vigorously boil the water. Steam the potstickers until ready. If the dumplings are destined for the freezer, steam them for about 10 minutes.
---
#3.) Want Crispy Dumplings? Use the Classic Steam-Fry
If you prefer crispy dumplings, you need to steam-fry them. It's the traditional way of cooking Japanese style gyoza, or Chinese style guo tie.
How to make pan fried dumplings
1

Pan-fry

Without turning the heat up, add two tablespoons of vegetable oil to the bottom of a non-stick pan or cast-iron skillet and turn heat over a medium setting until the oil starts to shimmer. Add a single layer of dumplings or gyoza. Ensure to place the potsticker's bottom (flat side) into the bottom of the pan.
---
2

Add the water

Turn the heat up to medium-high, pour water into the pan until it comes halfway up the side of the potstickers (you can adjust the amount of water depending on the number of potstickers you want to cook).
---
3

Cover and allow to steam

Cover the pan and allow the dumplings to steam until they're cooked through and pan-fry until the bottoms are golden brown. This steaming process ensures that the potstickers are cooked inside and out. It is recommended NOT to open the lid while cooking. From frozen, dumplings will take about seven to ten minutes, depends on their sizes. Before you serve, cut one in half to see if the filling is properly cooked.
---
4

Remove the lid and allow the water to evaporate

Once the water almost evaporated (approximately 7-10 minutes), the bottoms of the potstickers are going to start frying. Remove the lid and continue to cook until the remaining water vaporizes. By then, you can adjust the heat to a medium setting.
4

Let the pan-frying begins

Let the potstickers fry for about 2-3 minutes or longer (depends on how crispy you want them to be). Check the bottoms if they have to turn to a golden brown. But remember, don't fry them too long as they get burnt easily. Once the bottoms have turned to a golden brown coating, you can use a spatula to flip them all. Serve them upside down on a plate. You can dunk the potstickers in a blend of sesame oil, soy sauce, and chili sauce.
Note:
Double frying gives them an extra crispy bottom, soft top, and tender fillings. When you buy ready-made, frozen dumplings, the instructions on the packaging usually miss the first fry. I think it's well worth doing, however, for that super crispiness.
---
How to get that extra crispy potstickers bottom?
To add a lacy skirt to your pan of dumplings, just replace the water in that last step with a slightly thickened mixture of flour and hot water (two teaspoons for every ⅓ cup), then pour it over the dumplings before covering the pan with a lid.
After five minutes on medium heat, the lid can be removed so the remaining water evaporates, which leaves behind footprints of the bubbling slurry that transforms into a crunchy layer of skin.
Served upside down on a plate, that beautifully browned coating gives way to a satisfying shatter with the poke of a chopstick, ready for a dunk in a blend of soy sauce, sesame oil, and chile flakes.
---
How do you pan fry dumplings without sticking?
Of course, the best way to pan-fry dumplings without sticking to your pan is to invest in a nonstick pan; however, if your budget says otherwise, you can try this handy hack.
Try this water droplet trick to ensure your pan is at the right temperature to avoid dumplings from sticking when you pan fry them.
Heat your pan, splash a few droplets of water and check how the water reacts.
If the water droplets sit and start bubbling, the pan is not hot enough.
If the droplets hiss and spit, evaporating immediately, it's TOO hot.
When the droplets stay in a single ball and roll around, your pan is the PERFECT temperature to add your oil. Then, follow the instructions on how to make pan-fried dumplings above.
---
#4.) The absolute fastest: microwave and fry
Sometimes I just can't wait to steam-fry potstickers. My craving gets the better of me, and I need the fastest fix there is, so I turn to the good old microwave. It may not give the best result, but it's the absolute quickest and still delivers, a crispy, deliciously fatty snack that is always a great delight.
1

Add dumplings and water to a microwave-safe container

Put the dumplings into a microwave-safe container and add enough water to come halfway up the side of your potstickers.
---
2

Cover and microwave

Cover the container or bowl with a microwave-safe plate or lid and heat on high power for about three minutes or until the dumplings are properly cooked through.
---
3

Preheat a skillet

While microwaving, put two tablespoons of vegetable oil into a non-stick pan or cast-iron skillet and heat on a medium heat setting.
---
4

Drain and dry

Take the dumplings out of the microwave, put them onto a plate, and wait for 15 seconds. This allows time for any surface moisture to evaporate. If you don't do this, any water left on the dumplings will spatter when they hit the skillet's hot bottom.
---
5

Fry the dumplings

Put the dumplings into the skillet, right side up. Cook, swirling all the time, so they don't stick to the bottom of the pan, and they get lovely and crispy on the bottom. If you like them crispy all over, you can toss them while cooking.
---
6

Serve

Serve with the dipping sauce of your choice.
From freezer to mouth in five minutes flat. How's that? Not bad, huh?
---