If you're planning on cooking chicken for dinner, but you forget to take it out of the freezer in time, it can be pretty frustrating.
It's even worse if you need individual chicken joints only to find that they are all frozen together in one clump. So, what's the best thing to do?
One answer is to take your clump of frozen chicken pieces and hold it under the cold-water tap. Let the water run until you begin to see the ice melting between the seams where the chicken pieces have frozen together.
Jump to:
Once the ice begins to melt, you can then prise a knife between the pieces to see if you can force them apart.
However, you need to take care so that the blade doesn't slip and injure you.
I have to admit that forgetting to defrost the chicken in time has happened several times, so I decided to experiment and try a few different separation methods. I want to share the results with you.
---
How to separate frozen chicken (4 ways)
I confess that the first time I tried separating pieces of chicken frozen together with a knife, it struck me that it was a slightly dangerous thing to do.
What would happen if the knife slipped or if the blade broke? I could and up with a nasty gash.
Luckily, neither of these things happened, but nonetheless, I do strongly urge you to take care.
Now, back to the plot.
I decided to buy a value pack of chicken breasts from a local store and freeze them individually in freezer-safe Ziploc bags.
Before doing this, I checked them out to make sure they were approximately the same size and similar shapes.
The point was to see how quickly I could defrost the chicken and what its quality would be like after it had thawed.
The results were different depending on the processes I used.
Some methods produced quick results, but I ended up with grey horrible-looking chicken flesh. While others were lengthy processes but gave me nicely defrosted chicken lovely and pink and ready for cooking.
I took these criteria into account and how easy the process was in concluding which methods work best.
The method I decided on as being my go-to solution for defrosting chicken was a balance of speed and good quality chicken meat.
Before I get down to the detail, I recommend anyone reading this article to check out the safe defrosting methods article on the USDA website.
Read: Can you Marinate Frozen Chicken
---
Method
1

defrosting chicken in the microwave

There is no faster way when defrosting frozen chicken than using your microwave when it comes to time taken.

The things that concerned me, though, were:
(a) the effect on the texture of the chicken
(b) the danger of it, beginning to cook.
Nonetheless, despite these misgivings, I decided to try it out.
Here's what to do:
Take the frozen chicken out of the freezer and remove the packaging.
Transfer the chicken into a microwave-safe dish and stretch some plastic food wrap across the top of the dish, which I then perforated.
Set the microwave to its defrost function and started the experiment.
Realizing that it would be beneficial to flip the piece of chicken over halfway through the cooking time, I continued defrosting.
I found through trial and error that the optimum time to thoroughly thaw the chicken was approximately 4 minutes.
How it worked out
The chicken was nicely defrosted, but unfortunately, the quality of the meat had suffered. It was a little white around the outside edges, and it looked quite dry as it would do if it had been sitting around for a while.
The white coloration at the edges indicated that the chicken had begun to cook. It also had a slightly unpleasant odor.
My thoughts:
Although the defrosting process was quite quick, I was not happy with the results. It's not so bad if you were going to cook the chicken immediately, but even so, I found the appearance and smell of the chicken to be disagreeable.
If you're up against it timewise, defrosting your chicken in the microwave is a solution, but the quality of the chicken will suffer.
---
Method
2

defrosting in cold running water

This method works on the same theory as defrosting chicken in a water bath, relying on the water to accelerate the defrosting process.

However, instead of leaving the chicken in a bowl of still water to defrost, placing the chicken under a scream of cold flowing water has the advantage of not keeping on changing the water.

This cold running water method is used in restaurant kitchens, but it does seem rather wasteful of water, especially in this day and age of conservation.

I was therefore intrigued to find out if this method is really worth the amount of water it needs.
How it worked out
Once I set up the experiment, I could leave it alone to carry on defrosting, so it was very easy from that viewpoint.
The water just overflowed the bowl and ran into the sink and down the plughole. Whatever you do, don't leave the sink plug in place all you will end up with water all over the place.
Undoubtedly, using the running water method proved faster than defrosting chicken in a bowl of still water.
However, nonetheless, it still took the best part of an hour to defrost completely.
My thoughts:
Although faster than the still water bath, the running water method still took almost an hour and, in that time, wasted a lot of water.
Yes, it saved time over the still water method, but to my mind, the saving of what turned out to be around 30 minutes was simply not worth the amount of water that I wasted. It's not something I will do again.
---
Method
3

Thawing overnight in the fridge

This method is nice and simple. All I did was transfer the frozen chicken straight from the freezer into my fridge, where I left it overnight to defrost.

It was there for nine hours. I left the packing in place so the chicken wouldn't smell up the refrigerator as it thawed.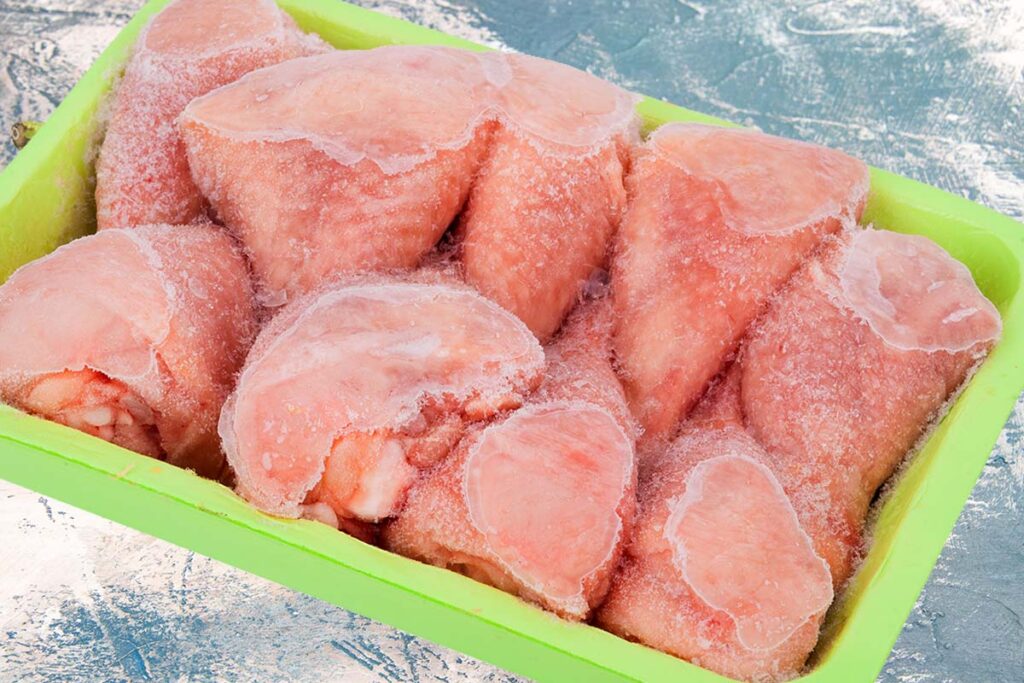 How it worked out
Nine hours after refrigerating the frozen chicken, it had completely thawed and was ready for cooking.
Some liquid had pooled at the bottom of the bag the chicken was in, but not overly so. The chicken breast had thawed through completely, and there was no evidence of it discoloring. The texture was fine, too, so the experiment was a success.
My thoughts:
This method worked perfectly. In the end, the chicken had thawed perfectly, and the meat was nice and pink. The texture of the meat was unchanged.
Although it takes a long time, if you can plan ahead and defrost it the night before, the time taken is irrelevant. It's ready when you need it, and that is the main thing.
The only thing to remember is that I only defrosted one chicken breast. If it had been more, it would have taken longer.
---
Method
4

(my favorite) - A cold water bath

This method involves completely submerging the chicken in a bowl of cold water. By the way, whenever you use water to defrost food, it should be potable (safe to drink).

You leave the chicken in the packing in which it was frozen, so it's pretty straightforward.

You do, however, need to change the water about every 30 minutes or so. It is necessary to prevent it from getting too warm. If the chicken floats to the surface, you will need to weigh it down with a heavy plate or bowl.

You need to ensure that the temperature of the water doesn't rise above 40°F. This will keep the thawing process within the safety guidelines as specified on the fsis.usda.gov website.

The entire process takes around an hour and a half.
How it worked out:
After approximately 90 minutes and three changes of water, the chicken breast had defrosted perfectly. There was absolutely no discoloration, and the texture was perfect. It was totally ready for cooking.
My thoughts:
One annoying problem I found was that the chicken kept on floating up to the surface. I solved this by weighing it down with a heavy plate.
The other slight drag was that I had to change the water three times to keep it below 40°F, but apart from that, it proved pretty easy.
I did worry a little that the water might work its way into the zip lock bag, but that didn't happen. The only water present inside was the chicken as it defrosted, which didn't prove a problem.
The end product was a completely defrosted piece of chicken that was nice and pink with an unchanged texture.
As long as you can remember to start this method of defrosting frozen chicken an hour and a half in advance of cooking, this is my preferred method by far.
Let's now take a little time to review some other methods using different equipment.
---
Using sous vide immersion circulator
The words "sous vide" are French for "under vacuum." They refer to a type of cooking also known as low temperature or long time cooking.
It is not dissimilar to method 4, in as much as you place food into a plastic pouch and cook it in water for a long time at a low, accurately regulated temperature.
For the purpose of defrosting a chicken breast, you can put the chicken into a Ziploc bag, set the thermostat on the sous vide immersion circulator to 38°F, immerse the bagged chicken and leave it to thaw.
This method is fast, and it has the advantage of using less water.
If you're interested in purchasing sous vide immersion circulator, check out the review.com website.
---
Using a pressure cooker to defrost frozen chicken
If you happen to own a pressure cooker, you can use it for defrosting frozen chicken breasts by using the steaming insert and pressure steaming for five minutes on the lowest setting.
It works well. It's also a great way of defrosting those frozen discs of spinach.
---
Food health safety
When you're handling food, you always need to consider food health safety. This is especially true when you're defrosting chicken.
If you don't follow the recommended guidelines, you can end up poisoning yourself or anybody else who eats the food you're preparing.
Salmonella, Listeria, and other bacteria that thrive on food kept outside at room temperature for too long can make you seriously ill.
So please check out the "safe food handling and preparation page" on the USDA.gov website, take it on board, and always practice the best food safety protocols.
Read: How Long Can Raw Chicken Sit Out
---
Cook it from frozen
Yes, there's nothing wrong with cooking chicken from frozen. Even the USDA agrees. You will, however, need to cook it for 50% longer.
If you decide to go down this route, it's important to roast the chicken on a roasting rack or over a pile of vegetables. This creates space so hot air can circulate all around the chicken as it cooks.
Personally, I wouldn't recommend this method for cooking a whole chicken. While it works, I don't find the results that good.
To confirm that the chicken is cooked through properly, you should use a meat thermometer and check that the internal temperature reaches 165°F.
However, the problem with cooking chicken straight from frozen is that it tends to dry up.
One method of cooking chicken from frozen that you should avoid is using a slow cooker or instant pot. The USDA website is emphatic on this point.
It advises that you should completely thaw any frozen meat (including chicken) before it's cooked. It's because slow cookers allow the meat to spend too much time thawing and languishing at the so-called "food danger zone," which is when bacteria can readily multiply.
---
Cooking frozen chicken quickly in an electric pressure cooker
One of the best ways of rapidly cooking chicken from frozen is to use an electric pressure cooker. It doesn't allow the chicken to tarry too long at the dreaded danger zone.
It works best with smaller cuts of chicken (or any frozen meat) but will require a little more liquid or sauce to cook. It's a useful out when you're up against the clock.
---
Tucking into a safely prepared chicken dinner
The best (and the safest) way to cook frozen chicken is to make sure it is thoroughly defrosting first using the cold water method.
Whether you are cooking fresh chicken or frozen, the safest way of making sure it's properly cooked is by using a meat thermometer. Testing several parts of the bird to ensure that the internal temperature has reached 165°F.
Thinking sideways
You can't always get everything right. One time I was making pad Thai. I went to add chicken at the last minute only to discover I hadn't taken it out of the freezer. Luckily I had some extra firm tofu in the fridge. It went down a treat.
---
The dangers of separating trying to separate chicken when it's still frozen
As I mentioned at the outset, I was always very wary about trying to separate pieces of frozen chicken by slipping a knife blade in between them and trying to prise them apart.
Butchers use special band saws, but it's not the sort of thing you're likely to have in your kitchen. It would be weird if you did.
You can buy butcher hand saws if separating frozen chicken is something you do regularly. I have heard people using a sharp metal cleaver and even a hammer and chisel, but both are potentially dangerous.
You could always try slamming the frozen chicken down on a solid work surface. Ice is quite brittle, and it might work.
The other trick, of course, is to freeze the pieces separately in the beginning.
---
Save yourself some hassle and freeze chicken pieces separately to start with
The easiest way to freeze chicken pieces separately is to put them into their own sealed plastic container or freezer-safe Ziploc bag.
Alternatively, you can spread the pieces of chicken out on a breaking tray and flash freeze them. Once they're frozen, you can mix them in one large bag or container without worrying about them sticking together.
---
Is it safe to refreeze thawed chicken?
It is possible to refreeze defrosting chicken but only in specific circumstances. However, you should note that even if you do refreeze it safely, its texture might deteriorate.
If you've taken the frozen chicken out of the freezer and left it out in the open for a few minutes and you can still see ice crystals on it, it is safe to refreeze.
Also, if you defrost frozen chicken in your fridge overnight but it never reached a temperature of above 40°F, you can refreeze it safely within two days.
Another get-out is when you defrost chicken and then cook it. This, too, should be okay to freeze.
But please be warned that you should never refreeze frozen chicken defrosted by using the cold water method or microwave.
---
Final thoughts
Regarding defrosting frozen chicken, it is not easy to strike the right balance between the time it takes to defrost and the quality of the thawed meat.
Read your microwave is the quickest way by far, but the chicken flesh turns an unpleasant grey color, and can, if you aren't careful, start cooking the meat.
Using the fridge to defrost chicken overnight is perhaps the perfect method to use, providing you have the time, and you remember to transfer it into the refrigerator the night before.
If you do forget and you've got the time, the next best thing to do is defrost the chicken in a bowl of cold water, changing the water every 30 seconds to ensure it stays below 40°F.
You will need an hour and a half to complete the process, but at the end of 90 minutes, you'll have a perfectly defrosted piece of chicken, beautifully pink and ready to cook.