The competition for the world's best curries just got more intense. Indian curry, which most Americans first became familiar with, originated on the Indian sub-continent.
Its history stretches back as far as 2600 BC when they found evidence of using a mortar and pestle to pound and grind down the spices during an archaeological dig in Pakistan.
The word "curry" comes from the Indian word "Kari," which refers to a sauce or soup meant to be eaten with rice. The Indian curry that we know today here in the west is a British invention imported during "the days of the Raj," when India was under British rule.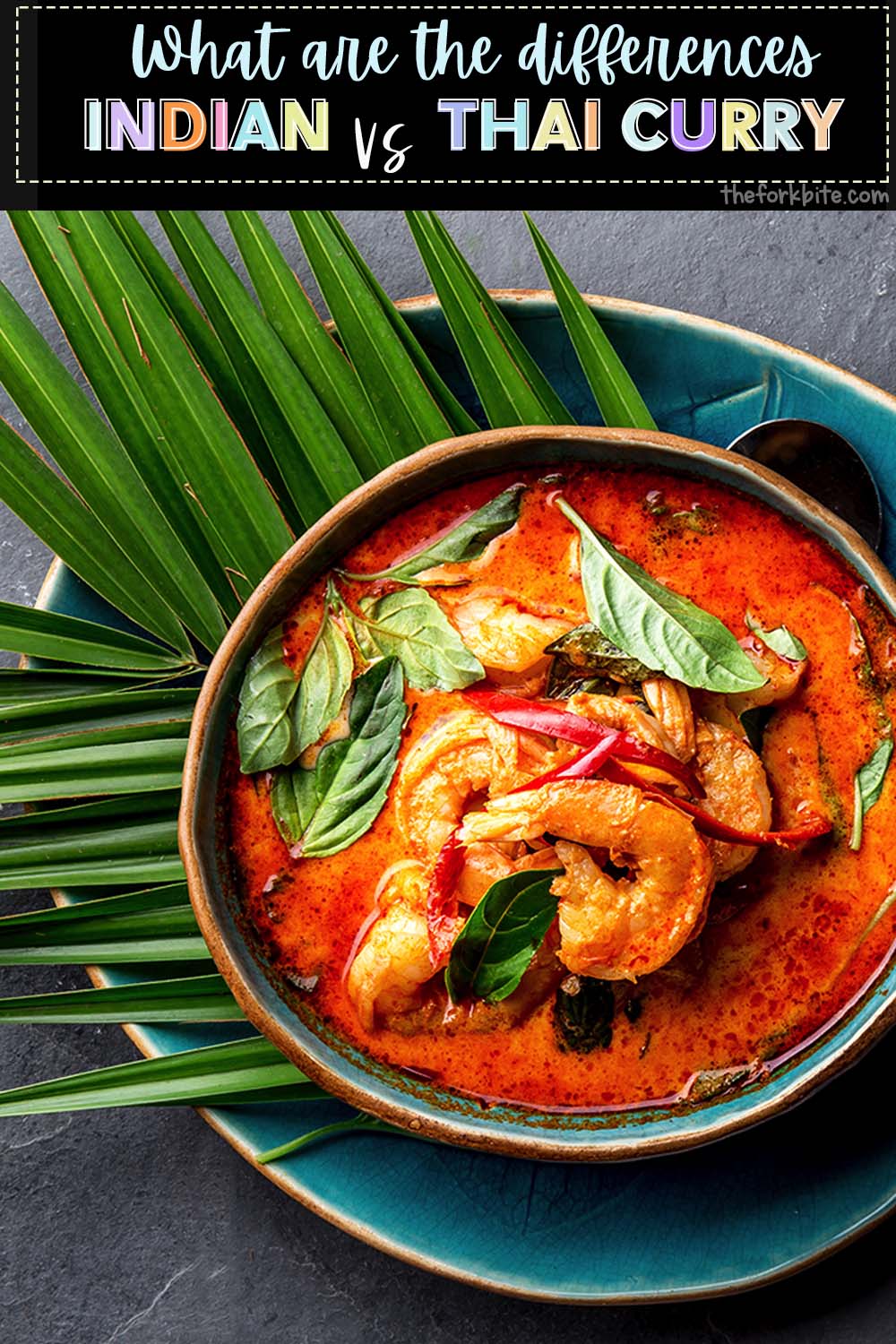 Jump to:

Since then, curry is not just something that the Indians eat and enjoy but has steadily increased in popularity in the west over the decades.
There is a lot of hype about Indian curry. Since it was first introduced in the west, the original recipes have had many small alterations resulting in some truly innovative dishes.
But whereas curry was initially the treasure of India, they no longer have it all their own way. Curries from other nations are now becoming very popular, with one, in particular, leading the rest, Thai curry.
To the uninitiated, all curries are branded as pretty much the same but with a few variations. But true curry lovers like me know that not to be true - not at all.
Here in this article, I'm going to be comparing Indian and Thai curries to lighten your darkness as to their differences. Once you've finished reading, you might like to try making both.
Want to know more? Please read on.
---
Curry explained
In modern-day America, when we talk about curry, we tend to mean any dish emanating from Asia, particularly India and Thailand, that is soup or stew-like.
Curry is usually eaten accompanied by bread, noodles, or rice, depending on the cuisine we are talking about.
The word curry is not native to any non-western countries. As explained above, it's an English word derived from the Indian word "Kari."
Here in the west, our use of "curry" covers most Indian foods made with gravy and similar dishes from other nations such as Thailand.
In the countries from which the dishes originate, the word "curry" is not in their language and is therefore never used.
So, what we now refer to as curries encompass a whole range of dishes that are quite different in terms of flavor, the ingredients used, and how they are prepared.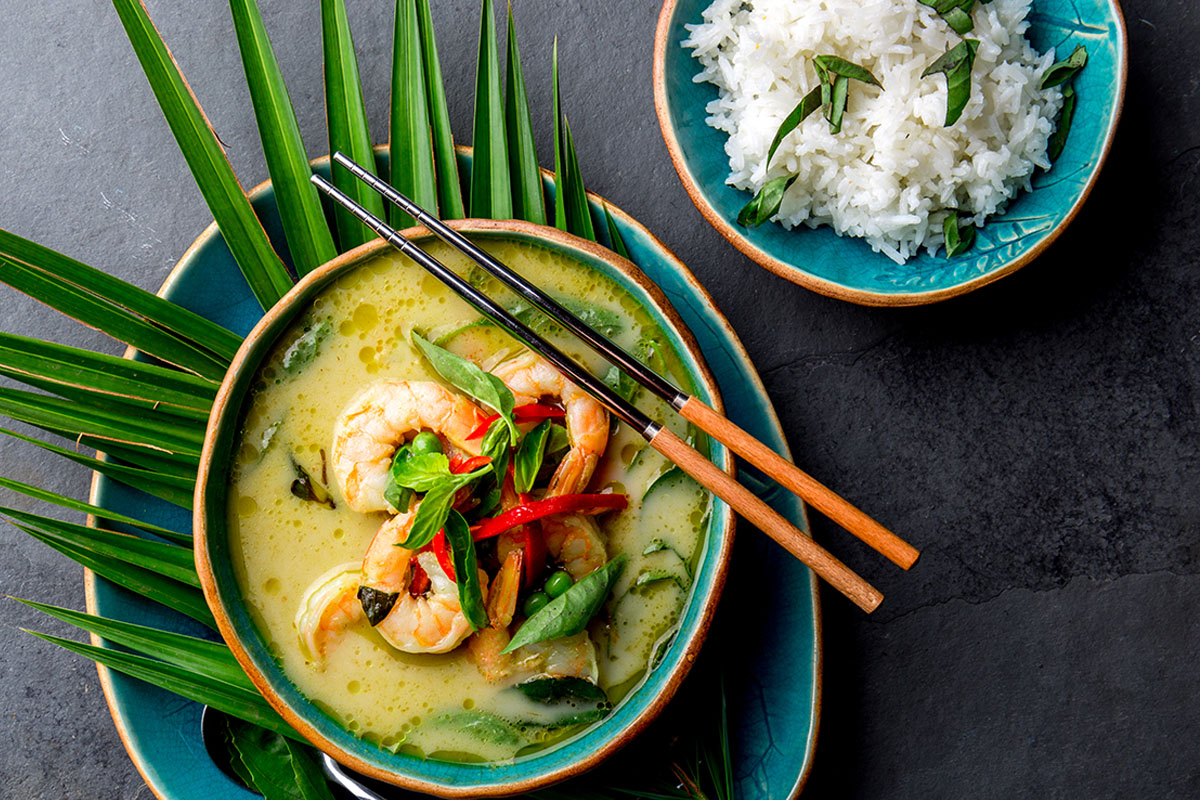 ---
More about the origins of curry
As I mentioned above, the roots of the Indian curry that we are familiar with here in the States were planted in Great Britain who once governed India.
Being part of the Commonwealth, many Indians emigrated and now live in England, and things such as curry powder and Chicken Tikka Masala are British inventions.
In fact, Chicken Tikka Masala has now overtaken the revered Fish and Chips as Britain's favorite dish.
Going back to its origins, authentic Indian curry was made using curry leaves.
But you won't find this ingredient in English or American curry powder. We will examine the ingredients normally used a little later.
Thai curry, which is now a firm favorite in the US, is traditionally made using green, red, or yellow curry paste, or sometimes a Panang curry paste.
The pastes are mixed with coconut milk to create a sauce.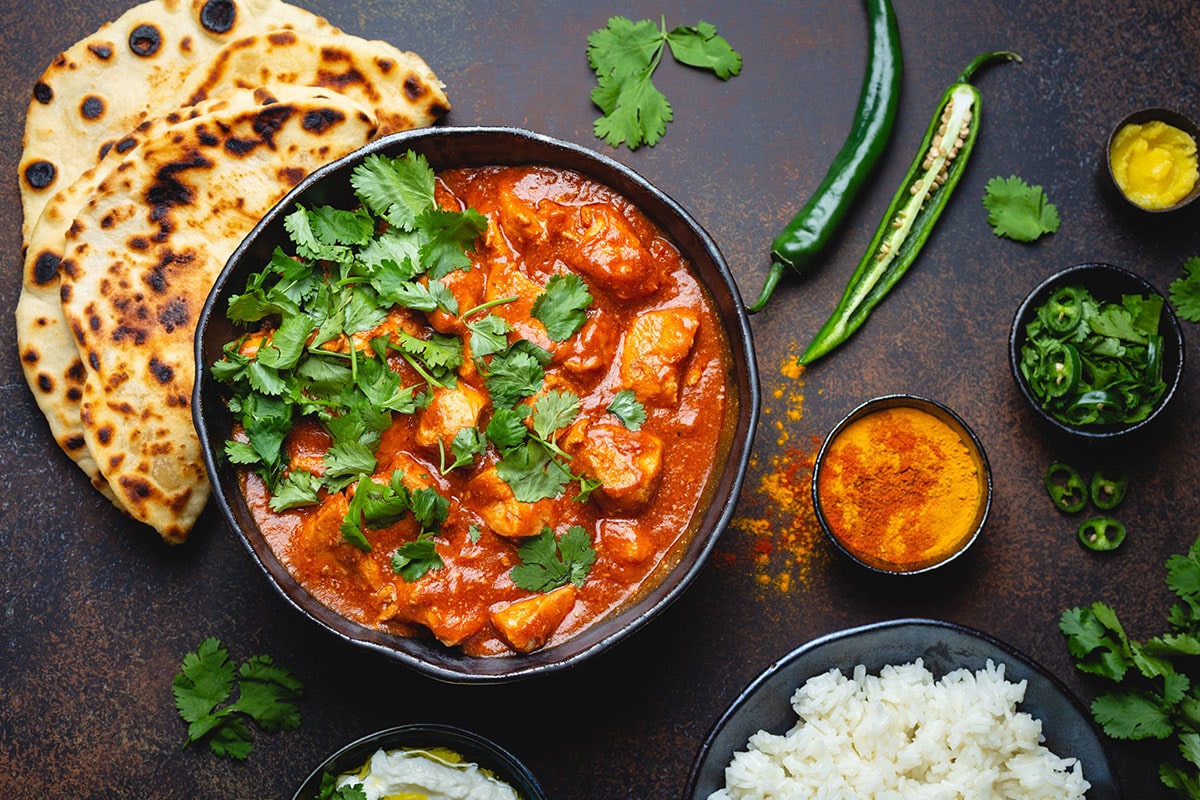 ---
Different types of Indian and Thai curries
When you talk about a curry, you could be talking about any one of dozens of different curry dishes from India or Thailand, or elsewhere.
Colors and flavors of various Thai curries
Depending on whether you prefer your curry very spicy or much milder, the Thais cover all angles.
Most Thai curries have the same flavor base, which centers around galangal, lemongrass, shrimp paste, and many other aromatics, all pounded into a smooth paste.
Many other ingredients are then added to give each curry dish its unique taste.
Thai curries usually belong to one of three color bands - green, red, or yellow.
1

Green Thai curry

The green Thai curry is for those who love spice. The spiciness comes from green chili paste, which gives the curries its vibrant color.

In addition, chefs add fresh coriander (more popularly referred to as cilantro here in the US), the zest and leaves of makrut limes, and Thai basil.

Thai green chicken curry is one of my favorites, and here is a recipe that you can follow.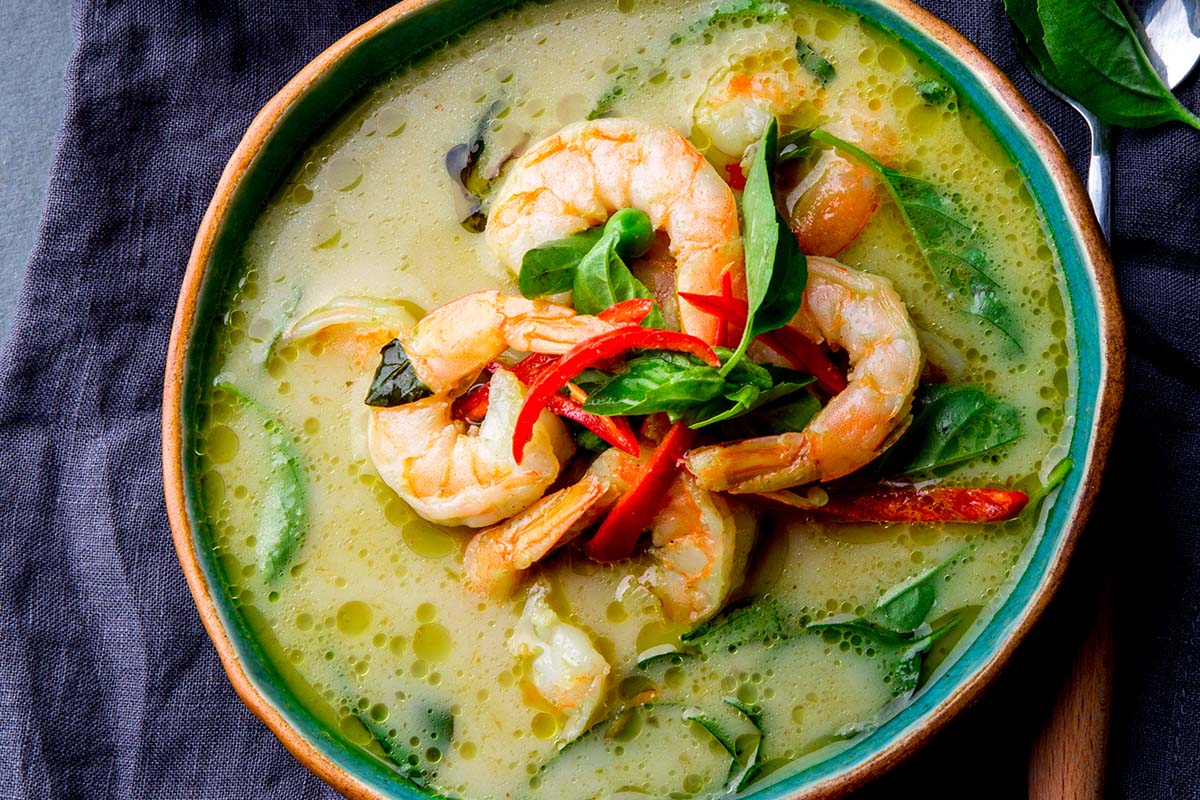 ---
2

Red Thai curry

The red Thai curry gets its color from lots of red chilis, chili powder, tomato paste, and red Thai curry paste.

Here's a great read Thai curry recipe that uses tofu for protein. Try it. It's delicious.
---
3

Yellow Thai curry

The yellow Thai curry is the one to choose if you're not a great lover of hot spice. It still has a delightful spiciness, but it's much gentler and is on the slightly sweeter side.

One of its main ingredients, which delivers its gorgeous yellow color, is turmeric.

If you'd like to try making it for yourself, here's an excellent recipe to try.
---
4

Panang curry

Thanks to the roasted peanuts ground into the curry paste, the Thai Panang curry variant has a great nutty taste. This curry has a more mellow flavor thanks to its delicious coconut base.

Stylewise it is similar to Thai red curry, but it's the addition of the ground peanuts which make its consistency a little thicker and its taste a little milder.

Why not try this recipe?
---
5

Massaman curry

The Thai massaman curry variant is another Thai curry that is not overly spicy but has a rich flavor with a tangy note. It is one of the curry variants that does not list curry leaves among its ingredients.

It is often made using beef as per this great recipe on the templeofthai.com website.

Rather than aromatic spices such as cumin, lemongrass and galangal are combined with tamarind, which gives it a slightly sour note, offsetting the introduction of coconut milk and potatoes.

It's a wonderful one-pot meal that, once tried, you'll eat time and time again.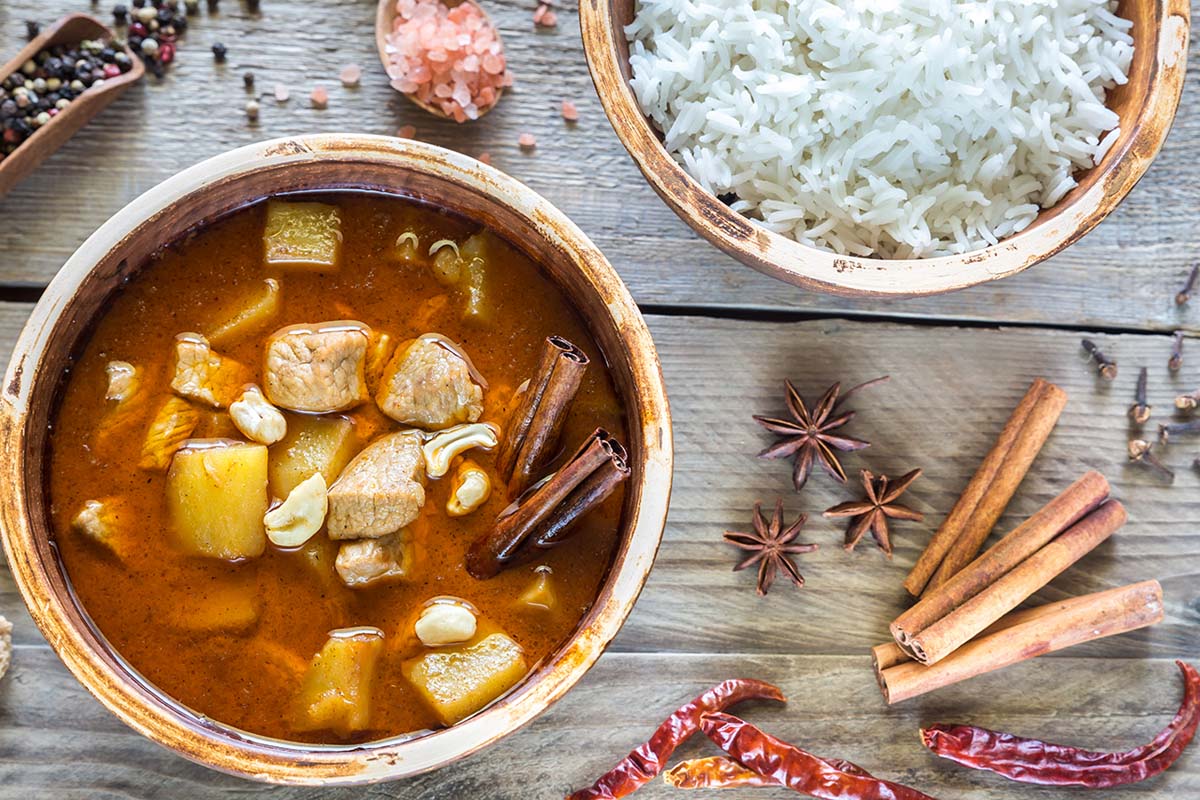 ---
Types of Indian curry
Concerning Indian curries, the proteins can include chicken, egg, fish, lamb, but many can be vegetarian dishes.
Among non-vegetarian curries, chicken curry is probably the most popular, but this depends very much on the region.
Curries originating from South India tend to have curry leaves, coconut milk, and tamarind among their ingredients.
The population of India is enormous and diverse, so it comes as no surprise that there are so many different types of Indian curry. You're sure to find one that suits you.
Here is a quick overview.
---
1

Korma Indian curry

Heat-o-meter scale: Extremely mild

Korma originates from northern India and what is now Pakistan. It is often made with chicken and accompanied by rice.

It has very little in the way of spicing, making it one of the mildest Indian curries there is. It's more like a casserole than a curry.

The texture is creamy, and the flavor is sweet, thanks to coconut milk, almonds, cashews, and yogurt.

The chicken is initially coated with a dusting of mild curry powder to provide the delicate spicing.

The flavor is further enhanced through the use of cardamom, cinnamon, cooling, and ginger. Click here for recipe.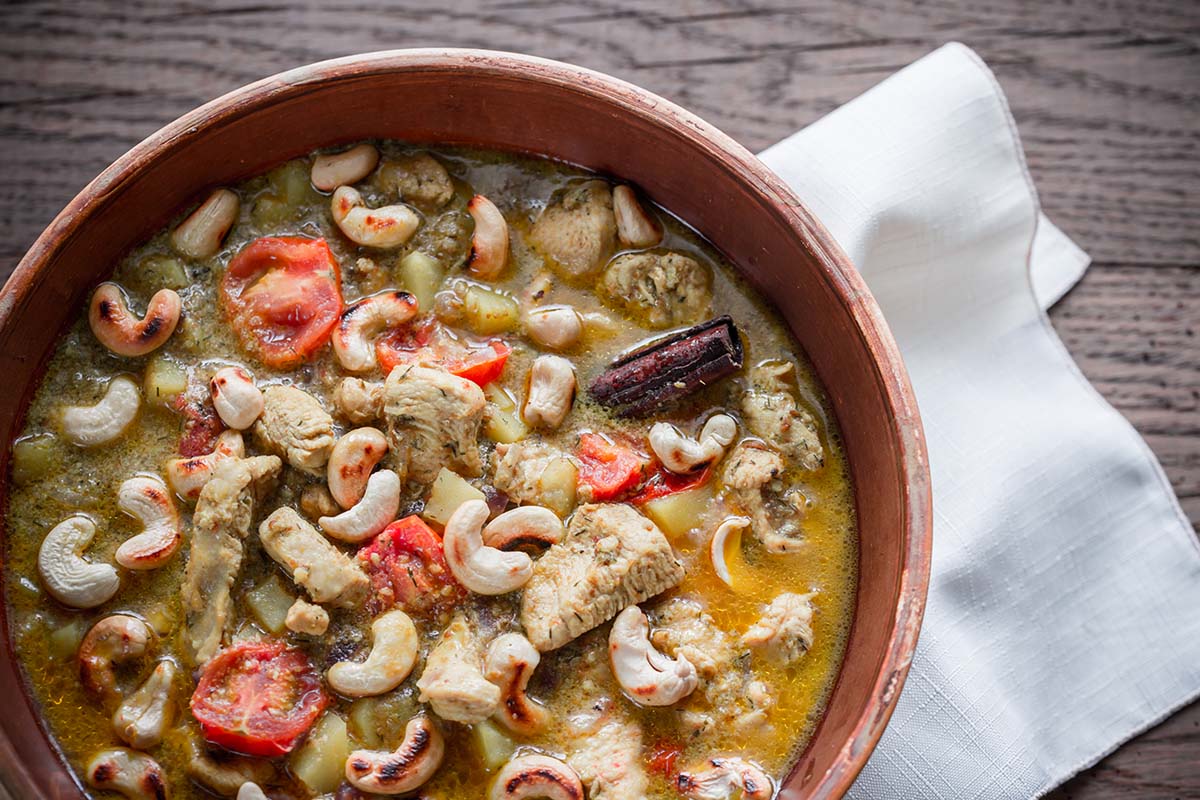 ---
2

Pasanda Indian curry

Heat-o-meter scale: Very mild

Pasanda is another mild curry that comes from Pakistan.

It is usually made with lamb, and the delicate spicing is provided through cumin, garlic, and peppercorns.

When served, it is topped with a sprinkling of flaked almonds and a naan bread accompaniment. Click here for the recipe.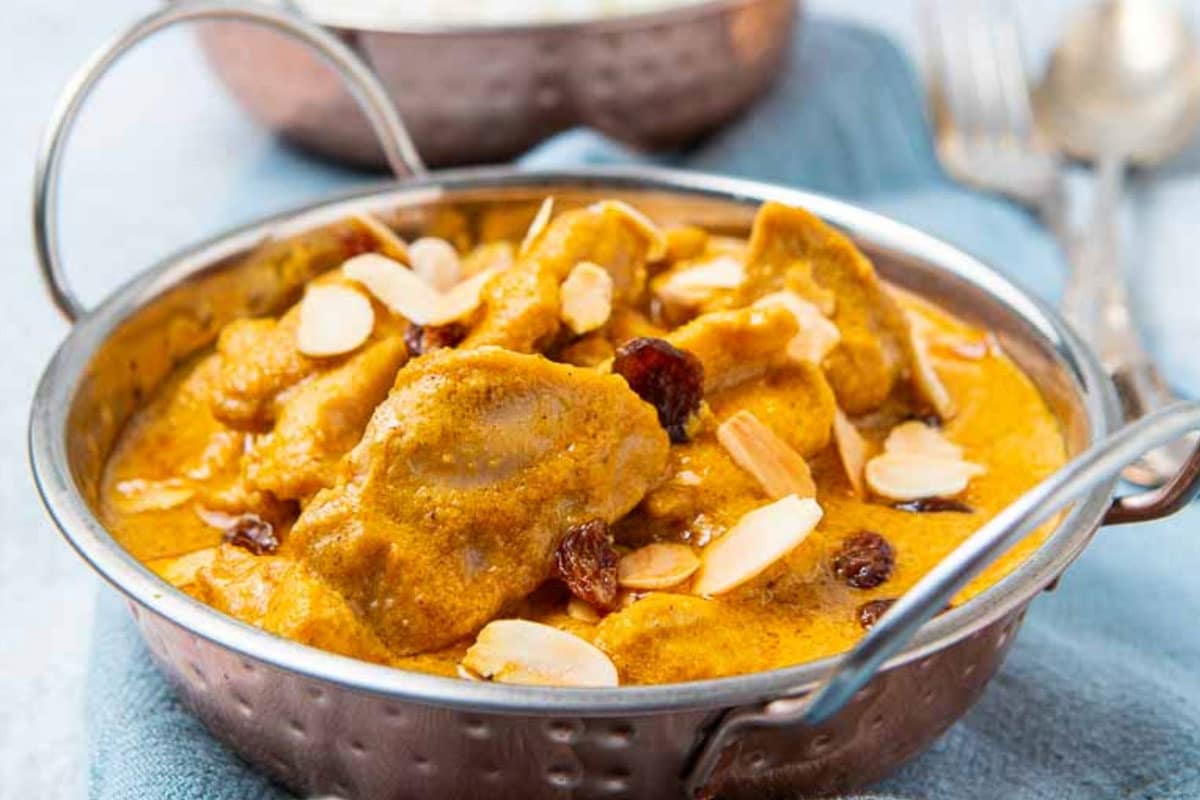 ---
3

Biryani - A rice dish rather than a curry

Heat-o-meter scale : Medium

Biryani is a great favorite with many people, but it is not a traditional saucy curry but more of a rice dish along the lines of risotto. It is a one-pot dish whose main ingredient is rice.

Although you can make biryani with any protein, it is often served as a vegetarian dish and is aromatic rather than spicy.

Indian chefs sometimes add a sweet twist to Biryanis by including apple, pineapple, and cashew nuts. Click for recipe.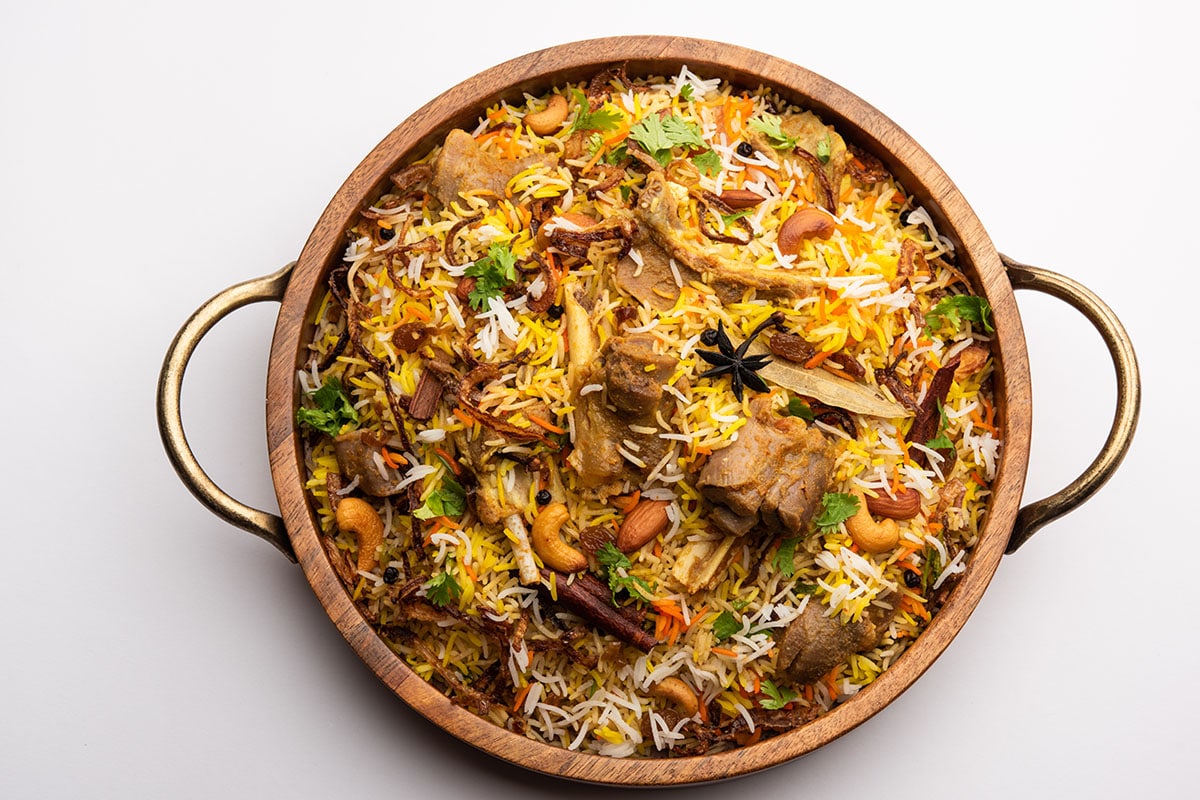 ---
4

Indian Tikka Masala curry

Heat-o-meter scale: Medium

Tikka Masala is not only a favorite with the Brits. It is also prevalent here in the US. It usually features chicken as its main protein in a creamy tomato-based sauce.

In India and Indian restaurants in the west, Tikka Masala is made with boneless chicken cooked in a tandoor.

Tandoors are remarkable cooking vessels inside which the temperature is said to reach a whopping 900°F. The fuel is wood which imparts a lovely smoky flavor to the meat cooked within.

Once cooked, the chicken is then simmered in a creamy tomato sauce flavored with chili, garlic, and ginger. Find the recipe here.

If you like quite like the idea of cooking in a tandoor, take a peek at the kitchen.com website for a guide on how to make your own tandoor oven.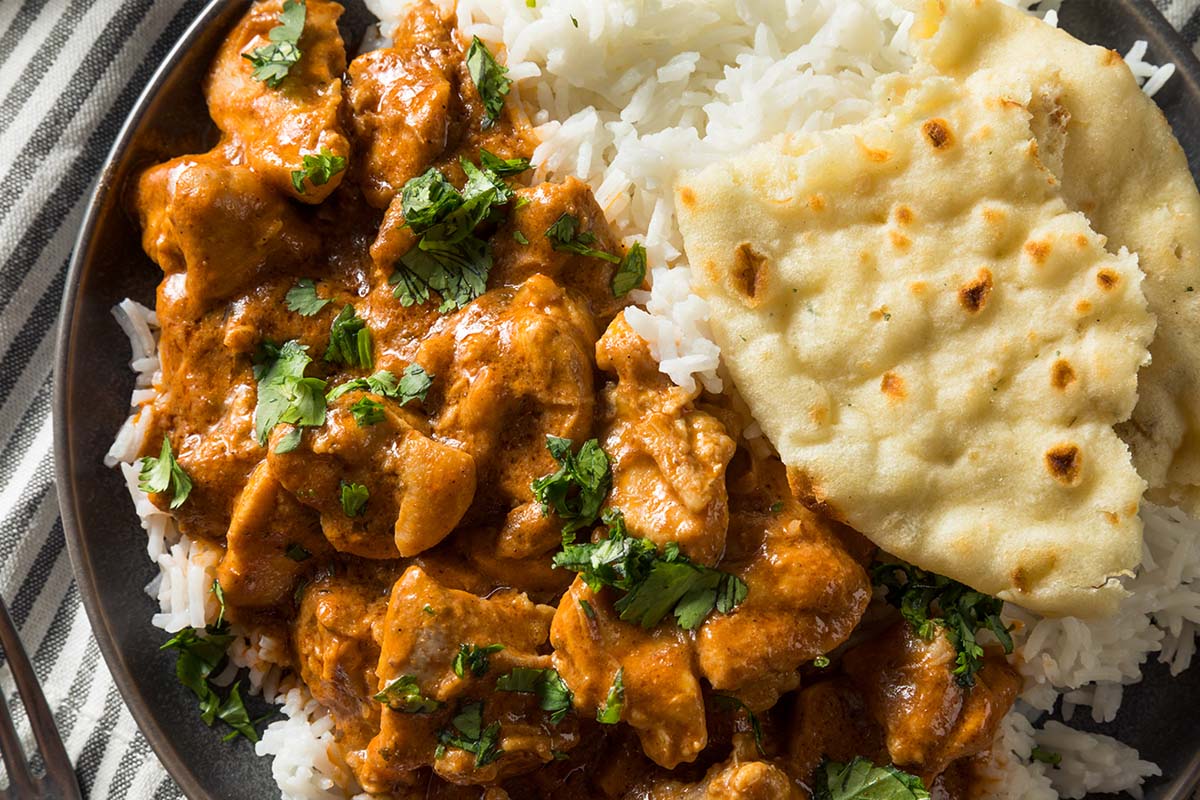 ---
5

Dhansak Indian curry

Heat-o-meter scale: Medium

Dhansak can be described as hot sweet, and sour. It has a thicker consistency thanks to the use of lentils. The spiciness comes from chili, which is then counteracted by adding sugar and lemon juice.

Some chefs use pineapple instead of sugar to make this curry a little healthier.

In India, the protein used in Dhansak is usually lamb or mutton. However, to appeal more to our western palates, Indian restaurants frequently offer the option of chicken. Check the recipe here.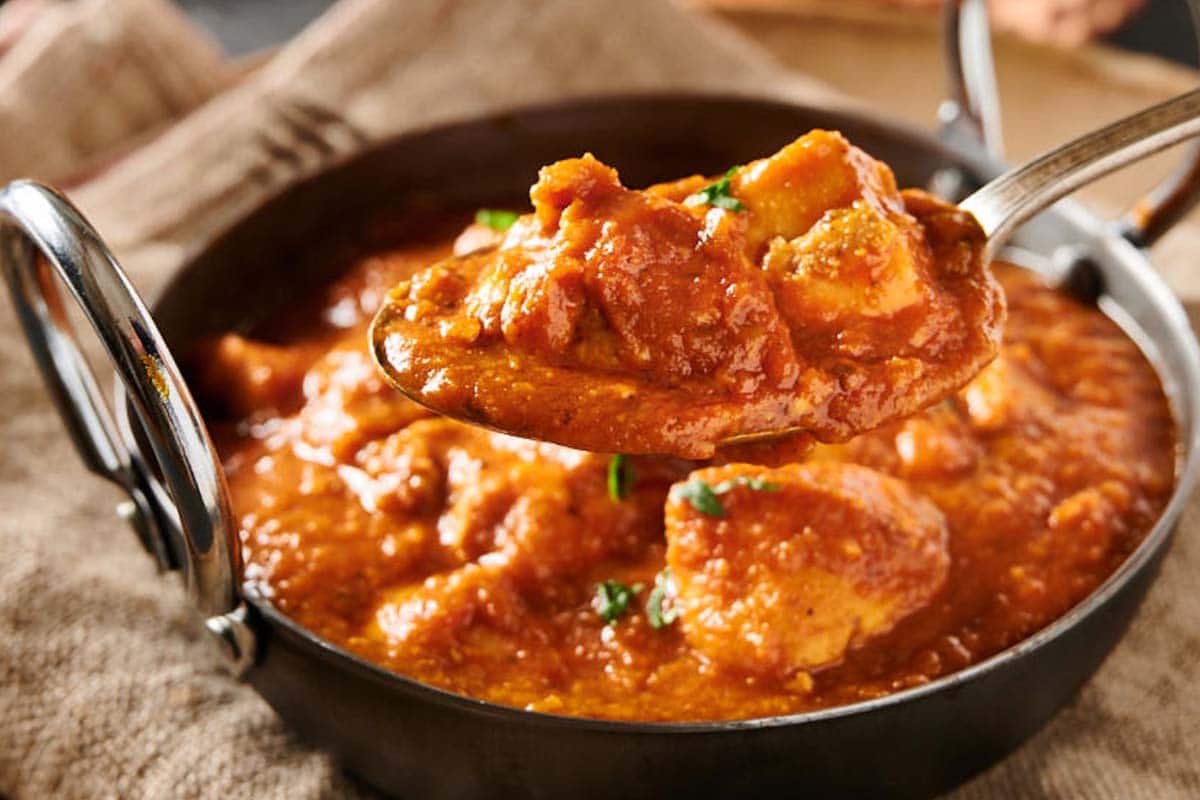 ---
6

Bhuna Indian curry

Heat-o-meter scale: Hot

When making a Bhuna, the spices, including chili powder, cooling, and ginger, are fried in oil to enhance their flavor further. Meat is then added and cooked through before being served. There is no sauce.

Here in the west, when you order a Bhuna in an Indian restaurant, it is usually served in a thick sauce made from tomatoes, onion, and red bell peppers.

Bhuna is described as a hot curry due to fresh green chili and the omission of cream or yogurt. Check the recipe here.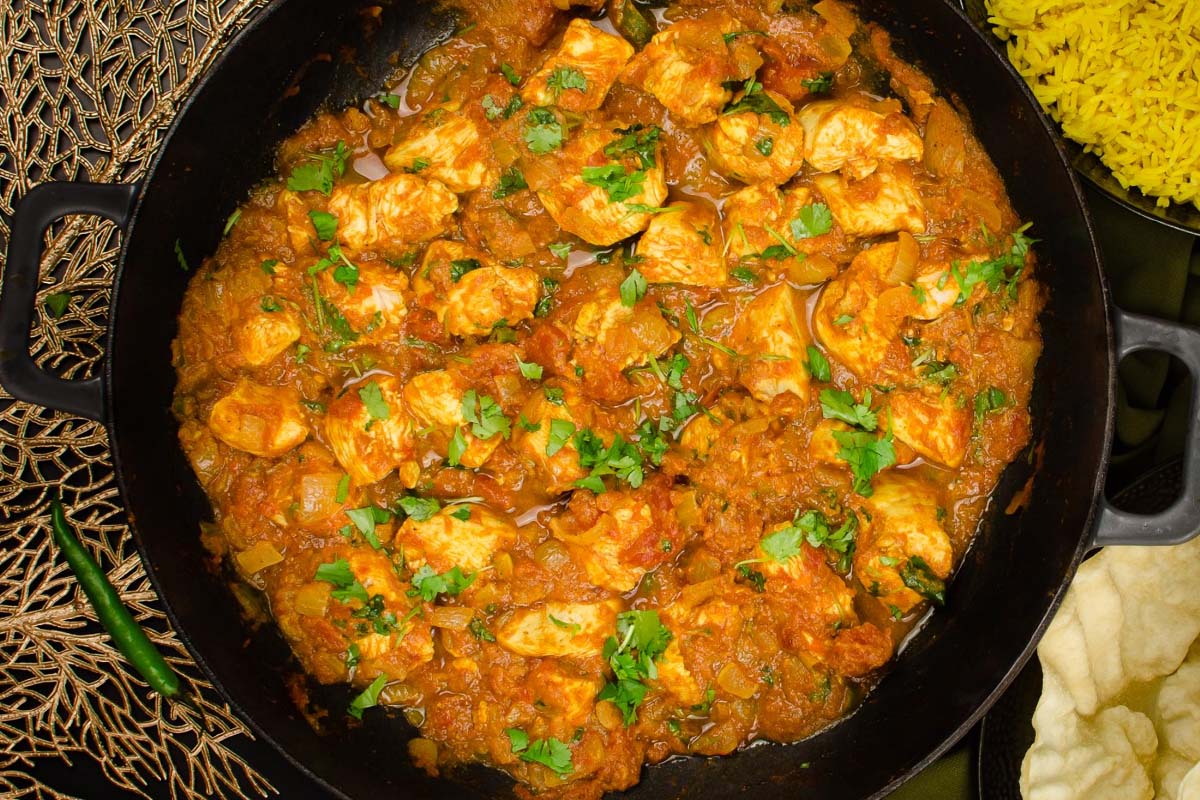 ---
7

Jalfrezi Indian curry

Heat-o-meter scale: Hot

Traditionally, Jalfrezi is made from leftovers in a herby, spicy curry sauce.

The recommended way of making a Jalfrezi at home is to stir-fry a combination of green bell peppers, onions, and a liberal quantity of fresh chilis, then add the meat.

Towards the end of cooking, add a thick and spicy curry sauce. This is considered to be one of the hotter curries served by Indian restaurants. You can find the recipe here.
---
8

Madras Indian curry

Heat-o-meter scale: Very Hot

Madras was created by spicing up a basic curry dish to meet diners' demands with a hankering for the very spicy.

In other words, it's not exactly a traditional Indian dish, and its makeup can vary from restaurant to restaurant and chef to chef.

It is normally made with beef cooked in a fragrant but fiery sauce using ingredients such as hot chili powder, cumin, garam masala, and turmeric.

Click for the recipe here.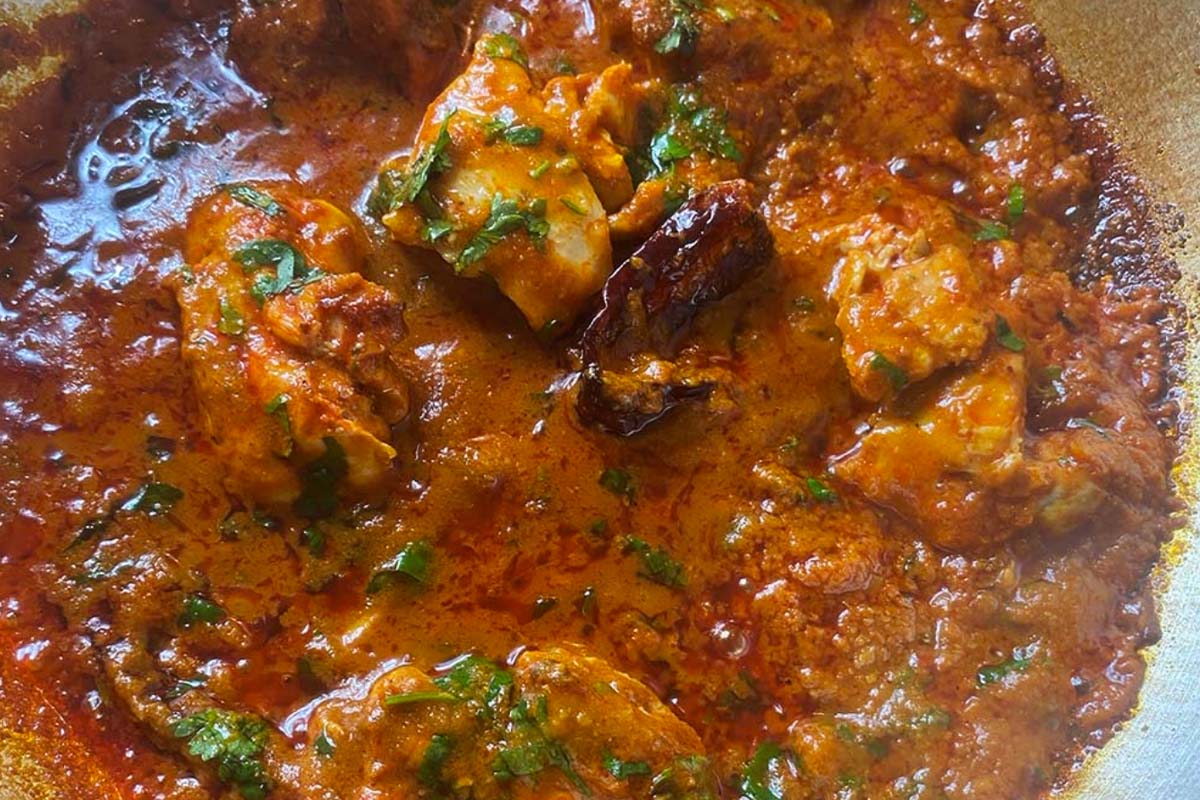 ---
9

Vindaloo Indian curry

Heat-o-meter scale: Very Hot

Vindaloo is regarded as one of the hottest Indian curries there is.

Aloo is the Indian word for potato, and Vind, the word for vinegar, indicating that this is quite a sharp, fiery dish cooked with potato and your choice of meat.

It is thought to have originated from Portugal but was then introduced into Goa in India, where you added increasing quantities of chili powder.

You have to be a fan of hot spices to enjoy vindaloo, but it is one of the curry fraternity's favorites on any Indian restaurant menu. Click for the recipe here.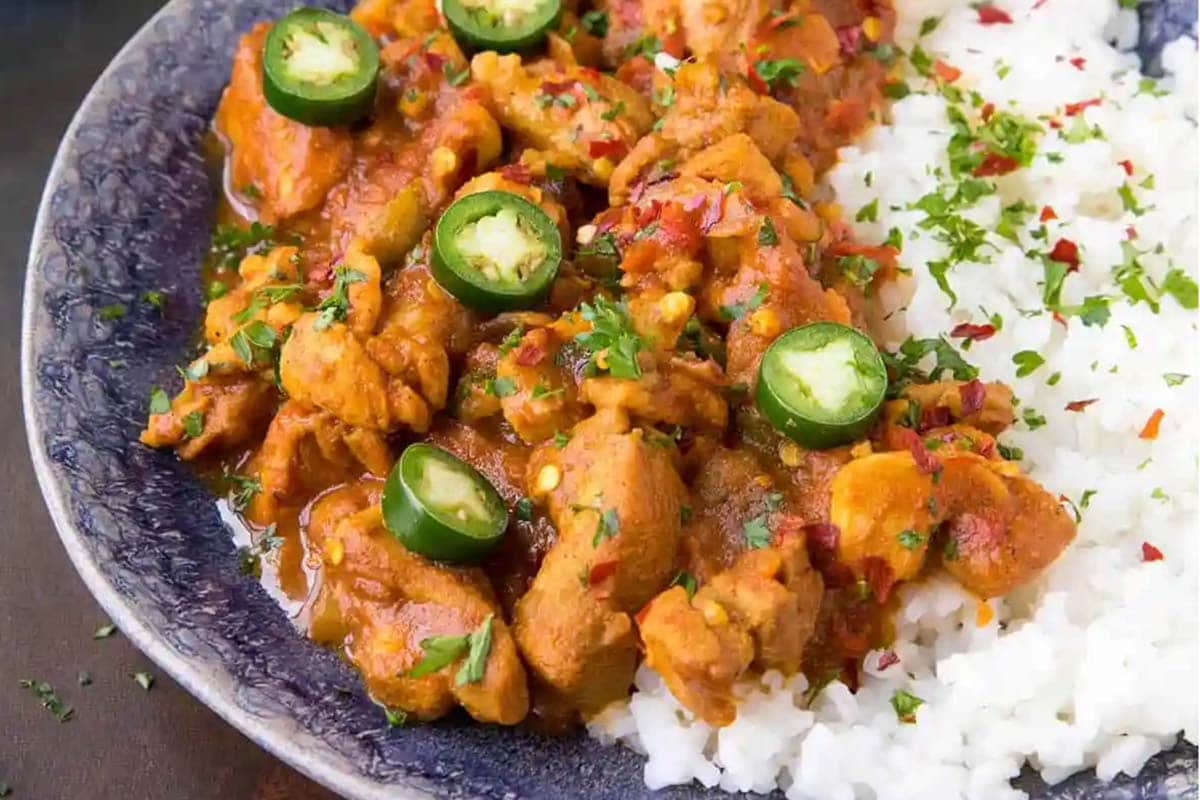 ---
10

Phall Indian curry

Heat-o-moter scale: Extremely hot

Phall is not for the faint-hearted. The heat comes from the fact that it uses dried chilis which intensifies their heat. You're guaranteed to work up a sweat eating this one.

The meat itself, beef chicken or lamb, is marinated in dried chilis to impart even more heat.

Phal has a thick tomato-based sauce made with fennel, and ginger, with some chefs throwing in a few Scotch Bonnet chilis just for the hell of it. Check for the recipe here.
---
Indian curry vs Thai curry - what are the differences
The big difference between Thai and Indian curry is the ingredients that are used.
1

The prime ingredients

The majority of Indian and Thai curries are made with broth or sauce. The ingredients, however, are significantly different.

Most Thai curries' heart is a curry paste made with fresh chilis, garlic, ginger, lemongrass, lime, show lots, and shrimp paste.
The paste is then fried in oil and added to coconut milk with meat, veggies, and a few drops of fish sauce.
Thai red curry is usually made with red chilis, while the green variant uses green chilis. The protein commonly used include chicken, fish, and pork.
Indian curries are mainly made with a sauce using sauteed tomatoes and onions. They are fried at length until they are completely soft.
Then, dried spices are added, such as cinnamon, coriander powder, cumin, red chili powder, and turmeric.
In South India, coconut milk is often added, but in other regions, it is not, and instead, butter, cream, yogurt, and water are used.
A large portion of the Indian population is vegetarian, so vegetarian curries are quite common.
---
2

Difference in flavors

The flavors of Indian and Thai curries couldn't be more different. But it is not only in taste that they differ - the consistency is often different too.

Thai curries tend to have a thinner, more watery consistency. The flavor tends to be somewhat lighter because you can detect the fresh herbs and the hint of citrus that come from the lemongrass and lime leaves and zest.

For the main part, Indian curries tend to be thicker and have a more velvety texture or consistency.

Generally speaking, Thai curries tend to be lighter while their Indian counterparts are richer, savory, and substantial. you can check my Choo Chee curry recipe here.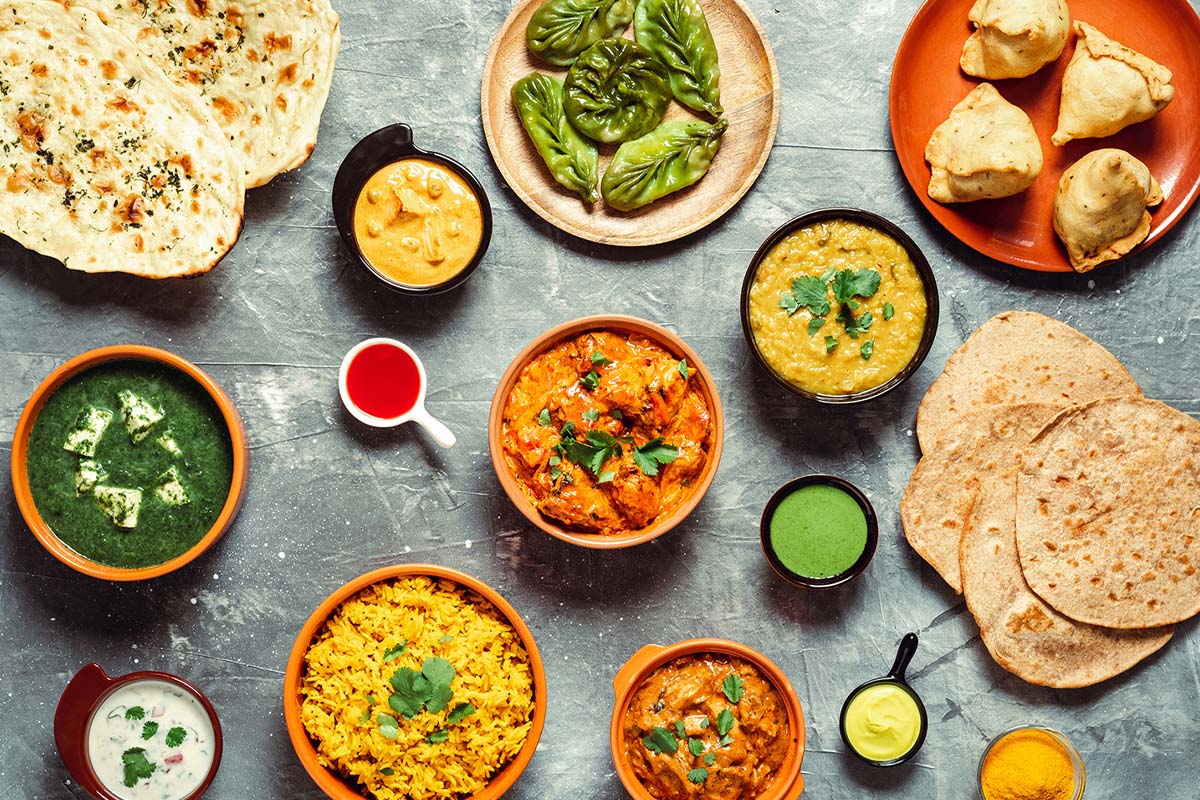 ---
3

Difference in consistency

Thai curries are less thick partly because they use large cuts of vegetables. In addition, chicken broth and coconut milk are often constituents of the sauces, making them lighter and more broth-like.

For those who love spice without the stodge, Thai curries are the answer.

Indian curries, on the other hand, are made with sauces whose constituents include blended tomatoes, onions, and other vegetables.

These ingredients are often blitzed, making the sauce thicker and more substantial, and heavy cream or butter is also added, which contributes to the thickness.

If you prefer a more substantial curry sauce, Indian is the way to go.
---
4

The Thais love their coconut milk.

The majority of Thai curries have coconut milk as an ingredient. Most Indian curries do not.

With Thai curry, coconut milk is the base ingredient, and it is important to use top-quality coconut milk. Good coconut milk brings a slight thickness to the sauce without overdoing it, thereby keeping it more soup-like.

Instead of using coconut milk, the Indians tend to use water or small quantities of butter or cream. If they want to thicken the consistency of the sauce, they usually turn to blitz onions or tomatoes.

It tends to be only South India that sometimes uses coconut milk in some of their curries to add a note of sweetness.
---
5

The difference in spiciness

Both Indian and Thai curries are renowned for their spiciness, although Thai curries can be significantly spicier.

If you're not someone who tolerates spice very well, then it might be a good idea to start with a Thai yellow curry which is relatively mild and a little sweet.

The green and red variants are considerably hotter.
Authentic Thai food is probably too spicy for most western palates, but it is toned down to be more palatable for the locals in Western restaurants. The same can be said for Indian curries too.
Most restaurants will allow you to specify how hot or mild you would like your curry. However, be prepared as one person's interpretation of hot or mild can differ from the next's.
With Thai curries, the difference between Thai medium and western medium is enormous.
---
6

Indian curry ingredients include dairy products.

Indian curries often include some dairy products. Most curries start off being fried in ghee, which is clarified butter.

Spices are usually fried to extract more flavor. When it comes to thickening, Indians often use cream or yogurt as their thickening agents.

This is particularly true in Indian restaurants.

Thai curries, on the other hand, hardly ever use dairy products. They usually cook with coconut or peanut oil and use coconut milk or chicken stock to make their broths.
---
7

The difference in the rice

Indian curry is usually served with basmati rice. Thai curry usually comes with jasmine rice.

Jasmine rice, which has a shorter, stickier grain, is available in most supermarkets in the west. When cooked, it is clumpier than its Indian basmati counterpart.

The basmati rice usually served with Indian curry has longer grains than jasmine, and when served, the grains are quite separate and not sticky.
---
8

Bread or Noodles

Although Indian and Thai curries are usually served with rice, they sometimes come up with other carb sides. Noodles are often served in Thai cuisine, especially with dishes like ramen.

Indian curries are never served with noodles. However, Indians do like Thai curry, and this is one occasion when they will eat noodles with curry, but it has to be Thai.

The other carb apart from rice Indians eat with their curry is some bread. The choices are chapatis, naans, parathas, or roti.
---
9

With or without curry leaves

The final difference between Indian and Thai curries is the use of curry leaves. The Indians use them in some of their curry recipes.

Thai curries, meanwhile, very rarely have curry leaves as an ingredient.

Instead, they use lime leaves and lemongrass, which bring a distinctive hit of citrus to the curries in which they are added.
---
Where to buy Thai and Indian curry paste
You should be able to find Indian and Thai curry paste in most supermarkets and Asian grocery stores.
You will usually find them in the Asian food section. If they are not there, check out the spice shelves. You can find curry paste online as well.
Now you know the basics of Indian and Thai Curries; you might like to try making your own.
Why not try some of the recipes linked to in this text. If you get them right, you'll be converted forever. It only leaves the question of which one will you prefer the most?