Picture this: life buzzing all around you. Dog barking. Doorbell ringing. The dog barks louder. Kids fighting over the remote. Phone rings…
Watch How to Make The Beef Taco Pizza Rollups:
Credit: theforkbite
It's Dear. He wants to remind you that he's bringing two out-of-town clients for dinner. "I did tell you. Right, Honey?"
"Yes, Dear. Don't I always have your back?"
Hang up. Panic. Of course, he didn't tell you.
You can add a few bits and things to stretch what you've planned for dinner. But, Very Important People expect hors d'oeuvres.
How's this for a Brilliant Idea:
These roll-ups are fun to eat and a snap to assemble. They will whet your VIP's appetite and serve as a preview for what's coming. No matter their importance, your guests will reminisce about their two favorite food groups as a child – tacos and pizza.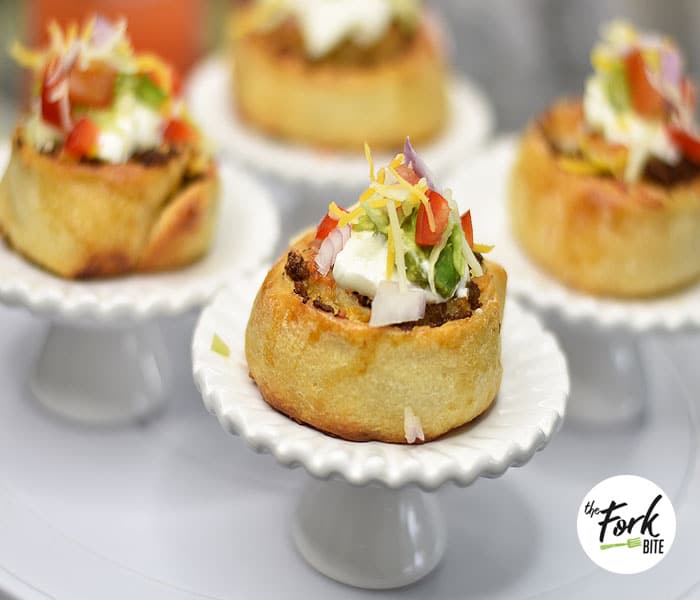 Serve them, at the table, on small plates. Top with upscale garnishes like the sun dried- tomatoes, mushrooms and/or black olives
If any are left, which is doubtful, they reheat beautifully for family lunch the next day.
Call them appetizers and serve to not-so-important guests, but you love'em anyway. For a pretty presentation, sprinkle shredded cheese on a colorful round tray. Then plate the Beef Tacos Pizza Rollups.
For such casual occasions, we like to use traditional taco toppings, such as guacamole or chopped avocado, tomatoes, sour cream, cilantro, shredded lettuce, onions.
Teens have a bottomless well in their tummies. When kids come over for a get-together, "I'm hungry", plays like a broken record. Just set the ingredients and the Beef Tacos Pizza Rollups recipe out or this pizza bomb recipe and let them help make this snack containing some of their favorite flavors.
Taco Pizza Rolls make terrific takeaways. Next time you're invited to a potluck, these are sure winners.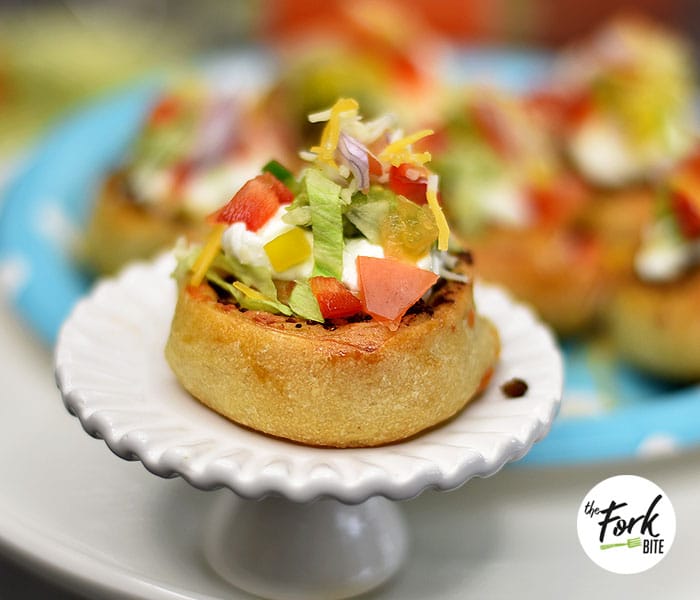 Double Cheeze Please – For an easy Friday night family supper, just add a couple of sides, such as black beans, sweet potato fries, brown rice, or refried beans and Spanish rice. Melt mozzarella over rollups before serving and you won't need to prepare extra toppings.
Be couch veggies and eat in the living room, while you watch movies.
This is called as good as it gets.
Beef Taco Pizza Rollups
Category: Appetizer, Dinner

Cuisine: American
1/2 lb ground beef
1 can refrigerated classic pizza crust
2 tablespoons taco seasoning mix (from 1-oz package)
3 tablespoons water
1 cup shredded Mexican blend cheese
Optional toppings: lettuce , tomato, sour cream, onion, and guacamole
Instructions
Preheat oven to 400 ° and lightly spray a baking sheet with cooking spray.
Cook and brown beef in a medium skillet until no longer pink. Add taco seasoning and water and cook for 2-3 minutes. Drain and set aside.
Take the pizza dough out of its package. Unroll it onto a flat surface. Slightly roll or press the pizza dough out into a rectangle.
Add the taco meat evenly on top of the pizza dough. Sprinkle the cheese evenly on top.
Starting with the long edge of the pizza dough, roll dough tightly up into a roll. Using a serrated knife, make about 1-inch slices along the roll, making about 12 rolls.
Place rolls on prepared baking sheet. Bake for 20 minutes or until tops are golden brown.
Serve immediately and top with desired toppings.
Notes



(adsbygoogle = window.adsbygoogle || []).push({});

https://www.theforkbite.com/beef-tacos-pizza-rollups/