These fluffy bun Gua Bao recipe or Pork belly steamed buns are like most breads you can basically fill it with anything. It is also amazing with pulled pork, fried chicken, pork ribs, tofu and even bacon and egg.
Even if I didn't love Vegas already, I'd hop on a plane tomorrow to go back to Bachi Burgers where they serve the most scrumptious foods. These are American foods with an Asian flair or Asian foods made American, I just can't decide which, but the flavors intermingle so delectably in each dish and the dishes are so unique, it doesn't matter. One of my favorites is the Gua Bao – pork belly steam bun.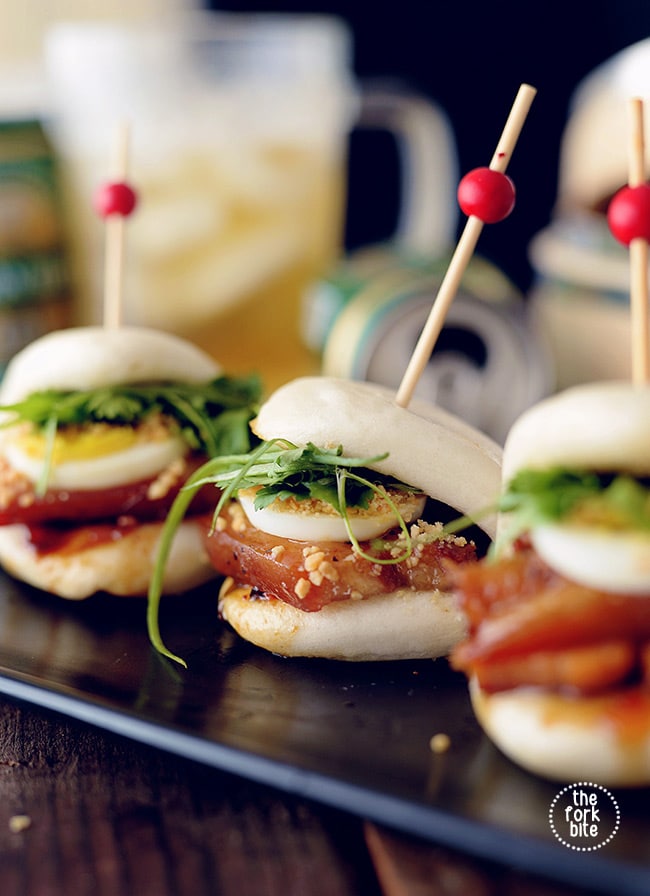 Once you've tried the original, you'll want to make them at home, but it's a lot of work. Just getting the buns right is a huge challenge. The buns alone take hours to make since you let them rise three times.
You don't bake them, but steam them to perfection. It's well worth the effort though because they are part of the delicious flavor of this dish.
Nothing is simple and quick on this recipe. There was a TV program "Diners, Drive-Ins, and Dives" that featured Bachi Burgers and you got to see how this one was made.
I had seen it long before we went to Vegas, which was one of the reasons we headed toward the restaurant the first chance we had and once we ate there, decided two more trips were in order before we left for home.
Not only are the buns time consuming to make, the pork belly is first seared to seal in flavor, then baked with spices, allowed to sit overnight, sliced and deep fried. It's then braised in the sauce for a crisp glaze on the outside.
The only simple part of the sandwich, which I feel is almost sacrilegious to call it that, is the final assembly. You slip a piece of pork belly into a delicious bun, top it with a slice of radish and a slice of egg.
Top the egg with cilantro and chopped Chinese veggies and insert a toothpick to hold it all together. I found one recipe that topped this with cucumber and pickled carrot, which also sounds good.
Bachi Burger serves this sandwich with a dipping sauce that is described as a Chinese vinaigrette, but it's thick and adds to the already yummy sandwich.
Right now I should be looking for an easy to make recipes for this dish, but instead, I'm trying to find the lowest air fare to Vegas. It seems a lot easier to head for the original on this one.
Also, one of my recommendations is the Bachi Oxtail Fries – this is to die for oxtail fries.
Braised Pork Belly Recipe – Gua Bao
Print
Pin
Rate
This fluffy bun Gua Bao recipe or "Pork belly steamed buns" are like most breads you can basically fill it with anything. It is also amazing with pulled pork, fried chicken, pork ribs, tofu and even bacon and egg.
Cook Time
3
hours
30
minutes
Total Time
4
hours
15
minutes
Ingredients:
2

lbs

whole piece pork belly

5

g

dried red chillies

seeded

5

cloves

garlic

5

pcs

star anise

5

slices

of ginger

15

pcs

whole white peppercorns

4

tablespoons

dark soy sauce

4

tablespoons

light soy sauce

plus 2 extra tablespoons

4

tablespoon

sugar

plus 2 extra tablespoons

1

tablespoon

cornflour

mixed with 60ml (1/4 cup) water

½

cucumber

thinly sliced

30

g

toasted peanuts

finely chopped

A handful of coriander leaves

Sriracha hot sauce

optional
Pickled Carrot
2

large carrots

1

cup

hot water

½

cup

rice wine vinegar

6

tbsp

sugar

2

tsp

salt
Gua Bao Dough: (or you can buy the dough in any Asian market)
200

ml

water

at room temperature

7

g

dry yeast

150

g

high gluten wheat flour

see note, plus extra for dusting

150

g

low gluten wheat flour

10

g

dry milk powder

4

tbsp

caster sugar

A pinch of salt

½

tsp

baking powder

½

tsp

baking soda
Instructions:
Pickled Carrot:
Mix hot water, vinegar, sugar and salt together, stir well until all sugar has dissolved. Julienne carrots into matchstick size about 5cm in length then put them in an airtight sealed jar.

Pour the solution into the jar until all carrots are fully submerged. Close lid and keep in the refrigerator up to a month.

The carrot taste better after they've been pickling for 3 to 4 days so, prepare pickled carrot a day or a week before.
Pork Belly:
Put the whole piece of pork belly, skin side up, in a large saucepan and fill it with 2 liters of water or until about an inch high from the skin of the pork. Bring it to the boil on high heat, skim out all the impurities floating on the surface.

Turn heat down to a simmer, add garlic, ginger, red chillies, peppercorns, soy sauces and sugar, give it all a stir until the sugar has dissolved.

Let it braise for 1.5 hours or until the pork is melting tender but not falling apart. Remove the pork from the stock and transfer to a plate, set aside to let it cool down.
To Make Sweet Sauce:
Strain 2 cups (250ml) of the braising stock into a small saucepan, add 2 tablespoons each of light soy sauce and sugar then bring to boil. Reduce the liquid by half, stir in cornflour water until it thickens.

Remove from heat, set aside until ready to be used.

Once the pork is cool enough to handle, cut it into thin slices about 5-7mm thickness. Put the meat back in the stock, close the lid and keep warm until ready to be used.
For Dough: (or buy the dough at your local Asian Market)
To make the bun dough, add yeast to water and let it activate for 10 minutes or until frothy. Add the remaining dry ingredients in the bowl of a stand-mixer with a dough hook.

Pour the yeast water into the bowl and start mixing on low speed until it forms a rough dough. Keep kneading the dough for another 5 minutes until the dough feels smooth and elastic.

Grease a bowl with oil and put dough inside, cover with cling film and let it rest for 1 hour until the dough has doubled in size.

Punch the air out of the dough, transfer it to a floured surface and spread it out into a 40cmx15cm rectangle, then roll it into a tight log. Cut the log into 12 equal size pieces, about 35-40 grams each.

Flatten each dough then roll them up into balls. Place them on a baking tray lined with baking paper, cover with tea towel and let it rest for 30 minutes. It will double in size again.

In the mean time, cut out twelve 8cmx8cm squares of baking paper. Take one dough and using a rolling pin, roll the dough into a 8cmx15cm oval shape, dip a chopstick in vegetable oil and place it in the center of the oval, fold it in half then pull the chopstick out.

Place the bun on a square of baking paper and put it back on the baking tray, repeat with the rest of the dough. Once completed, cover with tea towel and let it proof for another 30 minutes.

Set up a steamer over simmering water, in batches and steam the buns for 10 minutes.
To Assemble:
Remove paper from the bun and peel it open, layer the bun with cucumber slices, pickled carrot, slices of pork belly and coriander. Slather with sweet sauce and Sriracha sauce, then sprinkle with peanuts.
Nutrition Information:
Calories:
61
kcal
|
Carbohydrates:
13
g
|
Protein:
2
g
|
Fat:
1
g
|
Saturated Fat:
1
g
|
Cholesterol:
1
mg
|
Sodium:
465
mg
|
Potassium:
47
mg
|
Fiber:
1
g
|
Sugar:
6
g
|
Vitamin A:
16
IU
|
Vitamin C:
1
mg
|
Calcium:
15
mg
|
Iron:
1
mg
Please note that all nutrition information are just estimates. Values will vary among brands, so we encourage you to calculate these on your own for most accurate results.
Did you make this?
I would love seeing what you've made! Tag me on Instagram @theforkbitedotcom or leave me a comment or rating below.