Can you Freeze Flan? Yes, and doing it correctly you'll be able to freeze up to 3 months without impairing either its taste or texture.
Flan is one of the most widely known and popular desserts anywhere in the world. Its gorgeous soft wobbly consistency and its delicious sweet flavor are crowd-pleasers.
It is not so difficult to make, but you might think that it doesn't have a great shelf-life because of its delicate texture. But you could be mistaken.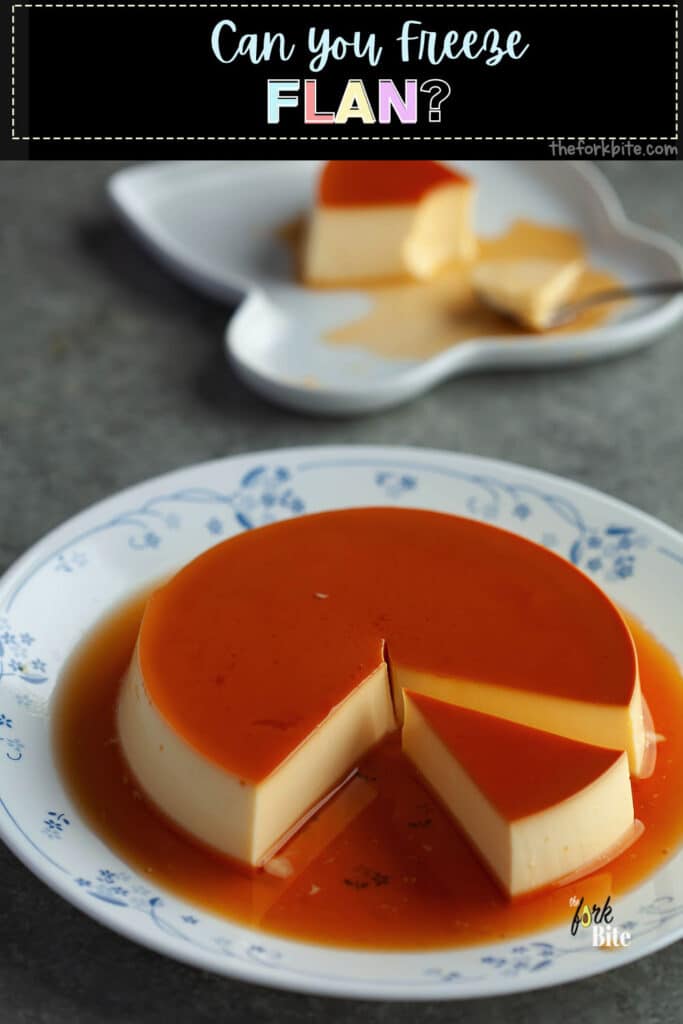 Jump to:
Can you freeze flan?
You can freeze flan, providing you know how to do it correctly. Follow the instructions below, and you will be able to freeze flan for up to three months without impairing either its taste or texture.
This dessert contains quite a bit of fat, which freezes at lower temperatures than some other foods.
Many of the recipes you will come across will tell you that flan doesn't freeze very well. However, I beg to differ, and in due course, I will explain why.
The ingredients of most simple flans contain cream, whole eggs, and sugar. But for the egg whites, these are the same ingredients for making ice cream. Ice cream becomes frozen at 0°F, so why not flan?
---
What is flan?
Flan can refer to two types of dessert. There is the wobbly baked custard option with a caramel topping, and there is an open pie or tart-like flan, which has a fruit filling and is generally known as fruit flan.
The custard type consists of eggs, condensed milk (the sweetened kind), cream, milk, and flavorings. These can include coconut, coffee, orange, and vanilla, or whatever takes your fancy.
Once it has been assembled and poured into shallow dishes, you can bake it in the oven in what they call a bain-marie, which is basically a water bath.
---
From what do you make fruit flan?
As explained earlier, a fruit flan is a tart - rather like an open pie. The casing is made using the following ingredients:
All-purpose flour
Baking soda
White sugar
Confectioner's sugar
Butter
Vegetable oil
Unlike custard flan, which is oven-baked using a metal flan ring with a clasp on the side that allows the ring to spring open, a fruit flan is baked in a tray with a bottom (fixed or removable).
After baking, the casing is topped with pastry cream and then loaded with your choice of fruit. If you would like to try your hand at making one, try this recipe on the allrecipes.com website.
So much for fruit flan. Now back to the main topic, which I simply call flan.
From which country does flan originate?
Flan is a particular favorite in Spain and Latin America. In other countries, the name varies, but not so its preparation. It is the same.
The Mexican version is also known as Flan Napolitano, made with a layer of caramel on the bottom, which when the case is inverted, the flan pops out, then appears on the top.
To all intents and purposes, Mexican and Spanish flan are the same thing.
It is no surprise as it originated in Spain and found its way to Mexico and Latin America.
Mexican and Central American recipes are made using fresh or condensed milk. It is made with canned condensed or evaporated milk in Cuba, as fresh milk is hard to come by.
The Filipino version is known as Leche flan (recipe here).
An American Latin flan, called flan de queso, is made with cream cheese, sometimes flavored with coconut.
---
How to freeze flan?
Prepping flan for the freezer is quick and easy. The one thing to bear in mind is that flan contains fat, which freezes lower than other baked items.
The key thing to remember is the temperature of your freezer. It must be at least 0°C or lower. If the temperature is any higher, you will end up with piles of mush.
There are two other important factors to consider.
it is essential to wrap the flans properly
there needs to be good air circulation within the freezer.
---
Let's go over the freezing process step by step.
Step
1

- the right freezer setting

Knowing that you need your freezer set at 0°C or less, this first step ensures the freezer is cold enough.

If it is set higher, you will need to reset it, then leave it for a couple of hours to ensure the internal temperature is even across the freezer.

If your freezer doesn't display the internal temperature, you ought to buy yourself a freezer thermometer. They are inexpensive and can be purchased online from Amazon.

If the temperature of your freezer is not low enough, your flans won't freeze properly.
---
Step
2

- prepping the flan for freezing

After baking, the first thing to do is make sure that the flans are cooked thoroughly.

The way to do this is to take a sharp-pointed knife (or a toothpick will suffice) and insert it into the center of the flan.

Take it out, and if it comes out completely clean, your flans are ready.
---
Step
3

- let the flan cool down

Once the flans are ready, remove them from the oven and set them aside to cool in the open at room temperature.

If you were to put them into the freezer when still hot, it would cause condensation.

The problem with condensation forming is that when you defrost flans, the moisture will cause them to turn mushy.
---
Step
4

- portion the flan if appropriate

Sometimes people make their flans in individual portion sizes; other times, they make one large flan that needs positioning before freezing. I prefer the pre-portion route.

Why pre-portion them? It's because smaller pieces of flan freeze more easily than one large flan. It also means not wasting any when you come to defrosting.
---
Step
5

- wrapping your flan for the freezer

It is important to pack your flan the correct way for freezing. Wrapped properly, they will be protected from the air, any moisture in the freezer environment, and any unwanted tastes and odors from other foods.

You can choose from one of two packing methods.
You can wrap each portion of your plan individually on freezer paper. It is vital to ensure that the entire piece of flan is appropriately wrapped, leaving no exposed surfaces. Complete the wrapping by adding several layers of plastic food wrap.
The other method is to omit the freezer paper and wrap the pieces of plan separately in several layers of plastic food wrap.
Take care not to wrap the plan too tightly, or you will squash it. Once you're satisfied with the wrapping, complete it by adding a final layer of aluminum foil.
The individually wrapped pieces of flan now need to be placed into a Ziploc freezer bag. Do this process carefully to ensure they are not pressing on each other as they might get damaged.
When you come to seal the bag, leave it slightly open in one corner. Remove as much air as possible and complete the final sealing.
---
Step
6

- label and date

It's always helpful to label and date anything you put in your freezer. It's simply an aide memoir to remind you of how long frozen foods have been there.
---
Step
6

- placing the flan in the freezer

The final step is to create a nice flat area within your freezer to store the flans level. It's also vital to ensure that no other foods can accidentally fall on the flans while freezing and firming up.
Handy reminders and tips:
Ensure your flans are allowed to cool thoroughly before wrapping and freezing.
If your flan is still warm when you wrap it, it will facilitate condensation, which will lead to a soggy, mushy mess after being defrosted. Undue moisture can also lead to freezer burn.
Prepare a level space inside your freezer while the flans are cooling.
I sometimes use frozen boxes of artichoke hearts or peas as ready-made level surfaces to store my flans.
You can store frozen flan in your freezer for between one and two months with no loss of flavor or texture.
Try this super smooth, creamy flan recipe
With sweet, scented caramel; sublime, creamy egg flavor; velvety texture, melt in the mouth smoothness – sheer paradise. You can check my recipe here and you'll be pleased.
The great thing about this dessert is that it is uncomplicated and easy to create. What's more, if you use an Instant Pot, you can slash the cooking time by half.
Read: The secret to making flan, not overcooked flan.
---
The shelf-life of flan in your freezer
Flan is a fairly delicate thing. You should eat it with a month or two of freezing it to enjoy it at its best.
Keep it beyond two months, and it will begin to deteriorate. Not only is it likely to separate, but it will lose much of its subtle flavor.
You can still eat it, but it certainly will have lost much of what makes it so scrummy.
---
The best way to defrost flan
Defrosting flan couldn't be easier. All you have to do is take out as much as you need from the freezer - that's why I suggested storing it in individual portion sizes earlier - and transfer it to your fridge for a couple of hours.
Alternatively, you can transfer it from the freezer to a working surface where you leave it for about 30 minutes. Don't unwrap it until it has thawed.
Another option, once it has thawed, is to reheat it in an oven at 150°F for no more than about 10 minutes.
---
Avoid refreezing defrosted frozen flan.
Refreezing flan is not a good idea. Because of its delicate consistency, it can fall apart all too easily. That's not all.
The texture will change significantly, and not for the better. As well as becoming loose and mushy, it will also lose much of its taste.
As I mentioned earlier, if you store flan in small portion sizes, you can then take out only what you need and lessen the danger of having to refreeze any leftovers in the first place.
---
Storing flan in your fridge
Before storing flan in the fridge, you need to allow it to cool down to room temperature. You can keep it on a plate still in its flan ring, or you can remove it from the pan onto a serving plate and refrigerate.
Ensure the flan is wrapped nicely with plastic food wrap with no exposed areas. You can allow the wrap to touch the surface of the flan to protect it from any airborne bacteria.
---
How long can you keep flan in the refrigerator?
If you are a "flan-a-holic" and you make lots of flans, so you never run out, you will want to know how best to store them. Yes, you can always refrigerate them, but for how long?
The shelf life for refrigerated flan is between three and five days, no longer. I find it is best to keep the flan in its original baking container.
Serving refrigerated flan
When you come to serve the flan, you will need to do something to unstick the caramel from the baking tray on which it is sat.
I fill the bottom of my kitchen sink with hot water and then carefully lower the baking tray onto its surface. It melts the caramel allowing the flan to be flipped over to slip out of its ring without leaving all that lovely caramel stuck to the base.
It only takes a few seconds. Keep the tray on the hot water too long, and the flan will begin to deteriorate in terms of taste and texture. It will lose its shape and may even curdle.
A misshapen, curdled flan is not a pretty sight. You certainly wouldn't want to serve it to anyone - not even yourself.
---
Can flan go bad?
If you do not refrigerate flan after making it and allowing it to cool, it will go off quite quickly.
Bear in mind that flan's main ingredients are eggs and milk; both have a high moisture content. It's the ideal environment for the proliferation of harmful bacteria.
Refrigerating it at the earliest opportunity is crucial.
---
Don't leave flan out at room temperature overnight.
If you leave flan out overnight at room temperature, you are inviting trouble.
Eggs and milk in particular - flans' main ingredients - are especially dangerous as they are highly susceptible to bacterial contamination.
If you eat such contaminated foods, you can get food poisoning which can make you very ill.
It would be best if you refrigerate the flan leftovers at the earliest opportunity.
---
The importance of time and temperature regarding the bacterial proliferation
Nearly all foods contain bacteria that can make you ill. However, under normal conditions, our bodies cope with small amounts without us even being aware.
But when the number of bacteria is allowed to proliferate, they get to a level whereby they can, and will, make you unwell.
Food safety is all about the temperature of the environment and what we refer to as room temperature. The FDA defines controlled room temperature as being between 59°F and 86°F, or 15°C to 30°C. As regards bacteria:
At temperatures below 40°F, the bacterial activity becomes very slow.
At temperatures over 140°F, it's as much as they can do to survive.
The spread between 40°F and 140°F is referred to as the food safety danger zone.
Now you can see why it is necessary to limit the time flan is left out at room temperature.
---
The signs that flan has gone off
The most common way of identifying that flan has gone off is by its smell, which becomes sharp, sour, and unpleasant, as with most milk products that have turned.
Visual signs that flan has turned include the custard foam on the top separating while the liquid part becomes somewhat thick and gelatinous.
There is a textural change too. The perfect flan should be soft and wobbly. If it is too hard or too soft and the custard has become watery, it is another indicator it is on its way out.
---
The importance of letting food cool before refrigerating
When hot food is put into a container or covered and then placed in a cool environment, any moisture it contains escapes and forms condensation.
This condensation may contain bacteria.
The condensation will most likely contain mold spores, as they are ever-present in indoor air and on all surfaces. They can be present on the surface of plastic food wrap and plastic or glass containers.
Given a moist, cool environment, mold spores will take hold and contaminate the food in no time.
An excellent example of condensation forming is the moisture released when you open a microwave door after microwaving something.
When food is allowed to cool before being refrigerated, it prevents condensation from forming and negates the problem of cross-contamination from bacterial or spore-laden condensation.
---
How flan and quiche differ
You can have both savory and sweet flans. The basic ingredients of savory flan include eggs, veggie puree, and, more often than not, cheese.
Sformato is an Italian-style savory flan. Its texture is denser than ordinary sweet flan, and its ingredients include spinach and ricotta.
Like most dishes, there is plenty of room for maneuver or individual interpretation, and instead of ricotta, you can substitute Fontina, Gorgonzola, or Pecorino Romano.
Similarly, you can use other veggies. You might enjoy this recipe for Sformato on the Spruceeats.com website.
But whereas flan can be either sweet or savory, quiche is always only savory. When you make quiche, you use a quiche pan with a bottom, unlike a flan ring that does not.
---
How flan and crème brulee differ
With flan, its caramel topping is liquid. With crème Brulee, you sprinkle sugar on the top and then caramelize it using a kitchen blow torch. You end up with a lovely crispy top under which is a delicious custardy filling.