If you're a flan-fan, you may believe that such an elegant dessert is only served in fine-dining establishments. Not so! Take Mexico, where there is a flan or three in every refrigerator.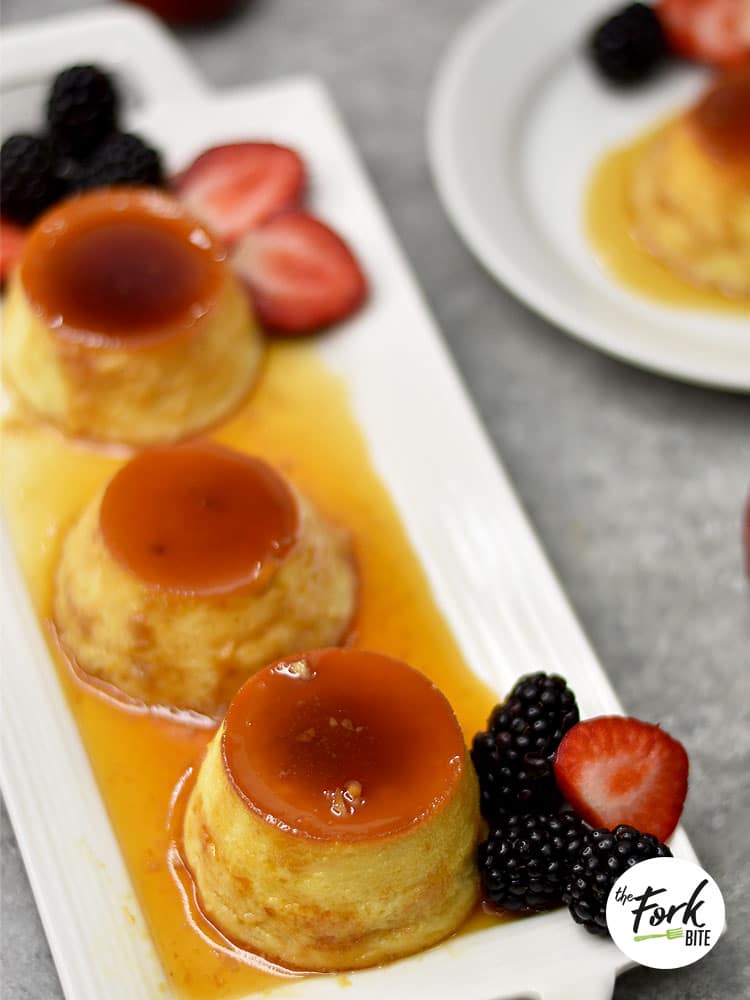 If your travels take you to Mexico, watch for the famous 'flan ladies', who set-up their wares, in near grocery stores. Early mornings, single servings of flan and other sweets catch the eyes of school kids and people at the bus stop, etc. Such a sweet way to start the day!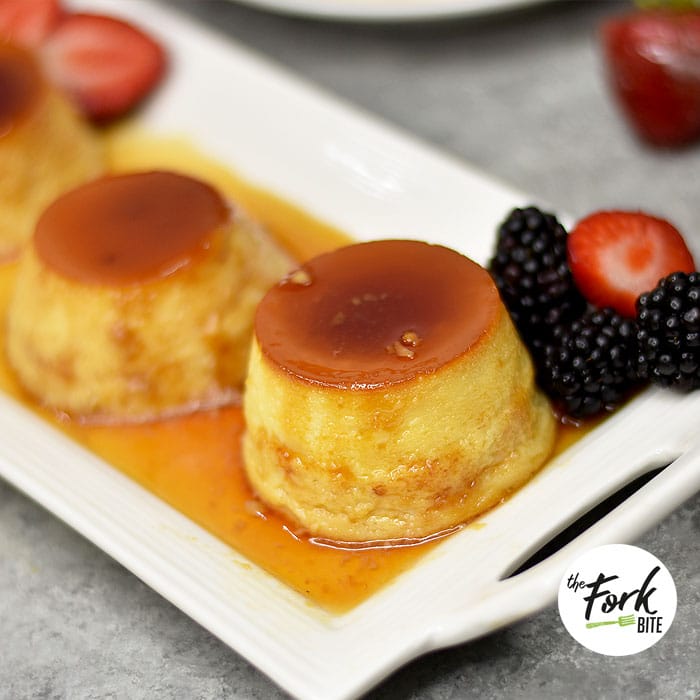 No matter how you say it – flan-like a pan or like a swan – this quintessential Mexican baked custard is lovely to behold and be eaten.
Flan is the ideal finale for Cinco de Mayo parties or Sunday dinners at home. Flan making is easier than you thought, with a little upfront preparation. Just follow the simple steps of our baked flan recipe for a Wow-worthy dessert anytime.
Strictly vegans and health-conscious cooks, take note: tofu is a terrific egg substitute. Either version, the original or healthy absorbs flavorful additions.
Try flan made with pureed pumpkin for Christmas or Thanksgiving. When making any special occasion flan, think liqueur. Grand Marnier, fruit liqueurs, Kahlua, etc. are spectacular enhancements.
For example, stir chopped peaches and peach liqueur into flan. To enhance its texture, add cream cheese.
Note: Texture is vital. Don't hurry the baking step. Or, your flan will have tacky 'pudding skin'.
For bliss in a spoon, tweak flan with instant coffee and/or Kahlua (contains Arabica coffee).
Those of you who swear by chocolate as an essential food group, add authentic Mexican chocolate. Also, chocolate is an aphrodisiac, making it an auspicious dessert for lovers. Perfect to serve your guy on Valentine's Day!
Watch How to Cook this Baked Flan Recipe :
Here are several flan toppings, or let your imagination take flight and create your own signature flan. Top flan off with fruit such as chopped strawberries, blueberries, chopped mango or raspberries.
Oppositely, why mess up a good thing? Traditional flan already has a succulent caramelized topping.
Some like it warm; some like it cold. For cold flan, refrigerate overnight. Having guests? You can prepare flan in advance, cover and keep in the fridge for two days.
Easy Baked Flan Recipe
Print
Pin
Rate
A super easy baked flan recipe that is prepared using a blender. It's great served cold and has a creamy texture like custard. 
Total Time
1
hour
10
minutes
Ingredients:
1

cup

white sugar

1

14 ounce can sweetened condensed milk

2

cups

heavy cream

1

cup

evaporated milk

5

whole eggs

2

tsp

vanilla extract
Instructions:
Preheat oven at 350 degrees F.

Add the sugar to a small non-stick sauce pan over medium heat.

Shake and swirl the sugar around the pan so the sugar will be evenly distributed as they start to dissolve or turn brown and caramelized.

When the sugar starts to caramelize, lift the pan couple of inches above the heat and keep the pan moving in circular motion.

Once the sugar has liquify, pour into your flan container or dish, making sure to coat evenly the bottom of the dish or container. Set Aside.

Now, pour the condensed milk, heavy cream, evaporated milk, eggs and vanilla extract into the blender.

Blend on high for one minute. After that, strain the mixture using a cheesecloth.

Then pour the mixture over the caramelized sugar in the baking dish or ramekins.

Place the baking dish / ramekins inside a larger baking pan and slide the pan into the pre-heated oven.

Pour enough hot water into baking pan to come halfway up sides of ramekins. This is called the water bath that will allow the flan to bake gently and evenly.

Bake until centers of flans are gently set, about 50 – 60 minutes. Transfer flans to rack and cool. Chill until cold, about 2 hours.

Remove the flan from the water bath and let it cool completely.

To serve, run small sharp knife around flan to loosen. Turn over onto plate. Shake gently to release flan.

Carefully lift off ramekin allowing caramel syrup to run over flan. Repeat with remaining flans and serve.
Nutrition Information:
Calories:
517
kcal
|
Carbohydrates:
40
g
|
Protein:
9
g
|
Fat:
36
g
|
Saturated Fat:
21
g
|
Cholesterol:
257
mg
|
Sodium:
128
mg
|
Potassium:
239
mg
|
Sugar:
38
g
|
Vitamin A:
1466
IU
|
Vitamin C:
1
mg
|
Calcium:
183
mg
|
Iron:
1
mg
Please note that all nutrition information are just estimates. Values will vary among brands, so we encourage you to calculate these on your own for most accurate results.
Did you make this?
I would love seeing what you've made! Tag me on Instagram @theforkbitedotcom or leave me a comment or rating below.