Croque Madame Recipe
– If you've ever eaten the sandwich made with ham and cheese that's topped with béchamel sauce called Croque-Monsieur, you know how delectable it is, but have you tried its more feminine side that's topped with an egg, Croque-Madame?
It's also a French classic sandwich that is scrumptious for a brunch but can also be just as good for a light, quick-to-make supper.
It looks far harder to make and smacks of sophistication, which is why I never let anyone in the kitchen watching me make it. They'd know I didn't toil over it for hours like I pretend to do.
The recipe often used includes home-style thick cut bread, I used Texas Toast but you can buy an uncut loaf of any type of bread and slice thicker slices to yourself.
You're supposed to slather it in Dijon mustard, but that's just not for me. I'm not a mustard fan, so I leave that ingredient off entirely and substitute chopped greens that I sprinkle on the top for flavor.
The keys to success in this recipe are the béchamel sauce, the cheese and frying your egg just right. Aside from the short time it takes to make the sauce and broil the sandwiches, this recipe is done in no time and can be served with fruit for breakfast or a salad if you make it for lunch or dinner.
Most of the croque madame recipe I've found for this dish use only Gruyère cheese. I love all types of cheese and to add to the extra cheesy flavor, also put in extra. Sometimes I use whatever I have in the cheese drawer, such as Colby.
But I find that combining Parmesan cheese with the Gruyère gives it a more mellow flavor and one I thoroughly enjoy. You can make several of these sandwiches at a time, so it is excellent for a small get-together or celebration.
My favorite memory was serving it at a New Year's Day Brunch. I knew everyone would love it but didn't realize just how much. Everyone asked for seconds. Luckily, I had enough extra cheese, eggs, ham, and bread to accommodate them.
If you are serving it to guests, type out and print off your recipe ahead of time because everyone will want it.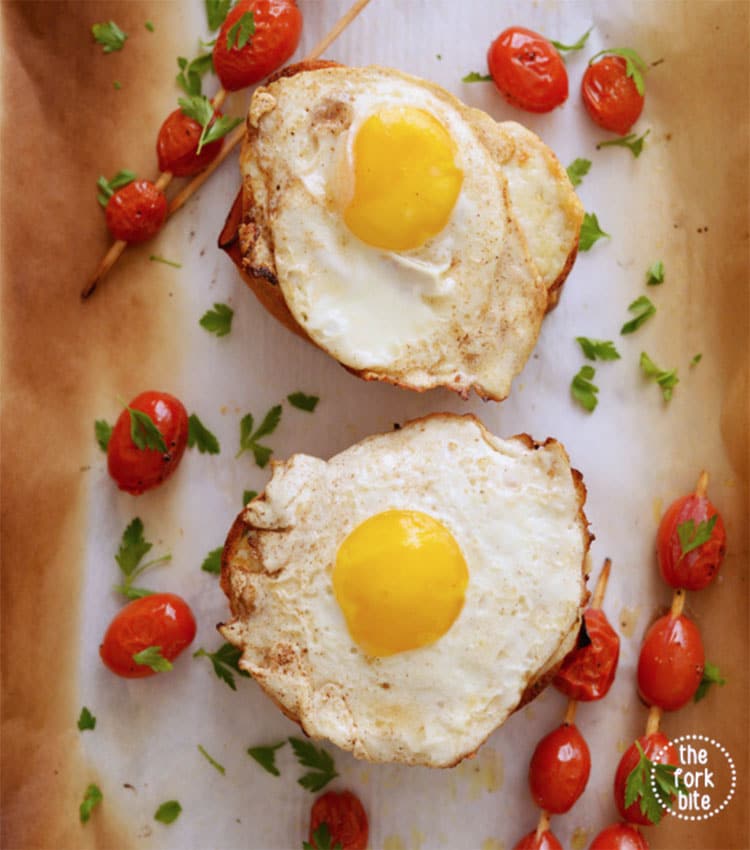 Croque Madame Recipe
Category: breakfast

Cuisine: French

A French classic sandwich that is scrumptious for a brunch but can also be just as good for a light, quick-to-make supper.
Bechamel Sauce:

5 tablespoons unsalted butter
1 tablespoon flour
1 cup milk
1/4 teaspoon salt
Pinch of freshly grated nutmeg
1 cup grated Gruyere cheese
Main Ingredients

8 slices white bread
2 teaspoons Dijon mustard
3 ounces best-quality deli ham, thinly sliced
2 large eggs
Ground pepper to taste
Instructions
For Bechamel Sauce:

In a small saucepan, melt 2 tablespoons butter over medium heat. Whisk in flour and cook until lightly golden.
Add milk and salt and whisk constantly until mixture thickens, about 2 minutes.
Remove from the heat. Stir into the sauce the nutmeg and half the cheese.
Prepare the Sandwich:

Preheat the broiler with the rack in the top position.
Lay the slices of bread on a baking sheet. Divide the Dijon between 2 slices and top with ham.
Put the bechamel sauce between the 2 bread slices and top with cheese. Close the sandwiches.
Melt 2 tablespoons butter in a large skillet over medium heat.
Place the sandwiches and cook both sides until bread is golden brown and the cheese is melted, about 3-4 minutes.
Return sandwiches to the baking sheet, top with remaining bechamel, and place under the broiler until bubbly ( about 1-2 minutes).
Meanwhile, melt remaining 1 tbsp butter in the same skillet over medium heat. Fry eggs, sunny side up, for about 2 minutes or until cook.
Top sandwiches with fried egg, season with black pepper, and serve immediately.
Notes
(adsbygoogle = window.adsbygoogle || []).push({});
Nutrition Facts
Croque Madame Recipe
Serves
Amount Per Serving
Calories
536.5 kcal
% Daily Value*
Total Fat 33.27 g
51.2%
Saturated Fat 18.38 g
91.9%
Trans Fat 0.61 g
Cholesterol 185.68 mg
61.9%
Sodium 864.75 mg
36%
Total Carbohydrate 34.36 g
11.5%
Dietary Fiber 2.92 g
11.7%
Sugars 6.76 g
Protein 25.16 g
| | |
| --- | --- |
| Vitamin A | Vitamin C |
| Calcium | Iron |
* Percent Daily Values are based on a 2,000 calorie diet. Your daily values may be higher or lower depending on your calorie needs.

https://www.theforkbite.com/the-feminine-side-of-croque-monsieur-is-croque-madame-and-its-even-better/