Dulce de Leche is a Spanish term originating from South America - Argentina and Uruguay, to be more precise. It's made by caramelizing milk with sugar and vanilla.
The locals eat it for breakfast, mostly spread on toast, but sometimes on pancakes or waffles. It is also used in the bakery as an ingredient in cakes, pastries, and pies.
Being a product of milk, many people might think that it goes off rather quickly. But does it? Not if stored the right way.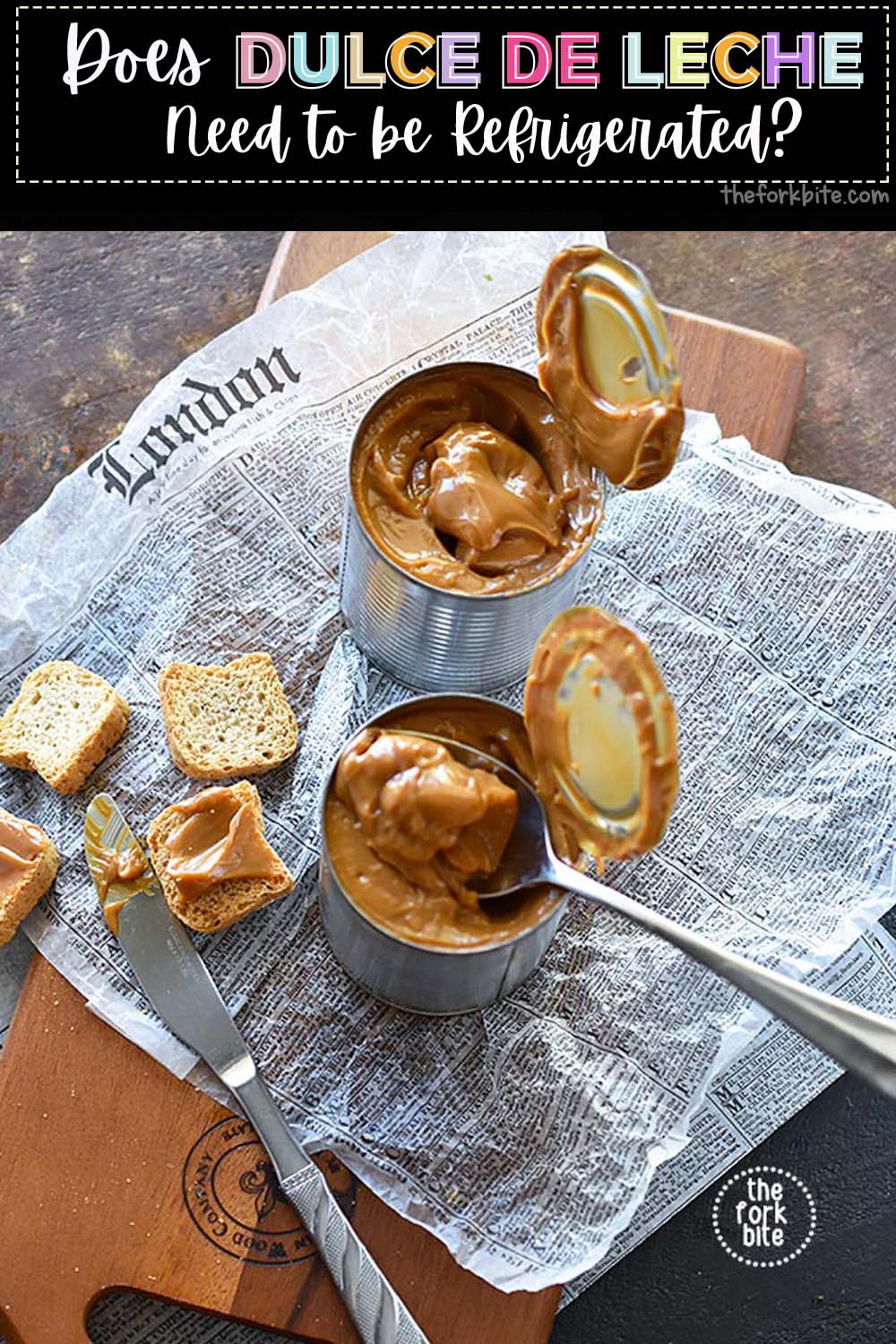 If Dulce de Leche is kept sealed in an unopened can, it will be good for between one and three months stored at room temperature.
After opening, it will remain good for up to two weeks if refrigerated.
To store it for longer, you can freeze it, providing you seal it correctly.
The length of time you can store Dulce de Leche relies on several factors.
These include its ingredients, how it is prepared for storage, and the environment in which it is stored.
To find out more about how various factors play out against this confectionary's "use-by date" and to pick up a few storage tips, please read on.
Jump to:
---
The History of Dulce de Leche
As well as being popular in Argentina and Uruguay, Dulce de Leche was also a favorite in Brazil and Chile. Now, its popularity has spread worldwide.
The Spanish "Dulce de Leche" translates into "sweet milk." It is usually found in thick syrupy, liquid form and also as a type of candy.
In France, it is called "confiture de lait," meaning "milk jam."
But although Dulce de Leche tastes similar to caramel, it is a different product.
Whereas caramel is made exclusively from sugar, Dulce de Leche is made by heating sweetened condensed milk on your stovetop.
While continuously stirring it until it reduces down into a thick, smooth texture.
The milk thickens as the water in it evaporates, and you end up with a sweet (but not too sweet) golden creamy sauce - though you can also turn it into a candy if you prefer.
Also popular in Latin America, where another name for it is "milk caramel," you can use it to produce cakes, candies, cookies, and even ice cream.
After you've finished making it, you can safely keep it in the fridge.
---
Does Dulce de Leche go off?
Dulce de Leche is a dairy-based product, so yes, eventually, it will go off.
Having said that, there are various ways of extending its shelf life if you follow the basic storage tips I am about to pass on.
---
How long will Dulce de Leche remain good?
If stored in an airtight container, Dulce de Leche will remain good for somewhere between 1 to 3 months if left unopened.
However, the exact length of time you can keep it in good condition will depend on two things - how it was made and in what environment you store it.
Please note:
Once you open the container, Dulce de Leche will deteriorate much more rapidly.
It's because once opened and the air gets to it; it sets off a chemical reaction causing it to go off much more quickly.
If you don't plan to eat it straight after opening or say within the next day or two, it is best to keep it in your fridge.
Once refrigerated, it should remain okay to eat for up to approximately two weeks.
---
What things affect Dulce de Leche's date of expiration?
As I indicated above, the things that affect the expiration date of Dulce de Leche are its ingredients and how it's stored.
First, let's take a quick look from the ingredients' viewpoint.
---
Ingredients of Dulce de Leche
Dulce de Leche's ingredients are milk and sugar, simmered and continually stirred to create this wonderfully sweet, caramel-type sauce.
When talking about its expiration date, it's this sauce-type we're talking about rather than the candied option.
We know that with the "standard" option, Dulce De Leche will keep fresh for up to 3 months if the seal is unbroken after opening, providing it is refrigerated, it will remain okay for up to another two weeks.
But homemade variations will not keep as long.
Some people make a DIY version, and they use a gallon of milk which they leave out for 24 hours before they simmer it with sugar.
Because leaving the milk out makes it spoil, using this method reduces the length of time the final product will remain fresh.
Once you packaged and seal homemade Dulce de Leche, kept in a cool, dry place, it will remain good for up to one month maximum.
Once the container is opened, like the shop-bought variant, you should be able to keep it for a couple of weeks when refrigerated.
Read: Dulce de Leche Made in Slow Cooker
---
Does Dulce de Leche need to be refrigerated?
Suppose your normal home environment is usually around room temperature, which is generally regarded as being around 72°F, and your Dulce de Leche is in an unopened airtight container.
In that case, there is no need to refrigerate it. You can keep it in a cool, dry place such as a pantry or kitchen cupboard.
But after opening, if you're not going to eat it within a couple of days, it ought to be refrigerated.
On the other hand, should you live in a warmer environment where your home temperature regularly exceeds standard room temperature?
Then refrigerating your Dulce De Leche from the word go is recommended.
When opened and any remnants are left out of the fridge at room temperature, they will soon develop a sour taste, and the texture will alter too.
If you're not careful, consuming it when it's going or gone off could give you food poisoning.
If you think that you will not use any leftover Dulce de Leche for several weeks or longer, you always have the option to freeze it.
If you do go down this avenue, be sure first to cover the container with Saran wrap. It will remain in good condition in your freezer for several months.
---
Tips for storing homemade Dulce de Leche
Once you get to the end of the simmering process when making homemade Dulce de Leche, I recommend placing the pan into a bowl of iced water.
This not only helps to cool it faster but aids in maintaining its thickness while it's stored.
After it's cooled sufficiently, you should then transfer it into airtight containers.
Using airtight containers will enable you to store the product for much longer.
If you use non-airtight containers, then I suggest you eat the product within four weeks otherwise is likely to go off.
Personally, I recommend using clean jelly jar containers. They're made of glass which means that warm sauce won't damage them.
Also, they usually have airtight tops, which saves flapping around looking for another way of sealing them.
Mason jars are a good alternative and are a great way of preserving many types of food products.
After each opening, reseal and return to the fridge.
---
How do Dulce de Leche and Caramel differ?
Both of these delicious confectionery sauces are gorgeously sweet and not that easy to tell apart just by looking at them.
However, they do have differences that you need to appreciate before serving them up for dessert.
Caramel
Caramel is made by heating sugar only on high heat until it caramelizes.
Once it liquefies and starts to darken in color, it can go from a pale golden shade to a dark amber very quickly.
Other ingredients need to be added when producing a caramel sauce, such as butter, cream, half and half, and vanilla extract.
The exact ingredients and their proportions will vary according to the menu you're following.
Caramel sauce is an ingredient with many popular desserts such as crème Brule, pralines, and sundaes.
---
Dulce de Leche
Although people often liken Dulce De Leche to caramel, they are quite different, and it's the word "Leche" that gives the big difference away. It is Spanish for milk.
When making Dulce de Leche, you simmer sweetened milk to the point where a chemical reaction begins.
This process changes the consistency of the milk from a liquid into a much thicker, darker substance.
Whereas caramel is heated over a fierce heat, the heat used when making Dulce er Leche is much gentler.
The type of milk you can use varies from recipe to recipe and includes coconut milk, cow's milk (with added sugar), or sweet condensed milk.
There are several methods of making Dulce de Leche too.
Some people make it in the oven, some make it on the stovetop, and some even use a slow cooker or crock pots per this Crockpot Dulce de Leche recipe.
What you end up with is a scrummy, rich, sweet sauce that sometimes turns out a little crumbly.
It's a wonderful addition to things like alfajores, cookies, ice cream, flan, and tres leches.
---
Best ways of enjoying the delights of Dulce de Leche
Many people enjoy Dulce de Leche by the spoonful - literally - straight out of the can or jar. I have to admit it's pretty good.
But knowing me and some of you do from reading my food blogs and recipes, I like to make maximum use of it by including it in recipes for various desserts.
Or perhaps making a delicious cake frosting by combining it with something like cheese or heavy cream.
The creamier and thicker, the better. It works incredibly well with Olga's recipe for Ukrainian Dulce de Leche waffle cake.
Here are some great ideas for enjoying Dulce de Leche
Use it in coffee or hot chocolate as a sweetener.
Drizzle it over brownies, or crepes, or ice cream
Use it for sticking cookies together. - the best-tasting glue ever.
Smear on Graham crackers and plain biscuits
Use it as a churros dip or dunk slices of apple in it.
Use it when making cheesecake or as a layer in between slices of cake.
---
Making Homemade Dulce de Leche step by step
Making homemade Dulce de Leche is pretty easy, but it's crucial to ensure you keep the water level well above the cans. Please read on.
Buy a few cans of sweetened condensed milk - how many depends on how much Dulce de Leche you intend to make.
First, peel the labels from the cans.
Fill a pan with sufficient water to completely cover the cans when you put them in. Allow one or two inches above tin level.
Bring the pan up to a boil and as soon as it boils, turn the heat down and let it simmer gently for one and a half hours.
Important:
I must emphasize the importance of keeping an eye on the water level.
Always make sure the cans are fully immersed with at least one-inch space. Keep topping the level up as needed.
With a pair of kitchen tongs, carefully turn the cans over. Simmer for a further hour - or two - I'll explain why the difference in a moment.
"DO NOT TRY TO OPEN THE CANS WHILE THEY ARE STILL HOT."
When you get round to opening the cans, the sauce inside should look lovely and golden, but you will also see small pockets of uncaramelized sweetened condensed milk dotted around the edge.
Give the contents a quick stir, and you should end up with a beautiful creamy likely caramelized sauce.
The taste should be quite mild at this stage, and it will be ideal for use in a Tres Leches cake recipe, for example.
But as I said earlier, the difference between simmering for that extra hour or two will give you a much more concentrated caramelized flavor. The color also will deepen.
This is the yummiest of all, Dulce de Leches.
Additional note:
The longer you simmer your Dulce de Leche, the better it will be.
The longest I've let it simmer for is three and a half hours, and believe me; the result was terrific.
The taste was divine, and the consistency was so thick that it needed a little warm through to make it pourable.
With a bit of trial and error, you'll soon find the length of time to cook it to make it just the consistency you and your family like best.