Do you have a sweet tooth and can't stop thinking about keto caramel sauce but you're on a strict keto diet?
Don't fret. You don't need to feel guilty about satisfying that sweet craving of yours because I discovered a sweet recipe that's creamy, thick, and absolutely sugar-free.
You can just store this sweet delight and top any preferred dessert with it.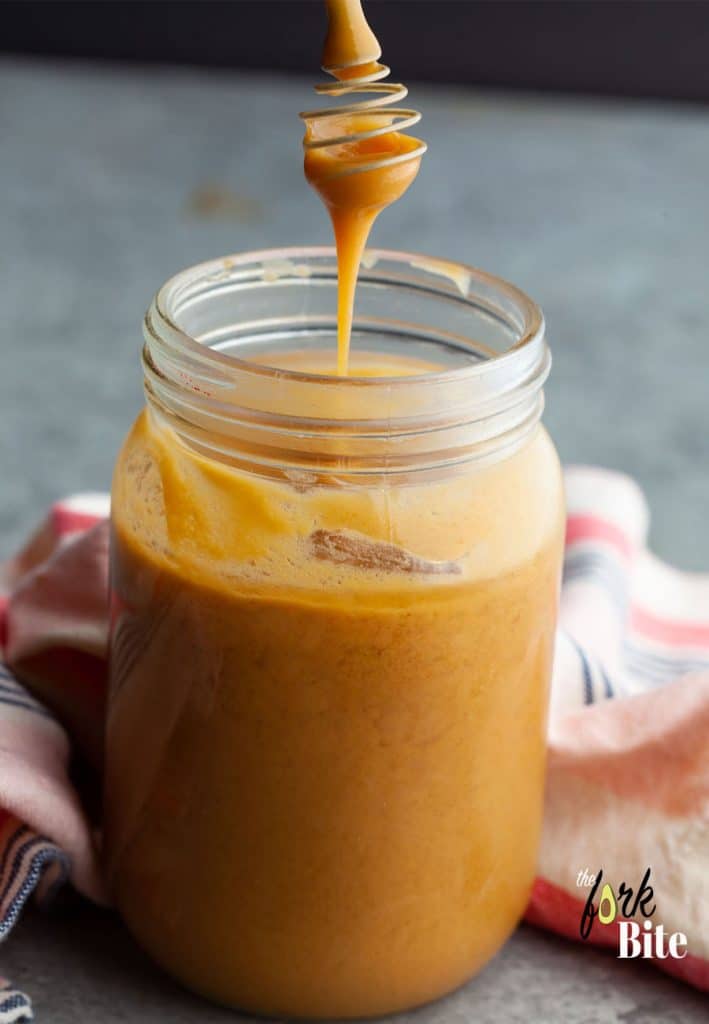 Say goodbye to sugar because I found a healthy replacement for it. I discovered a sugar replacement during the early years of my low-carb keto journey. Brown sugar can be hard to find sometimes.
In cooking, baking, and making sauces like Keto Brown Butter Salted Caramel, brown sugar makes a world of difference. It adds depth of flavor that cannot be replaced at all.
Instagram presented me with a keto-friendly alternative to brown sugar—Sukrin Gold. When I received my first pack of Sukrin Gold, I just kept on using it in several low-carb and keto dessert recipes.
---
How does Sukrin Gold compare to regular brown sugar?
Brown sugar tastes like deep earthy caramel. Sukrin Gold tastes the same way. This tasty brown sugar substitute is healthier because it is keto-friendly and low in carbohydrates.
It doesn't affect your blood glucose at all. When a recipe needs brown sugar, I just simply substitute it with Sukrin Gold without altering the measurements.
---
Low Carb Substitutes for Brown Sugar
Sukrin Gold Brown
Sugar Alternative
Truvia Brown Sugar Blend
Brown Sugar Substitute with Maple Extract
Brown Erythritol
---
What is this?
The mere sound of this recipe's name makes my mouth water. This is one of my all-time favorites because it's extremely simple to make with only five ingredients. I added heavy cream, vanilla extract, pink sea salt, and, of course, Sukrin Gold.
This recipe definitely deserves Sukrin Gold. I have already made this brown sugar substitute an essential part of the dessert recipes I love, and it will be part of even more of them in the future.
It's even delicious enough to have its own updated recipe postings. Sometimes, I make a batch of this sauce just to have some in the fridge on standby.
You can just slather some on a piece of pure dark chocolate with a small sprinkling of sea salt.
If you have low-carb vanilla ice cream on hand, drizzle this guilt-free, luscious sauce over it or just go ahead and lick it from your spoon.
Honestly, I think there is no other better low-carb, keto-friendly caramel sauce than this one.
When I first wrote this article, I mentioned that if there was any other way to enhance this recipe, I would look for it and find it. This time I believe I finally did.
But if you're not a fan of Keto you can also check my other recipe for the caramel sauce. This is perfect for graham crackers or you can this into your milk or coffee.
If you have a sweet tooth like me, you will enjoy this super easy baked Leche flan as well.
---
How to Store
I keep the sauce in a glass jar and store it in the fridge. Glass jars are microwavable. They also keep food fresh a lot longer.
---
Keto Caramel Sauce turned into a solid
Remember that this recipe is made with a brown sugar substitute. It's expected to turn into a solid the following day.
If you need to use it and make it pourable, heat the sauce in its glass container in the microwave for about 15 to 20 seconds.
This sweet, delectable sauce can change your life. There is nothing like a jar of keto caramel sauce to look forward to at the end of a hectic, stressful day!
Full Recipe
Keto Caramel Sauce
Forget sugar, try this thick and creamy Keto Caramel sauce! This is the easiest and best homemade sugar-free low carb caramel sauce that can easily be topped over any dessert of choice.
Ingredients:
⅓

cup

Unsalted Butter

4

tablespoon

Keto Brown Sugar Replacement

⅔

cup

Heavy Cream

½

teaspoon

Himalayan Pink Sea Salt
Instructions:
Heat a sauce-pan to medium-low heat

Add the butter and brown it (around 5-8 minutes for it to turn from golden to Amber)

Turn off the heat and pour the mixture into a container covered with a cheesecloth (for sieving). Doing this process will separate some of the black particles from butter.

Put the sieved butter mixture back in a saucepan. Turn on the stove in low heat.

And add the brown sugar replacement, heavy cream, and pink sea salt to the browned butter and whisk to incorporate.

Cook the mixture until it coats the back of a metal spoon (~8 minutes). Whisk occasionally.

Turn off the heat. Store in a glass container.
Nutrition Information:
Calories:
182
kcal
|
Carbohydrates:
1
g
|
Protein:
1
g
|
Fat:
20
g
|
Saturated Fat:
13
g
|
Cholesterol:
63
mg
|
Sodium:
11
mg
|
Potassium:
20
mg
|
Sugar:
1
g
|
Vitamin A:
704
IU
|
Vitamin C:
1
mg
|
Calcium:
20
mg
Please note that all nutrition information are just estimates. Values will vary among brands, so we encourage you to calculate these on your own for most accurate results.
Did you make this?
I would love seeing what you've made! Tag me on Instagram @theforkbitedotcom or leave me a comment or rating below.