Stop the freezer burn! Is your shrimp frozen and suffering from those white patches? If so, you're not alone. Almost all shrimp suffer from some freezer burn, but you can avoid it by taking a few measures.
If your shrimp have freezer burn, this post will help you determine what you need to do. We'll also share some tips on how to prevent freezer burn from happening in the first place.
Jump to: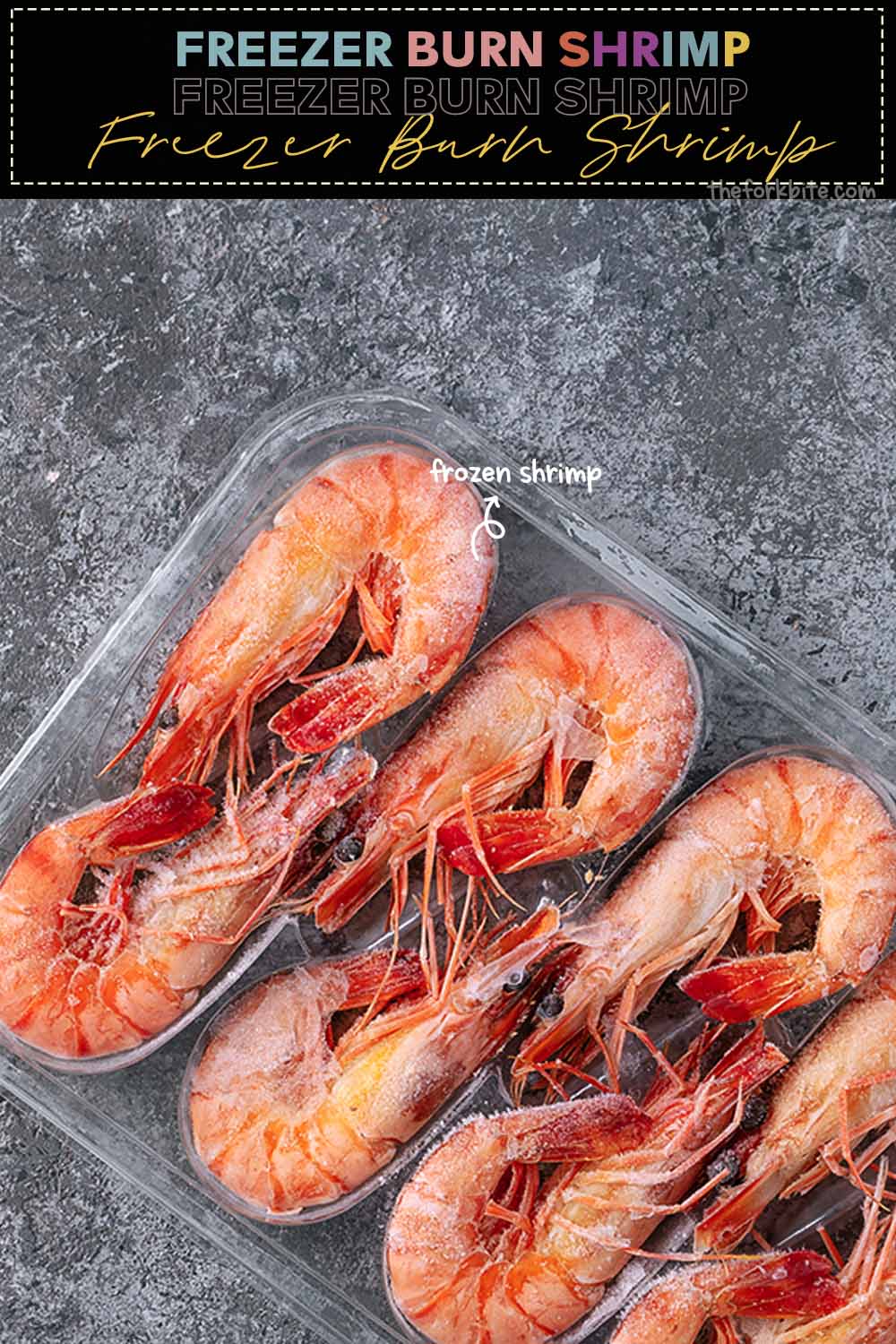 What is freezer burn?
Freezer burn is the result of air coming into contact with food. This exposure to air causes the formation of ice crystals on the food's surface. It causes the food to dehydrate and develop a leathery or brittle texture. The food may also develop a sour taste.
Freezer burn can occur on both frozen raw and cooked foods. Freezer burn occurs when the food's surface dries out, causing it to become hard and brittle. A prolonged period of freezing can also lead to food damage of this type.
The most common cause of freezer burn happens when foods are not properly wrapped or sealed. Without proper wrapping or sealing, air can come into contact with it and cause the formation of ice crystals. This exposure to air dries out the food, causing it to lose flavor and texture. Vegetables, meats, and seafood are the most common foods to suffer from this effect.
---
Freezer burn shrimp: what is it?
If you have ever had freezer-burnt shrimp, you know how disappointing it can be. Freezer burnt shrimp is shrimp that has been frozen for too long and has started to develop freezer burn. Why is that? The loss of moisture from food causes frostbite, and shrimp are very high in water content. Over time, they will lose moisture, resulting in dry, rubbery, and sometimes even discolored shrimp.
The best way to prevent freezer burn is to use airtight containers or bags and ensure that the shrimp is completely covered. When thawing frozen shrimp, you should do it slowly in the fridge to avoid toughening them up. Once unfrozen, you should use cooked shrimp within a day or two.
---
The telltale signs of freezer burn on shrimp?
An example of freezer burn is the deterioration of food that occurs after prolonged storage in the freezer. When food is freezer burnt, it looks like there are brown or white spots on the surface of the food. Exposure to air causes these spots, which can discolor and dry food. 
There are a few things you should keep an eye out for with shrimp:
It appears that the shrimps are dehydrated and frizzled
Unpleasant odors emanate from the shrimp
Shrimps have an opaque appearance
A whitish discoloration develops on the shrimp
Shrimps seem chewy and tough
Develop a few off-color or somewhat dry spots as well
A patchy appearance develops
---
How does freezer-burnt shrimp taste?
Freezer burnt shrimp tastes quite unpleasant in general. The shrimp also become tough and rubbery as a result. It is not something you want to eat again if you have ever eaten freezer-burnt shrimp.
However, it all depends on how severe the freezer burn is. If it is only slight, then the taste and texture of the shrimp might not be affected too much. But if the freezer burn is severe, then the taste and texture of the shrimp will be significantly affected.
---
Is it safe to eat freezer-burnt shrimp?
Yes, you can still eat freezer-burnt shrimp. Trim off any freezer burnt areas before cooking or eating frozen shrimp. The freezer burn process does not make the shrimp unsafe to eat, but it can affect the taste and quality of the shrimp.
To mask any off flavors effectively, you should stick to recipes with sauces and broths because the additional moisture will help neutralize the taste. The shrimp can also benefit from some rehydration.
---
What foods are particularly susceptible to freezer burn?
Freezer burn occurs more often in some foods than in others. High-water content foods, such as fruits and vegetables, are more likely to suffer from freezer burn. A poorly wrapped or sealed food is also more likely to suffer from freezer burn.
Examples of food that are prone to freezer burnt are:
Fruits and vegetables
Meat
Dairy products
Ice cream and other frozen desserts
Non-sealed or inadequately wrapped leftovers
---
What happens when you freeze shrimp?
When you freeze shrimp, the water inside them starts to crystallize and expand. Due to its high freezing point, water can freeze very quickly (-0.4 degrees Celsius). As the water inside the shrimp freezes, it expands and causes the cells to rupture—a mushy shrimp with no flavor results from this process.
A freezer-burned shrimp is unpleasant, as anyone who has ever eaten one knows. In this state, the shrimp become rubbery and dry and are no longer edible. A proper frozen shrimp storage method can help prevent this.
---
Why is shrimp susceptible to freeze burn?
It is challenging to avoid freezer burn when it comes to shrimp. Why is that? Shrimp is made of mostly water—about 80 percent—so this water evaporates quickly if exposed to air, leaving the shrimp dried out and flavorless. They are delicate seafood, and their texture and flavor can be negatively affected by even a short period in the freezer. When shrimps are frozen, ice crystals form on their surface. These crystals can penetrate the shrimp's flesh, causing dehydration and a loss of flavor.
---
What causes freezer burn on foods?
The leading causes of freezer burn are dehydration and oxidation. Dehydration occurs when the package is not sealed and air enters the package, causing the water in the food to evaporate. Moisture in the food disappears, and the warmer, drier air draws it out. When this happens, ice crystals can form on the surface of the food. This process is called dehydration.
Oxidation, however, happens when the food is exposed to too much oxygen, which causes the fats and proteins to break down and become rancid.
When you freeze food, ice particles begin to appear on the food's surface. It results from water molecules coming out of the product and turning to ice due to the sub-zero temperature.
Several factors can cause freezer burn as well, including
1

Insufficient wrapping or sealing of the food
Make sure to wrap or seal your food tightly to prevent freezer burn. Why is that? If there is too much air around the food, it will cause the water molecules to evaporate. This will make the food dry out and produce that leathery, freezer-burned texture.
---
2

Fluctuations in temperature
Keep your freezer at a consistent temperature, around 0°F (-18°C). If the temperature fluctuates too much, it can cause freezer burn.
---
3

Storing food for too long
Even if your food is wrapped tightly, the long-term storage will eventually cause freezer burn. Use frozen foods within 3-6 months for the best quality.
---
4

Improperly defrosting food
When you defrost food, do it slowly in the refrigerator. If you defrost food too quickly (for example, in warm water or the microwave), the outside of the food will thaw before the inside, causing ice crystals to form. These ice crystals can damage the cells in the food, leading to freezer burn.
---
5

Repeatedly freezing and thawing food.
Ice crystals form every time you freeze and thaw food, and cell damage occurs. This damage accumulates over time, making the food more susceptible to freezer burn. Try to avoid freezing and thawing food more than once.
---
6

Exposure to air in the freezer
If there is too much air circulation in your freezer, it can dry out food and cause freezer burn. Keep your freezer well-sealed and make sure there is minimal air movement within.
---
7

Using old freezer bags
Freezer bags can become worn out over time, allowing air to seep in and causing freezer burn. If you want to avoid this, ensure your freezer bags are fresh and high-quality.
---
8

Placing hot food in the freezer
When you put hot food in the freezer, it raises the temperature of the surrounding air. This can cause ice crystals to form on other food in the freezer and produce more condensation. To avoid this, let hot food cool down to room temperature before placing it in the freezer.
---
How can I prevent freezer burn?
Freezer burn is a common problem that can ruin your food. It occurs when the water in the food freezes and expands, breaking down the cell walls. This drys out the food and leaves it with an unpleasant taste. There are several ways to prevent freezer burn: wrapping foods tightly in plastic wrap, aluminum foil, or freezer bags; using airtight containers; and making sure there is no air space between the food and the wrapping material.
There are some other options to avoid freezer burn. Don't rely simply on the store packaging to protect your shrimp.
The following tips help prevent freezer burn:
1

Wrap your food tightly.
Make sure to wrap meat and seafood tightly in plastic wrap or freezer bags, and remove as much air as possible to prevent oxidation.
---
2

Store food in the coldest part of your freezer.
The closer to the freezer coils, the colder the temperature will be.
---
3

Don't store food in your freezer for too long.
While most foods will be safe to eat after being frozen for a few months, their quality will decline. For best results, consume frozen food within 3-6 months.
---
4

Label your food.
You've been doing memory games your whole life, so put that skill to work in the freezer. Label everything with the date it went in and what it is. That way, you can quickly glance and decide what to eat first.
Do not store the package in the freezer after you buy it at the market. Taking it out of the bag makes sense for two reasons:
First, there's air inside that bag. Often, it's hard to tell whether the food is old or has been sitting in the freezer for a long time. When there is air in the bag, it causes freezer burn, resulting in stale, tasteless food.
Before freezing, portion it into meal-sized freezer bags or containers. That way, you can grab what you need without defrosting the whole thing. In the unlikely event that something gets freezer burned, you only lose a portion of the batch instead of the entire pack.
---
How to freeze shrimp the right way?
Shrimp can be an excellent addition to any meal, but only if they're properly frozen. If not done correctly, shrimp will develop freezer burn, which dries them out, and makes them tough to eat.
Here are some tips on how to freeze shrimp the right way:
1 Rinse the shrimp thoroughly and pat them dry with a paper towel.
2 Place the shrimp in a single layer on a baking sheet lined with parchment paper.
3 Freeze the shrimp for about 2 hours or until they're solid.
4 Wrap them in foil and transfer the frozen shrimp to a freezer-safe container or bag. You can vacuum-sealed them in small batches, which will make it easier to thaw them later. Or if you have vacuum sealer bags, that's even better.
5 Label container with the date and contents, then store in the freezer for up to 3-4 months.
When ready to use the frozen shrimp, thaw them in the refrigerator overnight or place them in a bowl of cold water for about 10 minutes. Cook the shrimp as you would normally, and enjoy!
---
How long does frozen raw shrimp last in the freezer?
Frozen shrimp will last for 3-4 months in the freezer, although they may not be as fresh as when you first froze them. After that time, they may start to develop freezer burn, making them less fresh. It is best not to keep your shrimp past the 6-month mark, or you may find that your shrimp are no longer edible to eat. Eating frozen shrimp over a year old is not recommended.
Shrimp are delicate seafood, and their texture and flavor can change over time when frozen. This is due to something called "freezer burn." Freezer burn is when the surface of the shrimp dries out and becomes hard. Eating is not harmful, but it can make the shrimp less enjoyable.
---
How to thaw frozen shrimp
When ready to eat them, thaw the shrimp in the refrigerator overnight before cooking. To prevent freezer burn, wrap the shrimp tightly in freezer-safe packaging. As a result, the shrimp will remain fresh and tasty for extended periods.
A frozen shrimp will remain fresh for quite some time if handled correctly. They will, however, develop freezer burn over time. This results in the shrimp becoming dry, tough, and less flavorful. While still safe to eat, freezer-burned shrimp are not as enjoyable as fresh, quality shrimp.
Drying occurs when shrimp are exposed to air as the cold temperatures of a freezer accelerate this process. As the shrimp dry out, they will become tough and less flavorful. This is why it is crucial to store shrimp properly to prevent freezer burn.
---
Can you refreeze shrimp after it's been thawed?
In food safety leaflets at grocery stores, you are always told not to refreeze thawed seafood, but is this true? The answer may surprise you.
Generally, it is not advisable to refreeze seafood that has been thawed; in some cases, it may be safe. As long as the seafood is thawed in the refrigerator and has not been sitting at room temperature for more than two hours, it should be safe to refreeze.<source>
As a precaution against shrimp being contaminated by the refreeze, you need to minimize the time spent at room temperature as much as possible. If the shrimp have not been thawed for more than two hours and are still in their original packaging, you can put them back in the freezer.
However, it is best to cook before refreezing for shrimps that have been thawed for more than two hours or if they are not in their original packaging. You can refreeze shrimp that has been cooked for up to four months.
---
Thawing is the key
If you want the option of refreezing your seafood, it is best to buy frozen seafood that has been individually quick frozen (IQF). This type of seafood is frozen very quickly and will maintain its quality better if it is thawed and refrozen. To thaw seafood, place it in the refrigerator overnight or for several hours before cooking. Do not thaw seafood at room temperature on the counter, as this can cause bacteria to grow.
A few things to remember: 
Bacteria will likely develop on frozen shrimp left at room temperature for prolonged periods.
The process of thawing shrimp in hot water can actually result in premature cooking.
---
How to cook freezer-burnt shrimp?
Shrimp with freezer burn can be cooked just like shrimp without freezer burn, but they won't be as juicy and soft. Therefore, to restore some moisture, use broth or sauce to cook it. There are many ideas for seafood dishes, including shrimp scampi, seafood boils, shrimp marinated in lemon juice, jambalaya, paella, soups, and chowders.
Food options to cook or use with freezer-burnt shrimp
The most apparent about freezer-burnt shrimp is that it loses its moisture. This can result in making it a little on the chewy side.
There are several options open to you once you have discovered your shrimps are freezer burnt, for example:
You can use the shrimp in a chowder recipe. It may alter the flavor slightly, but the dish should still be tasty.
The shrimp can be used and turned into a paste for preparing ground pork.
Freezer burnt shrimp can be marinated with soy sauce, garlic, oil, and red pepper; this would be ideal as a filling for Chinese dumplings or potstickers.
You can also include freezer-burnt shrimp as an ingredient in Oriental fried rice.
If you feel brave enough, you might make sausage using the shrimp.
It can also be added to fish cakes, jambalaya, or mix it into a stir fry.
Of course, you can always feed your freezer-burnt shrimp to your pet. They will take it down double-quick.
You can do many things to enjoy your shrimp after it has been burnt freezer.
As seen above, there are many ways of enjoying freezer-burnt shrimp. Anyone of them is better than trying to eat it plain and unadorned.
But at the end of the day, you must know that freezer-burn shrimp is safe to consume. Yes, the taste and texture won't be as good as they might have been, but it won't make you ill.
---
Can you eat freezer-burned shrimp?
You can often eat shrimp that has developed freezer burn. However, there are certain things you need to be aware of before you cook them.
If your shrimp has become freezer burned, it is most important to check its color and smell. You're looking for a good depth of color and whether or not it has developed an unpleasant odor.
If the color hasn't changed much and the overriding odor is one of salt water, then the shrimp is likely to be okay for eating without any danger of them making you ill.
It's when food changes its color that it becomes dodgy to eat. While it may not make you ill, if it has discolored, it won't taste very nice at all, and the texture may have deteriorated.
If you detect a strong smell of ammonia or chlorine, then throw the shrimp straight in the rubbish bin. Another indication of spoilage is when the shrimp develop black spots.
---
Is freezer burn shrimp bad to eat?
Because freezer-burn shrimp discolors, alters its texture, and loses some flavor over a while, you might think the flavor change is marginal if you taste it. If, however, the change is too noticeable, the flavor could be well off.
Some people are a little thrifty regarding a batch of shrimp with freezer burn. But, the most important thing is not to put them back in the freezer once you've noticed the change. Cook and eat them if you want to take the chance, or throw them away in the rubbish bin.
If you want to eat freezer-burnt shrimp, you should remove any bad ones and only use those that appear normal or too badly burnt. Ultimately, the choice is down to you.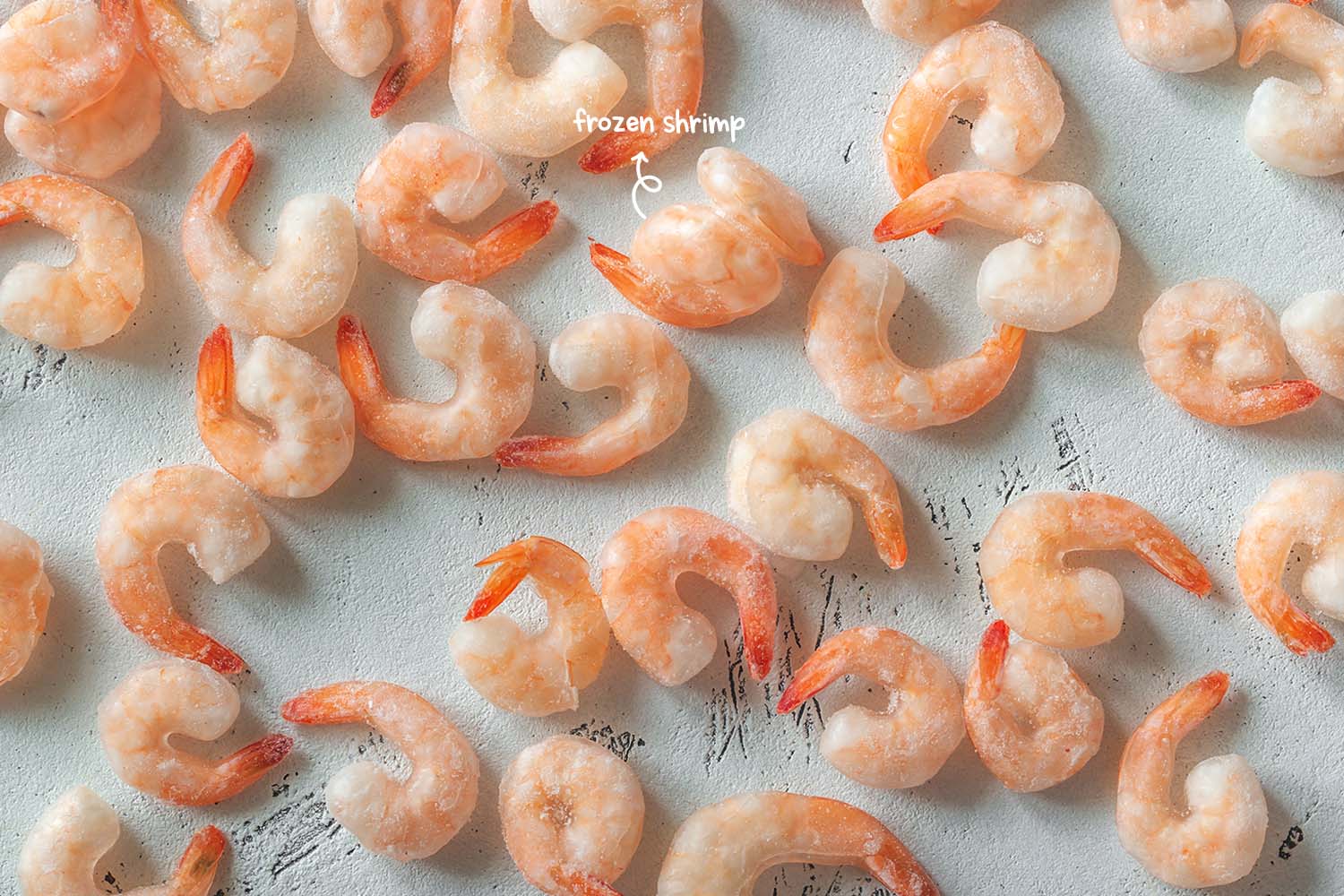 ---
Frequently asked questions
Does freezer burn turn your shrimp bad?
Make no mistake; freezer burn is not good. But it doesn't mean that freezer-burnt shrimp will make you ill if you eat it. You can consume it, but it won't taste as good as unburnt shrimp.

Although the taste of freezer-burn shrimp will only be slightly negatively affected, it will affect the shrimp's color and texture. It is likely to make it less moist. So, in conclusion, freezer-burnt shrimp is quite edible.
Can you cut out the freezer burnt part of the shrimp?
Not really. Shrimp is, after all, quite small. You will be left with very little if you cut out a burnt piece. It's just not worth it.

Usually, bulk shrimp is sold by weight. When people talk about cutting out freezer burnt shrimp, they often mean separating the unburnt from the burnt.
At what temperature should you freeze shrimp?
It is recommended to freeze shrimp at a temperature of 0°F. This is by far the best way in terms of long-term freezing. If your freezer falls far below this temperature, it will likely create an environment that encourages freezer burn.
---
Interesting shrimp recipes
---