Freezer burn shrimp is a pain. If you don't know how best to go about preventing it, it will play havoc with your frozen food, and you will be left having to suffer the consequences, mostly when it happens with shrimp. It's challenging to stop freezer burn from occurring or, when it does, to disguise it.
It's no easy thing to know what makes food products suffer from freezer burn. It can be down to the fact that they aren't sealed properly. It can also be a result of keeping food in the freezer for too long a duration. Or it could be something else.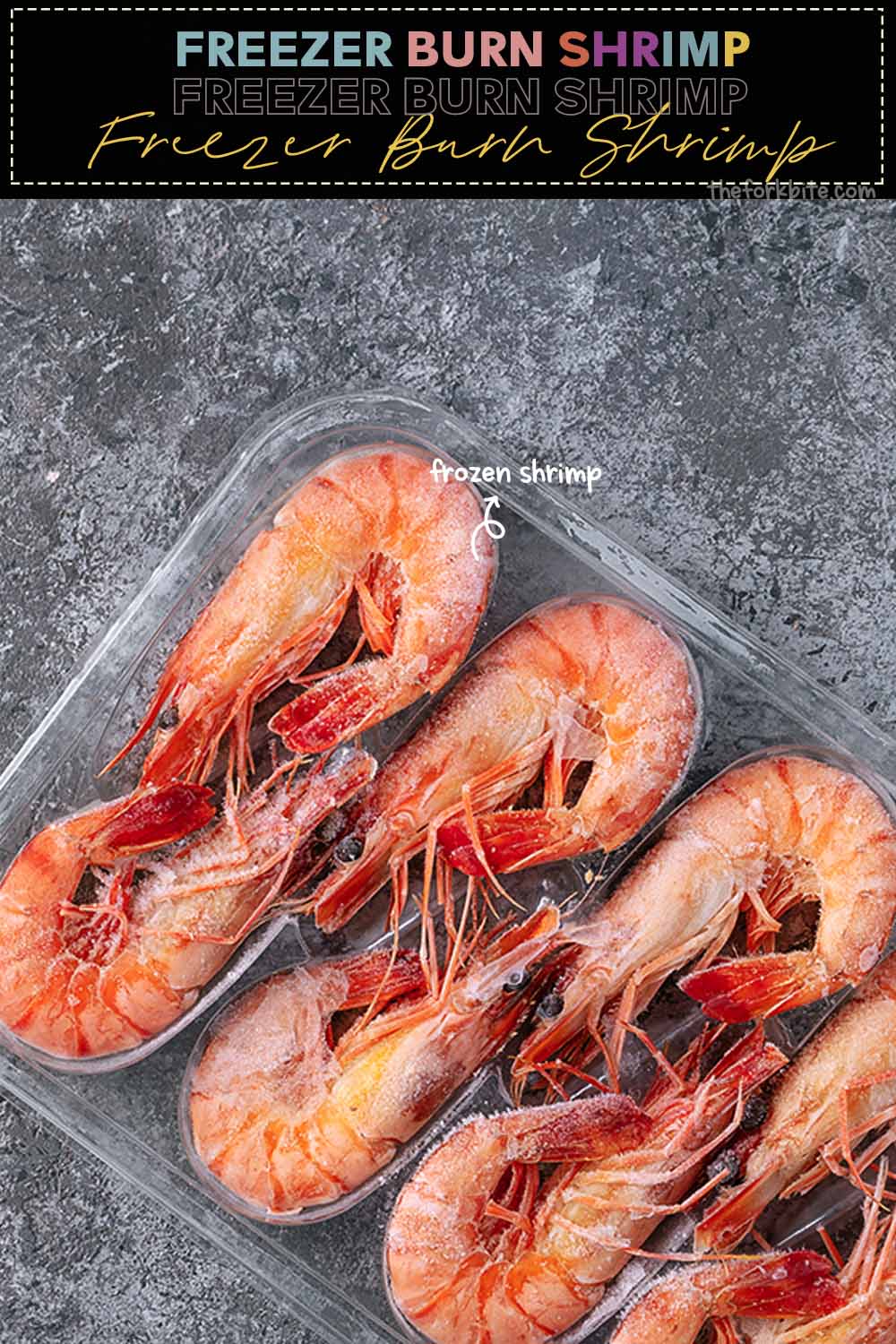 Jump to:
What is freezer burn?
One of these days, you could discover that the meat or shrimp in your freezer has changed color. This happens if the shrimp are frozen for a long time, the result it takes on a darker appearance. It is a sign of freezer burn.
If you wonder why the meat or fish changes color, it's down to the fact that it dehydrates and oxidizes. Checking the product's color is a quick and easy way of telling whether freezer burn has occurred.
Freezing uncooked shrimp is fine from a quality point of view apart from the fact that if it is frozen for two long, freezer burn might take place.
Cause of freezer burn shrimp
What happens when you freeze food is that ice particles begin to appear on the food's surface.
It results from water molecules coming out of the product and turning to ice due to the sub-zero temperature.
If allowed to go on for a while, food products will dehydrate, and their colors will change.
Ice forming on your shrimp does not necessarily mean it is freezer burnt. It can help to prevent the shrimp from becoming a freezer burnt.
The things that can lead to freezer burn are poor wrapping and frequent temperature fluctuation.
Nine times out of ten, you can defrost frozen shrimp, pat them dry and cook them without any problem. The coating of ice that forms on them will help the flesh remain tender, juicy, and delicious.
So basically, a coating of ice is not necessarily an indication of freezer burn. It's no more than a sign that the shrimp is frozen correctly and will be ready to eat when defrosted.
---
What does freezer burn look like on shrimp?
When freezer burn manifests itself on any foods, including shrimp, it looks like a dry patch, and with good reason. It's because that is exactly what it is. It is created by water turning from ice into vapor without the interim liquid phase.
It happens over time. The burn itself is relatively harmless. However, it is the flavor and structure of the shrimp itself that will suffer. You can avoid freezer burn by packing the shrimp in solid ice, denying it any airspace. If any air is present, then the best thing to do is defrost and cook the shrimp to be eaten in weeks rather than months.
These are the things for which you need to keep an eye open. The shrimp might:
appear frizzled and dehydrated
develop an unpleasant odor
become opaque looking
take on a whitish discoloration
look tough and be chewy
develop individual spots that look somewhat dry or off-color
develop a patchy coloration
These are just a selection of samples of the possible signs of freezer burn, but they don't necessarily mean that the shrimp has become unsafe to eat. However, if you do cook and eat it, you might discover it has lost some of its moistness and that it has become a little chewy. Nine times out of ten, it is the texture that degrades somewhat, but you can sometimes live with that.
---
Can you eat freezer burned shrimp?
You can often eat shrimp that has developed freezer burn. However, there are certain things you need to be aware of before you cook them.
The most important thing to do if your shrimp has become freezer burned is to check its color and smell. You're looking for a good depth of color and whether or not it has developed an unpleasant odor.
If the color hasn't changed much and the overriding odor is one of saltwater, then the shrimp is likely to be okay for eating without any danger of them making you ill.
It's when food changes its color that it becomes dodgy to eat. While it may not make you ill, if it has discolored, it won't taste very nice at all, and the texture may have deteriorated.
If you detect a strong smell of ammonia or chlorine, then throw the shrimp straight in the rubbish bin.
Another indication of spoilage is when the shrimp develop black spots.
---
Is freezer burn bad to eat?
Because freezer burnt shrimp discolors, alters its texture, and loses some flavor over a while, you might think the flavor change is marginal if you were to taste it. If, however, the change is too noticeable, the flavor could be well off.
Some people are a little thrifty when it comes to a batch of shrimp with freezer burn. But, the most important thing of all is not to put them back in the freezer once you've noticed the change. Cook and eat them if you want to take the chance, or throw them away in the rubbish bin.
If you want to chance eating freezer burnt shrimp, you should remove any bad ones and only use those that appear normal or too badly burnt. Ultimately, the choice is down to you.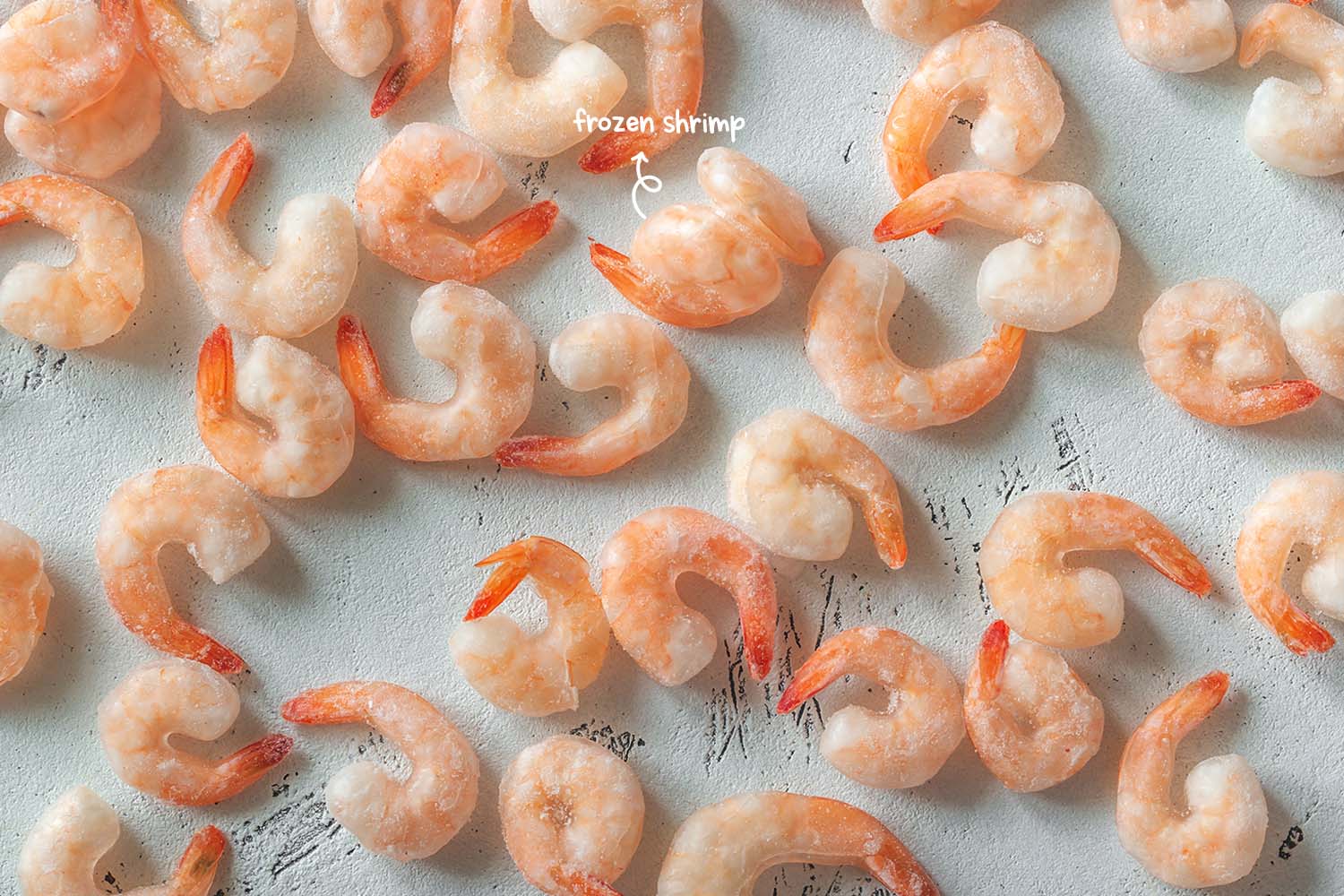 ---
What options do you have when your shrimp ends up freezer burnt?
For me, the most appropriate way of using shrimp that has been freezer burnt is to use it as one ingredient among many in a dish you are preparing. Any herbs and spices, and other flavorings can help to disguise any flavor loss in the shrimp.
The same goes for making a source to pour over the shrimp. This, too, can help to disguise the taste and texture.
---
Food options to cook or use with freezer burnt shrimp
The thing that is most apparent about freezer burnt shrimp is that it loses its moisture. This can result in making it a little on the chewy side.
There are several options open to you once you have discovered your shrimps are freezer burnt, for example:
You can use the shrimp in a chowder recipe. It may alter the flavor slightly, but the dish should still be tasty.
The shrimp can be used and turned into a paste for preparing ground pork.
Freezer burnt shrimp can be marinated with soy sauce, garlic, oil, and red pepper; this would be ideal as a filling for Chinese dumplings or potstickers.
You can also include freezer burnt shrimp as an ingredient of Oriental fried rice.
If you feel brave enough, you might make sausage using the shrimp.
It can also be added to fish cakes, jambalaya, or mix it into a stir fry.
Of course, you can always feed your freezer burnt shrimp to your pet. They will take it down double-quick.
You can do a lot of things to enjoy your shrimp after it has been freezer burnt.
As can be seen from the above, there are many ways of enjoying freezer burnt shrimp. Anyone of them is better than trying to eat it plain and unadorned.
But at the end of the day, you need to know that freezer burnt shrimp is quite safe to consume. Yes, the taste and texture won't be as good as it might have been, but it won't make you ill.
---
Tips for preventing freezer burn
There are some other options to avoid freezer burn. Don't rely simply on the store packaging to protect your shrimp.
Here's what to do:
Make sure to seal any foods within an airtight container. Alternatively, you can vacuum seal it before storage. I recommend incorporating a double layer to protect the contents.
First, wrap the shrimp in plastic film. Wrap the shrimp in an airtight container or a freezer bag with the air extracted; you can then add another layer of packaging either by way of a heavy-duty freezer bag or another freezer-safe container.
If you're going to be storing shrimp in its original shop-bought packaging, I still recommend giving it a further layer of packaging to help to prevent or slow down freezer burn.
Whichever type of container you use, the most important thing is to make sure you seal it properly. It's all about keeping the air away from the shrimp.
When vacuum sealing your shrimp, I still suggest that you use a double packaging approach.
Don't buy too much shrimp at one time; the less you freeze, the lest you might waste if it does become freezer burnt.
Remember to label and date the container.
It would help if you didn't leave your freezer door open as frequent temperature changes can bring on freezer burn.
Refrain from putting any hot foods into the freezer. This, too, can create temperature change.
Keep an eye on the temperature in your freezer to make sure it isn't fluctuating.
Some people like to keep a plastic container full of water in the freezer to stabilize the temperature.
Of course, you will want to make sure that your shrimp maintains its lovely sweet flavor and soft texture, as these are the things we all love about this product. In other words, do all you can to prevent freezer burn.
---
How long can frozen fresh shrimp be kept?
When you put cooked shrimp into your fridge, it will last anywhere up to 4 days, providing you store it in the coldest place as far away from the door as possible.
You must allow cooked shrimp to cool for about two hours before refrigerating it, and when you do, make sure that you put it into an airtight container or Ziploc bag.
To avoid cross-contamination, I recommend that you keep your shrimp well away from any other cooked foods in your fridge.
Uncooked shrimp will freeze well for as long as three months, providing it is stored in an airtight, freezer-safe container or food bag.
If you are freezing cooked shrimp and follow my recommendations for packaging, it can last up to around 12 months in your freezer.
If you get a power cut, and the temperature in your freezer goes above 40°F for longer than two hours, don't take any chances; throw any shrimp away.
---
The shelf life of frozen shrimp
When you freeze shrimp, providing you package it as recommended will be good for several months. Although you might think that store-bought packaging should be enough to protect the shrimp from freezer burn, always assume the worst and double wrap it.
Remember, your frozen shrimp will avoid being freezer burnt when properly packaged and sealed in an airtight container or bag.
Properly sealed frozen shrimp ought to avoid freezer burn for up to 6 months. The usual recommendation is between three and six months.
I won't go beyond that timeframe if you want the best eating experience.
Of course, you can go beyond the six-month recommendation, but it's just worth considering that the shrimp's quality may begin to deteriorate slightly.
Remember that these are recommendations only and that they only apply with the right packaging. Properly packed, frozen shrimp will keep almost indefinitely.
You must, however, remember one thing. The longer you keep the shrimp in your freezer, the more likely it is to become freezer burnt no matter how well you package it.
---
Can you refreeze shrimp after it's been thawed?
Shrimp freezes excellently, either cooked or uncooked. Regarding defrosting, it's best in doing so in your fridge to stop any bad bacteria from developing. Because of this, shrimp that has been thawed in a refrigerator can be frozen again, although I preferred not to do so.
When defrosting shrimp using a microwave or a bowl of cold water, you must cook it thoroughly before attempting to refreeze it.
The same goes for frozen shrimp that you purchase from the store. If it thaws by the time you arrive home, cooking thoroughly before refreezing it.
Once shrimp has been cooked, you must allow it sufficient time to cool down in your fridge before freezing or refreezing. The fact is that cooked shrimp that is still warm is its steam, which might create moisture that could build up and freeze on the shrimp's surface. This can lead to freezer burn.
Cooked shrimp should be shelled before freezing. Uncooked prop shrimp, however, can be left in the shell.
Whether cooked or uncooked, previously defrosted shrimp should be packaged in a clean freezer bag and any air evacuated before sealing.
Never refreeze shrimp more than once. If you do, you will compromise both its taste and texture.
It would be best if you didn't defrost frozen shrimp outside at room temperature or in hot water because this can lead to harmful bacteria proliferation.
---
Frequently asked questions
Does freezer burn turn your shrimp bad?
Make no mistake; freezer burn is not good. But it doesn't mean that freezer burnt shrimp will make you ill if you eat it. You can go ahead and consume it, but it won't taste as good as unburnt shrimp.

Although the taste of freezer burnt shrimp will only be slightly negatively affected, it will affect the shrimp's color and texture. It is likely to make it less moist. So, in conclusion, freezer burnt shrimp is quite edible.
Can you cut out the freezer burnt part of shrimp?
Not really. Shrimp is, after all, quite small. If you cut out a burnt piece, you will be left with very little. It's just not worth it.

Usually, bulk shrimp is sold by weight. When people talk about cutting out freezer burnt shrimp, they often mean separating the unburnt from the burnt.
At what temperature should you freeze shrimp?
It is recommended to freeze shrimp at a temperature of 0°F. This is by far the best way in terms of long-term freezing. If your freezer falls far below this temperature, it is likely to create an environment that encourages freezer burn.
---
Interesting shrimp recipes
---