Jump To Recipe
This is the best
Fried Calamari Recipe
ever, they are tender in the inside and crispy fried to golden brown perfection.
I've always loved getting calamari as an appetizer, but sometimes it's a bit chewy and difficult to eat. A friend served this at our weekly girl's get together and it was perfect, delicious and tender.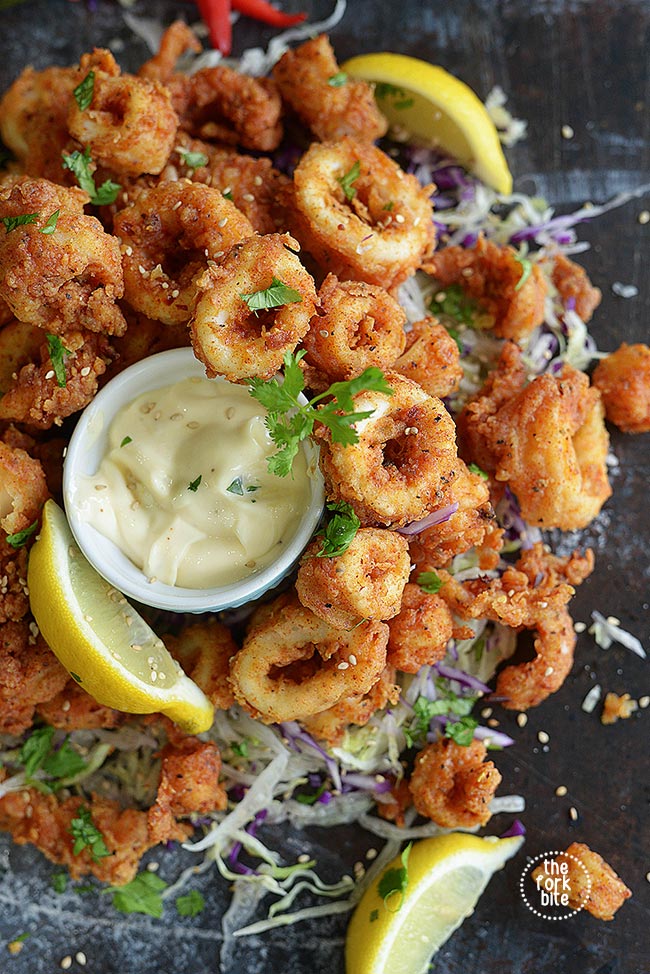 From the taste and texture, I presumed she either found a special type of calamari to serve, bought something pre-made and just reheated or found a special time-consuming recipe to make it so good.
It was none of those things. In fact, it was so easy, she was almost reluctant to tell me her secret. She simply marinated the calamari in buttermilk and fried them in seasoned flour to make them not just tender but also delicious.
Not only was the fried calamari excellent, but she also served it with a lemony aioli sauce and a side of fresh cut lemon that was divine. I've always dipped in tartar sauce or marinara sauce, but this sauce was light and added to the experience.
I managed to get the recipe from her for the sauce too. Wow, both are so easy that I'm now serving these every chance I get. We had an end of summer party where everyone brought a dish.
Some of my friends asked that I have these on the menu, so I asked Jennifer if she was going to bring them or should I.
Since she was kind enough to give me this scrumptious recipe, I let her be the heroine and bring them, but we floured and fried them right at the party, setting up a little serving area.
I provided a fresh lemon and she had already prepared the lemony aioli. I had a small fry baby cooker she used and Jennifer's station was the hit of the party.
The trick when frying was to prevent overcrowding in the fryer and only prepare a small amount at a time.
Other Favorite Recipes: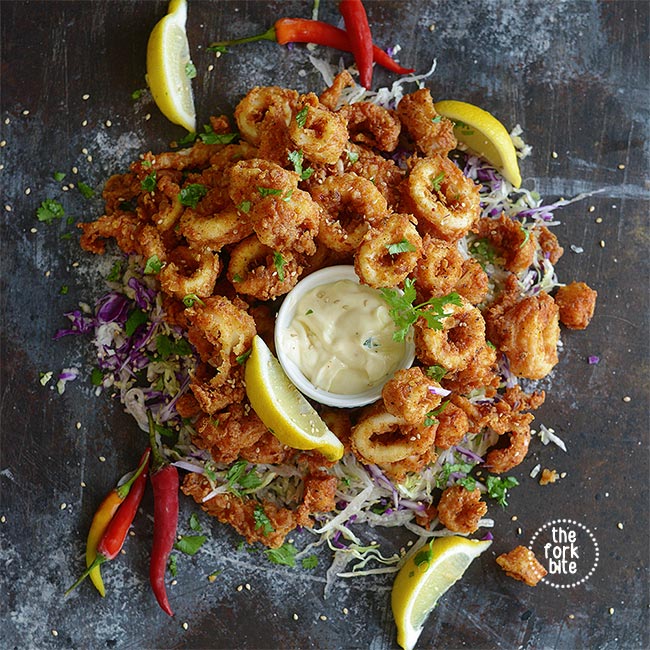 Fried Calamari Recipe
Cuisine:
Asian, Mediterranean
Marinating the squid in buttermilk defeats the rubber band effect some fried calamari tends to have.
Ingredients
Calamari:

1 lb calamari, bodies sliced into 1/2 inch rings, tentacles left whole
1 1/2 cup buttermilk
1 cup flour
2 tsp paprika
2 tsp salt
1 tsp black pepper
1 tsp garlic powder
1 tsp cayenne
1 tsp red chili flakes
oil for frying
chopped parsley for garnish
lemon wedges to serve
Lemon aioli:

1/3 cup mayonnaise
zest and juice of 1 lemon
dash of Tabasco
salt and pepper to taste
Instructions
Prepare lemon aioli by whisking together mayonnaise & Tabasco.
Season with salt and pepper.
Soak calamari in buttermilk for 20-30 minutes.
Preheat frying oil to 350 degrees F.
Combine flour with seasonings from paprika - red chili flakes.
Dredge calamari in seasoned flour, tossing evenly to coat.
Carefully drop a handful of the calamari into the hot oil.
Cook until golden brown, about 1-2 minutes.
Remove with slotted spoon and transfer to a paper lined baking sheet.
Repeat with remaining calamari.
Sprinkle parsley on top. Serve with lemon wedges and lemon aioli.
Notes
Why buttermilk instead of eggs? The acidity in the buttermilk helps keep the calamari tender and helps create a lighter, crispier batter. So, adding eggs or breadcrumbs is not necessary.
Nutrition information
Calories per serving: 1034.17 kcal
Fat per serving: 79.8 g
Saturated fat per serving: 8.46 g
Carbs per serving: 47.71 g
Protein per serving: 32.88 g
Fiber per serving: 3.15 g
Sugar per serving: 6.79 g
Sodium per serving: 982.58 mg
Trans fat per serving: 0.22 g
Cholesterol per serving: 367.2 mg
https://www.theforkbite.com/fried-calamari-recipe/