This is the best Fried Calamari Recipe ever, they are tender in the inside and crispy fried to golden brown perfection. Best of all, they are the perfect appetizer for any gathering or dinner party.
I've always loved getting calamari as an appetizer, but sometimes it's a bit chewy and difficult to eat. A friend served this at our weekly girl's get together and it was perfect, delicious and tender.
From the taste and texture, I presumed she either found a special type of calamari to serve, bought something pre-made and just reheated or found a special time-consuming recipe to make it so good.
It was none of those things. In fact, it was so easy, she was almost reluctant to tell me her secret. She simply marinated the calamari in buttermilk and fried them in seasoned flour to make them not just tender but also delicious.
Not only was the fried calamari excellent, but she also served it with a lemony aioli sauce and a side of fresh cut lemon that was divine. I've always dipped in tartar sauce or marinara sauce, but this sauce was light and added to the experience.
I managed to get the recipe from her for the sauce too. Wow, both are so easy that I'm now serving these every chance I get. We had an end of summer party where everyone brought a dish.
Some of my friends asked that I have these on the menu, so I asked Jennifer if she was going to bring them or should I.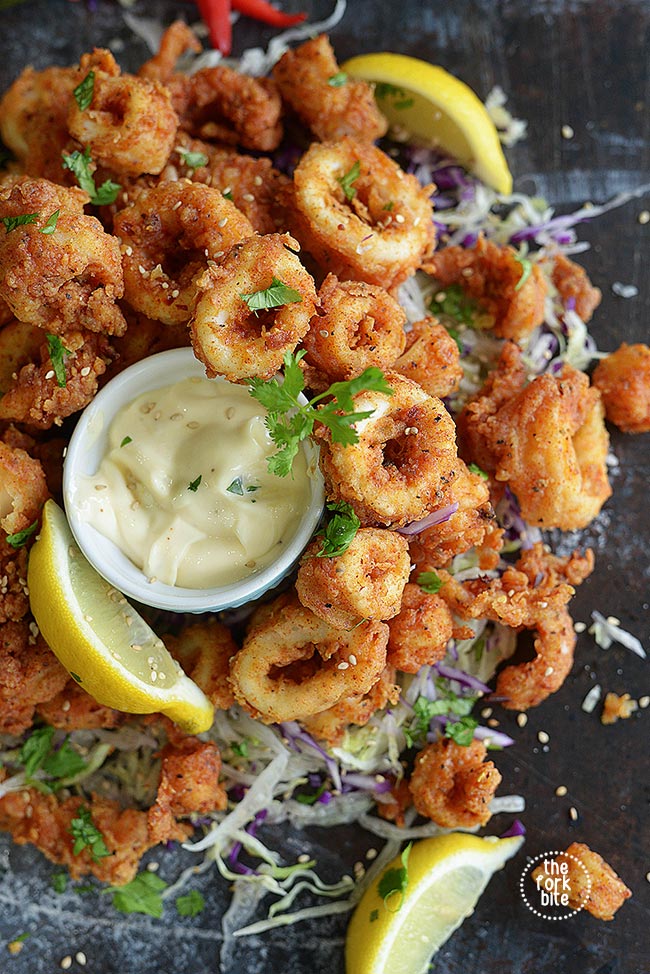 Since she was kind enough to give me this scrumptious recipe, I let her be the heroine and bring them, but we floured and fried them right at the party, setting up a little serving area.
I provided a fresh lemon and she had already prepared the lemony aioli. I had a small fry baby cooker she used and Jennifer's station was the hit of the party.
The trick when frying was to prevent overcrowding in the fryer and only prepare a small amount at a time.
Popular Video from TheForkBite: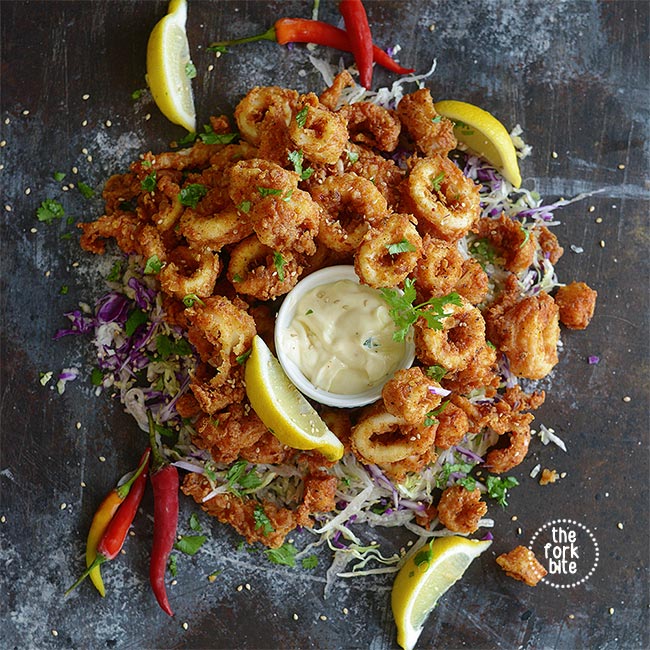 I learned or read online that soaking the squid in buttermilk for at least 30 minutes or for an hour before cooking will tenderized it.
I tried it and found that it works: my calamari still has a bite, but they're less chewy.
Why Buttermilk Instead of Eggs? The acidity in the buttermilk helps keep the calamari tender and helps create a lighter, crispier batter.
The batter makes a big difference when cooking calamari aside from the texture of course. They range from simple to the slightly more complicated.
I prefer my calamari to be lighter in coating.  So, after a bit of experiment, I concluded that actually, the cornflour is what makes the difference here. The result is a crispy coating that won't fall off during frying.
Adding paprika imparts a richer brown color and when it comes to crispy fried calamari, less is more.
Using cornflour with the good old fashioned flour and seasoning mix, this trick works every single time!
Try sprinkling the squid rings with extra salt flakes fresh out of the pan, adds extra crunch.
Tips for Perfect, Crispy Calamari:
1. Don't overcrowd the pan when cooking these squid rings to attain vital crisp results. Overcrowding tends the pieces to release water and they'll steam rather than fry. Deep-frying in batches without over-crowding will help maintain oil temperature.
2. Use a good quality calamari to start with when preparing this dish. To actually taste it, I noticed that slightly thicker (with about 1 cm rings), there's more Calamari to get your teeth into.
3. For the coating, use cornflour and bread flour instead of regular flour to get that vital crunch results. While the flour seasoning is a matter of preference, adding fresh herbs like paprika and garlic powder (or oregano) will absolutely lift the flavors.
4.  Always use a clean oil and the perfect temperature to cook is 170°C (340°F) heat when frying. Check your oil by sprinkling a pinch of flour into a hot oil, if it bubbles, then it's ready.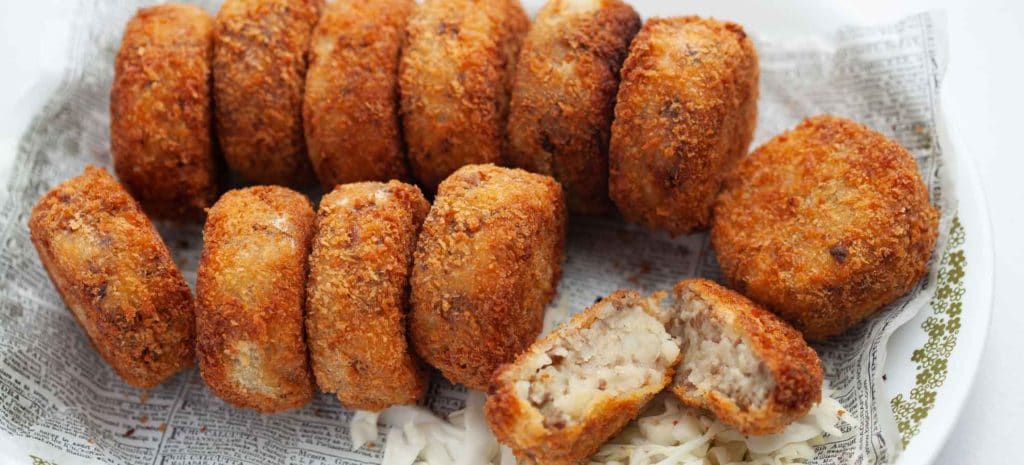 I never thought making this
Baked Furikake Salmon
recipe using an air fryer would result in the juiciest, most tender salmon each time.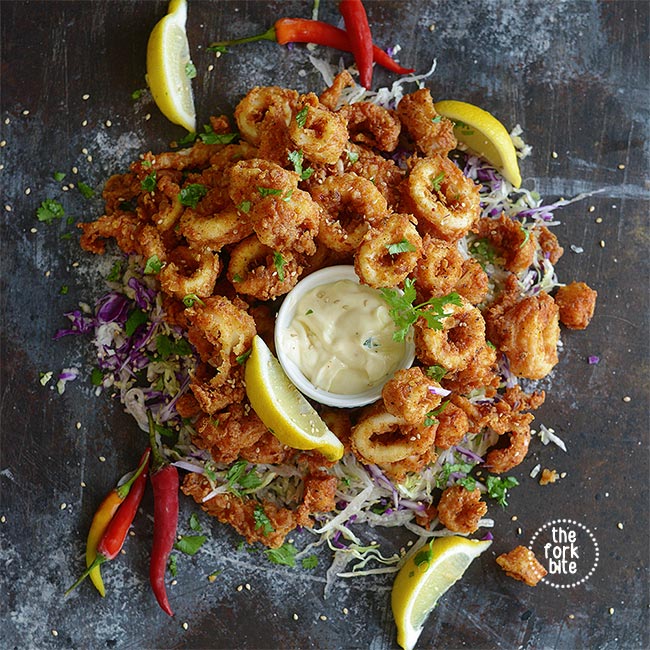 Fried Calamari Recipe
Print
Pin
Rate
Marinating the squid in buttermilk defeats the rubber band effect some fried calamari tends to have. These crispy fried calamari are the perfect appetizer for any gathering or dinner party.
Ingredients:
Calamari:
1

lb

calamari

bodies sliced into 1/2 inch rings, tentacles left whole

1 1/2

cup

buttermilk
Flour Seasoning:
½

cup

flour

½

cup

cornflour

2

tsp

paprika

2

tsp

salt

1

tsp

black pepper

1

tsp

garlic powder

1

tsp

cayenne

1

tsp

red chili flakes

optional
Garnish:
chopped parsley for garnish

lemon wedges to serve
Lemon aioli:
1/3

cup

mayonnaise

zest and juice of 1 lemon

dash of Tabasco

salt and pepper to taste
Instructions:
Prep the Aioli and the Squid:
Prepare lemon aioli by whisking together mayonnaise & the lemon Aioli ingredients.

Clean and prepare the calamari and soak in buttermilk for 30 minutes or better for at least an hour.
Prep the Flour Seasoning:
Combine flour & cornflour with flour seasonings (like paprika, salt, black pepper, garlic powder, cayenne powder and red chili flakes).

Once you've finished soaking, dredge the calamari in seasoned flour, tossing evenly to coat.
Cooking the Calamari:
Preheat frying oil to 350 degrees F.

Carefully drop a handful of the calamari into the hot oil.

Cook until golden brown, about 1-2 minutes.

Remove with slotted spoon and transfer to a paper lined baking sheet.

Repeat with remaining calamari.

Sprinkle parsley on top. Serve with lemon wedges and lemon aioli.
Notes
1.) Why buttermilk instead of eggs? The acidity in the buttermilk helps keep the calamari tender and helps create a lighter, crispier batter. So, adding eggs or breadcrumbs is not necessary.
Nutrition Facts
Fried Calamari Recipe
Amount Per Serving
Calories 410
Calories from Fat 171
% Daily Value*
Fat 19g29%
Cholesterol 282mg94%
Sodium 1436mg62%
Potassium 485mg14%
Carbohydrates 34g11%
Protein 24g48%
Vitamin A 1035IU21%
Vitamin C 6mg7%
Calcium 144mg14%
Iron 3mg17%
* Percent Daily Values are based on a 2000 calorie diet.
Fried Calamari Recipe
This is the best Fried Calamari Recipe ever, they are tender in the inside and crispy fried to golden brown perfection.