How long does Pastrami last? Learn the proper storage of Pastrami. This is true if you are planning on storing the meat on a long-term basis. Pastrami – a mouthwatering concoction of brined meat, seasoned with a perfect fusion of rich herbs and spices touched with the exquisite combination of smoke and steam to create an old-world flavor that is not only memorable but craved.
This carefully prepared, slow-cooked meat specialty is more than just an attractive alternative to traditional meat preparations. It is a highly delectable dish that exhibits magnificence in cuisine craftsmanship.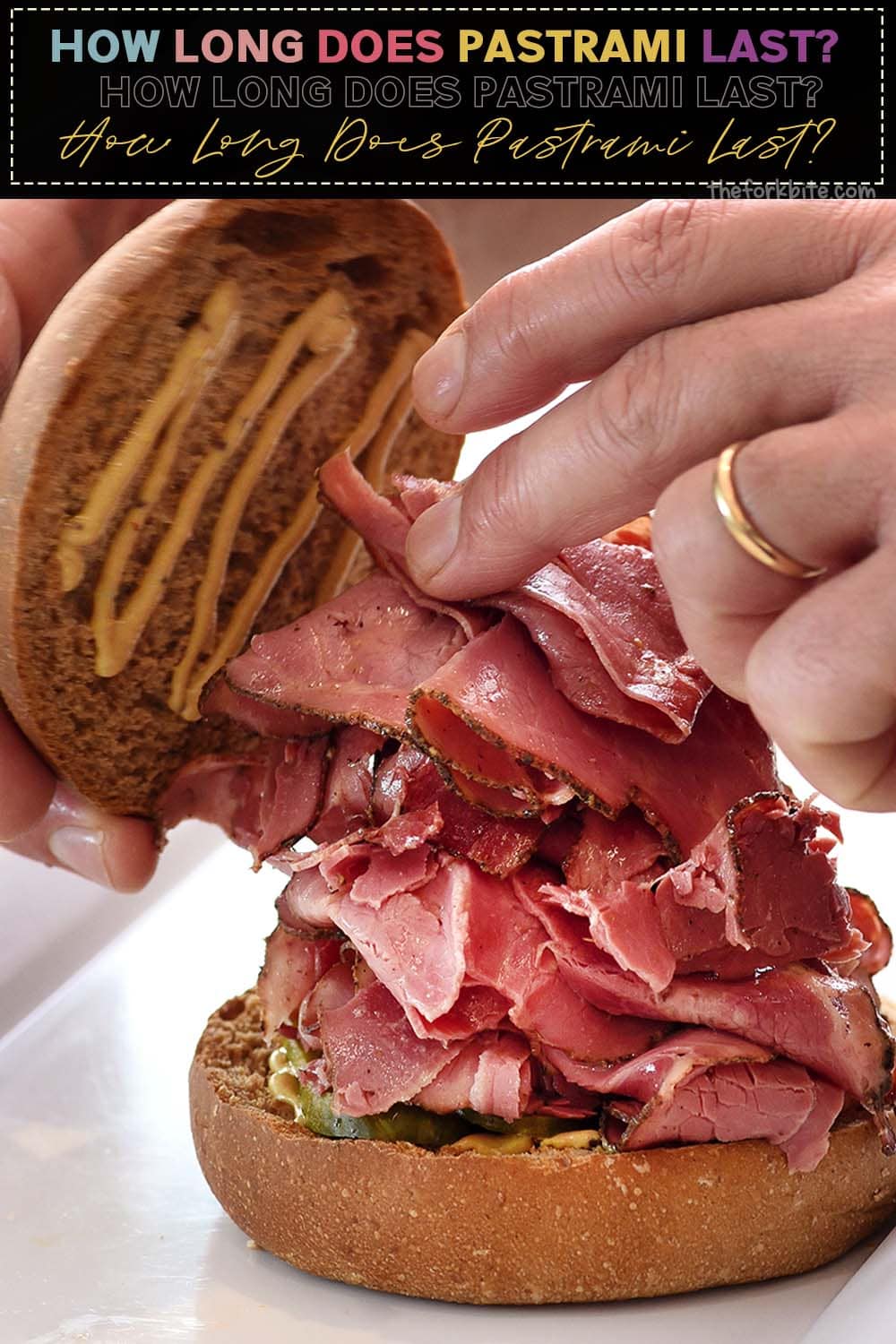 Jump to:

Regardless of how you choose to prepare or consume Pastrami, it is essential that you know and understands all of your options – in terms of storing it. The storage technique you utilize will determine the answer to the question, "how long does pastrami last?"
In this guide, you will learn about many factors that directly impact the proper storage of Pastrami. This is especially true if you are planning on storing the carefully prepared meat on a long-term basis.
Continue reading to learn more.
---
Can Pastrami be frozen?
Wonderful news! Pastrami is a slice of meat that can be frozen successfully for a period of up to 3 months; however, you could face the issue of the meat drying out.
This typically depends on the length of time it is in the freezer. It is exceptionally challenging to avoid this issue from occurring; however, if you wrap it tightly and ensure that it has an airtight seal, you will find that the moisture is retained for more extended periods.
If you are wondering, "how long does pastrami last?" you are sure to be relieved that it may be frozen, and freezing helps increase its overall shelf life.
---
How long does Pastrami last?
If you purchase a pastrami package from the grocery store, you should immediately place it in the refrigerator. If you open the package, it should be placed directly back into the fridge for storage.
You should know, though, that the package's opening reduces the amount of time that the Pastrami will last. Now, you have anywhere from 3 to as many as 5 days to use the remaining meat.
The meat may not appear to be "bad," and it may not have any odor that indicates that it is "bad," but listeria can develop and grow within a refrigerator. Consuming listeria could result in numerous health complications.
If you purchase freshly sliced Pastrami from a deli or a butcher, you should ensure that it is consumed within 3 days. Eating it after this time frame could cause an illness to develop.
---
How about Sliced Deli Pastrami?
It would be best if you immediately stored Pastrami or deli meats in the refrigerator after purchase. The answer to the question, "how long does pastrami last?" – in terms of fridge storage – depends on many factors. When it was purchased, these include how it was stored and any deli recommendations where you made the purchase.
To maximize your deli pastrami's overall shelf life, ensure that it is placed immediately in an airtight container and/or wrapped in a manner that reduces its overall exposure to the air. You may use a plastic container, aluminum foil, and/or plastic wrap to protect the Pastrami.
The Pastrami that you purchased from your local deli will last for approximately 3 to 5 days while stored in the refrigerator when stored properly.
Is it Safe to Leave Pastrami Meat Out at Room Temperature? If So, For How Long?
Yes, the deli pastrami that you purchase may be left out at room temperature for small amounts of time without any issues.
However, it would be best if you kept in mind that potentially dangerous bacteria will start to experience accelerated growth levels on the meat at temperatures as low as 40°F and up to 140°F.
If the pastrami deli meat has been left out for 2 hours, it should be discarded immediately because – at that point – it would be dangerous to consume it. When answering, "how long does pastrami last?" the answer is "not long" if you leave it at room temperature.
If you would like to increase the deli pastrami's shelf life that you purchase, you should freeze it within 3 days.
Your Pastrami will have its packaging; however, it is advised that you overwrap this packaging material with a heavy-duty aluminum foil before placing it in the freezer.
To eliminate the possibility of freezer burn from occurring, you may then cover the overwrapped package with plastic wrap, freezer wrap, or place it inside a freezer bag composed of heavy-duty material to protect it.
---
Signs Pastrami or deli meats have gone bad
Review the "sell-by" date listed on the packaging. According to industry standards, it is best to eat the product within 7 to 10 days following the date listed.
If the deli meat has been opened, the consensus is that it should be consumed within a 3-to-5-day period.
If you notice that the meat has a slimy texture or appears to have a film on it, discard it immediately. After seeing this slime or film, the answer is – "it is already past its shelf life."
Whether it's Pastrami, ham, turkey, or other deli meat type, any unusual smells indicate that the meat should be discarded. These smells may resemble that of yeast, vinegar, or ammonia.
If you observe any unusual growth type on the packaging or the meat itself – such as mold – throw the product away.
---
Best method for heating Pastrami
Generally speaking, there are a couple of different strategies that may be used to heat Pastrami when making yourself a sandwich. Ideally, you should steam the meat; however, this is quite a process and takes a bit of time.
Pastrami – even in deli meat form – is a type of meat prepared using a 5-step cooking process. Various types of meats are utilized; these include beef brisket, round, turkey, and lamb. Once the meat is chosen, it is then dried and smoked.
Immediately after, it is seasoned and then goes through another drying cycle. Finally, it is steamed. If you are curious how long does Pastrami last, you should know that this process is what indeed lends to its overall preservation.
To successfully heat a piece of Pastrami for your sandwich, we recommend using a microwave.
Using a Microwave
All consider using a microwave to be one of the best tactics for heating pastrami when making a sandwich. This is because it is the fastest.
To succeed in this endeavor, follow the steps below:
Place the desired amount of Pastrami on a plate
Wet and wring out a paper towel and place the damp cloth over the meat
Heat the meat for anywhere from 1 to 2 minutes
---
Four methods to heat cold slices
When heating Pastrami, you must first consider the quality of the meat that you are working on. For example, if you are using high-quality meat, any heating strategy will prove to be effective.
If you are using low-quality meat, microwave heating may prove ineffective as it could dry the Pastrami to the point that it loses its flavoring.
Steam the Pastrami
Bake the Pastrami in the Oven
Fry the Pastrami in a Pan
Microwave the Pastrami
Before heating the Pastrami – regardless of which technique you elect to use – allow the meat to set out until it is at room temperature. You may simply start the process by pulling the Pastrami from the refrigerator and allowing it to sit on the counter while you prepare to cook it.
1

Steaming

This has been hailed as one of the best techniques for successfully heating Pastrami for use.

By taking the time to steam the Pastrami that you are using, you will find that it provides additional tenderness because it helps ensure that the moisture is retained in the meat. Many of the delis that are well-known for their pastrami dishes utilize this strategy for heating.

Steaming may be done by utilizing a stovetop or by incorporating the use of an Instant Pot.

Instant Pots are exceptionally fast in heating pastrami; however, it utilizes steam to boil the water. This means that when the boiling process initiates, it does so at a much higher temperature than the boiling process would on a stovetop.
The heat-up time in an Instant Pot is significantly less than that of boiling water using a stovetop.
It has a special warming function that will allow you to keep your Pastrami warm for extended amounts of time without worrying about the meat drying out. Those that worry over how long does Pastrami last find that their worry eases when using an
It also has a warming feature.
It can be used to heat, to slow-cook, and to warm.
---
a. Using stovetop
You may heat Pastrami using a stovetop; however, there is one issue that you may encounter. That is, you may not have a specially-designed steam basket at your disposal.
There is a work-around for this, though. Come up with a strategy to elevate the meat from the bottom of the pot, or you may secure the Pastrami within an aluminum foil and place it in the water.
Make sure that the Pastrami does not come into direct contact with the water. It needs a bit of exposure to the steam from the boiling water. To succeed in this, add up to 2 inches of water in the pot.
The meat should then be placed within a steam basket (if available) or wrapped in the previously-mentioned aluminum foil.
Remember to boil the water – regardless of where the Pastrami is placed or how it is placed.
Once the steaming process initiates, put the lid on.
Pastrami heating does not require a hard boil; a simmering boil is perfectly acceptable.
If you are heating only a small portion, you can do the steaming process for about 7 to 10 minutes.
If you are preparing a larger portion, 30 minutes should be an adequate amount of time to heat the meat so that it is ready to be served.
---
b. Using an Instant Pot
Heating pastrami through Instant Pot. You may also do it with a pressure cooker that includes a steaming function. It is as easy as adding water, switching to the steaming function, and placing the Pastrami inside the appliance.
Essentially, that is the very basic of how to engage in the steaming heating method with Pastrami; however, additional prep is required because the meat should not be placed directly within the water.
Instant Pots typically include a metal rack that has legs for stabilization. Commonly referred to as a "trivet.", this will allow you to elevate the Pastrami off the bottom of the appliance during the steaming process.
Simply place the trivet in the bottom of the Instant Pot and add water. The water should come to the bottom of the rack.
Once everything is in place, you may add the Pastrami by placing it directly on the trivet.
---
Utilizing Aluminum Foil
If you do not have a trivet for the Instant Pot you are using to steam your Pastrami, you may use aluminum foil.
Simply shape it like a bowl and place the Pastrami inside. Do not wrap it tight because this will not allow the meat to have any steam exposure during the boiling process.
You will find that – as you use an Instant Pot – the steam results in moisture drippage from the appliance's lid. If you use aluminum foil, you should ensure that the Pastrami's entire top section is completely covered.
If you do this, simply punch small holes on the side of the foil; this will allow the steam to permeate the Pastrami without negatively impacting its quality.
When steaming Pastrami with an Instant Pot, you should time the process for 40 minutes. Naturally, though, if you are steaming small portions, you should reduce the time.
If steaming large portions, you may need to increase this time.
Additional benefits of using an Instant Pot
It is possible to utilize the delayed timer function so that cooking starts when you designate.
This kitchen appliance includes a warming function that will allow you to keep the Pastrami ready until you are ready to initiate the serving process.
---
2

Bake the Pastrami in the oven

If you prefer your Pastrami to be a bit on the crispy side, or you appreciate the edges to have a solid, flavorful crust, you should bake the Pastrami in the oven when heating it.

You may also simply heat the Pastrami through baking – without making the meat crispy or the crust a little harder. It all depends on the technique you use.

If you have a large amount of Pastrami to heat, baking it in an oven is the best option as it may be too difficult to steam the meat.
Besides the benefit of thoroughly heating when using an oven, you may also toast any bread you will consume with your Pastrami. Many individuals – and businesses – will craft a sandwich and place the entire dish in the oven for heating.
While a relatively effortless task, you have to be careful not to dry up the meat when utilizing an oven baking method. This is one detrimental effect of baking with an oven; however, it may be easily prevented by simply leaving the meat within the oven for a shorter time.
Preheat the oven to 250°F or 300°F.
Place aluminum foil over a baking sheet.
Place the pieces of Pastrami on the foil.
Bake for anywhere from 5 to 10 minutes, until desired warmth is achieved.
When Baking an Entire Sandwich:
Craft the sandwich the way that you like it.
Cover a baking sheet with aluminum foil.
Preheat the oven to 200°F.
Bake the entire sandwich for 8 to 12 minutes.
---
3

Fry the Pastrami in a pan

If you choose, you may place the Pastrami in a frying pan and use the stovetop to heat the meat. This is a relatively fast process; however, but careful not to rush the heating.

Remember, you are not cooking the Pastrami; you are only heating it. It would be best if you started at a low temperature when heating in a frying pan. If necessary, slowly increase the heat throughout the process. This way, you avoid overcooking the Pastrami.

If you so desire, you are capable of preparing a pastrami sandwich on the stovetop, much like the same manner you are capable of doing it within the stove when baking; however, this process is more like preparing a grilled cheese sandwich.

The bread will toast, and the cheese will meltdown on the Pastrami, making for an excellent blend of robust flavor.
Prepare the stovetop by setting it to medium heat. Use a skillet designated as a "non-stick."
Place either olive oil or your favorite butter in the pan. Heat it.
Put the meat in the pan first to heat it and bring a little flavor to the pan.
Remove the meat, add the bottom piece of bread for your sandwich. Top it with the meat, cheese, and top piece of bread.
Heat slightly, carefully flipping about halfway through. You want to ensure that the top and bottom piece of the bread is evenly toasted.
---
4

Microwave the Pastrami

In terms of ease and fast cooking times, microwaving the Pastrami is considered one of the best strategies for heating the meat.

Ensure that the Pastrami is high-quality meat and that the slices you are heating are not very thin. If you are dealing with low-quality meat or too thin pieces, you will find that the meat dries out too fast and loses a bit of its flavor.

In most instances, heating for 1 minute is ample time for heating the Pastrami – regardless of cut and serving size. Monitor the meat when heating and stop the process when it has reached the desired temperature.
Place the Pastrami on a microwave plate, covered with a damp paper towel.
Make certain that the microwave is on low power and heat for intervals of 30 seconds at a time.
When the desired temperature is reached, remove, and enjoy.
---
Making a couple of Pastrami sandwiches
Start by only heating enough meat for one of the pastrami sandwiches.
Cover the meat with a damp paper towel.
Monitor it closely, ensuring that you do not overcook as this will dry out the Pastrami.
---
Is it okay to freeze lunch meat?
If you find that you have a large number of deli cuts, you may be wondering if it is acceptable to freeze them.
The answer – in short -is "yes." Not only is this safe, but it helps in extending the shelf life of the lunch meat.
Unfortunately, deli meat – which is also referred to as "lunch meat" – is known to have a short shelf life. In just a few days, the meat can transform from a savory delight to a slimy nightmare.
While most have a general comfort level in freezing standard meats -such as chicken breasts and stew beef – it is still an age-old question:
---
Can deli meat be frozen?
You will be pleased to know that you may freeze the deli meat for a period of up to 2 months. You have to be certain that you take the time to prepare it properly.
This is as simple as wrapping it so that the moisture content and the overall texture is retained. Continue reading to learn the steps that must be taken.
---
Which lunch meats may be frozen?
The answer is, all of them! Meats that have been cured are those that tend to last the longest. Examples include bologna and ham. These have low amounts of water contained within them, a solid texture, and are exceptionally dense.
Certain meats – like chicken, turkey, and others that have not been cured – may be frozen, but you will find – because of the high amount of water that they contain – they will be a bit wet after being thawed out.
You may freeze lunch meats in slices or large chunks – the choice is yours. Once you thaw the meat out, you should consume it as quickly as possible.
---
How do I get deli meat prepared for freezing?
It is easiest to freeze prepackaged deli meat. If left unopened, you may place the entire package in the freezer. We recommend that you wrap the package inside something else – such as a bag or even aluminum foil to prevent freezer burn.
If you purchase deli meat directly from the butcher or your local deli, or if the package has been opened that it came in, you will need to take the time to wrap the meat to offer the best protection while in the freezer.
Place each slice on either a piece of wax paper or on a paper towel and stack them. Then, place the stack in a heavy-duty freezer bag.
Before closing the bag, press out all of the air; this will help preserve both the texture and the flavor. When you want to use the meat, you may remove a single piece or multiple pieces all at once.
If you are preserving large chunks in the freezer, you may wrap it tightly in any type of heavy-duty plastic wrap. It is best to layer the wrap and – afterward – place the sealed meat into a freezer bag. Remember, remove as much air as possible before freezer placement.
Label and write the date before placing the bag for storage.
---
Defrosting lunch meat
To defrost your lunch meat, move it to the refrigerator to be thawed. You may place it in a bowl of cold water, too, but be sure to change the water as it warms.
You may eliminate excess moisture on the meat by patting it dry with a paper towel.
Pro Tip:
Depending on your curing process and how long you have stored the Pastrami, you may notice that it has lost a little of its overall flavoring.
While disappointing, do not fret. There are still many creative ways to utilize the meat.
You may cut it up and place it directly into a casserole; you may include it in a stew or a vegetable dish.
You may combine it with Au jus or gravy and use it on top of rice or mashed potatoes, and you may even place it on a pizza.
You may also combine additional seasonings to enhance the taste and add a zest to it. Creativity is the key to bringing your Pastrami back to life!
---
Why do unprocessed meats go bad so fast?
When raw or when they are freshly cooked, these meats last up to five days. If in an unopened package, lunch meats last up to two weeks. If opened, you should consume them within five days.
If you purchase processed meats and freeze them right away, they may last up to three months. In most instances, processed meats last longer than unprocessed counterparts; however, they must be stored properly.
When determining the answer to the question, "how long does pastrami last?" the main consideration rests in the storage technique. Naturally, well-stored Pastrami will always last longer than Pastrami that is improperly stored.
---
What is processed meat?
To appropriately answer this question, we must first expound on the general definition of "processed." Generally speaking, "processed" (in terms of meat) means that the meat has undergone some unique modification to provide a boost to its overall taste and/or to extend its general shelf life.
Examples of the most common modifications utilized include salting, smoking, and curing.
Pastrami, ham, hotdogs, and sausage are all processed meats. These last significantly longer than fresh meats but still should be consumed by the dates on the packaging.
If you eat any meat that has extended past the designated packaging dates, you place yourself at risk for developing health complications.
These guidelines will help you understand when it is safe to consume the meat, and when consumption poses a risk. [source: Meat Safety]
---
Are deli meats safe?
Since most lunch meats are processed, they are not often listed on "healthy eating" lists. The question is, are they bad for you?
Sandwiches are considered to be iconic in the United States. According to studies, about half of all people eat at least one sandwich every day.
With all the talk on healthy eating, many are now worried about more than the carbohydrate levels in bread when considering a sandwich's consumption.
Whether or not these are safe depends on many factors. Continue reading to learn more.
---
Food safety and deli meats
If you conduct an internet search on the topic of "deli meats," you will immediately discover a wide array of blogs, articles, guides, and books that directly link the nitrates that are contained within the meats to various cancer types.
Before jumping to conclusions, though, we must first expound on why these substances are present in the meats. In short, the North American Meat Institute – also known as "NAMI" – outlines the fact that the contained sodium nitrate is a special type of antioxidant salt that aids in the curing of certain meat types. This substance is known to play a large role in its overall preservation.
In addition to preservation, the nitrates hinder the growth of bacteria that causes botulism, aids in providing color, and enhances flavoring. It also prevents Listeria monocytogenes from growing.
This causes listeriosis – which causes an illness with headaches, nausea, vomiting, and pain. In pregnant women, it could result in complications. That is why pregnant women should only consume heated meats because this bacterium can grow in a refrigerator.
---
How do "natural" meats stay fresh?
Deli meats that are identified as either "natural" or "organic" utilize plant-based nitrates. These come from products such as sea salt, celery, and even beets.
These meats will often say that there are no nitrates, followed by a small-print section stating "only naturally occurring." Regardless of what type of deli meat is consumed, it contains nitrates.
---
Overall safety of deli meats
According to the World Health Organization – there is a minimal risk of cancer associated with the consumption of meats that have been processed.
The more that is consumed, the higher the risk. It is believed that the nitrates combine with the amines that are contained in meats and result in the development of nitrosamines – which have a carcinogenic risk; however, it has not yet been confirmed by WHO what substance in meats actually increases the risk of the development of cancer.
---
Aren't processed foods high in sodium?
Yes, processed foods are indeed known to be a tad higher – in terms of sodium. According to dietary guidelines, we should not exceed 2,300 milligrams of sodium daily.
Now, we must consider the sodium level of a basic turkey sandwich. It can vary between 810 and 1,040 milligrams for just one – including bread, mustard, and mayo.
If you will be consuming this type of meal, it is advised that you balance it with fruits, vegetables, and food products that are low in sodium. If this aspect concerns you, there are low sodium deli meats available.
---
Related sandwich recipes
---
Related Questions:
What Does Pastrami Meat Taste Like?
Pastrami has a unique taste that consists of exceptional bold and sweet flavors. The distinct flavors that abound are highly spicy black peppers, a touch of smoke, and a tantalizing hint of tang produced by the sweet citrus that spills over from the coriander utilized in its creation. Once brined and prepared, the Pastrami is tender and juicy, which creates a one-of-a-kind experience for the palate.
Is Pastrami Processed?
Yes, the Pastrami is processed meat as it has undergone a cooking process that aids in its overall preservation.
Is Pastrami a Cured or a Cooked Meat?
Again, to understand the storing techniques associated with Pastrami, a little more information is still required. Pastrami is first brined and carefully cured, utilizing a specially-blended collaboration of spices and herbs that create a delectable dry rub.

After the curing process, the Pastrami is typically smoked. This entire curing and smoking process aids in tenderizing and flavoring the meat; however, it is also essential in helping the meat to keep longer. It is a cured meat, but it must be cooked, too.
What Food Products That Go Well with Pastrami?
Yes, there are many food products with a distinguished taste that compliment Pastrami. These include -but are not at all limited to – ground turkey, ground beef, rye bread, oregano leaves, various types of high-end, specialty mustards, beef gravies and Au jus, garlic, and basic over-the-counter seasonings, such as thyme leaves, salt, parsley, and peppers.

While Pastrami is a highly exquisite dish all on its own, it is often used to create mouthwatering sandwiches, as part of Italian dishes, and in casseroles.

How Long is Pastrami Good?
Generally speaking, the Pastrami is good for anywhere from three to five days. To maximize the cured and smoked meat's overall life, you should ensure that it is placed in the refrigerator and secured within an airtight container.

You may also place the meat in a plastic wrap or an aluminum foil wrap. Deli meat pastrami will last up to five days in the refrigerator after opening, but only if it is properly stored. If you freeze the Pastrami, it will last even longer; however, you must do this before the fifth day of storage in the refrigerator.

It is important to understand that it depends on how you prepare it to be stored and the actual storage method.
Is Steaming Required for Pastrami?
During the initial introduction of Pastrami to society, refrigeration technology did not exist. As a result, it had to be salted and dried out for preservation purposes and intent. Before serving the meat, it underwent a steaming process to reintroduce moisture for ease of consumption.

Today, most people continue the steaming process before serving; however, it is not necessary. It is a matter of taste. If it is dried to preserve for long periods, steaming is advised as consumption would be challenging.
What Cheese That Blends Well with Pastrami?
Just like there are several food products, ingredients, and seasonings that blend beautifully with Pastrami, there is also a special cheese that mixes perfectly with it. That is Swiss cheese. Place it straight from the package or melt onto the meat – the choice is yours!