Bok Choy is one of the most popular Chinese veggies in the US. When cooked properly, its great flavor and texture are so Moorish.
It also has many health benefits, but to enjoy it at its best and take advantage of all of its health benefits, you have to know how to store it correctly.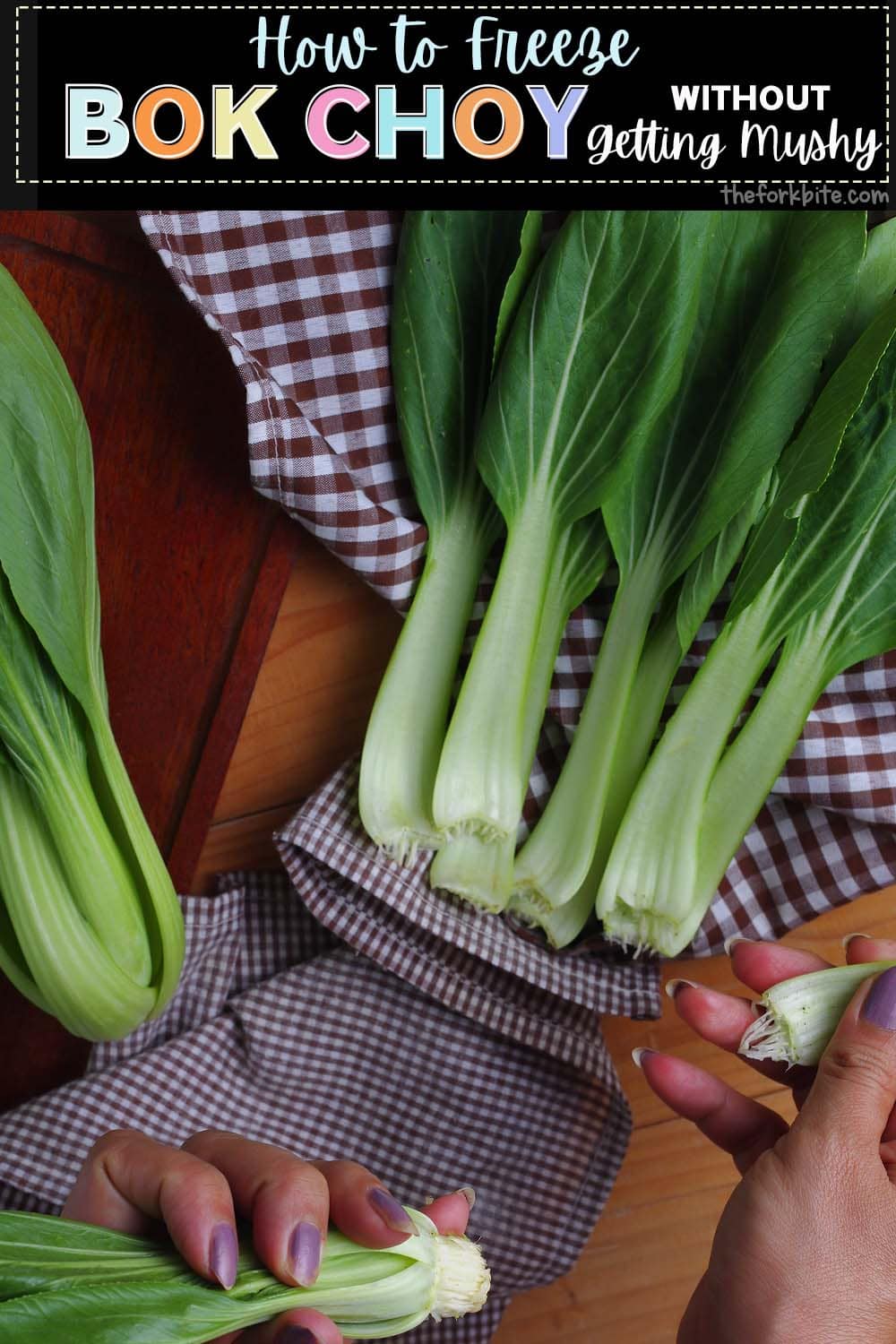 Jump to:

If you want to maximize its shelf life, it's best to freeze it, but you have to know how best to go about it so that you don't lose Bok Choy's lovely crispiness.
Suppose you would like to know more about the best ways of storing and cooking Bok Choy, the celebrity member of the cruciferous cabbage family.
In that case, all you have to do is read on.
---
Origins of Bok Choy
Bok Choy, otherwise referred to as Pak Choi or Polk Choi belongs to the cruciferous group of vegetables, including broccoli, cabbage, kale, members of the mustard family, and turnips.
Although it is closely related to the standard "headed" cabbage you are probably familiar with, in appearance, Bok Choy looks more like a celery/lettuce hybrid.
The plants are edible, including their thick, white clustered stalks and their dark green leaves.
Archaeologists found 6000-year-old Bok Choy seeds in the Yellow River Valley of China. This tells us that this delicious little veggie has been an essential part of Asian cuisine for thousands of years.
Bok Choy found its way into North America in the 19th century. It has steadily grown in popularity and is now probably the US's favorite Asian vegetable.
---
Bok Choy compared to Napa cabbage.
When people refer to Chinese cabbage, Bok Choy may be the first thing that springs to mind. But there is another type of cabbage, known as Napa cabbage, a member of the Pekinensis family.
Both types of Chinese cabbage are descendants of the turnip and have been used in cuisine and medicine for centuries.
In China, Napa cabbage is more common. It looks pretty like the Western-style cabbage we all know, although it is more oblong in shape.
Napa cabbage is a green leafy vegetable that has tightly bunched white stalks. The leaves are clustered, hence, forming a head.
Bok Choy, on the other hand, has no head. Flavor-wise, Napa cabbage is the milder of the two.
---
The secret of storing Bok Choy
One of the keys to storing your Bok Choy in tip-top condition is to wash it well before you store it.
But given that its leaves are quite dense, washing it is not as straightforward as you might think.
The problem is that deposits of dirt hide between the leaves.
It means that you need to gently separate them under clear, cold running water to wash any dirt or other residue away.
Here's how to wash Bok Choy thoroughly
To get to the dirt that could be lurking between its leaves, you will need to cut and separate the stalks of your Bok Choy.
Start by slicing off the bottom of the plant.
Gently pull the stalks away from the base one at a time.
Wash it under cold running water as you would like lettuce.
Baby Bok Choy is a slightly different animal and requires a different cleaning technique.
Halve or quarter the baby Bok Choy lengthwise, leaving the base intact.
Rinse under cold running water, gently spreading the leaves as you do so.
If you come across any stubborn dirt, you may need to use a soft vegetable brush to get rid of it. You can buy them relatively inexpensively from Amazon.
Once you've meticulously cleaned the Bok Choy, put it into a colander and give it a final rinse with cold running water allowing it to drain.
To remove any remaining moisture from the leaves, pat them gently with a paper kitchen towel. Your Bok Choy is now ready for cooking or storing.
---
How to freeze Bok Choy
Unless you know how to freeze certain vegetables, like Bok Choy, for example, you will often find that they turned into mush when you come to defrost them.
But if you follow the instructions I am about to give you, you can prevent this from happening, and your frozen Bok Choy will be good to use in any recipe.
You need to figure out how much bok choy it is you want to freeze and what available room you have in your freezer.
Once you know the answers, cut your Bok Choy up into bite-size pieces and transfer them into a Ziploc bag.
Using a permanent pen (like a Sharpie), write a description of the bag's contents on its label.
Allow a few seconds to dry so that it doesn't get smudged when you put it into your freezer.
This is just a generalization. Please read on for more specific instructions.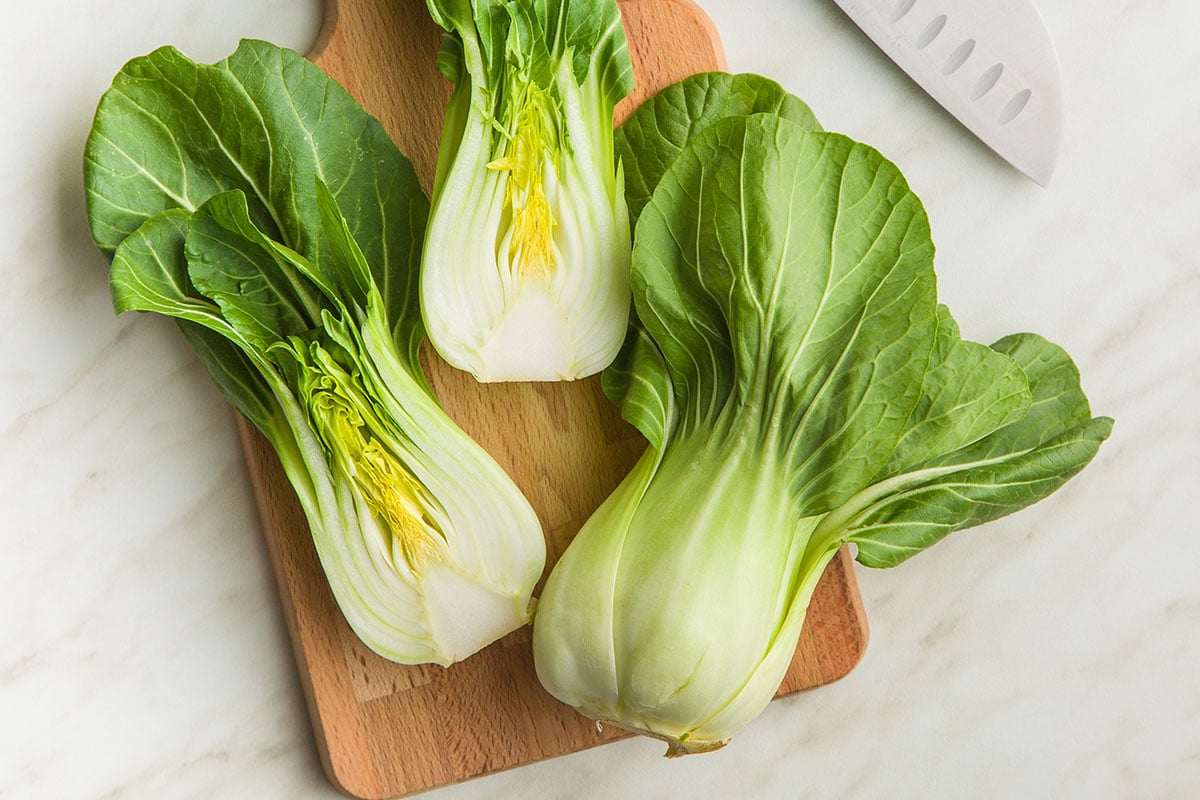 ---
Blanching Bok Choy before freezing
Before blanching, you need to wash the Bok Choy, as described above.
This is how to blanch:
Fill a large pan with water and bring to a boil.
Once boiling, immerse the leaves of Bok Choy into the water for 30 to 40 seconds, after which the leaves should become bright, vivid green.
Transfer the Bok Choy leaves into an ice-cold water bath for 40 seconds.
Remove from the ice-cold water, shake the leaves to get rid of any excess water, and pat dry with a paper kitchen towel.
Flash freeze.
The idea behind blanching is not to cook the vegetable but only to part cook it so that it retains its texture and color.
The importance of immersing the Bok Choy in ice-cold water cannot be overstated as it is this that prevents it from cooking.
If you miss this step, your Bok Choy will become mushy when defrosted.
You only need to partly cook your Bok Choy because it will be fully cooked later when you add it to your recipe.
The idea of flash freezing is to retain the vegetable's structure and texture.
---
How to flash freeze
To successfully flash freeze the Bok Choy, make sure that the cut leaves must be as dry as possible. Any excess moisture left on the leaves will result in them turning mushy when thawed.
Once the leaves are completely dry, space them out onto a tray lined with baking paper.
Carefully transfer the tray to your freezer for 15 to 20 minutes, after which the leaves should feel firm when touched.
Gently transfer the flash-frozen Bok Choy leaves into a plastic Ziploc bag or an alternative type of airtight container. The next stage is to evacuate as much air as possible from the bag or container.
Suppose you don't happen to own a vacuum sealer. In that case, you can take out as much air as possible by sealing the bag until it is nearly fully closed but leaving a small gap into which you can insert a straw.
Suck out as much air as possible, withdraw the straw and complete the sealing of the bag.
Store in the deepest part of your freezer.
---
No blanch freezing
Suppose you don't blanch Bok Choy before freezing. In that case, it won't be as crispy as it was when it was first bought.
However, if you follow the instructions below, its texture, once defrosted, will still be good enough to use in noodle dishes, soups, and stir-fries.
With this method, you do not wash the Bok Choy under running water. Instead, you use a moistened piece of kitchen towel to gently remove any dirt.
The fact that you are not adding excess water will help to prevent the Bok Choy from becoming mushy when defrosted.
Here are the steps to follow:
Gently clean the Bok Choy as instructed above, using a moistened piece of paper kitchen towel.
Position the Bok Choy onto a cutting board and cut it all - leaves and stems - into bite-size pieces.
Transfer the cut pieces into a Ziploc-type freezer bag. As a rough guide, I put about two cups worth into a quart-sized bag.
Remove the air with a vacuum sealer if you have one. If not, follow the procedure I mentioned above, using a straw.
Label, identify and date the bag.
Consume within 12 months.
Note:
Be careful how you position your Bok Choy in your freezer. When you first put the Bok Choy into your freezer, it's best to lay it flat.
Once it has frozen in a flat position, you can then reposition the bag anywhere you wish to accommodate other food items if necessary.
---
4 Various ways of storing Bok Choy in your fridge
There are three ways you can store Bok Choy in your refrigerator.
1

Ziploc bag method

If you will use the Ziploc bag storage method to keep Bok Choy in your fridge, it's best not to wash it first. If you do, and there is any excess moisture, it will cause it to rot.
Here's what you should do:
Take the Bok Choy and place it (unwashed) inside a plastic Ziploc bag.
Cut a few holes in the bag to allow the air to circulate. This will help to prevent the Bok Choy from wilting.
Store for up to 3 to 4 days
---
2

Paper kitchen towel method
Cut off the base stem of the bok choy and separate the stalks from the leaves. Don't discard the white stems, as they are used in many recipes.
Take a large bowl, fill it with cold water, and transfer the separated leaves into it.
Carefully wash the leaves.
Remove the leaves from the bowl, shake well to get rid of any excess water, and pat dry with a paper kitchen towel. Alternatively, you can use a salad spinner if you have one.
Once dry, roll the leaves up in a new paper kitchen towel.
Place the towel-wrapped Bok Choy into a Ziploc bag and store it in your fridge's crisper drawer.
Eat within 5 to 6 days.
---
3

Water storage method
Wash the Bok Choy leaves as directed above.
Stand them vertically in a jar filled with ice-cold water.
Place in the fridge and eat within two days.
---
4

The pressure canning storage method

Pressure canning is another alternative way of processing veggies for storage. With Bok Choy, it must first be blanched as described earlier.
After blanching and plunging into an ice bath, the Bok Choy should then be drained and transferred into clean canning jars.
Loosely fill the canning jars with the Bok Choy leaves, then top the jars up with boiling water leaving approximately an inch of space at the top.
Put the lids in position, and transfer the jars to your pressure canner.
I found the best way to process a pint-sized jar of Bok Choy is to steam it in your pressure canner. It will take approximately 70 minutes on a pressure setting of eleven pounds.
As the leaves wilt under the pressurized steam, you'll be amazed at how much Bok Choy can be squeezed into each jar.
As a rough guide, a pressure canner 7-quart load will take up to around 28 pounds worth of Bok Choy.
Once you've completed the pressure cooking, carefully remove the jars and store them in a cool, dry place. The contents will remain good for a minimum of twelve months.
---
How does bok choy taste like?
Being a member of the cabbage family, it will come as no surprise to discover that Bok Choy tastes similar to cabbage.
However, it tastes fresher and has a hint of grass, with a delicious, slightly peppery aftertaste.
While the dark green leaves are tender and delicious, the white stalks are gorgeously crunchy.
The flavor of the leaves is reminiscent of spinach with a slight bitterness. In contrast, the stalks are fresh, succulent, and crisp.
---
The chief characteristics of Bok Choy
As mentioned earlier, Bok Choy is celebrated for its health benefits. In French and Indochina, its leaves were used to produce a drink to stave off dysentery.
The Chinese people revere Bok Choy as a superfood thanks to the concentrations of beta-carotene, calcium, and folate it contains.
It also contains compounds known as glucosinolates which are said to be able to stave off cancer.
From a culinary point of view, Bok Choy has now found its way into many Western-style dishes. Including many salads where it is considered a vital ingredient.
The only problem with Bok Choy is that, like any leafy vegetable, if it isn't stored correctly, it will decompose.
However, I am about to tell you how you can prevent this from happening and extend this Chinese vegetable's shelf life.
---
How to dry or dehydrate Bok Choy
Another way of processing Bok Choy for storage is to dry or dehydrate it. As with all other methods, you first need to trim the leaves and clean them thoroughly.
Having prepared the leaves, you now need to blanch them and plunge them into an ice bath to stop the cooking process.
Remove any moisture by patting down with a paper kitchen towel or using a salad spinner if you have one.
You now have two options.
Option
1

Using a food dehydrator

If you are the proud owner of a food dehydrator, you can use it to dehydrate Bok Choy.
All you have to do is to arrange the Bok Choy leaves onto your dehydrator's tray.
Set the machine at 140°F, and let it dehydrate for between eight and ten hours.
---
Option
2

Oven Drying

If you prefer to dry your BokChoy, but you don't own a food dehydrator, you can use your oven.
Prepare the Bok Choy as usual. Once prepared, transfer onto a baking sheet and place it in your oven on its lowest temperature setting.
As ovens do not have the airflow capacity that dehydrators do, oven drying will take significantly longer.
---
How to pickle Bok Choy
Pickling Bok Choy may not be the first thing that springs to mind when it comes to preserving this wonderful Chinese cabbage. Not, of course, unless you are an expert pickler.
Pickling is one of the most flavorsome ways of making sure that vegetables stay edible for many months. To begin the process, start by sterilizing the pickling jars.
How to do this:
Submerge them in a large pot of water and let the water boil for ten minutes to see off any bacteria.
When ten minutes is up, turn off the heat but leave the jars submerged in the water to keep them warm.
Wash the Bok Choy clean of any dirt or debris and cut it up into bite-size pieces. There is no need to blanch.
Transfer the cut leaves into the warm jars, and prepare your pickling brine.
How to make a brine:
You will need half a cup of water per pound of Bok Choy, plus one cup of vinegar, one tablespoon of sugar, and half a tablespoon of salt.
Mix everything together in a small pan, bring to a boil and simmer for around 3 minutes, then pour the brine mixture into the jars containing the Bok Choy.
Allow the jars to cool down and then transfer them into your fridge.
You can enhance the brine's flavor by adding other spices such as black pepper, cayenne, coriander, fennel seeds, and ginger.
Bok Choy pickled in this way can be kept for up to 5 to 6 months.
---
The different varieties of Bok Choy
The Bok Choy we've been discussing within this text is the common, white stemmed variety. Other varieties include:
Green stemmed
Dwarf white stemmed
Whichever variety you come across, it will make good eating. They all have that lovely crunchy texture that is great when used in salads or in other recipes with quick cooking times.
You can cook bok choy for longer, and if you allow it to simmer for a while, you will end up with a creamy purebred type texture that is quite unique and delicious.
---
Is it necessary to blanch bok choy before freezing?
Throughout this text, I have made a point of recommending Bok Choy's blanching before freezing. This process helps to maintain its lovely crispy texture when it's defrosted, and I stand by my guns.
However, in all honesty, I have to say that I have come across some people who maintain that you do not have to blanch it before freezing.
They come from the angle that blanching adds water, which can lead to it becoming squidgy when defrosted.
In addition to not blanching Bok Choy, they also maintain it is better to remove any dirt with a damp kitchen towel rather than running water.
They also recommend chopping the Bok Choy into bite-size pieces used in noodle dishes in stir-fries.
---
The best way to defrost frozen Bok Choy
The simplest way to defrost Bok Choy is to add it straight into the meal you're preparing. It will thaw almost at once. It is definitely the way to go if you add it to soups, stews, or stir-fries.
You can, however, defrost Bok Choy before cooking if you wish.
To do so, immerse the frozen Bok Choy in a bowl of water at room temperature, and allow it to thaw for two hours, after which it will be ready for use.
This method certainly works well if you are eating Bok Choy whole.
The thing is that this type of defrosting cannot be rushed.
If, for example, you immerse it into hot or warm water to reduce the time it takes to thaw, you are potentially allowing it to cook. Doing this can dilute the flavor and result in a squidgy texture.
---
Signs that your Bok Choy has turned bad
After a couple of days in your fridge, Bok Choy will begin to show signs that it's past its best.
It will begin to discolor, but even before that, it will lose some of that lovely firmness that makes it such a joy to eat when it's raw.
You can keep it in your fridge un-washed and only wash it just before you're going to use it. Providing you don't leave it for too long; it's a good way of enjoying bok choy at its finest.
1

Discoloration

The early sign that Bok Choy is past its best is when the color of both leaves and stem begins to change. When fresh, Bok Choy has vivid green leaves held in place by a white, creamy stem.

When the leaves become dull, and the stems begin to turn yellow, it's a sure sign that your bok choy is on the way out.

Another clear sign is when brown spots begin to appear on the leaves and stems.
---
2

Changes in texture

Fresh Bok Choy has crisp, firm leaves and stalks. If the leaves look wilted and the stalks become rubbery, it is well past its best and should be ditched.
---
3

The flavor of Bok Choy

Nice, fresh Bok Choy, taste a little like a cross between spinach and Swiss chard.

However, as it begins to turn, it takes on a bitter flavor. Remember, you can eat it raw, so testing a small piece before you use it is the wise thing to do if you're unsure.
---
What to serve with Bok Choy?
Bok Choy is wonderfully versatile. You can steam it, stir-fry it, or even serve it on its own or as a side dish.
The flavors that work well with it are garlic, ginger, sesame, and soy sauce.
1

Bok Choy with seafood

The lovely salty taste that most seafood has worked superbly well with crisp Bok Choy.

All types of fish work well with Bok Choy, whether delicate fish, oily fish, or meatier fish. It also goes well with scallops, shrimp, and various shellfish.

Try it as a side with steamed halibut, pan-seared tuna, sauteed flounder, or teriyaki salmon. You'll find it partners with all types of seafood beautifully.
---
2

Pork and Bok Choy - a match made in heaven

Pork is one of the most popular meats in Asia, and you'll find it in many stir-fries, so it comes as no surprise that that Bok Choy is the perfect partner.

You can make a great side dish by stir-frying Bok Choy with bacon, pancetta, or salt pork and a sprinkling of soy sauce, of course. You can check my General Tso recipe here.

I love serving it with stir-fried pork slices or steamed as an accompaniment to Shanghai-style braised pork belly (Hong Shao Rou) or Char Siu .
---
3

Bok Choy with mushrooms

The taste and texture of mushrooms seem like it was created specifically to go with Bok Choy. It is one of the best pairings ever.

You can use any type of mushroom - brown, white, or shiitake - all are good. You could always try something a little different, like cloud ear or Asian dried mushrooms.

They go together unbelievably, especially when you add a splash of oyster sauce to marry the flavors together. Recipe here.
---
4

Bok choy with sweet potatoes

You might not think that Bok Choy would go well with sweet potatoes but believe me, it does, especially when mixed in curries from Southeast Asia.

The two contrast each other perfectly. The sweet potato gives you that lovely soft, rich, earthy-sweet flavor, while the Bok Choy provides the hint of bitterness and great crunchiness.

Suppose you mix this combination with a Thai green or Choo Chee red curry. In that case, it is sensational, particularly if you also add a little tofu for protein.
---
5

Bok Choy with noodles

If you want to serve Bok Choy with noodles, try cutting the leaves into long thin strips. They work perfectly with all sorts of noodles, rice, sweet potato, wheat, thick or thin.

If you want something spicy, full of lovely veggies, and with great textures, how about this recipe for hot-and-sour peanutty noodles with Bok Choy?

The things you can conjure up with Bok Choy are virtually limitless. No wonder it is so popular, not just in Asia, but all over the world.