Jump To Recipe
Sticky, tender Char Siu Pork Belly is surprisingly easy to make. Char Siu Pork is one of the most popular dishes in Chinese restaurants.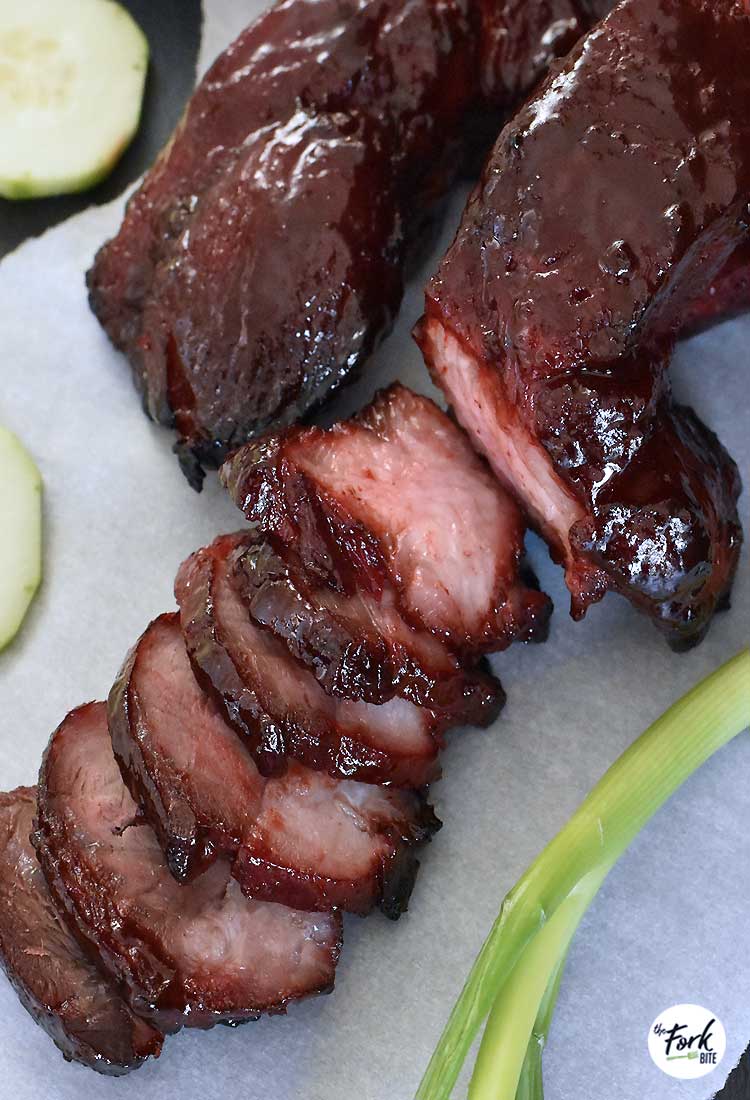 How many of you out there who love Char Siu (Chinese BBQ Pork)? When you walk around China town, you definitely have seen it and you walked past thru this window full of savory meats like chicken, duck and this Char Siu. It literally means pork roast and that's how people used to cook it and it has so many applications, you can put it in fried rice, noodles and a lot more.
This is a very distinctive food item, it has a red color and when you bite into it, that's where the magic happens. It's a little charred and if cooked right, it should never be dried, you might think that it's complicated to cook but I'm here to tell you that it's not actually.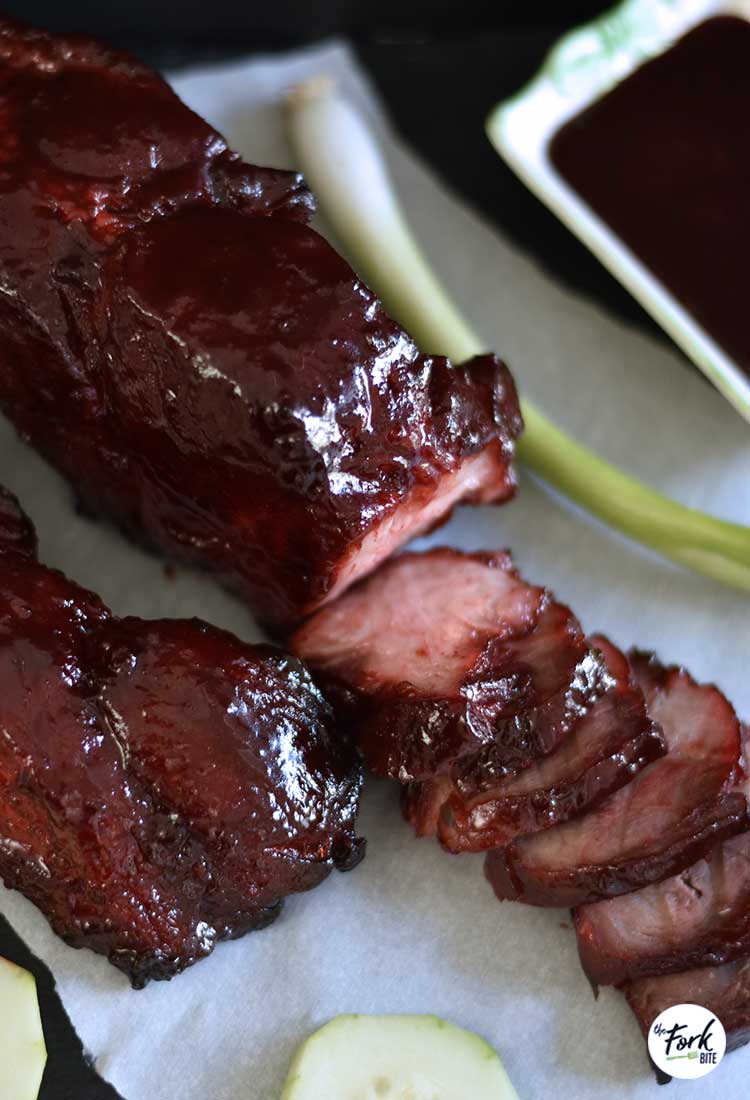 The pork that you need to cook is very important, so what I can recommend is the pork shoulder because it contains a lot of connective tissues that becomes tender after cooking. I bought mine from Costco which are already cut into strips and ready for marinating.
You'll need an oven tray lined with foil and rack so that the Pork Cha Siu isn't touching of the tray otherwise, it's gonna get burned in one side and you don't want that. It all depends on the thickness of your pork, so adjusting the cooking time is important.
For Leftovers – I tried to freeze the leftovers for future use (you can freeze it for up to 2 months, just wrap it with baking paper and cling wrap).
Char Siu is also used in Singapore Noodles, Chinese Fried Rice or Egg Fried Rice and is also perfectly served on Chinese Noodle Soup.
Char Siu (Chinese BBQ Pork)
Category: entree, dinner

Cuisine: Chinese, Asian

Sticky, tender Char Siu Pork Belly is surprisingly easy to make. Char Siu Pork is one of the most popular dishes in Chinese restaurants.
Ingredients
3.5 lb pork shoulder
Marinade Ingredients:

1/4 cup hoisin sauce
1/4 cup brown sugar
1/4 cup Chinese Shaoxing wine*
1/4 cup honey
3 tbsp light soy sauce
2 tbsp oyster sauce
1 tsp sea salt
½ tsp Chinese 5-spice powder*
3 garlic cloves, finely grated
2 tsp red food coloring *
Instructions
Ready in

3 hours, 55 minutes
Marinate:

Slice the pork neck lengthways to form 3 long pieces.
Mix the marinade ingredients into a bowl and combine well.
Place the pork in a ziplock bag and pour the marinade. Seal and shake well until the pork is evenly coated. Set aside to marinate in the fridge overnight. (3 hours is the bare minimum).
To Roast:

​Preheat oven to 160°C/320°F.
Prepare the tray and line it with foil and place a rack on top. Arrange the Char Siu pork and pour water into the bottom of the roasting tray making sure the water level isn't touching the pork. Adding the water will help prevent the marinade from burning on the tray. Cook the pork for about 25-30 minutes.
While waiting, you can now pour the marinade in a saucepan and cook over medium-low heat. Bring to a boil and simmer until the sauce thickens slightly. Turn off the heat and use the sauce for basting.
Remove pork from the oven and baste both sides with the thickened sauce. Put them back into the oven and cook for another 20 minutes or until thoroughly cooked. Remove from the oven and baste another layer of sauce and let it sit for 5-10 minutes before slicing.
Notes
1.) For Leftovers: Wrap Char Siu pork in a baking paper and cling film and freeze for up to 2 months.

2.) You can find Chinese Shaoxing wine in the Asian aisle of many supermarkets or from any Asian grocer. Or you can substitute it with dry sherry.

3.) The red food coloring is to make the Char Siu red same as what you get in any Chinese BBQ shop (this is optional). But the authentic recipe for Char Siu uses red bean curd for color and flavor (this can be found at the Asian grocer). However, you can use Beetroot powder which is a natural alternative to the red food coloring typically used to make this dish. You can buy it in health food stores or the health food section of the supermarket.

4.) You can get Chinese five spice powder (a mix of spices) in the herb and spice section of supermarkets.
https://www.theforkbite.com/char-siu-chinese-bbq-pork/