Singapore Chow Mei Fun is one of our favorite fast meals that doesn't heat up the kitchen. Made with thin rice noodles, with a touch of curry, crisp fresh vegetables, and savory in flavors, there's a lot to love about it.
And since having take-outs get a bit pricey, I've gotten into a habit of making it at home instead.
The fact is, ordering Chinese take outs is no longer appealing as I get pretty good re-creating them at home. Let's face it, food always tastes good fresh out of the wok.. right?
What is Chow Mei Fun Made of?
Chow Mei Fun
"星州炒米粉" is thin rice noodles or rice vermicelli made from grounded rice and water. A popular Chinese dish, it is basically stir-fried rice noodles seasoned with curry powder, rice wine, oyster sauce, honey and lots of fun toppings.
This dish is usually served in tea restaurants or stalls in southern China and Hong Kong. For the toppings, you can add your favorite meat, shrimp, eggs or Chinese dried sausage I love to add vegetables as well, like snow peas, carrots and, cabbage, however, it all depends on you.
You can use the skinny rice stick noodles available in Asian markets. Mei Fun is how you can call these noodles in Chinese, it's also called rice stick noodles or vermicelli noodles or "bihon" (in Filipino version).
These Mei Fun noodles look skinny similar to the angel hair pasta when it comes to thickness. Make sure to find the good ones as they easily break and become disjointed or choppy.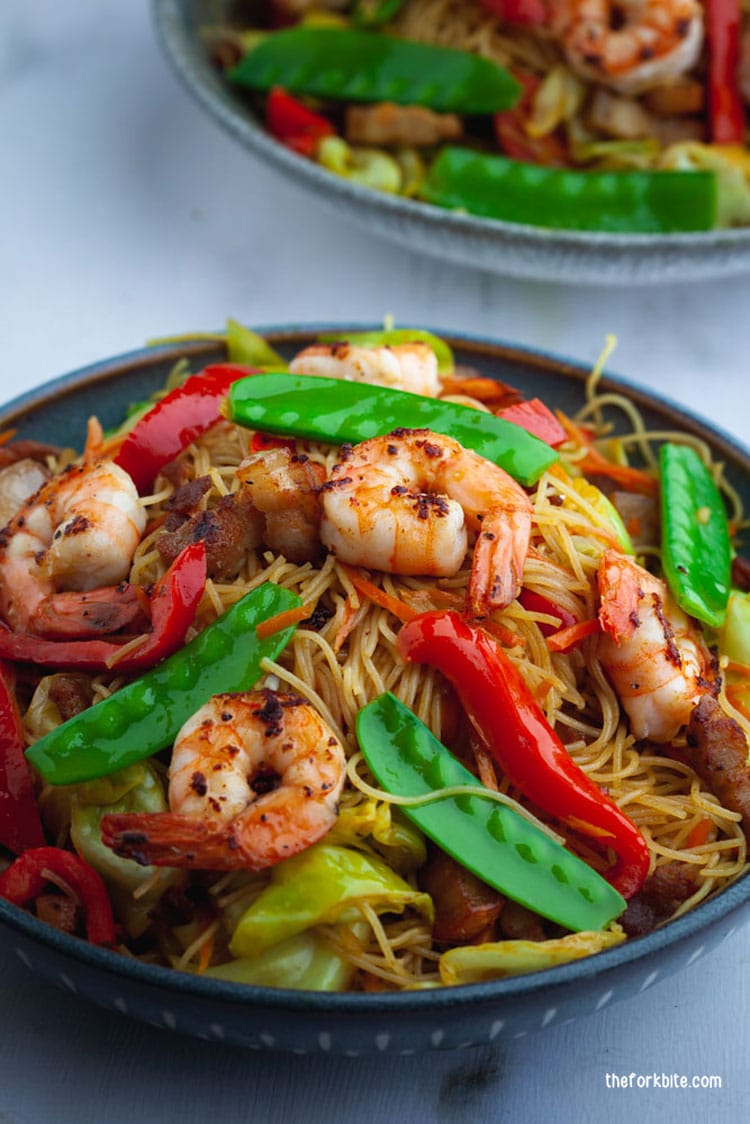 Useful Tips on Cooking Singapore Chow Mei Fun
1. Curry Powder Use the good quality curry powder to make this dish special. One of my favorites is the Indian Curry Powder.
2. Soaking The Noodles Before cooking, soak noodles in hot water (not warm water) for around 5-10 minutes, this process helps to soften the noodles and will cook faster. Test the noodles after 5 minutes of soaking if they look pliable but still not soft all the way. If not, soak for another 2-3 minutes and until they're done.
3. Cooking in Small Portion Don't overload your wok or skillet when cooking this Chow Mei Fun. It's going to get messy and tough to manage when stir frying. 
4. Making the Noodles Moist When the noodles are cooked longer at lower heat, you'll get a bit dried-out noodles as the result. To fix this, sprinkle 1 or 2 tbsp chicken stock (or water) to keep the noodles moist. 
Chow Mei Fun – Singapore Mei Fun
Print
Pin
Rate
This Chow Mei Fun is super easy to make at home. Now, you can skip the take out as this will take you less than 30 minutes to cook. So fire up the wok and make an eat-in feast at home instead of delivery.
Ingredients:
1

lb

medium shrimp peeled and deveined

1 1/4

ounce

package rice noodles

1

tablespoon

olive oil

1

cup

of diced pork

or Char Siu

2

tablespoons

curry powder

2

cloves

garlic
For Vegetables:
1

medium carrot

julienned

3

scallions white and green parts cut into 1 inch pieces

1/2

red onion sliced thinly

1

red bell pepper julienned

3

cups

shredded cabbage
For the Sauce:
2

tablespoons

rice vinegar

2

tablespoons

honey

2

tbsp

oyster sauce

1

tbsp

light soy sauce

2

tbsp

water

1/2

tablespoon

sesame oil
Instructions:
Rinse the shrimp and pat dry. Set aside.
Prep the Mei Fun Noodles:
Place the noodles in a large bowl and fill with hot water. Allow to sit for 15-10 minutes. At the end of that time, drain, rinse in cold, tap water, drain and set aside.
Prep the Vegetables:
Chop the garlic finely and the spring onions into (2") lengths. Julienne the carrots, bell pepper and slice thinly the cabbage.
Prep the Sauce:
Quickly whisk all the sauce ingredients into a small bowl and set aside.
Cooking:
In a large stir-fry pan or wok, heat up 1 tsp of oil. Turn the heat to medium-high and add the pork. Cook and set aside.

Clean the wok and heat a bit of oil, add the shrimp to the pan and stir-fry for about 20 seconds.

Add the garlic and spring onions and fry for 10 seconds, then add the rest of the vegetables. Stir-fry for an additional 45 seconds. Sprinkle the curry powder over the mixture and toss thoroughly.

Drain the rice noodles and cut into manageable pieces. Add the noodles to the stir-fry the pan quickly.

Add the sauce mixture to the pan and stir into the noodles scraping the bottom of the pan to avoid sticking.

Tip in the cooked shrimp and pork into the mixture. Give it a quick toss (Don't cook for than 2 minutes).

Turn the heat off, drizzle a little sesame oil all over and serve immediately.
Notes
Make sure you prepare everything at hand (especially the sauce), the actual cooking is done quickly.
Nutrition Facts
Chow Mei Fun – Singapore Mei Fun
Amount Per Serving
Calories 79
Calories from Fat 45
% Daily Value*
Fat 5g8%
Sodium 400mg17%
Potassium 45mg1%
Carbohydrates 10g3%
Protein 1g2%
Vitamin A 24IU0%
Vitamin C 1mg1%
Calcium 16mg2%
Iron 1mg6%
* Percent Daily Values are based on a 2000 calorie diet.
Chow Mei Fun - Singapore Mei Fun
This Chow Mei Fun is super easy to make at home. Now, you can skip the take out as this will take you less than 30 minutes to cook. So fire up the wok and make an eat-in feast at home instead of delivery.