You don't have to be Italian to love the taste of tender, juicy porchetta. It's um-um-good and a dish that seldom has leftovers very long, since it's just as good cold as it is freshly cooked.
You make porchetta from pork belly and if you've cooked it properly, it will have delectably crisp skin but be so tender it almost melts in your mouth.
I hadn't cooked or even tasted it before a friend emailed me a recipe. Not being much of a pork roast fan, I was reluctant to make it. Instead, I put it in my recipe file in my email and forgot it.
It wasn't until that same friend invited me to dinner and served porchetta, did I realize that the recipe was almost worth its weight in gold. OMG! It was so good, my mouth is watering just thinking about it.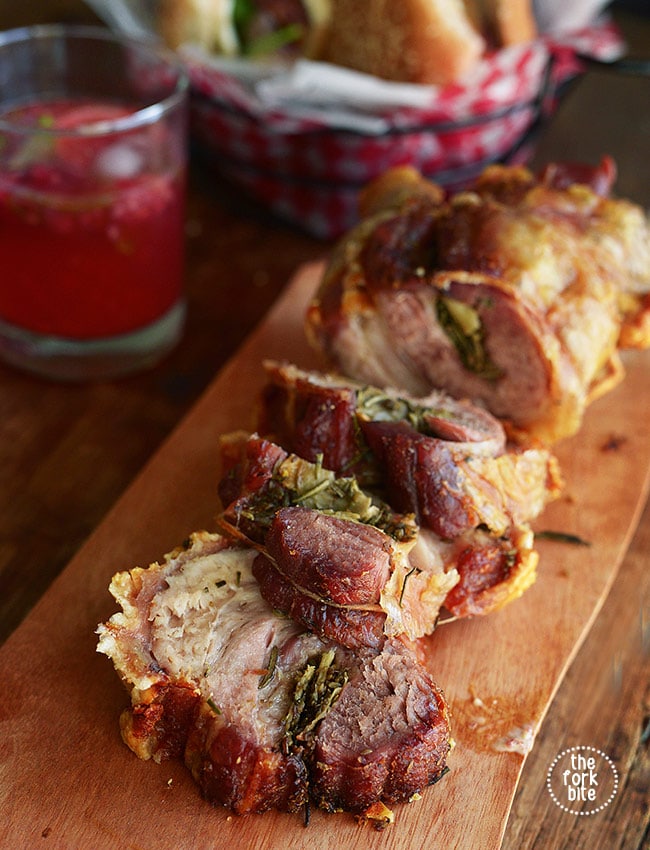 There's nothing difficult about making porchetta, but it is time-consuming, curing time, not preparation time. First, you must start with a whole pork belly that has the skin still on it, then rub salt into the meat and rub the skin with baking soda.
Put the meat in the fridge to allow the salt to work it's magic overnight. The rest of the process is relatively easy. You take the meat out,  score it with a razor making lines that create small squares on the back and expose the fat.
Lay the fat, scored side down and add the layer of seasoning/stuffing on the top of the meat. The stuffing consists of garlic, fennel seed, rosemary and lemon zest. You roll the meat as you might a bedroll and tie it neatly with string.
You may need to cut it to fit into the oven. Roast the roll or rolls at 400 degrees and you'll end up with the perfect porchetta that really only took fifteen minutes of preparation and a little forethought.
It's not really quick, but it doesn't take much effort and that's a huge selling factor for me. Once you taste it, you probably would make it even if it took all day. I know I would. Yummers, it's so good!
Roast Porchetta Recipe with Crispy Skin
Print
Pin
Rate
Porchetta Recipe - An Italian roast pork that is meltingly tender, with an almost startlingly crispy skin.
Ingredients:
Main Ingredient:
5 to 6

lbs

pork belly with the skin on

or you can order half a belly
Rub:
4

cloves

of garlic garlic

sliced thinly

3

tbsp

rosemary

chopped

2

tbsp

coarsely ground fennel seeds

1

tbsp

lemon zest

1

or 2 tbsp salt
Instructions:
First, you must start with a whole pork belly that has the skin still on it, then season the meat side liberally with salt.

Flip it over and rub some baking soda evenly into the skin.

Put the meat in the fridge with the skin side facing up, uncovered to allow the salt to work it's magic overnight.

Heat the oven to 400°F.

Take the pork belly out from the fridge and lightly pat the skin with a paper towel to dry it.

Make sure to totally wipe off the remaining baking soda residue from the pork's skin.

Using a razor blade, carefully score the skin to expose the fat, without piercing it. Score in diagonal lines 2 inches apart. Then score in the opposite direction, also 2 inches apart, to create an even diamond pattern in the skin.

Flip the belly over so the skin side is down. Evenly scatter the garlic slices over the meat.

Follow with the chopped rosemary, coarsely ground fennel seed, and lemon zest.

Roll up the belly and tie it together at 3-inch intervals using butcher's twine, making sure the twine is snug but not too tight.

If your pork belly doesn't fit in a standard oven, you can cut it in half to make 2 roasts.

Place the pork belly on a pair of wire racks and roast for about 40 minutes.

After that, reduce the oven temperature to 325°F and roast undisturbed for 3 hours.

Check it's tenderness by using a long thin knife or long wooden skewer to probe the meat — it should be very pliant but not falling apart.

Raise the oven temperature to 500°F and roast until the skin is evenly blistered and crispy, about 5-7 minutes (make sure to keep an eye all the time as the skin easily gets burned while blasting)

Remove the porchettas and let them cool for 30 minutes. Slice as thick as you like

If you're making sandwiches, 1 1/2 inches is about right and serve.
Nutrition Information:
Calories:
1623.78
kcal
|
Carbohydrates:
1.51
g
|
Protein:
29.48
g
|
Fat:
165.57
g
|
Saturated Fat:
60.31
g
|
Sodium:
735.28
mg
|
Fiber:
0.78
g
|
Sugar:
0.05
g
Please note that all nutrition information are just estimates. Values will vary among brands, so we encourage you to calculate these on your own for most accurate results.
Did you make this?
I would love seeing what you've made! Tag me on Instagram @theforkbitedotcom or leave me a comment or rating below.